The Goodman furnaces vs. Lennox furnaces comparison features the industry's low-cost leader against the most expensive furnace brand. You can guess which is which.
Here is a summary of Lennox vs Goodman furnace cost.
80% efficient furnaces: Average Installed Costs: 80,000 BTU, 80% AFUE Efficiency Furnaces
90%-Plus efficient furnaces: Average Installed Costs: 80,000 BTU, 90% and Higher Furnaces
Goodman has better warranties, even though the quality of Goodman's best furnaces isn't quite as good as Lennox's best furnaces.
That's the snapshot of what you'll find below.
Now, let's dig into the details starting with a cost comparison and moving to an overview of the model ranges, warranties, plus pros and cons of each brand.
The content concludes with recommendations for how to choose between Goodman and Lennox furnaces.
Cost Comparison
See the complete furnace cost table below. Here's a quick overview.
Installed Lennox furnace cost range is $3,650 to $10,900 for unit sizes ranging from 40,000 BTU to 120,000 BTU for most models.
Lennox furnace efficiency starts at 80% AFUE. The most efficient Lennox, the Dave Lennox Signature Series SLP99V, is 99% efficient, the most efficient gas furnace currently manufactured.
Lennox currently offers about 17 gas furnace models available in most regions of the country.
The installed cost of a Goodman furnace ranges from $2,900 to $8,250. Unit sizes are the same as Lennox. The top efficiency is 98% AFUE.
Quick Reference Table to Compare the Two Brands
| | | |
| --- | --- | --- |
| Furnaces | Goodman Installed Cost | Lennox Installed Cost |
| 80% | | |
| Single-stage | $2,900 – $5,100 | $3,650 – $6,500 |
| 2-stage | $3,450 – $5,850 | $4,100 – $6,750 |
| 90% – 95% | | |
| Single-stage | $3,550 – $5,800 | $4,650 – $6,800 |
| 2-stage | N/A | N/A |
| 96% – 99% | | |
| Single-stage | $3,700 – $6,250 | $4,800 – $7,550 |
| 2-stage | $4,250 – $6,700 | $5,650 – $8,750 |
| Variable Capacity | $4,800 – $8,250 | $6,500 – $9,350 |
Average Cost To Install a Warm Air Furnace
Typical Range:
$3,840 - $5,570
Read Homeowner's Guide to Buying a New Furnace: https://www.remodelingcosts.org/gas-furnace-prices/ – covers popular brands, installation prices and cost factors, and what to look for in a new furnace
Note on Availability: Goodman offers around 40 gas furnace models. However, approximately 10 of them are listed on the Goodman site as "Limited Inventory."
Affected Models: The limited inventory affects Goodman's most affordable furnaces, those with a standard PSC blower motor. Goodman furnaces with newer, more energy efficient ECM motors are readily available.
We spoke with Goodman headquarters and were told that global supply chain issues are the main reason for the limited inventory of some models. Shortages of these models are expected to continue "indefinitely."
Are Lennox models available? There's no doubt that supply chain issues have hit Lennox too. This is particularly true because Lennox uses a higher percentage than Goodman of proprietary parts vs universal parts.
While Lennox isn't forthcoming with information on the availability of furnace models, it is likely you'll have a narrower range of model options than are shown on the Lennox site.
Lennox Furnaces
Lennox makes three distinct tiers of gas furnaces.
The Dave Lennox Signature Series
These are the top of the line. The four models all have variable-speed blowers.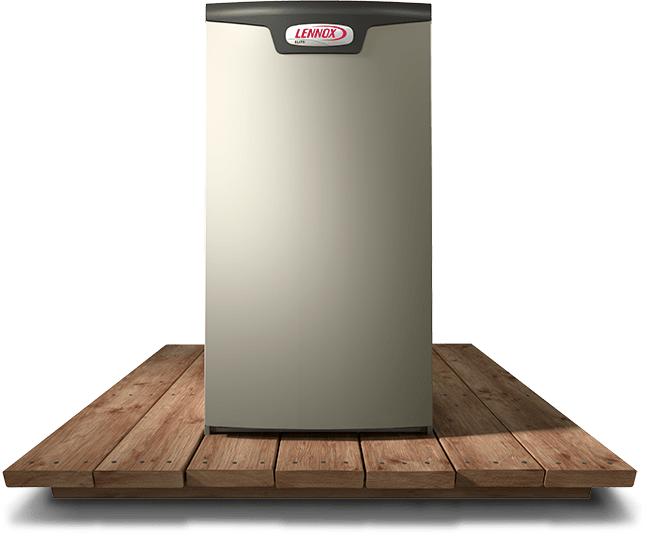 There are two 80% Signature Series furnaces. Those models and the 97.5% SL297NV are equipped with two-stage gas valves.
The 99% Lennox SLP99V is Lennox's only variable capacity furnace.
Warranties: Signature Series furnaces have a lifetime or 20-year heat exchanger warranty and a 10-year parts warranty.
Lennox Elite Series
The half-dozen furnaces in the Elite Series are split between 80% and 90%+ furnaces with both single-stage and two-stage furnaces available.
Warranties: There are two warranty options within the Elite Series. Units have either a lifetime or 20-year heat exchanger warranty. The parts warranty on all Elite furnaces is 5 years, which is sub-standard for the industry.
Lennox Merit Series
These are the most affordable Lennox furnaces, and they are covered by warranties below-average for the industry.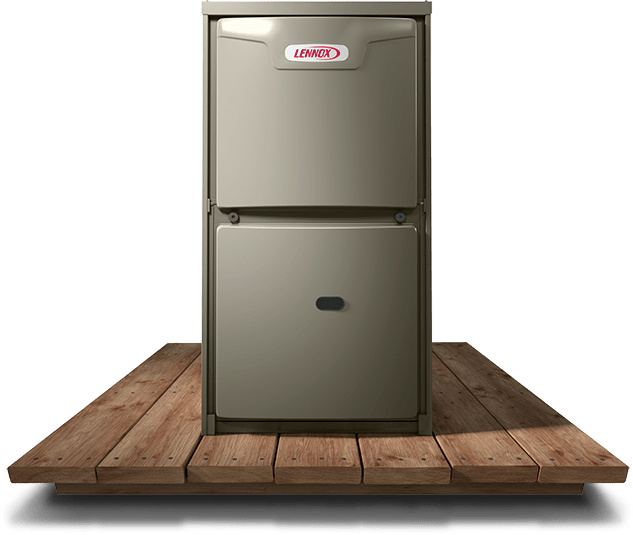 The best Merit Series furnace is the 96% efficient ML296V with a 2-stage gas valve and a variable-speed blower.
The other four models are single-stage furnaces at 80%, 93% and 96% efficiencies. The 96% furnaces are Energy Star qualified furnaces.
Warranties: 20-year heat exchanger and 5-year parts warranties are standard on Merit Series furnaces.
Goodman Furnaces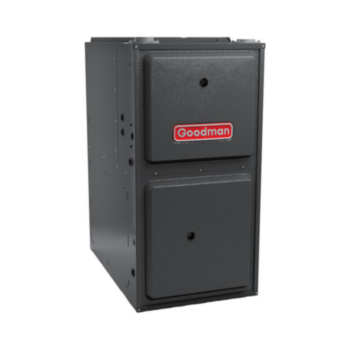 With around 40 models, Goodman furnaces are difficult to divide into neat categories, at least by their names. Goodman doesn't use the tiered approach like Lennox or Carrier (Infinity, Performance, Comfort) and many other quality manufacturers.
The large assortment of models is most easily categorized by performance levels. See the Warranties Comparison below for details on Goodman furnace warranties, which are significantly better than Lennox warranties.
Single-stage Furnaces
You have many options for 1-stage furnaces from 80% to 96% efficient. Many feature the energy efficient ECM, or electronically commutated motor, option. It's the units that use the permanent split capacitor (PSC) motors that are currently in short supply.
The result is that the most affordable Goodman furnaces are hard to find.
Two-stage Furnaces
The value of a 2-stage furnace is that it runs on low capacity most of the time, which is around 65% or 70% fire depending on the model.
Low fire, as it is known, is quieter and it heats more evenly without noticeable temperature swings than you experience with a single-stage furnace.
Goodman makes more than 10 two-stage gas furnaces. Most are 80% efficient, and a few 96% models are produced.
Variable Capacity
Goodman variable capacity furnaces have modulating gas valves that fire at between 40% and 100%. The capacity is adjusted in 1% increments to precisely deliver the right amount of heat to keep the indoor temperature precisely where the thermostat is set to.
Daikin and Amana Furnaces
Just an FYI.
Perhaps you're aware that Daikin owns Goodman and Amana.
In 2011, the global HVAC leader Daikin bought Goodman Manufacturing and acquired the Amana brand in the deal.
Initially, Daikin simply slapped its brand label and logo on Goodman equipment.  For several years, Daikin, Goodman and Amana models were exactly alike.
Goodman and Amana furnaces remain the same. Daikin has developed the Daikin brand into a premium brand to compete with Lennox, Trane and Carrier with better quality and higher costs.
Warranties
Warranty coverage is a way for furnace brands to compete for customers. Coverages have improved in the last decade.
But hear this: better warranties might be more of a marketing tool than something that benefits you, the consumer. We'll explain…
Goodman has the best warranties in the industry, though lately many other brands have improved their warranty coverage to compete with Goodman's.
Lennox has the worst/shortest warranties in the industry, and it hasn't shown any signs of improving them.
Heat Exchanger Warranties
Goodman offers Lifetime heat exchanger warranties on all its furnaces. If the primary heat exchanger on any furnace or the secondary heat exchanger on high-efficiency Goodman furnaces fails, Goodman will replace either the heat exchanger or the entire furnace.
Lennox backs a few top models with a lifetime heat exchanger warranty, but most are 20 years. Now, that probably doesn't make much difference. If the heat exchanger fails on your furnace any time after 15 years or so, you'll likely replace the entire furnace.
Why? Because even during the warranty period, labor costs are not covered. Just the cost of parts. And the labor charge on heat exchanger replacement runs $750 to more than $1,000 for a job that takes 6-10 hours. Switching out the entire furnace would take less time.
General Parts Warranties
Goodman parts warranties are 10 years on all models.
Lennox offers 10-year parts warranties on Signature Series furnaces and a few of the Elite Series furnaces.
The rest, including all Merit Series Lennox furnaces, are covered by a 5-year parts warranty.
Frankly, this demonstrates one of two things – or both: Either inferior quality or an attempt to keep pricing down on cheaper Lennox furnaces. A shorter warranty limits the company's long-term risk on the furnace, and so it can sell the furnaces for less.
Info Tip: You can buy an extended warranty from Lennox to turn the 5-year warranty into a 10-year warranty. Don't bother. Extended warranties generally work in favor of the manufacturer, whatever the brand.
That's why they offer them – they make money from them.
Maybe you'll get a laugh out of this from the Goodman site:
Extended Service Plan: With an Asure Extended Service Agreement, you'll have your choice of 5-years, 10-years, or even up to 99-years of worry-free comfort without the unexpected cost of replacement parts or labor expenses should your Goodman brand equipment require service.
Perhaps now you'll agree that extended warranties can sometimes be a joke.
Get Free Quotes For furnace Pros Near You
Unit Replacement Warranties
Goodman was the first brand to offer these. Now Heil and other International Comfort Products brands plus Rheem/Ruud and a few others offer some version of them on their best furnaces.
Lennox does not offer this type of warranty.
Unit Replacement: If the heat exchanger fails during the Unit Replacement coverage, Goodman will replace the entire furnace, not just the heat exchanger.
About one-third of Goodman's best furnaces are backed by a Unit Replacement warranty of 10 years. They're offered on select models of both 80% and 90% and higher models.
A few Goodman furnaces have a 2-year Unit Replacement warranty – and that, of course, is a complete marketing ploy. It's unlikely that one in 10,000 heat exchangers fail in the first 2 years.
Denied Warranty Claims
HVAC equipment manufacturers and asphalt shingle manufacturers are notorious for denying warranty claims.
The most common strategy is to blame the installer for the failure of the product. In many cases, furnace mechanical problems definitely are the result of bad installation. And it is difficult for homeowners to fight the claim denial.
Safeguard yourself to the best of your ability by:
Getting estimates from at least 3 local, certified furnace installers
Avoiding lowball offers. They're either selling junk furnaces or will cut corners during installation to make it "quick and easy" for them. Or they'll do both.
Checking Google, Yelp, etc. reviews of the furnace companies before you hire one. A bad review or two is normal, though you should consider whether the company responds to the negative review and how they respond. Consistently unhappy customers are red flags.
Tip: Feel free to ask the installers for current copies of their licenses and liability insurance coverage.
Pros and Cons of Each Brand
This doesn't have to be a long section. We've covered many of the advantages and drawbacks of each brand, but here is a succinct recap for quick reference.
Lennox Pros and Cons
Lennox delivers better quality but at a significantly higher price. Here are Lennox furnace pros and cons in six areas listed in order of importance.
1. Quality: This is a clear advantage for Lennox, at least in the Dave Lennox Signature Series and most of the Lennox Elite Series furnaces. Quality drops off in the Merit Series.
Independent research and surveys of homeowners give Lennox an edge in quality and reliable service. For example, Consumer Reports gives Lennox a 4 out of 5 in both Predicted Reliability and Owner Satisfaction. Goodman receives a 3 out of 5 in both.
2. Installation: Only Lennox-certified dealers can sell and install Lennox furnaces. So what? This arrangement means that Lennox installers have a clear understanding of the how-to's and the know-how to get the installation job done right the first time. This is very different from how Goodman approaches installation, as discussed next.
As noted earlier, installation quality is probably just as important as equipment quality when it comes to long-term reliable and efficient operation.
3. Cost: You'll pay 17% to 31% more for a Lennox furnace vs a comparable Goodman furnace.
4. Efficiency: This is a tie. The most efficient Lennox furnace is 1% more efficient than Goodman's best. And you'll pay so much extra for it that you'll never recoup the higher cost in the form of lower gas bills. Never.
5. Selection: Sure, Goodman makes more furnace models. But Lennox makes plenty of options, so if you choose Lennox for the higher quality, you will certainly find a furnace in the efficiency range and with the performance (single-stage, 2-stage, variable capacity) heating you want.
6. Warranty: It's clear – Lennox warranties are inferior to Goodman warranties. But this factors pretty low in the decision-making process for reasons shared above.
Goodman Pros and Cons
There are clear reasons that Goodman is one of the best-selling brands in the HVAC industry.
1. Quality: Goodman has always had a reputation for decent quality at lower prices – a good definition of value. It appears that Daikin has made a commitment to improving Goodman furnace quality while keeping prices lower than average. And a low-cost Goodman gives you about the same quality as a Lennox Merit Series furnace – and at a lower cost and a better warranty.
2. Installation: This is the biggest red flag about Goodman. Anyone can buy and install a Goodman furnace – literally anyone.
Most Goodman furnace models are sold online, and there is nothing stopping you from buying one and giving installation a go. You don't have to be a licensed HVAC installer to buy one.
And when it comes to professional installation, the same point applies – anyone can buy and install a Goodman. There are no quality checks, as there are with Lennox. Therefore, it is important to get estimates from several local installers and to do your due diligence in choosing an experienced furnace installer with a track record of proper installation.
3. Cost: You'll save money on the furnace – and probably on installation. Lennox-certified installers charge more because they have invested more money in training their technicians.
4. Efficiency: There is little difference here. Both make a range of 80% AFUE furnaces and 90% and higher furnaces.
5. Selection: While Goodman makes more models, both brands adequately cover the territory from 80% furnaces for regions with mild winters to high-efficiency, workhorse furnaces for the coldest climates.
6. Warranty: Goodman has the clear advantage. And in the rare case that you'll need to make a warranty claim, you might be glad you've got the better coverage Goodman provides.
How to Choose Between Lennox and Goodman
There are clear distinctions between the brands that might make choosing easier.
And either brand can be the right choice based on your specific circumstances.
When Lennox is Better
When you're willing to pay for higher quality, go with Lennox – or Trane/American Standard, Rheem/Ruud or Carrier/Bryant.
But be sure to find a good installer by following the strategy listed above. In doing that, you will get the long-term furnace durability you are paying for.
Future plans? When you are settled with no plans to move, it makes sense to pay more for a Lennox furnace that should give you better reliability over many years.
When Goodman is Better
Goodman quality is a short step behind Lennox Signature Series furnaces. But it is equal to Lennox Elite Series furnaces and might be better than Lennox Merit Series furnaces.
Cost is lower too, so Goodman is a good choice when the budget is a major consideration.
To get the best durability and value from a Goodman furnace, get multiple estimates and hire an experienced installer. You'll pay a little more for installation compared with the lowest bid, but the higher cost will be paid back through fewer costly repairs in the next couple decades.
Future plans? If moving in the next 10 years is possible, consider a Goodman over a Lennox because of the lower cost. Goodman furnaces have a good 10-year service track record. It is in the second decade that they might not hold up as well as some of the better Lennox furnaces.
Get Free Quotes For furnace Pros Near You