Payne gas furnaces are considered among the most reliable in the industry. Details below.
Did you know? Payne gas furnaces are identical to Carrier furnaces – Payne is a Carrier company. And Carrier quality is excellent too, which accounts for Payne's proven reliability.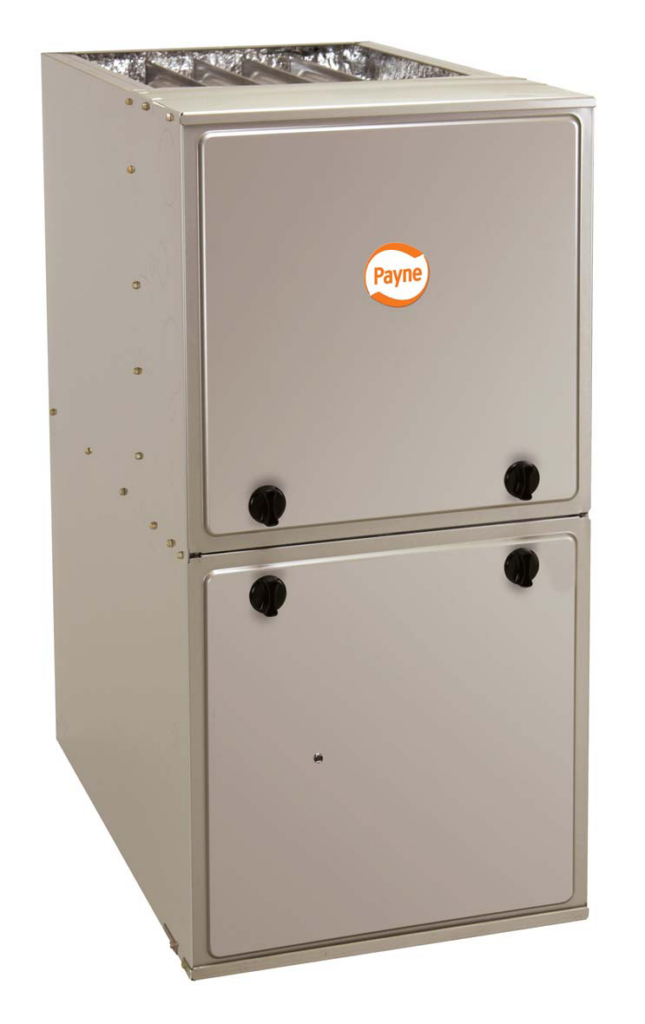 *But… Payne doesn't offer as many models as Carrier. However, there is an identical Carrier counterpart to every Payne model. Make sense?
What's missing? Payne does not offer a variable capacity furnace and has fewer single stage and two stage units too.
Apart from two low-NOx units sold only in California, you have five models to consider. Here are Payne furnace reviews for each model.
Payne furnace FAQs are sprinkled throughout this guide.
Cost of Payne Furnaces
Right off the bat, furnace size is a major cost factor when considering the range of possible prices.
Furnace replacement often costs less than installation in new construction. This is because when replacing a furnace, it is usually possible to use an existing gas line, electrical circuit and wiring plus the exhaust vent.
| | | |
| --- | --- | --- |
| Model | Efficiency | Fully Installed Cost |
| 96 PG96VTA 2-stage | 96% | $5,800 – $9,150 |
| 95 PG95ESA 1-stage | 96% | $5,375 – $8,625 |
| 92 PG92ESA 1-stage | 92.10% | $4,650 – $7,500 |
| 80 PG80VTL 2-stage | 80% | $4,850 – $7,725 |
| 80 PG80ESA 1-stage | 80% | $4,385 – $6,925 |
| Ultra-low NOx | | |
| 95 PG95ESUA 1-stage | 95% | $5,750 – $9,100 |
| 80 PG80ESUA 1-stage | 80% | $4,785 – $7,495 |
Installation includes:
Removal of old equipment (optional)
Installation of gas line, wiring and circuit, ventilation (new construction)
Setting the furnace, and attaching it to ductwork and the return and supply connections
New ductwork transitions (optional)
New thermostat (optional)
Adjusting the blower speed to fine-tune the system for your specific application.
Placement and connection of a new or existing AC coil (coil not included)
Starting and testing the furnace
Payne Gas Furnace Lineup and Expected Cost Details
There are the 5 furnaces offered across the US. Two of them are available in the low-NOx versions mentioned.
Two Stage 90% Payne Furnace
Payne 96 PG96VTA is Payne's highest performance furnace – the best Payne furnace.
Excellent efficiency: 96% AFUE (annualized fuel utilization efficiency) is Energy Star certified.
2-stage heating: The 2-stage gas valve runs on low, or about 65% capacity, as long as that amount of heat output is enough to satisfy the thermostat demands. This is obviously a more efficient option than running at full capacity as a single-stage furnace does.
Variable speed comfort: This unit also has a variable speed blower which improves indoor comfort. The blower starts very low while the furnace is heating, speeds up at the peak of the cycle, and slows down again near the end of the cycle. The result is you won't feel cool blasts from the heating grates.
Variable speed airflow also improves dehumidification of the air when the furnace is running in support of central air conditioning.
Pros: Those benefits listed above plus the use of quality internal parts. This furnace should last around 20 years and possibly longer with consistent maintenance.
The warranty coverage is 10 years on parts.
Cons: The heat exchanger warranty is 20 years on all Payne furnaces. Top models from most other brands have a Lifetime heat exchanger warranty.
However, few homeowners replace a heat exchanger on a furnace that is more than 10 years old. The labor cost – not covered under furnace warranties – is quite high, and the money is best put into a new furnace.
Installed cost: $5,800 to $9,150.
Buy if: This is a good furnace choice if:
You live in a cold climate and need the efficiency it offers.
You're willing to pay a little more for a variable speed unit that offers improved climate control in winter and summer.
Single Stage Payne 90% Furnaces
There are two models in this tier, a multi speed unit and one with a fixed speed blower.
Payne 95 PG95ESA
The Payne Gas Furnace 95 is a 96% efficient furnace with a multi speed motor – The 5-speed motor ramps up and down as the heating cycle starts and ends, which helps to eliminate cool blasts of air and temperature fluctuations.
Pros: This is an Energy Star certified furnace.
The cost is lower than Payne's best furnace, so it represents a good value for the money.
The parts warranty is 10 years.
Cons: The multi speed blower doesn't balance temperature as precisely when heating or remove as much humidity in AC mode as a variable speed blower.
So, if precision climate control is a high priority and/or you live in a very humid area, consider the 2-stage furnace with a variable speed blower.
Installed cost: $5,375 to $8,625.
Buy if: This is an excellent choice if you want highly efficient heating at a value price.
Payne 92 PG92ESA
With 92.1% efficiency, this entry-level Payne condensing furnace is a good fit for climates with chilly winters – but probably not those with brutally cold spells or with high humidity in warm months, as explained below.
Sizes are 40K to 120K BTU, so there are options for homes up to 2,200 to 2,800 square feet depending on your climate.
Pros: All sizes meet ENERGY STAR South regional standards and might qualify for an energy rebate from your gas provider. *The South region includes AL, AZ, AR, CA, DC, DE, FL, GA, HI, KY, LA, MD, MS, NV, NM, NC, OK, SC, TN, TX, VA.
Cons: Basic, single stage furnaces are either on or off – there's no low-heat/high-heat when on. As a result, they can cause slight temperature fluctuations.
Plus, a single stage furnace with a fixed speed blower like this one won't remove as much summertime humidity when working with air conditioning.
Installed cost: $4,650 to $7,500.
Buy if: This is another cost-effective option: Basic heating at a competitive cost.
If you want "Carrier quality" in a lower priced, entry-level furnace, this is a good choice.
2-Stage 80% Payne Furnace
The Payne 80 PG80VTL is Payne's best 80% furnace.
It has a 2-stage gas valve, so it runs on low-heat much of the time, and a lower fan speed. As a result, it is quieter and uses less gas and electricity.
An 80% furnace is suitable for warm climates and for part-time or supplemental heating.
Pros: You'll get better climate control with a 2-stage furnace, especially one like this with a variable speed blower motor.
Improved indoor comfort includes less temperature fluctuation – you likely wouldn't notice swings – and better removal of humidity in warm weather.
Cons: It costs more than an 80% single stage furnace – but on the other hand, it costs less than the comparable/identical Carrier/Bryant models.
80% efficiency means 20% of the heat produced by the burner is lost in exhaust gas. That's a poor option for a cold climate where the furnace runs a lot.
And if the thought of all that wasted energy and unnecessary emissions bothers you, consider one of the Payne furnaces with efficiency of better than 90%.
Installed cost: $4,850 to $7,725.
Buy if: This unit is a good fit if you live in a moderate to warm climate with high humidity in warm months.
Single Stage Payne 80% Furnace
The Payne 80 PG80ESA is the brand's most basic model, a 1-stage furnace with a multi speed blower.
It provides minimal efficiency and comfort and the lowest cost of any Payne furnace.
Pros: Lower cost. A 10-year general parts warranty – as long as the warranties on Payne's and Carrier's top models.
The ECM blower motor is a more efficient option than standard PSC motors.
This furnace can be sized for most homes up to around 3,500 square feet depending on climate – sizes range from 45,000 BTU to 155,000, which is one of the largest furnaces available today.
Cons: The blower is multi speed rather than variable speed. This means that you might experience drafts of cool air at the beginning and end of the cycle.
And it doesn't remove as much humidity in muggy months as a 2-stage furnace with a variable speed blower.
Installed cost: $4,385 to $6,925.
Buy it if: This 80% Payne furnace is a good fit for warm, dry climates.
Payne Low NOx Furnaces
What is a low NOx furnace?
A low NOx furnace is one that emits less nitrogen oxide, abbreviated NOx, than standard furnaces. They also emit less nitrogen dioxide.
Payne makes two types of low-NOx furnaces.
Low-NOx furnaces moderately reduce greenhouse gas emissions.
Payne makes low-NOx versions of the Payne 80 PG80VTL and Payne 80 PG80ESA reviewed above. These furnaces meet the emissions requirements for most of California.
Ultra-low NOx furnaces produce even less nitrogen oxide and nitrogen dioxide emissions.
*These furnaces meet California South Coast Air Quality Management District (SCAQMD) and San Joaquin Valley Air Pollution Control District (SJVAPCD) Ultra Low NOx Rule 1111 and Rule 4905.
Payne 95 PG95ESUA
This is exactly like the 95 PG95ESA above, though 1% less efficient at 95% AFUE. And it isn't made in the 120K BTU size.
This furnace qualifies for a $500 rebate from the Clean Air Furnace Rebate Program.
Payne 80 PGESUA
This is an ultra-low NOx version of the 80 PGESUA above. However, it is available in sizes up to 100K BTU unlike the standard version which sizes to 155K BTU.
Technical Q: How does a low NOx furnace work?
First, the fuel vapor and air are mixed. Secondly, premixed fuel can be burned on a lower flame. This cuts NOx emissions.
According to Carrier, Payne's parent company, the furnaces, "cut emissions by approximately 65 percent from the older low NOx standard," from 40 to 14 nanograms per joule, or 40ng/J to 14ng/J."
Pros and Cons of Payne Gas Furnaces
See individual models above for specific pros and cons.
Here are general considerations when comparing Payne to other brands including Carrier and Bryant.
Pros
Good quality in all models. Efficiency and performance vary among the models such as single stage vs two stage and blower speeds. Those factors account for price differences. But quality is consistent. This is why Payne tops Consumer Report's list of Predicted Reliability for gas furnaces.
Here are CR's 5/5 & 4/5 brands: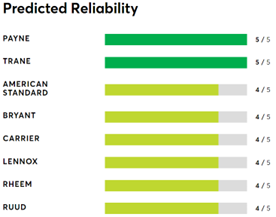 Decent selection. Unless you want a variable capacity furnace, one that modulates in output from 40% to 100%, you should be able to find a Payne unit to your liking. If you want a high-end, high-cost variable capacity furnace, choose a Carrier Infinity or Bryant Evolution option.
Potentially lower cost. If you choose an authorized Payne dealer, you will probably save 10% to 15% with Payne vs buying from an authorized Carrier or Bryant dealer.
Why? The Carrier Corporation prices Payne equipment slightly lower than Carrier equipment.
It does this to appeal to a wider range of consumers including those turned off by Carrier's higher-than-average prices. They'd rather sell you a furnace and make less profit on a Payne than lose a sale to a non-Carrier brand.
Cons
Payne offers no variable capacity furnaces, as noted.
Potential installation issues. This takes a little explaining in the Payne vs Carrier discussion.
Payne installation: Any licensed HVAC company can install a Payne furnace. The contractor might install a Trane one day, a Goodman the next and your Payne the following day.
In other words, they might not be a Payne expert. And since each brand is a little different, this might mean their installation of your Payne furnace is substandard.
*If you buy a Payne furnace, choose a company that installs Payne or identical Carrier/Bryant exclusively. Avoid contractors that are "Jacks of all brands; Masters of none."
Carrier & Bryant installation: Installers must be trained, Carrier/Bryant authorized dealers. "Masters of one brand."
The advantage: When furnace technicians install the same brand of equipment every day, they get it right the first time a higher percentage of the time.
Why is Furnace Installation Quality So Important?
First, because brand-authorized dealers have a higher level of training. The "Jack of all brands" might or might not have the same training and demonstrated expertise.
In other words, installation errors leading to mechanical problems and lower efficiency performance are more common when the technician is inexperienced on the brand of furnace being installed.
Secondly, blower speeds are adjustable. So are the burner assemblies to optimize the flame. And every furnace brand is slightly different in this regard. You'll get your furnace fine-tuned more accurately for your home with a technician who has mastered one brand or identical brands like Payne/Carrier/Bryant.
Getting it "wrong" will impact efficiency, dehumidification when supporting central AC, and whether room-to-room temperature is the same throughout your home.
Hot and cold issues: Consider the last point, for example. If the blower speed is set too low, rooms distant from the furnace might be chilly in winter and warm and muggy in summer. Set too high, and rooms close to the furnace will be "freezing" in summer during AC cycles and too warm in winter during heating cycles.
Final Thoughts on Payne Furnaces
Consider Payne furnaces for cost savings over Carrier or Bryant – or other premium brands like Trane, American Standard and Lennox. Just keep in mind Payne doesn't have the super-efficient, ultra-performance, high-cost variable capacity furnaces those other brands do.
Secondly, if you go with Payne, your best assurance of good results is to choose an installer that specializes in Payne, Carrier, and Bryant furnaces.