If you are considering installing a tankless water heater, then undoubtedly one of the burning questions on your mind is how much will it cost and whether a tankless water heater makes sense for your home.
Cost
Our research shows the national average cost for installing a tankless water heater can range between $2,500 and $4,500, with most homeowners paying about $3,500​-$4,000 for a gas-powered whole house unit. For an electric water heater, the national average cost is closer to $2,800-$3,500.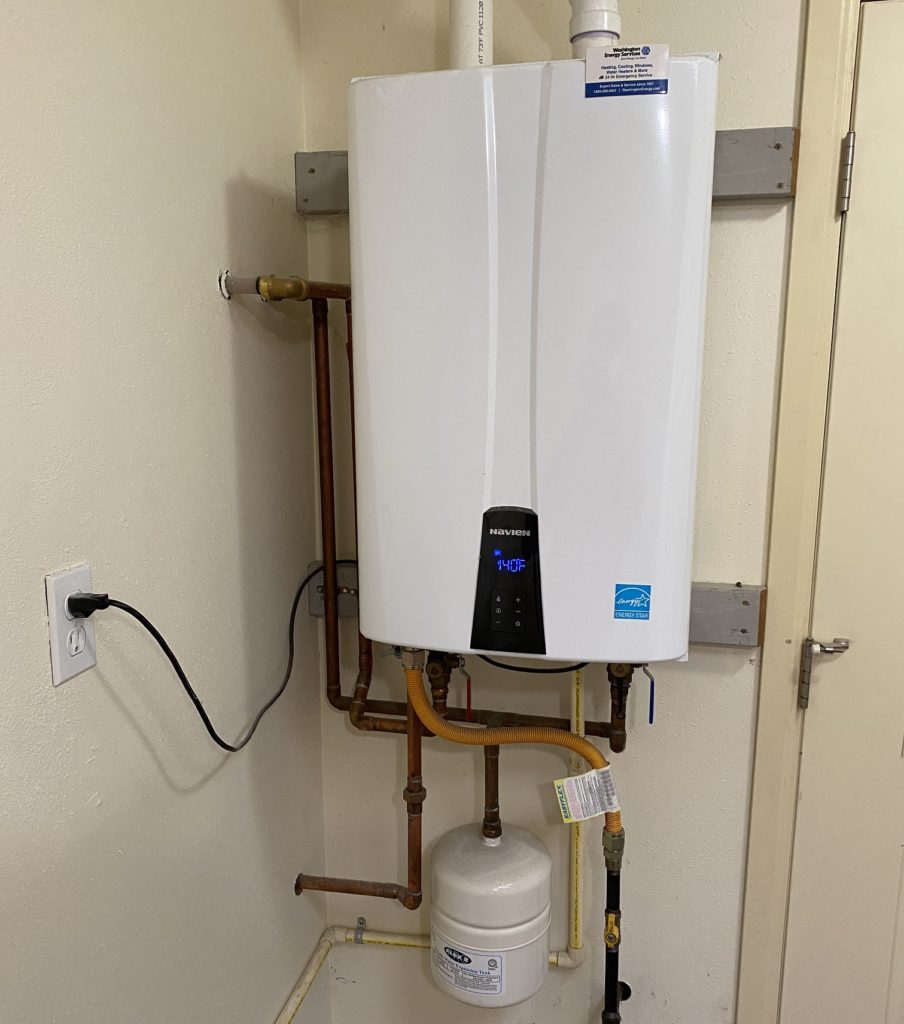 The factors that determine the total cost are:
Cost of the tankless water heater itself
Installation labor by a local, licensed, and insured plumber
Installation materials
Permits where/when required
Removal and disposal of the old unit
In this guide, we will review 10 of the top tankless water heaters available today – their retail cost, some pros and cons received from homeowners, and then we will explain why we selected each model.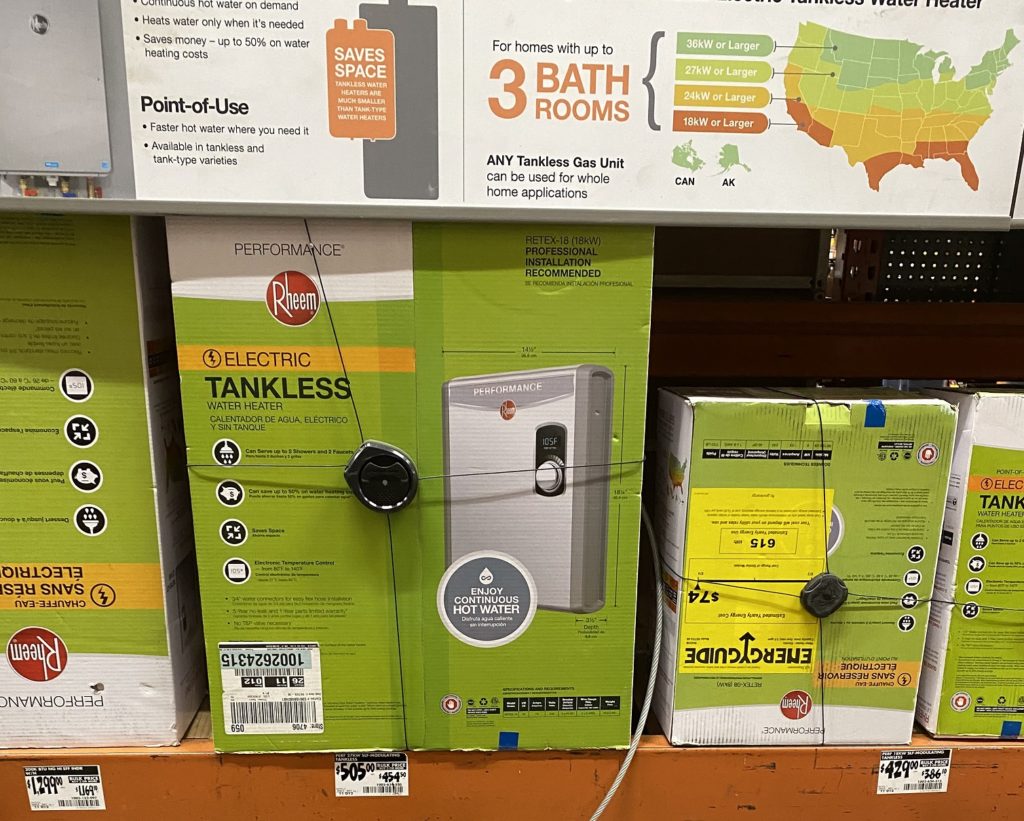 If you would like to get right to the reviews, you can skip down to that section below. But for those who may be thinking about changing from a traditional tank-type water heater to a tankless model, here is some information that might help you make your decision.
Top 10 Tankless Water Heaters and Their Costs
Here is the list with their retail cost. We've selected models from the various types of whole house tankless water heaters. There is a full review for each below, plus the installation costs.
The reviews are next. However, for those not familiar withthe tankless water heater options, features, and efficiency issues, we highly recommend reading our Buying Guide provided below the reviews.
Top 10 Tankless Water Heater Reviews
These reviews are for "whole house" tankless heaters rather than "point of use" heaters. They are of a size designed to replace a traditional tank water heater that supplies hot water to the entire house and not just to a single faucet or to one room with 2-3 faucets, like a bathroom.
For the purpose of comparison, we have chosen models that have flow rates of between 7 GPM and 10 GPM. In a moderate climate this would normally be adequate for a family of 4. It would produce enough hot water for 1 shower, 1 faucet and 1 washing machine at the same time.
Gas Tankless Water Heaters
As stated above, gas tankless water heaters quickly heat water when a hot tap is opened. They use high-BTU gas burners that produce a very hot flame to maintain a continuous flow of hot water. This water will not be available at the faucet instantly but will have to travel through the water line from the heater.
Most models that use natural gas are also available in a model that uses propane gas. They normally will have the same features and performance capabilities, as well as a similar price.
Many manufacturers also produce models that can be installed outdoors but are only recommended for climates that do not experience freezing.
#1 Gas
Rinnai Indoor Tankless Hot Water Heater, RL75iN Natural Gas/RL75iP Propane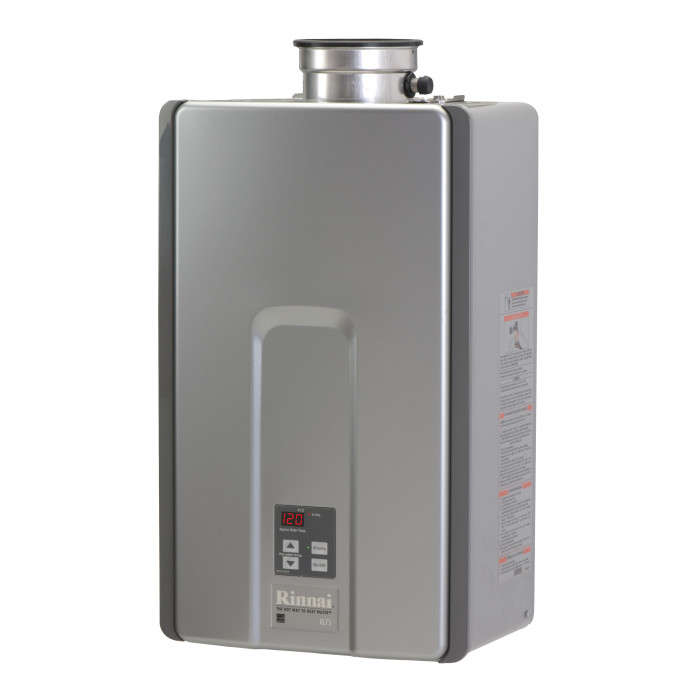 About the Company: Rinnai is far and away the best-selling gas tankless water heater in the U.S. Their gas-fired water heaters feature a commercial heat exchanger and are backed up with an excellent warranty. Their products are available in multiple venting options and have a sleek, compact design.
Cost: $1,125
Flow Rate: 7.5 GPM (4.3 GPM w/52°at inlet)
Uniform Energy Factor: 0.82
Warranty: 15-year Heat Exchanger, 5-year Parts, 1-year Labor. Compare that with a 6-year or 12-year warranty on most storage tank water heaters.
Pros:
Doesn't take a lot of room.
Endless hot water once the hot stuff starts flowing and demand isn't more than three locations.
Did you know? Tankless water heaters are often marketed as supplying "instant hot water." However, unless a whole house water heater has some type of recirculating technology that keeps hot water at the tap, you'll have to wait for the heated water to flow through the pipes from the water heater to where you want to use it, just as with a storage tank type water heater.
Point of use tankless models are rightly billed as supplying instant hot water, since they are installed within a few feet of the tap.
Cons:
Requires a brand-specific type of exhaust vent.
More expensive than a regular (tank) water heater.
As noted, it needs the recirculating pump to have instant hot water.
Why We Chose This One: Though not their largest model in Rinnai's high efficiency line, this unit is equipped with their Circ-Logic, which can be paired with an external recirculating pump to reduce wait time for hot water at the faucet. It is also WiFi ready, and the 1-year warranty on labor can be upgraded to 5 years at the time of purchase.
#2 Gas
Rheem Performance Plus Indoor ECO160DVLN3-1
About the Company: Offering both gas-powered, electric, and point-of use tankless hot water heaters, Rheem is one of the largest manufacturers of water heating products in the U.S. They produce a wide variety of units for both residential and commercial use.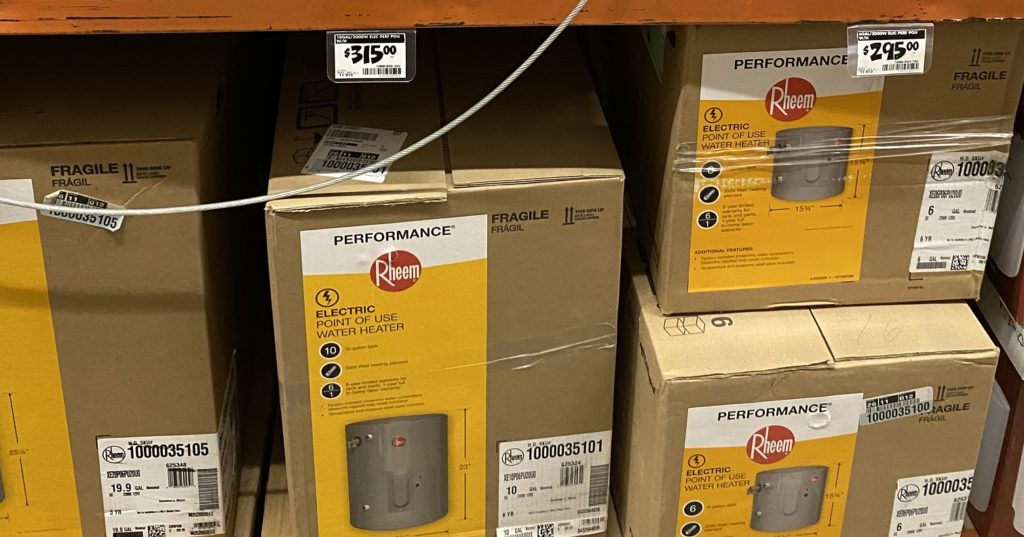 Cost: $800
Flow Rate: 7.0 GPM (4.1 GPM w/52° at inlet)
Uniform Energy Factor: 0.82
Warranty: 12-year Heat Exchanger, 5-year Parts, 1-year Labor
Pros:
Quiet, and gives lots of hot water relative to its rating.
Kicks on at a much lower water flow rate than an older model, so reduces waste of hot water and the energy needed to make it.
"We have had no shortage of hot water for the 7 people in our house," said one user.
Cons:
Needs many extras to make it work in an older home with outdated venting.
Takes longer than expected to reach hot water at showers and faucets, some say, but this might be due to faulty expectations about "instant hot water."
The unit doesn't heat water when faucet is only opened a trickle. Typically, up to a .25 or .5 gallon per minute flow rate is required for the unit to fire up.
Why We Chose This One: This model comes with a remote digital thermostat that can be installed in almost any convenient area of the house. It can be used at elevations up to 9,800 ft. above sea level. 82% of owners have given it a 4- or 5-star rating on their reviews.
#3 Gas
EZ Tankless Supreme on Demand Indoor EZSUPNG
About the Company: EZ Tankless is a USA importer and distributor of their own brand of tankless heaters. Their factory is the world's largest manufacturer of gas-fired tankless water heaters. They do not make electric models. The U.S. headquarters is in Indiana.
Cost: $895
Flow Rate: 8.2 GPM (3.8 GPM w/52° at inlet)
Uniform Energy Factor: 0.88
Warranty: 5-year Heat Exchanger, 1-year Parts, 1-year Labor
Pros:
A common review is like this one: "Have 3 of these products since 2013 and they all have been working fine."
Seems to keep up with demand when hot water is being used in up to 3 locations in the house.
One of the easiest to install and includes its own venting parts.
Cons:
"On windy days, the unit sucks up exhaust air into the supply air which shuts down the unit," is a common complaint. This might be an installation issue to, so always hire a tankless water heater installer with a proven track record of experience.
The 5-year warranty is shorter than most.
Why We Chose This One: This model is designed for horizontal venting through an outside wall. This means there is no need for a roof rain cap, condensation drain, antifreeze/back-draft trap door, or room air cubic feet calculations. The standard concentric vent system (collar, elbow, and 31 in. termination) is included with this model, unlike many others. In short, installation is easy and costs less than for many models.
#4 Gas
Cost: $1,375
Flow Rate: 9.4 GPM (4.0 GPM w/52°at inlet)
Uniform Energy Factor: 0.82
Warranty: 15-year Heat Exchanger, 5-year Parts, 1-year Labor
Pros:
Great space savings over a traditional tank model since it hangs on the wall out of the way.
WiFi module makes controlling temperature effortless.
One of the best warranties available.
Cons:
"At times, the various sounds of operation are distracting," says one user, and yes, gas-fired tankless water heaters can pop and growl a bit.
Your gas company had to replace the gas meter with a higher capacity unit, since it is a large water heater. This might result in a delay and additional cost.
Why We Chose This One: This is the largest of Rinnai's non-condensing models and has high customer ratings for providing lots of hot water. It is an Ultra-Low NOx model, qualifying it to be used in areas with the strictest air quality regulations. It is WiFi ready and has voice-activated technology when paired with the Control-R 2.0 mobile app.
#5 Gas
A.O. Smith Signature Select Indoor GT15-510C-I
About the Company: AO Smith is an American water heater manufacturer that produces gas and electric tankless water heaters. They offer both point-of-use and whole-home heaters in varying sizes and efficiencies, with some of them qualifying for the Energy Star certification.
Cost: $1,100
Flow Rate: 10 GPM (4.7 GPM w/52° at inlet)
Energy Factor: 0.81
Warranty: 15-year Heat Exchanger, 5-year Parts, 1-year Labor
Pros:
Compact, indoor wall-mounted design frees up valuable storage space.
Great warranty on the heat exchanger.
Worry-free safety features include freeze, overheat, and surge protection.
Cons:
Required accessories may not be readily available at all retailers, so it might take a little "running around" to get what you need.
Some customers are disappointed at the time delay getting hot water to a shower, but again, without recirculating equipment, there is no way around this in a large home when the water heater is at a distance from the point where hot water is wanted.
Why We Chose This One: One of this company's highest efficiency non-condensing models, it has easy temperature adjustment and troubleshooting with the integrated controls. It has an Ultra-Low NOx burner and should provide enough hot water for 2 showers at a time.
Gas Condensing Tankless Water Heaters
A condensing tankless water heater kicks things up a notch by adding a second heat exchanger to take advantage of excess exhaust heat that normally escapes out the flue.
The exhaust heat is actually routed back inside the heater to "pre-heat" the incoming water. The result is that your water is heated to the desired temperature more efficiently and decreases the operating cost. These are the only tankless water heaters that are Energy Star certified.
#1 Condensing
Rheem Performance Platinum High Efficiency ECOH200DVLN-2
Cost: $1,300
Flow Rate: 9.5 GPM (5.7 GPM w/52° at inlet)
Uniform Energy Factor: 0.93 Energy Star Certified
Warranty: 12-year Heat Exchanger, 5-year Parts, 1-year Labor
Pros:
One customer said, "Great product – and our energy cost dropped the first month after replacing an older tankless model."
Installation goes quickly due to friendly design and clear instructions.
Thermostat is easy to learn and use.
Cons:
"Takes longer to fill our tub than our old tank heater, but the hot water never quits," said one customer. Even with an impressive flowrate, tankless heaters sometimes can match the rates of storage tank water heaters.
You might find that older pipes rattle a bit as this unit kicks on and off – a problem not uncommon to tankless whole house water heaters.
Why We Chose This One: This Rheem high performance condensing tankless water heater is a model that boasts a lot of high marks from satisfied owners. It is WiFi compatible with their separately sold EcoNet WiFi kit. It's Energy Star efficient and has a great warranty.
#2 Condensing
A. O. Smith Signature Premier Condensing Indoor GT15-540-NI
Cost: $1,540
Flow Rate: 10 GPM (5.8 GPM w/52° at inlet)
Uniform Energy Factor: 0.93 Energy Star® Certified
Warranty: 15-year Heat Exchanger, 5-year Parts, 1-year Labor
Pros:
Compact size with quiet operation due to a well-insulated cabinet.
Impressive flow rate, even when incoming water is cool.
Excellent warranty coverage.
Cons:
High initial price.
Some customers report difficulty dealing with customer service when they have questions or repair needs.
Why We Chose This One: The copper primary heat exchanger and stainless steel secondary heat exchanger provide superior heat transfer and protection which results in extended product life. Safety features include freeze, overheat, and surge protection as well as troubleshooting diagnostic codes. And you've got to love the warranty.
Electric Tankless Water Heaters
Electric tankless heaters are very similar to their gas heater counterparts, but they use powerful electric elements for their heat source. Most electric tankless units need three or four 40-amp circuits to provide enough power to heat the water rapidly. Because of this, a 200 Amp main power panel is usually the minimum that will be required. Think that through before you buy a whole-house electricity water heater!
As with gas models, the incoming water temperature will greatly affect their performance and ability to provide a higher volume of hot water (flow rate). One Consumer Report study said, "electric models may be better suited to areas with warmer groundwater, such as the South." That's an understatement, without question.
Electric models have an Efficiency Rating rather than a Uniform Energy Factor. As with the gas models, this number is helpful when comparing models of the same type.
#1 Electric
Rheem Performance Self-Modulating RETEX-36
Wattage: 36,000
Cost: $560
Flow Rate: 8 GPM (5.1 GPM w/52°at inlet)
Efficiency Rating: 99.8%
Warranty: 5-year Heat Exchanger, 1-year Parts
Pros:
Compact size.
Heats to its temperature setting quickly – 120F is recommended, but this unit is capable of 140F, which might be appropriate in commercial or organization settings where a sanitizing dishwasher or clothes washer is in use.
Most verified users find this unit easy to program and use.
Cons:
Some units have mixers that can become imbalanced. The result is that the water gets cooler the more you open the tap. This is rare, but it can happen and might be an installation failure more than a water heater problem.
As with all whole-house electric water heaters, they're expensive to operate. Don't let the "99.8%" efficiency fool you. It just means that it uses almost all the electricity it consumes to heat water. It does not mean it is more of an energy miser than a gas model with a .82 or .86 energy factor.
Why We Chose This One: This is the largest model in Rheem's top line of electric tankless heaters. It has a very high efficiency rating, and It has an easy-to-adjust temperature control that is accurate to 1°F from 80-140 degrees F. Over 78% of verified customers gave this model a 4- or 5-star rating.
#2 Electric
Stiebel Eltron Self-Modulating Tempra 36 Trend
About the Company: Since the invention and production of the first coil immersion heater in a backyard workshop in Berlin in 1924, Steibel Eltron has been manufacturing innovative products of the highest quality. Manufactured in Germany, they meet or exceed all the U.S. and Canadian safety certifications. With headquarters in America since 1980, Stiebel Eltron maintains a sales, service, distribution, and spare parts facility in Massachusetts.
Wattage: 36,000
Cost: $750
Flow Rate: 7.03 GPM (4.6 GPM w/52° at inlet)
Efficiency Rating: 99.0%
Warranty: 7-year Heat Exchanger, 3-year Parts
Pros:
One of the better warranties for a large, electricity water heater.
"Electric bill didn't increase. 3 hot showers at once," said one customer. However, it is our guess that the consumer replaced an older electricity model with this one. Then, what they say makes sense.
Hang it on the wall and use the floor for other things.
Cons:
"In the middle of a shower and the water gets cold real cold for about 3 min and then gets hot again," or similar is an infrequent complaint, but it does happen. Apparently, the high limit switch on the unit shuts it down till cool water flowing through it cools the unit and it clicks on again. This is a mechanical failure and should be covered by the warranty.
As with all large electricity heaters, this one sucks up the power. If you don't have 200 amps in your box, don't bother considering it.
Why We Chose This One: Tempra Trend tankless water heaters are about the size of a briefcase and need no venting. They have unique Smart microprocessor technology that delivers steady water temperature even when the flow rate varies. All 6 models in this line are covered by a warranty as good as any and better than most.
#3 Electric
Eemax HomeAdvantage II HA036240
About the Company: Established in 1988, Eemax began manufacturing tankless water heaters for commercial use. In 2000, they added residential heaters to their product line. In 2013, Eemax acquired EcoSmart, another producer of electric water heaters. Two years later, Rheem acquired Eemax. Rheem's specialty was gas water heaters, but this acquisition has increased its product range to include quality electric tankless heaters.
Wattage: 36,000
Cost: $810
Flow Rate: 8.0 GPM (4.5 GPM w/55°F at inlet)
Efficiency Rating: 99.8%
Warranty: 5-year limited warranty against Leaks, 1-year limited warranty on Parts and Electrical Components
Pros:
Eemax is considered a premium brand, and many users are more satisfied with it than with the older electricity models it replaced.
"Quiet operation. Manual temperature control with a single dial," are just two of the common praises for this unit.
Can definitely serve hot water to two showers at a time, and maybe a dishwasher, especially if the showers are fitted with low-flow heads.
Cons:
Higher cost than the basic Rheem model that's the #1 Electric water heater, the Rheem Performance Self-Modulating RETEX-36.
You might lose a little water pressure if multiple showers are running – if the shower heads are high-volume.
The warranty length is a little short given the unit's price.
Why We Chose This One: This is the largest residential tankless model made by Eemax. It has a sophisticated computer controlled micro-processing temperature control to provide scald protection while maintaining hot water at +- 1°F. It features an external LED temperature display and a temperature adjustment knob. The warranty against leakage is great for peace of mind.
Tankless Water Heater Guide and FAQs
For the newcomer to whole house tankless water heaters, this section will guide you through the buying process – or might steer you back to an affordable tank style water heater.
Explaining Important Terms
There are several terms that are used to describe the performance features of tankless water heaters. In case you are not familiar with them, here are the terms with a brief description of what they mean or refer to.
"Flow Rate" – The maximum amount of hot water in gallons per minute (GPM) that the heater can provide at any given time. It is important to understand that this will vary according to the temperature of the cold water entering the heater. In the continental U.S. it can range from less than 40°F in the North to over 70°F in the South.
Energy.gov assumes that the incoming water temperature is 50-55F and the heater is set to deliver hot water at 120F. This means the tankless water heater will need to raise the water temperature approximately 70 degrees as it passes through the heater.
The manufacturer's listed number is usually rated with only a 35-degree temperature rise, which assumes an incoming water temperature of more than 70F. This will only be the case in the warmest parts of the U.S.
To calculate the approximate flow of hot water that you need in your home at one time, refer to the chart below. When selecting a tankless heater, it's always best to choose a model with a flow rate a little higher than you think you will need.
Keep in mind the climate where your home is located. The groundwater temperature is a huge factor on the performance of any tankless water heater.
| | |
| --- | --- |
| Fixture Type | Flow Rate |
| Faucet | 1 GPM |
| Tub | 4 GPM |
| Shower | 2 GPM |
| Dish Washer | 2 GPM |
| Laundry | 2.5 GPM |
| Kitchen Sink | 1.5 GPM |
"Uniform Energy Factor" – Think of this as the amount of energy (gas or electricity) that is turned into hot water. The higher the number, the more efficient the water heater is relative to others that use the same fuel. In money terms, an energy factor of 0.90 will give you 90¢ worth of hot water for every $1.00 you spend on energy.
"BTU" – British Thermal Unit, which is defined as the amount of heat required to raise the temperature of one pound of water by one degree Fahrenheit. It is a number attached to all appliances that produce heat. In practical terms, it is useful for comparing the heating power of one model to another of the same type.
What's the Difference Between a Tank and a Tankless Water Heater?
A traditional tank water heater has a storage tank from 40 to 80 gallons. This water is heated either by a gas burner of around 40,000 BTU or by electric elements of about 5,000 KW and then kept at a preset temperature, waiting for a hot water faucet to be opened.
When a hot water faucet is opened, hot water flows from an outlet at the top of the tank through the pipes in your home to the open faucet. At the same time, cold water begins to refill the tank from the cold-water inlet at the bottom of the tank.
After the hot water faucet is closed, the cold water continues to flow in until the tank is full, and the heating units (either a gas burner or electric elements) continue to heat all the water in the tank until it reaches its preset temperature. Then the heat source shuts down to a maintenance mode to keep all the water at that temperature.
A tankless water heater also has a cold-water inlet and a hot water outlet, but it doesn't have a tank to store water. When a hot water faucet is opened, cold water begins flowing through the heater where it is quickly heated to a preset temperature. This is done by either a gas burner of 100,000 to 200,000 BTU or electric elements of 13,000 to 36,000 KW.
When the hot water faucet is closed, water stops flowing through the heater and the heat source immediately shuts off as well. There is only a small amount of water left inside the tankless heater, and that will cool to room temperature until a hot faucet is opened again.
What Are the Pros and Cons of Tankless vs. Storage Tank Ones?
Pros:
Energy savings. According to the US Department of Energy "For homes that use 41 gallons or less of hot water daily, demand (or tankless) water heaters can be 24% to 34% more energy efficient than conventional storage tank water heaters."
Space savings. Tankless heaters are much smaller than tank water heaters; usually wall mounted.
Longer useful life. Tankless heaters have approximately twice the forecast useful life of tank water heaters.
Easier to winterize. For those who leave their home in the North during the winter, there is no large tank to drain and no continual energy use to keep a tank full of water from freezing.
Cons:
Unit Cost. Generally higher purchase price than tank water heaters.
Installation Cost: With parts and labor, installation fees can be more expensive if you're replacing a tank water heater with a tankless water heater. Additional electric service runs are almost always required for electric units, and a larger gas supply line may possibly be needed for gas models.
Occasional low-pressure and "cool water" periods when demand is at peak. Reduced water flow can occur with the higher demands of a large family. Several hot water faucets open at the same time can result in cooler than desired water. Incoming water temperature will also affect this greatly. You certainly don't want to oversize your water and waste energy, but if it is undersized or even the right size, this issue can pop up once in a while.
No reserve: Since they don't have tanks, there is no hot water on standby in the event of a power outage.