There are not many roofing materials that can match the longevity, durability, malleability, flexibility, resiliency, and cost-effectiveness of Zinc.
Not even aluminum or copper! Zinc roofs are known to last for hundreds of years, even in the most extreme environments.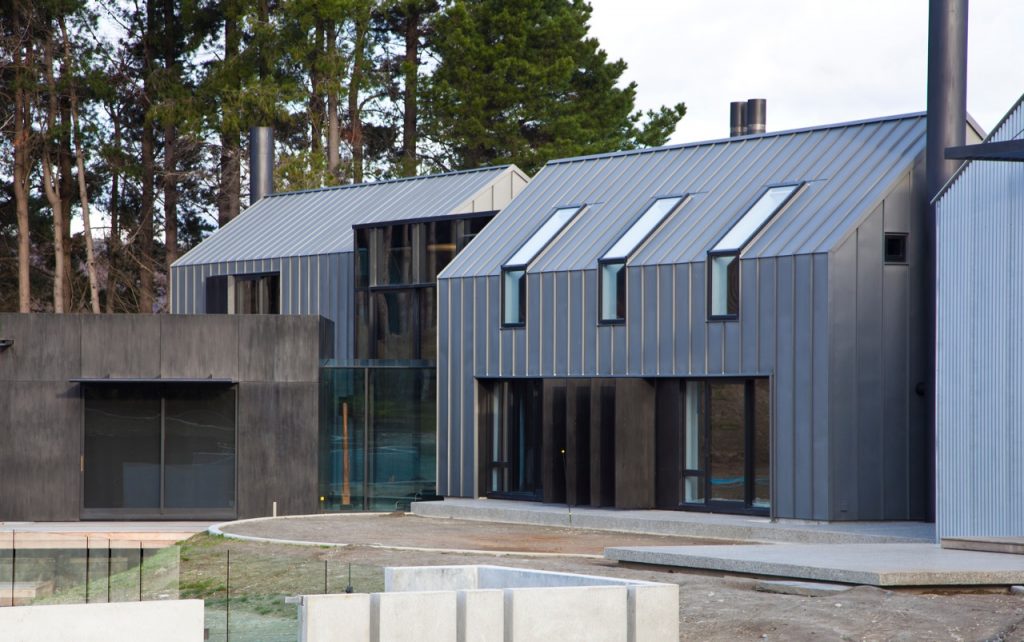 How Much Does Zinc Roof Cost?
Truly unmatched durability, longevity, and classic beauty — that's what zinc roofing offers to a homeowner. — At $14.50 to $20.50 per sq. ft. installed, it is the kind of value that is simply unmatched in all other roofing materials.
Asphalt Shingles

$8,500

Average Cost

Metal Roof

$15,500

Average Cost

Flat Roof Membrane

$11,500

Average Cost

See what local pros charge Enter your zip code
Zinc — Most Amazing Building Envelope Material You Never Heard of!
In the US, the whole idea of using zinc as a roofing or cladding material for a house may sound other-worldly.
Aluminum and steel dominate residential metal roofing market, while asphalt shingles are by far the most popular overall roofing material.
When you also factor in natural slate, clay tiles and cedar/wood roofing options, Zinc barely registers on most people's radars. Though this trend is changing, slowly.
Did you know? 70% of residential roofs in Europe are covered with zinc. In Paris, this number goes up to 85%.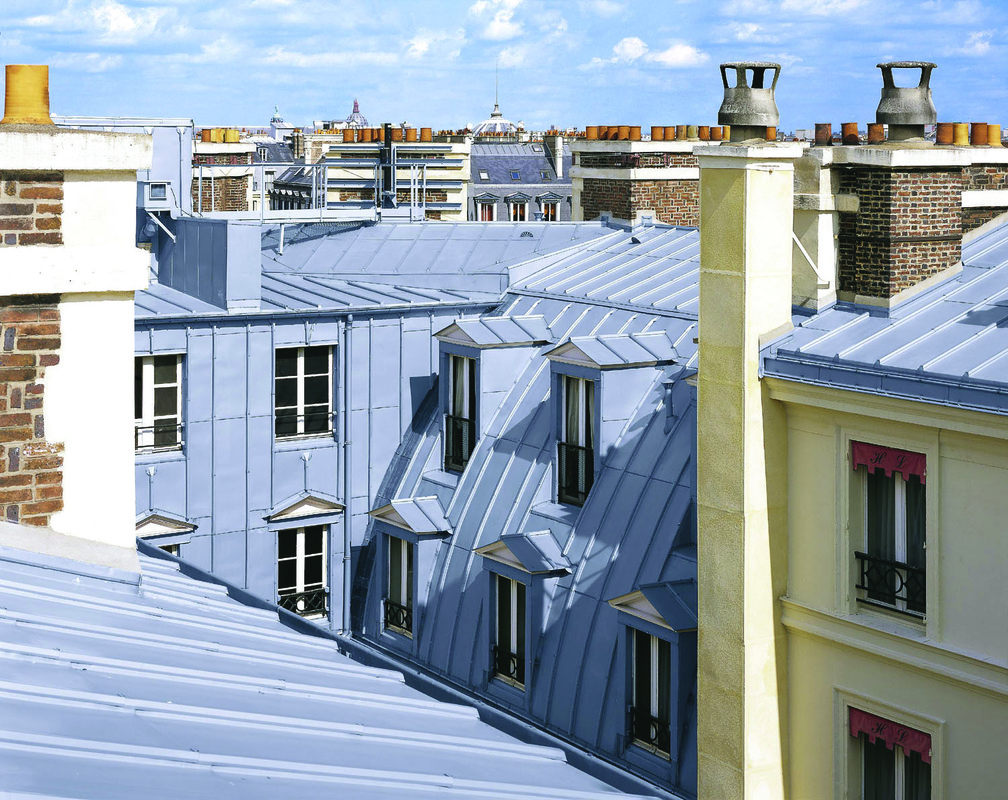 via Metal Tech USA
Metal roofing is often chosen for its durability and longevity. All properly designed and correctly installed high-end metal roofs are likely to last at least 50 years.
Yet, for that to hold true for a roof made of steel, for example, it must be coated with galvanic finishes such as G-90 galvanized steel or Galvalume (zinc and aluminum coating), along with high quality paint finishes such as Kynar 500.
With zinc and copper roofing, though, no special coatings are needed to achieves superior durability and longevity in any whether including extreme marine environments.
Both Zinc and Copper form protective patina, meaning they will not rust nor be adversely impacted by weathering.
Both metals benefit from aging, and their patina process.
With zinc, it starts out dark, as in dark gray / near black and then changes to a patina light gray or bluish color. Zinc can also be painted virtually any color, which serves as a sacrificial layer prior to the patination process.
Did you know? Thanks to zinc's naturally-forming self-healing properties, it can provide years of virtually maintenance-free roof and building envelope protection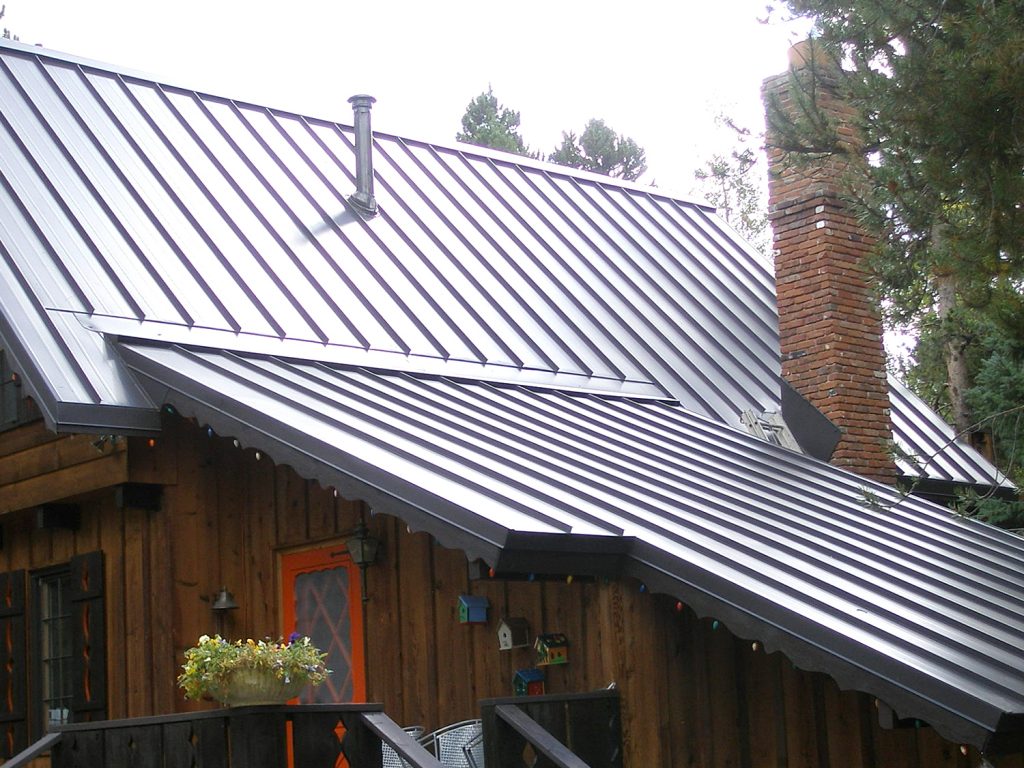 via CraftCorp
What makes Zinc truly fascinating is its resiliency. All metal roofs, including zinc, can be scratched. With Steel, scratches in its coating layer will expose the base material to the effects of oxidation and corrosion.
With Zinc, it actually self-heals. You read that right, Zinc if scratched will self-correct.
The protective (patina) layer of Zinc is technically hydroxyl carbonate that will, over time, reform itself and thus eliminate blemishes or scratches. This is one, of a few reasons, why the market for Zinc will often sell pre-patinated zinc roofing.
As you may have guessed, zinc is extremely durable. When steel is "galvanized", it is really just adding a protective layer of zinc to steel base to protect it from oxidation, as bare steel is subject to corrosion, or will rust when exposed to salt, water, or moist environment over a long period of time.
Galvanized and Galvalume (zinc and aluminum coating combination) steel will forgo that aging and corrosion for a couple of decades thanks to the protection from zinc and/or zinc-aluminum.
Like most metals, zinc is insect-proof, fire resistant, and mildew / fungus-proof. Zinc also benefits from being non-toxic. Because of its low to non-existence toxicity level, soft zinc is marketed as replacement for flashing material for all roofs.
Back in the day, the traditional material was lead, then steel, but soft zinc, offers virtually the same level of durability with no known toxicity impact.
Did you know? Run-off water from Zinc is considered 'clear' or contaminant free, which most metals can't readily claim. Thus, a zinc roof is a great option for homeowners interested in
Rainwater collection.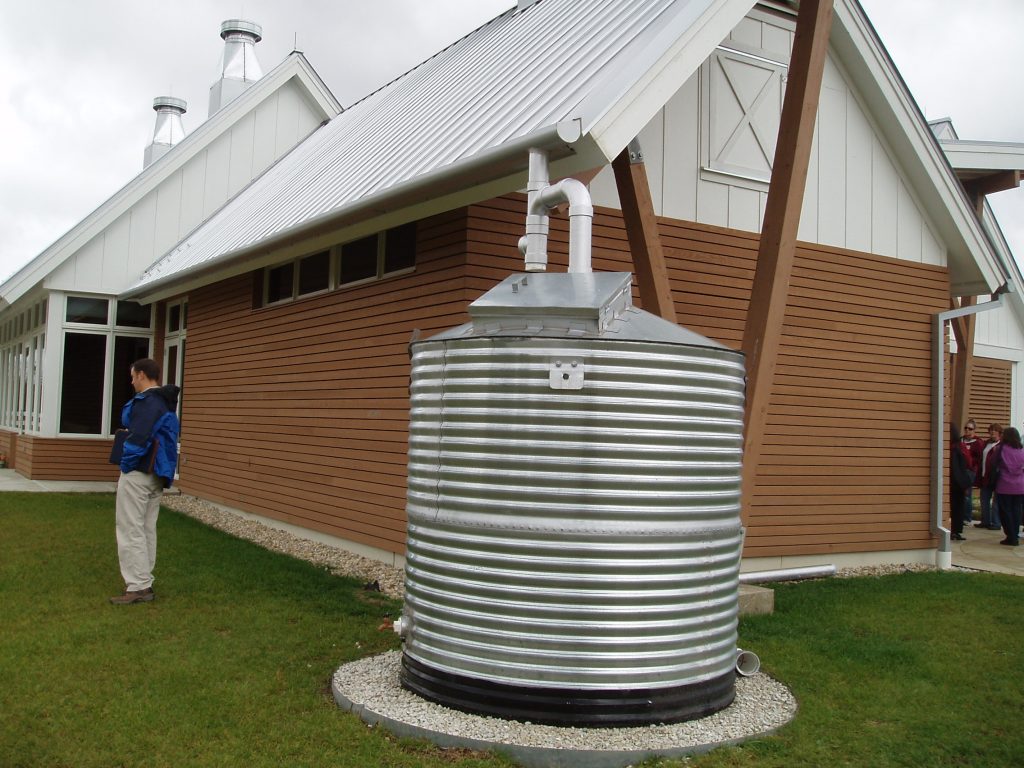 Like many other metals, zinc is fully recyclable. Plus, it will reflect solar radiant heat, as most metals do to some degree, which prevents the unwanted transfer of heat from the roofing material into the attic space.
On the contrary: asphalt shingles gain a lot of heat during the day and transfer much of it inside your home.
Moreover, zinc has even greater environmental value in that it takes less fuel to manufacture it, really to boil it and shape it into a sheet metal coil used for fabrication of zinc roofing panels.
Did you know? Aluminum and steel use a good two to four times the amount of energy in their production compared to zinc.
All this value would make you think it must be at least as expensive as Copper. Nope. Not necessarily.
Zinc Shingles and Standing Seam Costs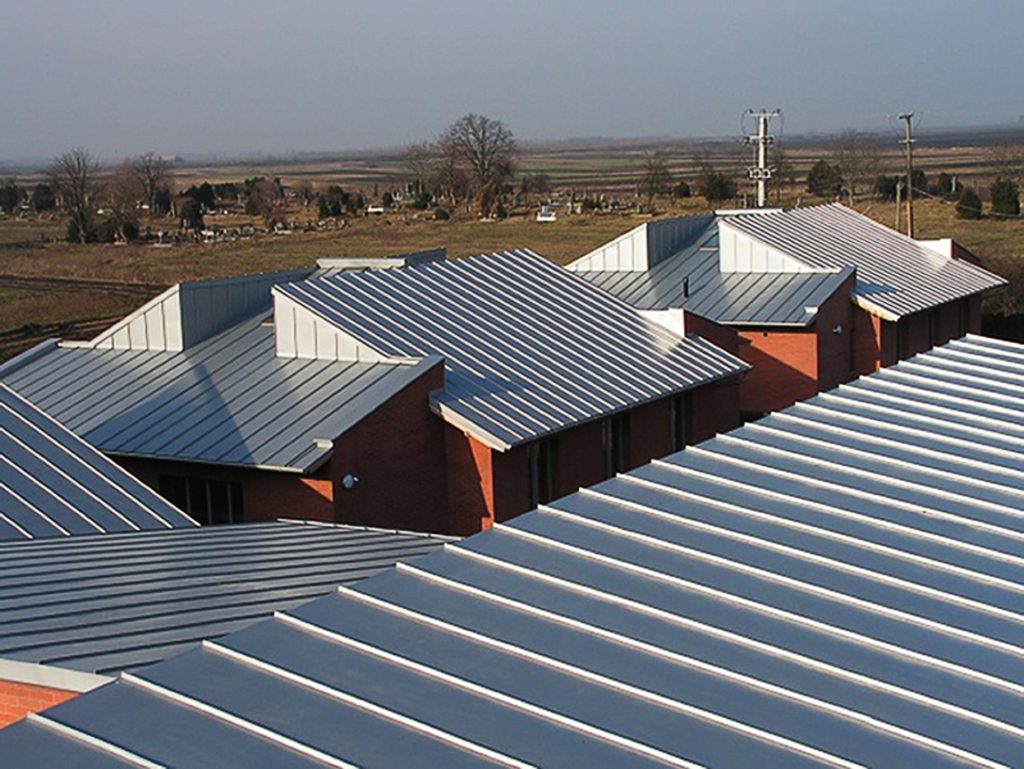 Zinc is very versatile. Zinc Shingles and Standing Seam are equally viable residential roofing options. Zinc shingles cost around $6.00 to $8.50 per sq. ft. of material, whereas zinc standing seam panels will range in price from $6.50 to $10.00 per sq. ft. of material.
Estimated New Roof Costs (2,000 sq.ft.)
Asphalt
Metal
Flat

$8,500
$15,500
$11,500

See what local pros charge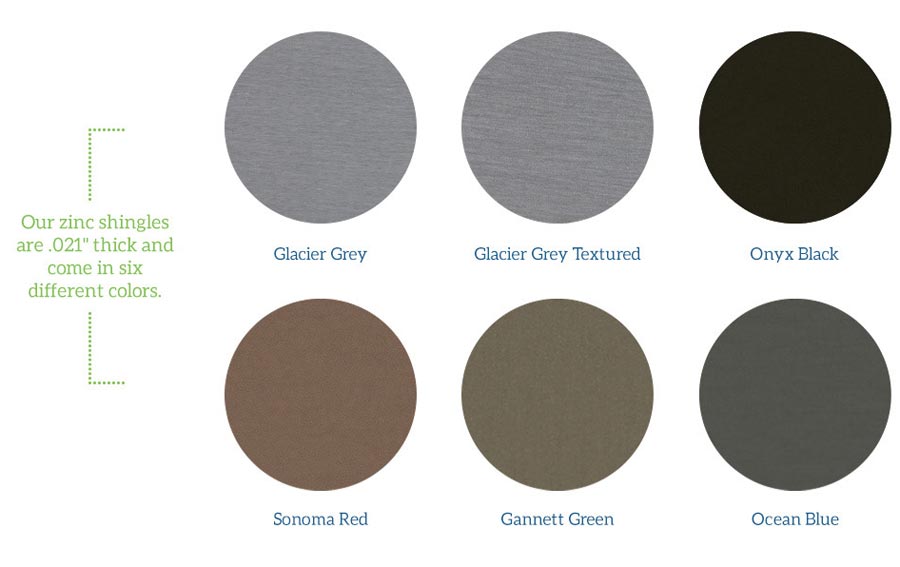 Then, figure in fasteners, underlayment material, and the like. Plus, about $6.50 to $10.50 per sq. ft. for the installation, depending on the over difficulty level of your roof and your geographic location, and we're back in the previously mentioned price range.
The reason for the wide range in pricing has to do with the availability of materials and professional installers in your region. Also note that a typical installation will take two to three times longer compared to traditional asphalt shingles that can be installed by untrained laborers.
Installers who actually have expertise and experience installing residential zinc roof and wall cladding products. Then there are factors such as slope of your roof or how steep it is, and how many complex roof lines you have.
Lastly, your bottom line can be affected by whether the existing roof needs to be torn off and disposed of. All of the above factors will affect your total cost installed.
At RoofingCalc.com, we plugged an average sized roof of 1,600 sq. ft. into their cost calculator, went with better grade (quality of materials), using a licensed and insured contractor, and a simple roof shape.
For our zip code the installation total came to roughly $23,200 on the low end and $25,300 on the high end. Note: the above figure does not include any tear off or removal and disposal costs.
When plugging in a different zip code, the costs on both high and low went up $1,000 (hint: we went with NY City, thinking that would be among the most expensive).
In terms of ROI, metal roofing will generally result in 86% recouped value should you decide to sell your house any time down the road. That's among the best ROI ratios for all roofing types.
With Zinc, the exact data is not there, but given the values we stated, it would be surprising if it weren't higher than 86%, especially considering that on the east cost of the U.S., metal roofing tends to achieve a 95% ROI.
Cost of Zinc Roofing vs. Other Metal Roofing Alternatives
Copper averages around $25.00 per sq. ft. when installed as roofing. By far the most expensive metal material sold in the residential market.
Steel can be had for as little as $7.50 to $14.50 per sq. ft. installed depending on the system.
Aluminum installed can range from $8.50 to $16.50 per sq. ft.
Zinc comes in at only a slightly higher price point of $12.50 to $20.50 per sq. ft. installed.
Advantages of Zinc
Highly cost effective
Durable – will last 100 years or more
Beautiful before and after patina process
Self-healing – scratches be gone
Energy efficient
Eco-friendly
Fire, insect, mold resistance
Oh and non-corrosive
Disadvantages of Zinc
Improper installation, such using a non-breathable synthetic underlayment could lead to non-breathable layer under the zinc, thereby trapping mold
Patina rate (of change) can vary depending on climate it is installed
With the above two noted, finding a quality contractor, and making sure you get a breathable synthetic underlayment installed underneath the zinc roof in order to allow the roof deck to breathe is critical for getting positive outcomes. Though remember that pre-patinated zinc roofing is possible to purchase.
Have you considered installing a Zinc Roof on your home?
Need a Pro?
Check out Prices from Local Roofers: