Fujitsu mini split heat pump systems are available in single zone and multi zone options. Installed cost starts at $4,800 for a small, single-zone unit. Prices can exceed $20,000 for a large, 5-zone system when main equipment, necessary accessories and labor are added in.
You can find cheaper prices on lesser brands. Fujitsu is considered one of the better brands by HVAC installers and repair technicians. It is a good brand to consider if you:
Plan to make a long-term investment in your current home.
Prefer professional installation to doing it yourself.
This is a comprehensive Fujitsu mini split heat pump buying guide with system options and comparisons, costs, pros and cons and the return on an investment from installing a Fujitsu mini split system.
Fujitsu General – That's the company's full name. But everyone simply calls it Fujitsu, so that is what we use (mostly) throughout this review.
Introducing Fujitsu Airstage
Fujitsu recently announced a global rebranding of its mini split HVAC systems – All Fujitsu mini split systems are now called Airstage mini split systems. The transition will take some time as wholesalers and retailers sell out of the old units, replacing them with Airstage systems.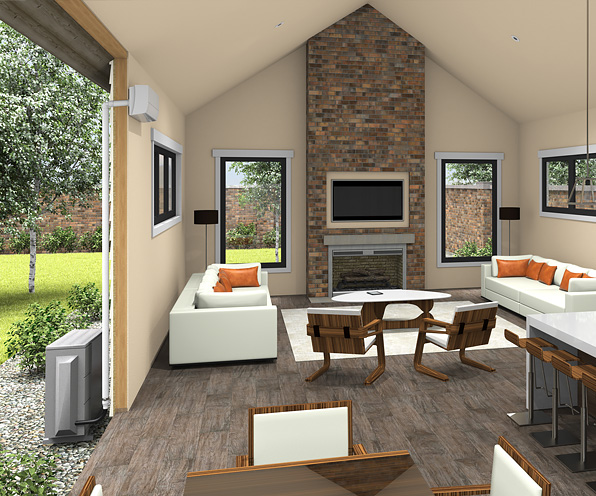 You likely know that a mini split system consists of:
An outdoor unit or condensing unit is installed outside where it collects heat when in Heat mode and where it dumps heat in AC mode.
Average Cost To Install a Ductless AC (Mini-Split)
Typical Range:
$3,270 - $4,780
Outdoor units, also called condensing units, come in various sizes to match the needed indoor carpet and number of zones from 1 to 5. That's the maximum # of zones for Fujitsu – 5.
Indoor units come in a bunch of types – Wall mounted, floor mounted, universal (put it low or high), cassette, etc. They are all described, with pros, cons, and costs, below.
Remotes – While wired wall controls can be (must be in some cases) installed for your system, all systems also come with a wireless remote for each indoor unit.
WiFi / Smart Home – WiFi modules are either standard or optional in all systems and are used with the Fujitsu FGLair App. When a module is installed, the systems can be controlled with Amazon Alexa and Google Home.
Details of what is available in Fujitsu indoor units are given below in the reviews of the single zone and multizone systems.
You'll have the information you need to purchase a system online or discuss your Fujitsu mini split system choices with the contractor you select to install your system.
Which raises a good question…
Are Fujitsu mini split systems DIY?
No. By design, Fujitsu and most top brand manufacturers do not fill their units with sufficient refrigerant. This requires hiring a licensed technician with what's known as a "refrigerant card." It is the certification necessary to charge a system with refrigerant.
Fujitsu warranties also require installation by a licensed professional – a common industry practice.
Here is what the Fujitsu warranty states: "PROPER INSTALLATION – This Limited Warranty applies only to Systems that are installed by contractors who are licensed for HVAC installation under applicable local and state law (Licensed Contractor), and who install the System in accordance with: (a) all applicable building codes and permits; (b) FG [Fujitsu General] installation and operation instructions; and (c) good trade practices."
Fujitsu Single Zone Mini Split Systems – Airstage Single Zone Systems
Fujitsu single zone systems have one outdoor unit and one indoor unit. That's stating the obvious, perhaps. And there are 9 indoor unit styles.
What is unique to Fujitsu General is that the single zone systems are not mix and match. Each indoor unit type has its own outdoor unit series in various sizes.