Mohawk laminate flooring is called RevWood, and it is available in four series including waterproof laminate flooring.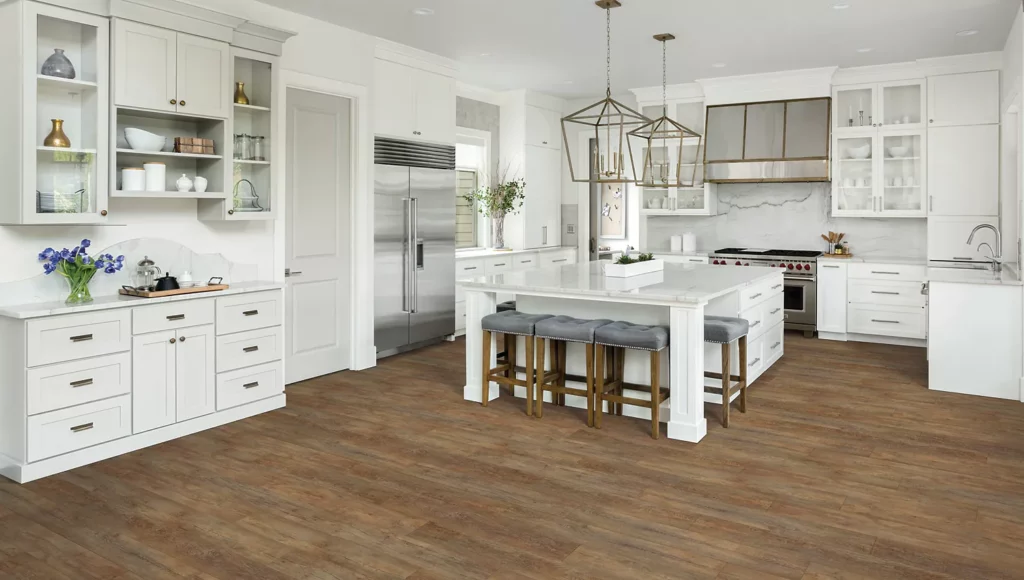 Mohawk RevWood laminate flooring reviews are generally good. It gets high marks for decent quality at a fair price while there are some concerns about its durability.
Did you know? There are four lines of RevWood laminate flooring. Many Mohawk RevWood reviews list just three series partly because the Mohawkflooring.com website only lists Plus, Select and Premier.
But the company also manufactures the basic RevWood line that is marketed as builder's grade. We've seen it referred to as RevWood Essentials. It is listed on Mohawk's contractor-focused MohawkBuild.com site.
What Is Mohawk Laminate Flooring?
Mohawk laminate is flooring manufactured with a wood fiber and polymer core. The core is topped with a photographic layer – a photo of genuine wood plank flooring printed on paper that gives laminate its realistic appearance.
A clear wear layer that is waterproof and scratch resistant is applied last. The edges of all the planks are sealed to make them resistant to water to the extent that Mohawk provides a waterproof warranty on most lines. Details of the Mohawk waterproof guarantee are included down the page.
RevWood pieces lock together with something like a tongue and groove design that Mohawk calls Uniclic. This creates a floating floor – the flooring isn't glued or fastened to the surface below.
Mohawk includes RevWood in the category of wood flooring because of the wood fiber core. But it does not contain any solid wood like genuine hardwood and engineered hardwood does. Like all laminate flooring, RevWood can be called fake wood or faux wood flooring.
Does Mohawk RevWood flooring have attached pad or underlayment? No. None of the lines offer attached pad. Most installers suggest a thin foam underlayment. And if you're installing it over concrete, a vapor barrier should be installed too.
How Much Does Mohawk Laminate Flooring Cost?
Mohawk RevWood flooring cost is $2.29 to $4.39 per square foot from most retailers, but you'll find it for $5.50 or more from some online sellers. Shop around for the best price.
Here are the four lines and their retail costs per square foot.
RevWood: $2.29 to $2.59.
RevWood Select: $2.29 to $2.79.
RevWood Plus: $2.69 to $3.29.
RevWood Premier: $3.49 to $4.39.
If you have a flooring contractor install it, the total cost of the floor is $5.00 to $10.00 per square foot.
Professional installation (warrantied labor) costs between $3.00 and $6.50 per square foot depending on factors like the complexity of the floor plan, volume of flooring being installed, the cost of living in your area and who you hire to do the work.
With professional, warrantied labor, the installed cost of RevWood laminate flooring looks like this:
RevWood: $5.25 to $9.25 per square foot.
RevWood Select: $5.65 to $9.90 per square foot.
RevWood Plus: $5.75 to $10.00 per square foot.
RevWood Premier: $6.50 to $10.75 per square foot.
| | |
| --- | --- |
| Bathroom 30 – 80 Square Feet | Installed Cost |
| RevWood | $350- $725 |
| RevWood Select | $400 – $785 |
| RevWood Plus | $435 – $800 |
| RevWood Premier | $475 – $885 |
| | |
| Kitchen 60 – 250 Square Feet | Installed Cost |
| RevWood | $415 – $2,300 |
| RevWood Select | $465- $2,475 |
| RevWood Plus | $515 – $2,500 |
| RevWood Premier | $585 – $2,685 |
| | |
| Home Office 150 – 500 Square Feet | Installed Cost |
| RevWood | $1,025 – $4,450 |
| RevWood Select | $1,200 – $4,800 |
| RevWood Plus | $1,265 – $4,900 |
| RevWood Premier | $1,400 – $5,100 |
| | |
| Living Room 240 – 600 Square Feet | Installed Cost |
| RevWood | $1,475 – $5,400 |
| RevWood Select | $1,600 – $5,775 |
| RevWood Plus | $1,700 – $6,000 |
| RevWood Premier | $1,925 – $6,400 |
| | |
| Whole House 1,250 Square Feet | Installed Cost |
| RevWood | $6,875 – $11,300 |
| RevWood Select | $7,100 – $12,400 |
| RevWood Plus | $7,250 – $12,500 |
| RevWood Premier | $8,200 – $13,325 |
| | |
| Whole House 1,500 Square Feet | Installed Cost |
| RevWood | $9,000 – $13,600 |
| RevWood Select | $10,500 – $14,375 |
| RevWood Plus | $10,750 – $14,800 |
| RevWood Premier | $12,000 – $16,100 |
| | |
| Whole House 2,000 Square Feet | Installed Cost |
| RevWood | $11,600 – $18,000 |
| RevWood Select | $12,500 – $19,500 |
| RevWood Plus | $13,400 – $19,750 |
| RevWood Premier | $14,000 – $21,000 |
Mohawk RevWood Laminate Review
Here are our experts' reviews of each RevWood laminate flooring line. Mohawk calls RevWood "Good," RevWood Select "Better," and RevWood Plus and Premier "Best."
Selection is always subject to change, and not all sellers offer all lines and colors.
RevWood
This contractor grade flooring is available in 6 lines and 32 total colors. It's a popular choice for affordable, decent-looking flooring.
Within the selection, you have options for square, beveled/milled and micro-beveled edges. The different edge options are explained below.
Species: Wood species mimicked are mostly oak but you have walnut and chestnut options too.
Dimensions: The flooring is 8mm thick, and planks vary by style from 5.25" to 7.5". Flooring pieces are 47.25" long.
Warranties: This line does not have a waterproof warranty. The manufacturer's warranty is a lifetime against defects. This means that the flooring shouldn't fall apart of the layers separate, aka delaminate. But the floor will show wear with time.
Care: Because it is not waterproof, the floor should be swept or vacuumed with a hard-floor vacuum. But a wet mop or steam mop should not be used. In fact, it may void the warranty.
Longevity and Best Use: As the cheapest Mohawk laminate flooring, it should last 8-15 years, depending on the amount of volume and type of traffic. This is a good choice for no-shoes areas like bedrooms. Because of the lower cost, this is also a good choice for a quick and cheap home update before putting a home up for sale.
RevWood Select
Mohawk's "Better" line of laminate and is available in 6 lines and 27 total colors. The edges are sealed, and the waterproof warranty is 10 years.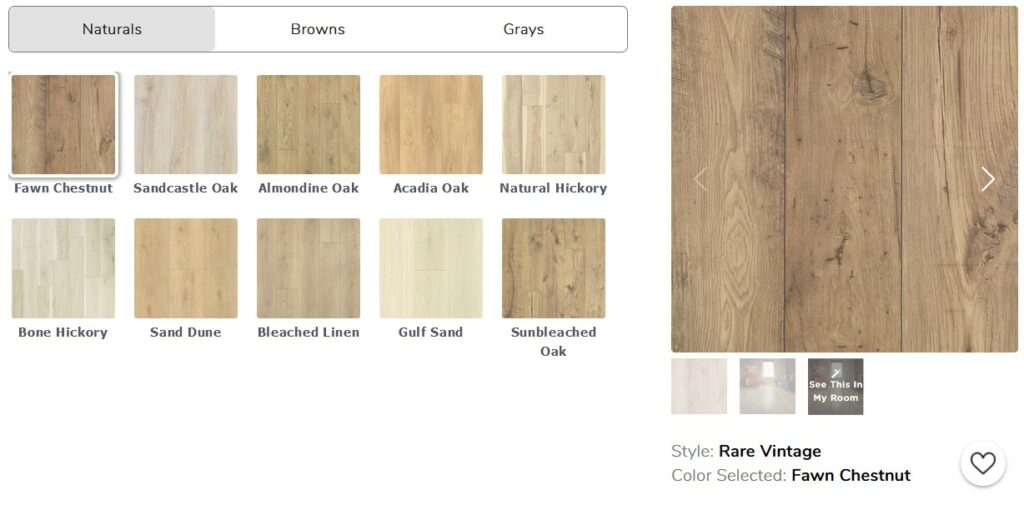 Species: Mostly oak shades with hickory and chestnut options.
Dimensions: All planks are 7.5" wide. Lengths are 47" or 53" depending on the line. The flooring is 12mm thick.
Warranties: Lifetime manufacturer's warranty with a 10-year waterproof warranty. The waterproof warranty applies to the planks and to the subfloor. However, keep in mind that the waterproof warranty covers typical household spills left on the flooring for up to 30 minutes. That's a pretty short time compared to better waterproof warranties on luxury vinyl flooring or LVT/LVP.
Care: The maintenance guide for RevWood Select does allow for damp mopping but not steam mopping.
Longevity and Best Use: You can expect 12-15 years of usefulness from this flooring. It is a good choice for any location at or above grade – it isn't designed for basements, in other words.
RevWood Plus
This is one of the two "Best" lines of Mohawk laminate floors and the best seller of all. You'll find it available from most flooring retailer stores and websites.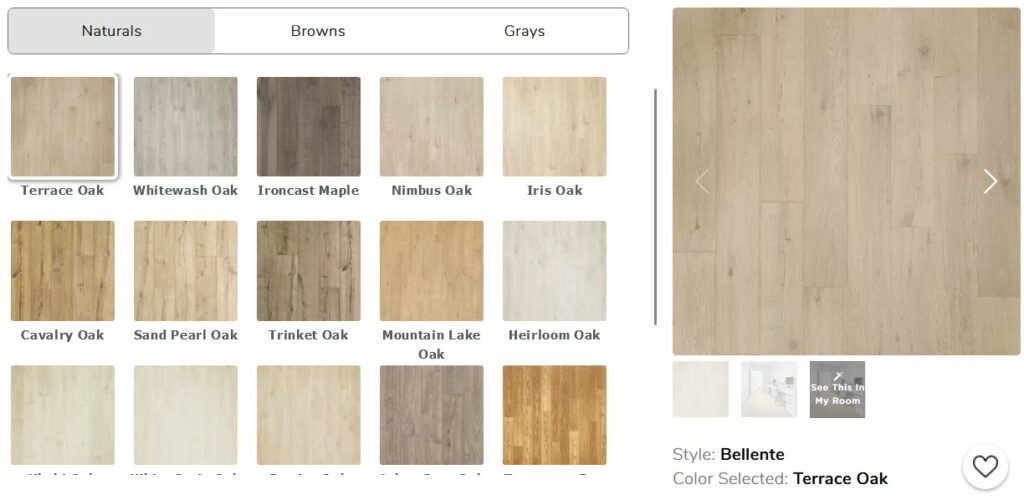 It is produced in 10 lines and 44 total colors.
Species: Oak and maple.
Dimensions: The flooring is 8mm, 10mm or 12mm thick. Planks range from 5.25" to 9.44", though most are 7.5".
Warranties: This is backed by the Lifetime manufacturer's and waterproof warranties. This includes the Pet Plus Protection warranty against pet accidents.
Care: Damp mopping and wet/steam mopping are allowed when cleaning this floor.
Longevity and Best Use: This is sturdy flooring that should look good for 12-15 years depending on how heavy the foot traffic/pet traffic is. As with all laminate and vinyl flooring, it should be protected with pads on furniture legs and by not dragging heavy objects over it.
RevWood Premier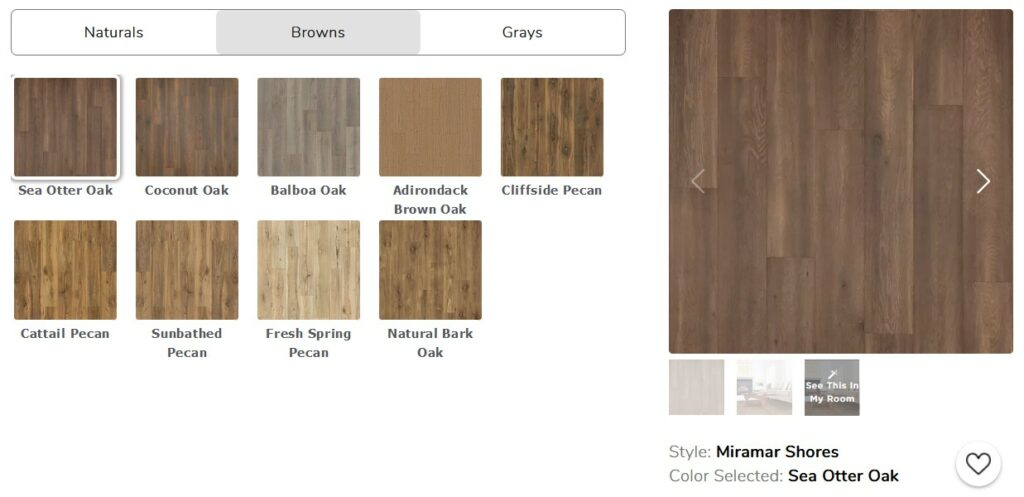 This is the priciest Mohawk laminate. Premier is manufactured in 4 lines and a total of 18 colors.
Species: Oak only.
Dimensions: Planks are 8.35" wide and 54" long. The flooring is 12mm thick. The beveled edge is called GenuEdge designed to have the realistic look of genuine wood flooring while providing waterproof protection to the wood fiber core.
Warranties: Lifetime manufacturer's warranty and waterproof warranty and Pet Plus Protection.
Care: Wet mopping and steam mopping are allowed.
Longevity and Best Use: This flooring is expected to look good for 12-20 years in most residential settings. Keep dirt off the floor to prevent it from being walked on and wearing away the flooring's protective layer.
Laminate Flooring Edge Choices
There are three edge types in the various Mohawk laminate lines.
Milled or beveled edges are traditional. They produce a V-shaped joint where pieces meet. The benefit is that edges are less likely to stick up and be chipped if the subfloor isn't completely level.
Micro-beveled edges are the same shape, but the bevel doesn't go as deep.
Square edges are perpendicular and offer a more contemporary or sophisticated look. There's no V-shape to collect dirt. But square edge flooring should only be used where the subfloor is in excellent condition and is very level.
Comparing RevWood to Other Laminate
RevWood is available, as noted, in basic, better, and best lines. This is consistent with other top manufacturers like Pergo – which also happens to be owned by Mohawk Flooring. The better lines, Plus and Premier, are similar to other waterproof laminate lines like Shaw Repel, Pergo Elements, Armstrong Audacity, Aquaguard and Mannington Restoration Collection. Generally, Mohawk laminate flooring lines are considered superior to cheap Shaw laminate and Home Decorators Collection sold exclusively at the Home Depot.
Comparing RevWood to Luxury Vinyl
Laminate and luxury vinyl flooring are most often compared head-to-head. Laminate is preferred for the genuine wood look produced in the photographic layer. But some vinyl planks are printed in a similar fashion to make them look quite authentic.
Laminate is a harder floor, and generally cooler, which might be a benefit in warmer climates. Where winters are cold and fridgid, you might appreciate vinyl beneath your feet. LVT vinyl is somewhat softer too, though WPC and SPC flooring are quite hard.
And while RevWood has a waterproof warranty on most lines, again it is limited to standing water left on the floor for no longer than 30 minutes. There is wood fiber at the core, and if water gets into the core through a cut edge or scratched surface, the fiber will absorb the moisture and swell up, requiring damaged flooring to be replaced.
Pros and Cons of Mohawk Laminate RevWood Flooring
Here are the advantages and disadvantages of Mohawk's laminate lines.
Pros
The selection is excellent. First, you have cost choices, and they are all quite affordable compared to genuine hardwood flooring. If you want a cheap floor to dress up a room, RevWood laminate provides it. When you want laminate that is more durable, then the Plus and Premier lines give you that too.
One advantage it has over a lot of hardwood floors is that Mohawk RevWood laminate is very resistant to scratches. Pet and furniture scratches show up more readily on many genuine hardwood floors compared to laminate.
And within the many flooring lines, you'll find the wood type, color, and plank width to suit your purposes.
RevWood laminate is easy to care for. Don't use a wet mop or steam mop on the cheaper lines. In fact, it might be good to avoid a very wet mop or the use of a steam mop on any laminate including Mohawk waterproof laminate lines.
Tip: A lot of homeowners use the Bona system on their hard floors. Mohawk recommends against using Bona or similar systems saying that they could dull your flooring. And using anything other than what Mohawk recommends in the flooring guide can void your warranty.
Unlike carpet, Mohawk laminate does not harbor dust and allergens. And it is FloorScore certified to be low in volatile organic compounds, or VOCs.
Cons
Mohawk RevWood laminate looks pretty good, but it isn't genuine hardwood. It won't last as long, and it obviously can't be refinished.
The return on investment for RevWood is poor compared to hardwood. If real wood floors are common in your neighborhood, then using laminate might hurt your ability to sell your home if potential buyers expect real wood floors rather than fake wood flooring.
DIY installation is definitely possible for homeowners with basic skills. But you'll likely break a few edges getting the hang of the click-together design. Edges on the cheaper RevWood line are especially susceptible to breakage. It is recommended that you buy 5% to 10% extra flooring to handle trimming, mistakes and to have a few pieces or a box for future repairs.
Some homeowners find soft or squishy spots in their floors after installation. This is likely an issue with the subfloor not being level or causing the floor to be uneven and to give a little when stepped on. Some floors click and pop some, too.
The best thing to do is to be meticulous about subfloor prep or hire a flooring contractor to do the work. If a pro installs it, you have recourse if it isn't done properly, and problems develop.