The best shingle color for your roof is one that completes your home's exterior by giving it what it is lacking. It creates balance and helps to emphasize the best features of your home, maximizing curb appeal.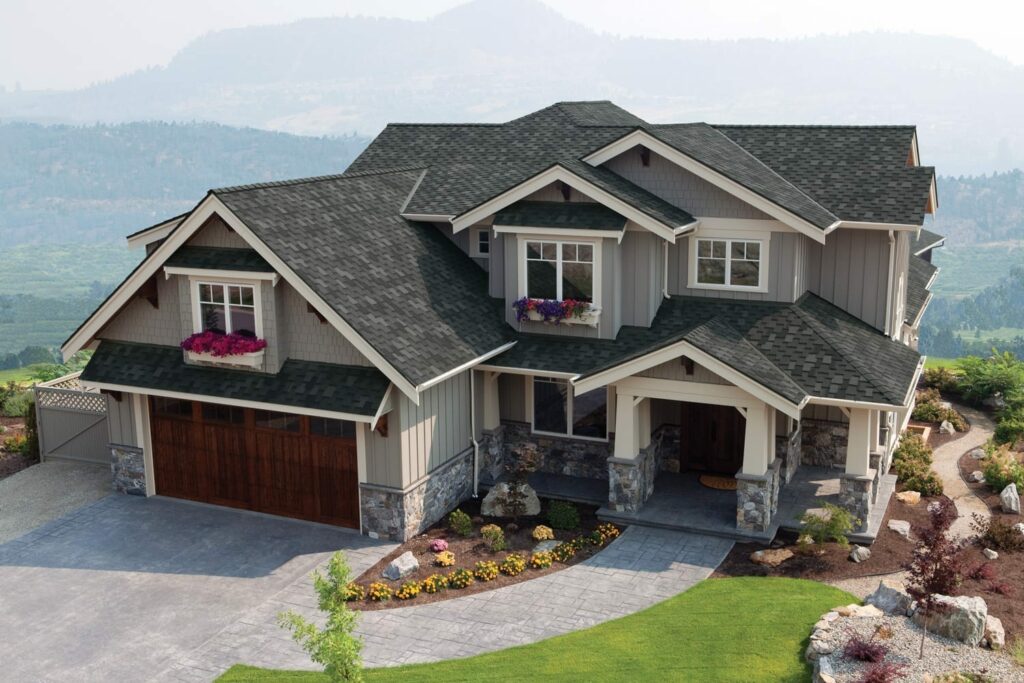 A house with a bland exterior needs shingles with color to provide visual interest.
A home exterior that already features multiple colors benefits from a solid color to prevent the overall look from being too busy.
If the home's siding is a "warm" tone, like beige or brown, then the roof should be a neutral or warm color.
"Cool" tones like gray and blue exteriors are best complemented by black or colors on the "cool" side of a color wheel.
Black is a safe choice for any roof.
If what you've heard so far makes sense, read on for:
Tips on choosing the right shingle color for your home based on your home's color, style, climate and more.
Tools available that can assist you in your search for the "perfect" asphalt shingle color.
A summary of Do's and Don'ts when choosing a roof color.
Plenty of sample pictures to illustrate the content.
Roof Visibility, Curb Appeal & Shingle Choice
Choosing the best shingle color for your roof is critical for curb appeal and your personal enjoyment of your home.
25% – The roof accounts for around 25% of what's visible from the curb on two-story homes or single-story homes with a moderately sloped roof.
40% or more – On single-story homes or any home with a very steep/tall roof, the roof structure is an even larger part of the view from the street.
Those aren't just random numbers – there are important tips to be shared from the information.
The larger the roof, especially with a steep pitch, the more it makes sense to choose a medium-colored or lighter-colored roof. Large, dark roofs overwhelm a small or medium-size house, making it look top-heavy.
On the other hand, a light-colored roof that isn't steep looks underwhelming on a two-story home. Small roofs need robust, darker color to achieve visual balance.
Start with What you Have – Siding, Trim, Shutters, Front Door
Finding the right shingle color isn't an isolated choice. Simply picking a shade you like may or may not produce a good-looking home.
The process should start with evaluating what's already on your house unless you are doing a complete exterior renovation. Even then, since the siding is the largest part of the picture, consider starting there. A few of the visualizers listed below allow you to choose a siding color and a roofing color.
There are two key considerations here – the "temperature" of your current exterior and how many different hues are used.
So, what are the colors of the siding, trim, shutters, gutters, and the front door – a visual focal point on any home?
Are they warm colors? Then your roof shingles should ideally be warm. And cool-colored roofing shingles best complement cool tones of siding, doors, trim, shutters, etc.
Note that complimenting your home's siding and trim, necessarily, does requires some degree of contrast between siding and trim/shutters, and the roof.
Below is a quick explanation on what the warm and cool colors are and how to make sense of it all.
About Colors – Warm and Cool Colors
This wheel is typical of those referred to by designers and artists – anyone working with color.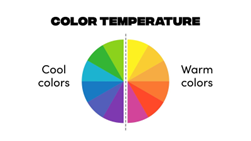 *Brightness: Roof shingles are rarely as bright as the colors in the wheel, but their highlights can be.
Here are the most common color hues. As you can see, most are medium dark, other than white, rather than light. As a rule, light roofing isn't as attractive as darker, richer tones.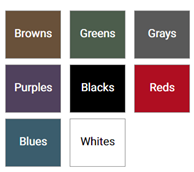 Instead of being extra-bright, most have granules of more than one color with highlights that can be bright.
Average Cost To Install a new Roof
Typical Range:
$5,960 - $12,740