The most expensive roofing materials are genuine slate, clay tile, cedar shingles, metal, premium asphalt shingles and composite roofing.
This guide takes a deeper look at high priced roofing types. Are they worth the money? The information includes costs, top brands, and how long they last before having to be replaced.
Most Expensive Roofing Cost Comparison
| | | |
| --- | --- | --- |
| Material | Installed Cost/Sq. Ft. | Cost for 2,500 Sq. Ft. Home |
| Slate | $15 – $30 | $37,500 – $75,000 |
| Clay Tile | $14 – $25 | $35,000 – $62,500 |
| Metal Roofing | $10 – $30 | $25,000 – $75,000 |
| Asphalt Shingles | $8 – $14 | $20,000 – $35,000 |
| Cedar Shakes and Shingles | $11 – $19 | $27,500 – $47,500 |
| Composite Roofing | $12 – $18 | $30,000 – $45,000 |
Average Cost To Install a new Roof
Typical Range:
$5,960 - $12,740
Genuine Slate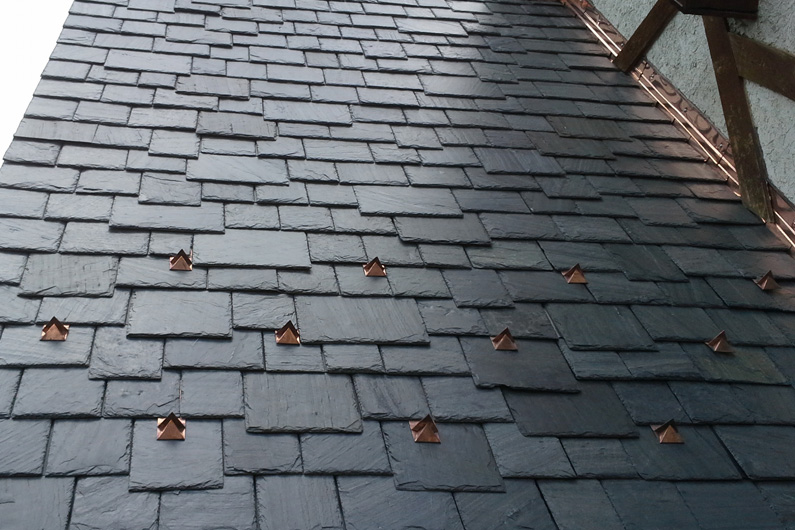 Real slate tile roofs are the most expensive option for your home at $15.00 to $30.00 per square foot. That means a roof on a typical 2-story 2,500 square foot home with attached garage will run $37,500 to $75,000.
Cost Factors: The exact cost of a slate roof depends on the slate you choose. First, some colors are considered premium because of their beauty or rarity, so they cost more. Secondly, slate thickness ranges from 5mm to 12mm. Thicker slate lasts longer and costs more.
Finally, shipping costs are high because slate is heavy, so the further your home is from where the slate is mined, the higher the cost of the material. Most slate sold in the US is mined in the Northeastern US or is imported from Europe, Asia, or Africa.
Longevity: Slate lasts a minimum of 50 years, and many slate roofs are 100 years old or older. Some slate is more brittle, and it can be susceptible to deterioration in climates with freeze and thaw cycles.
Brands: The top brands of slate tile are Evergreen Slate, Newmont Slate, American Slate, Buckingham Slate, Georgetown Slate and Vermont Slate Company.
Is a slate roof worth the cost? Yes, because of its longevity, a slate roof will probably be the last roof you ever buy. The best return on investment for a slate roof is on a home in an upscale neighborhood where slate, clay tile and cedar shakes are common.
You won't necessarily get a good return on your investment in a typical suburban neighborhood where asphalt shingles and the most popular roofing material.
Clay Roofing Tiles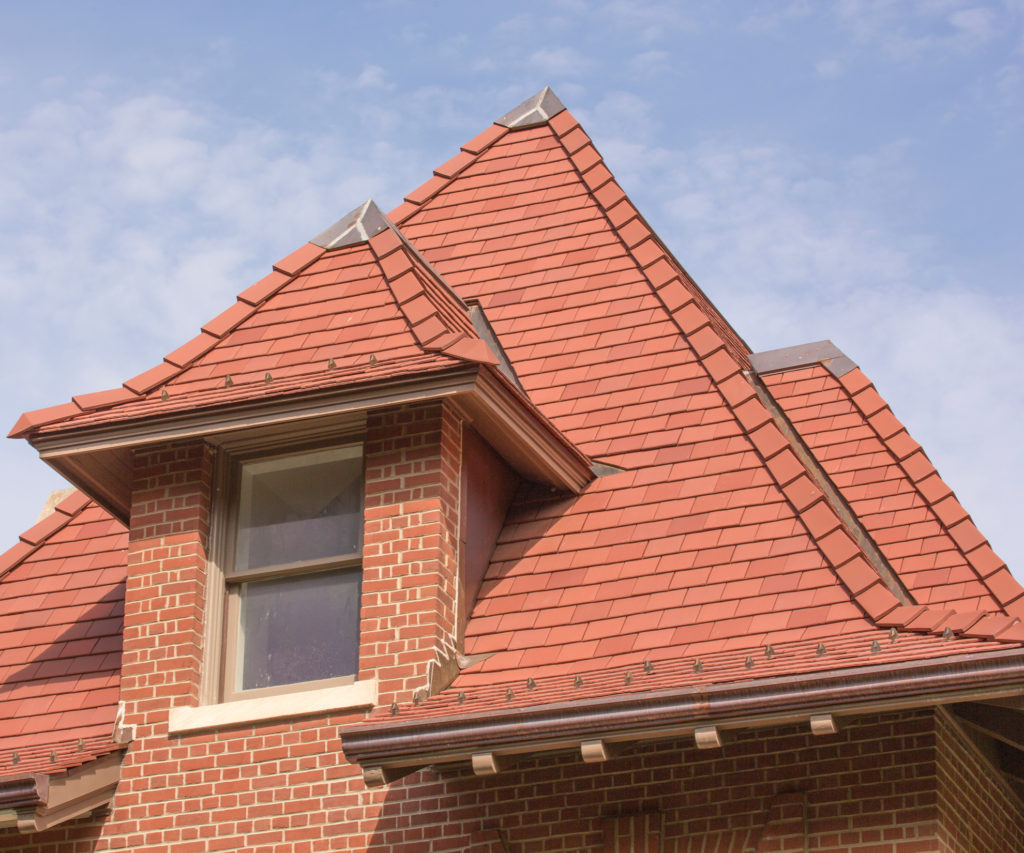 Clay tile roofs are distinctive and long-lasting. Their best fit is on homes in warm climates, because freezing weather can cause the tiles to become brittle.
The cost of a clay tile roof is $14.00 to $25.00 per square foot installed. The total cost of a clay tile roof is $31,500 to $54,000.
Cost Factors: The primary cost factor is the complexity of the roof. The installation cost is significantly higher on roofs with a steep pitch, 8/12 or steeper, for example, and those with dormers, multiple levels, and lots of valleys.
Longevity: In warm climates, tile roofs last 50 to 100 years, possibly longer when well maintained. Warranties start at about 40-50 years. If your climate experiences freezing winter weather or rounds of freezing and thawing, the tiles might begin to deteriorate after 20-30 years.
Brands: The best-selling brands of clay roofing tiles are Ludowici, Crown Roof Tiles, Westlake Royal Roofing Solutions, Eagle, Terreal North America and Verea.
Is a clay tile roof worth the money? A clay tile roof is a good investment in neighborhoods in warm climates where clay tile roofs are common. You won't get a good return if most homes in your area feature more affordable roofing options like asphalt or steel.
Metal Roofing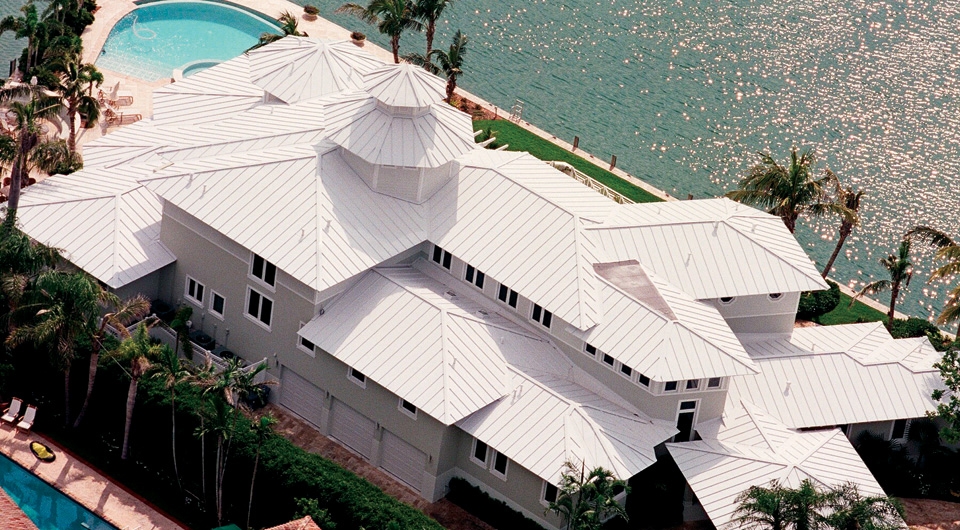 Metal roofs are becoming more common because they are attractive, durable, and environmentally friendly. Your options include steel, aluminum, and copper.
The cost of a metal roof can range from $10.00 to $30.00 per square foot depending on the material. Total cost is $25,000 to $75,000 for most homes. The most popular metal roofing is standing seam steel with a cost of $28,000 to $44,000 per home.
Asphalt Shingles

$8,500

Average Cost

Metal Roof

$15,500

Average Cost

Flat Roof Membrane

$11,500

Average Cost

See what local pros charge Enter your zip code
Cost Factors: The type of metal you choose is the major factor. The roof pitch and complexity of the roof also make a big difference in the installed price.
Longevity: Kynar 500 G-90 galvanized steel lasts 30-50 years. Higher-end coated steel like Galvalume and stone-coated steel (Galvalume) can last up to 40-60 years. Zinc is especially durable with a lifespan exceeding 100 years. Copper is also a "lifetime" roof with durability exceeding 100 years.
Brands: The best metal roofing brands are McElroy Metal, Worthouse, Classic Metal Roofing, ATAS International, Tamko MetalWorks, Englert, MBCI and DECRA.
Is metal roofing worth the money? Yes, if metal roofs are common where you live, then it will provide good value for your home.
Metal panel roofing like standing seam steel roofing is mostly seen in rural areas and small towns but is becoming more common in suburban areas. Steel, stone-coated and copper shingles are a good fit in most neighborhoods. And copper's prestige makes it appropriate for any home, though it won't provide a good ROI on a modestly priced home.
Estimated New Roof Costs (2,000 sq.ft.)
Asphalt
Metal
Flat

$8,500
$15,500
$11,500

See what local pros charge
Premium Asphalt Shingles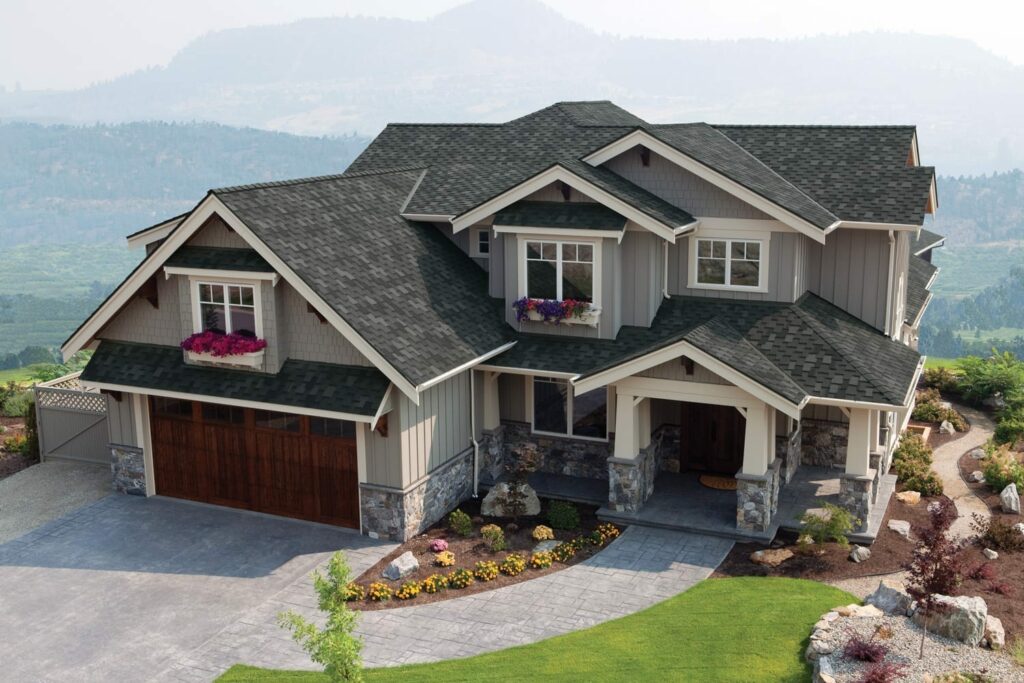 All asphalt shingle brands have premium lines of architectural shingles with 3-5 layers of material to produce a thicker roof that produces more shadow. The idea is to mimic the look of stone slate or cedar shingles more closely.
These asphalt shingles are called designer shingles or luxury shingles. CertainTeed Grand Manor or Carriage House, GAF Grand Canyon or Slateline, and Atlas StormMaster Shake.
The cost of premium asphalt shingles installed is $8.00 to $14.00 per square foot. Total installed cost can range from $20,000 to $35,000 on most homes.
Average New Roof Cost:

See what local pros charge Enter your zip code
Cost Factors: Adding a layer of shingles to an existing roof is more affordable than tearing off an old roof and installing all needed materials including underlayment, water/ice barrier at the eaves and valleys, new ridge vent, etc.
Longevity: Expect a premium asphalt shingle roof to last 20-35 years depending on climate and site conditions.
Brands: The best shingle brands are Atlas, Malarkey, CertainTeed, GAF, Tamko, Iko (some premium lines), and Owens Corning.
Is an asphalt shingle roof worth the money? Asphalt shingles are a good fit in most neighborhoods. However, if homes where you live are roofed in higher cost materials like wood shakes, clay tiles or slate, then asphalt might harm your home's resale value.
Cedar Shakes and Shingles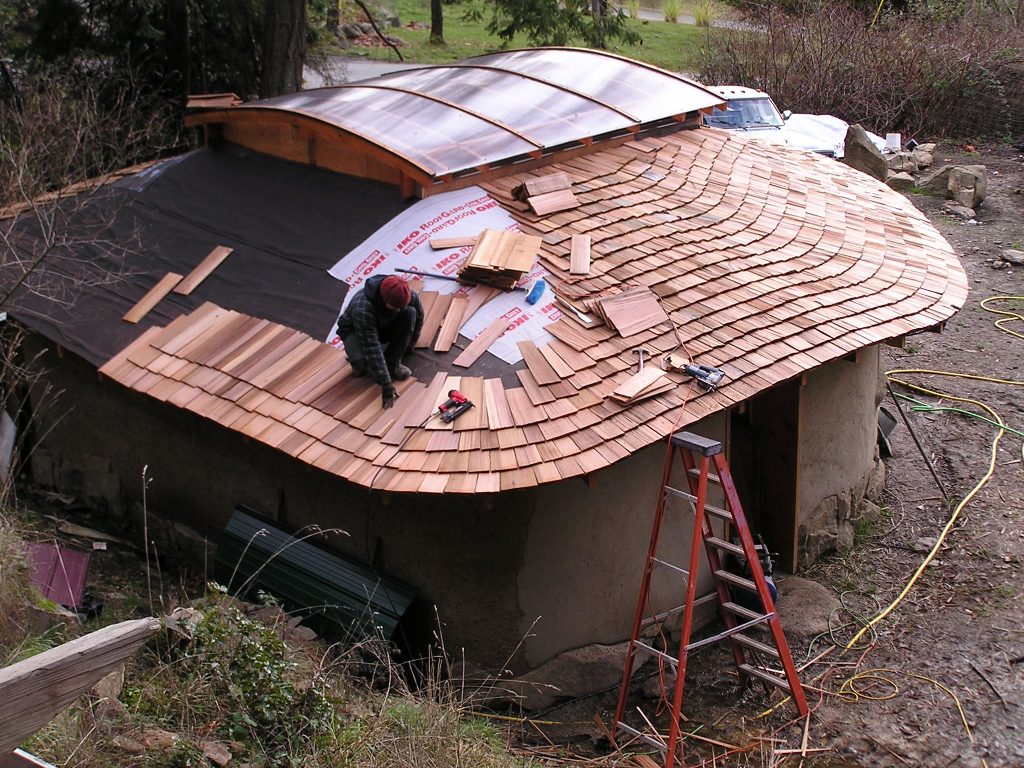 Cedar shakes give any home a robust, rustic feel. Wood shingles have cleaner, more contemporary lines. Either is a good choice for homes sided with wood, brick, or stone veneer.
The cost of a cedar shake roof or cedar shingle roof is $11.00 to $19.00 per square foot installed. The price comes to $27,500 to $47,500 per home.
Cost Factors: The primary cost factors regarding the material are the thickness of the shakes or shingles and whether they are prefinished at the factory. As with other options, the design, roof pitch, shape, and overall complexity are some of the main installation cost factors.
Longevity: Cedar roofing can be expected to last 25-40 years with good maintenance, which involves removing algae and moss, replacing split or broken shingles, and spraying on a protective sealer every 2-4 years if recommended by the roofing manufacturer.
Brands: While some brands sell their shingles across the country, many are regional brands made from local wood. Top brands include Bear Creek Lumber, Best Quality Cedar, Dow's Eastern White, Cedar Valley, Shakertown, Waska and Watkins Sawmills.
Are wood shakes worth the cost? Wood roofing is a good fit for mid-priced and expensive homes. If wood shingles and shakes are common where you live, then you'll get good value from installing them on your home. ROI is less when they are installed on lower-cost homes that typically have affordable asphalt shingle roofs.
Composite Roofing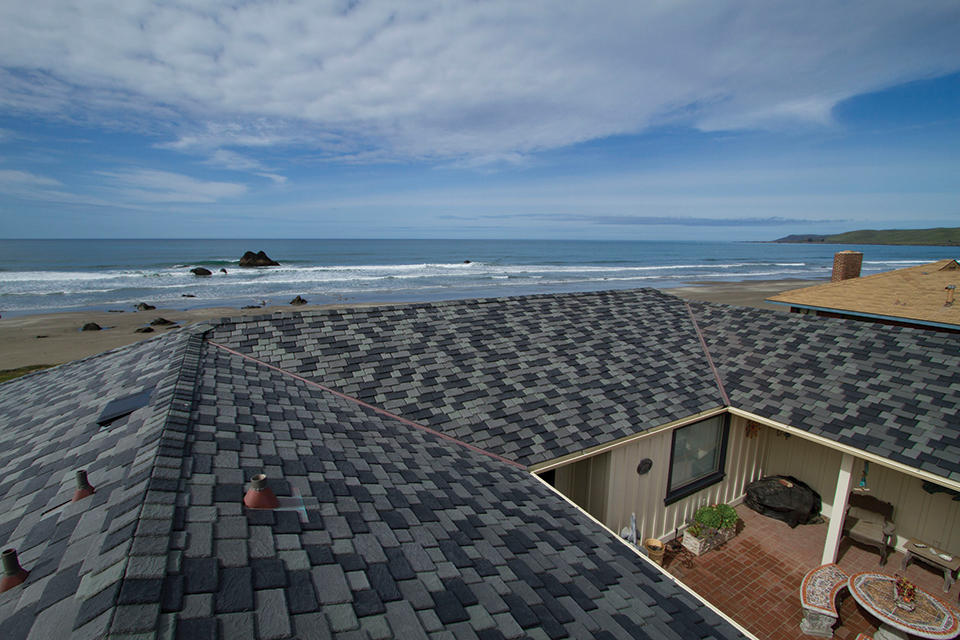 Composite shingles, shakes and slate are produced using synthetic materials including PVC, polymers, and rubber. They mimic genuine wood shingles and shakes or stone slate. But these materials require much less maintenance than wood.
The cost of composite roofing is $12.00 to $18.00 per square foot installed or $30,000 to $45,000 total for most homes.
Average Cost To Install a new Roof
Typical Range:
$5,960 - $12,740
Cost Factors: The quality of the roofing is the main cost factor for the material. Slates are thinner and cost less than rubber and synthetic shakes and shingles. Installation factors including the pitch and complexity of the roof affect cost too.
Longevity: These are newer products, and their durability isn't fully tested yet. However, most roofing pros expect composite roofs to last 25-30 years.
Brands: The brands you'll see as you shop for composite roofing include Enviroshake, EcoStar, DaVinci Roofscapes, F-Wave, CeDUR, InSpire and Brava.
Are composite shingles worth the money? The ROI of composite shingles, shakes and tiles isn't as high as the return on more common materials. This is because they are a newer roofing material, and some homebuyers will prefer roofing they are more familiar with.
Get Free Quotes For roofing Pros Near You