The best shingle color for your roof is one that completes your home's exterior by giving it what it is lacking. It creates balance and helps to emphasize the best features of your home, maximizing curb appeal.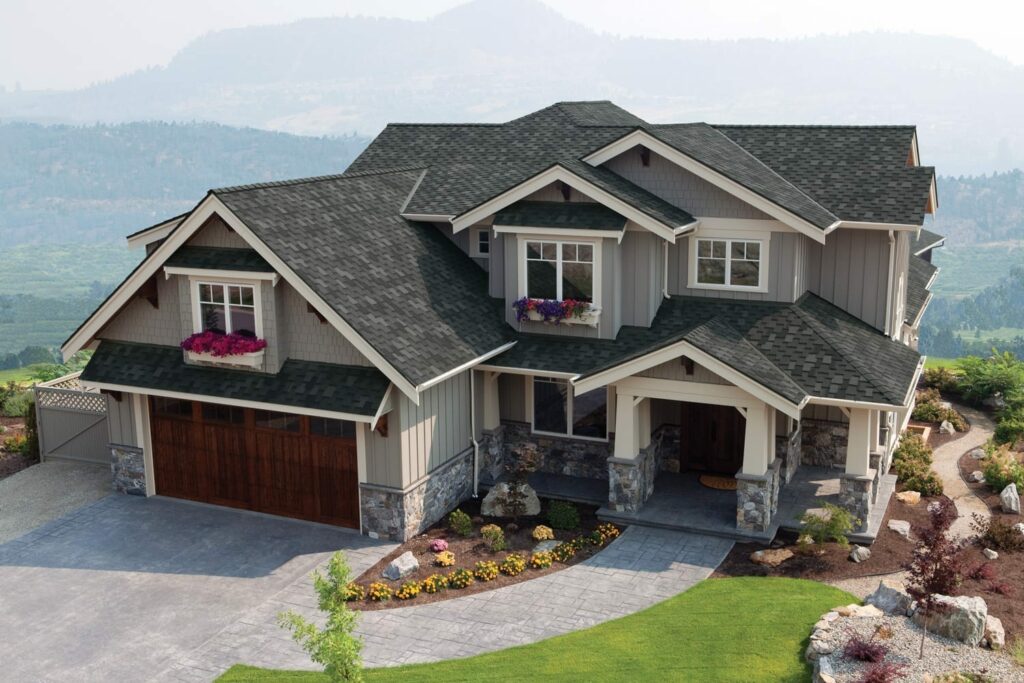 A house with a bland exterior needs shingles with color to provide visual interest.
A home exterior that already features multiple colors benefits from a solid color to prevent the overall look from being too busy.
If the home's siding is a "warm" tone, like beige or brown, then the roof should be a neutral or warm color.
"Cool" tones like gray and blue exteriors are best complemented by black or colors on the "cool" side of a color wheel.
Black is a safe choice for any roof.
If what you've heard so far makes sense, read on for:
Tips on choosing the right shingle color for your home based on your home's color, style, climate and more.
Tools available that can assist you in your search for the "perfect" asphalt shingle color.
A summary of Do's and Don'ts when choosing a roof color.
Plenty of sample pictures to illustrate the content.
Roof Visibility, Curb Appeal & Shingle Choice
Choosing the best shingle color for your roof is critical for curb appeal and your personal enjoyment of your home.
25% – The roof accounts for around 25% of what's visible from the curb on two-story homes or single-story homes with a moderately sloped roof.
40% or more – On single-story homes or any home with a very steep/tall roof, the roof structure is an even larger part of the view from the street.
Those aren't just random numbers – there are important tips to be shared from the information.
The larger the roof, especially with a steep pitch, the more it makes sense to choose a medium-colored or lighter-colored roof. Large, dark roofs overwhelm a small or medium-size house, making it look top-heavy.
On the other hand, a light-colored roof that isn't steep looks underwhelming on a two-story home. Small roofs need robust, darker color to achieve visual balance.
Start with What you Have – Siding, Trim, Shutters, Front Door
Finding the right shingle color isn't an isolated choice. Simply picking a shade you like may or may not produce a good-looking home.
The process should start with evaluating what's already on your house unless you are doing a complete exterior renovation. Even then, since the siding is the largest part of the picture, consider starting there. A few of the visualizers listed below allow you to choose a siding color and a roofing color.
There are two key considerations here – the "temperature" of your current exterior and how many different hues are used.
So, what are the colors of the siding, trim, shutters, gutters, and the front door – a visual focal point on any home?
Are they warm colors? Then your roof shingles should ideally be warm. And cool-colored roofing shingles best complement cool tones of siding, doors, trim, shutters, etc.
Note that complimenting your home's siding and trim, necessarily, does requires some degree of contrast between siding and trim/shutters, and the roof.
Below is a quick explanation on what the warm and cool colors are and how to make sense of it all.
About Colors – Warm and Cool Colors
This wheel is typical of those referred to by designers and artists – anyone working with color.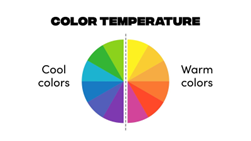 *Brightness: Roof shingles are rarely as bright as the colors in the wheel, but their highlights can be.
Here are the most common color hues. As you can see, most are medium dark, other than white, rather than light. As a rule, light roofing isn't as attractive as darker, richer tones.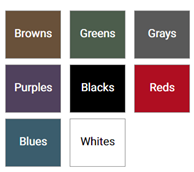 Instead of being extra-bright, most have granules of more than one color with highlights that can be bright.
Average Cost To Install a new Roof
Typical Range:
$5,960 - $12,740
Here is a GAF shingle that's quite red.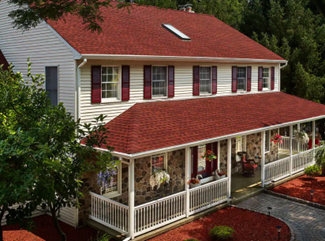 But more often, you'll find subtler highlights like in this Owens Corning Duration Designer Merlot shingle with hints of red, blue, and green.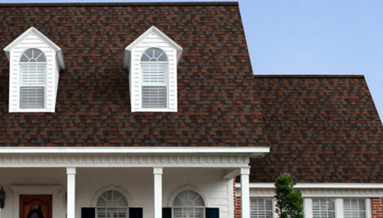 Pro Tip: Choose a shingle color or color blend that is the same "temperature" as the rest of the exterior.
What are the colors of the siding, trim, gutters and the front door – a visual focal point on any home?
Are they warm colors? Then your roof shingles should be warm. And cool-colored roofing shingles best complement cool tones of siding, doors, trim, etc.
*Black, gray and white: Grays are generally considered cool colors while white and black are neutral colors and go with both warm and cool colors.
Consider the Number of Colors Used
Is your home's exterior already fairly busy? Or is it subdued with just one or two colors used in the siding, trim, and other features?
If the home is multicolored, then your roof should be a single color. Adding roofing shingles with a lot of color variation will make the home too busy, at best. At worst, the design elements will clash. It won't be a pretty site.
For example, look at this stone and brick home. While beautiful, it is already a little busy. Here is the home with the Owens Corning Duration Designer Bourbon.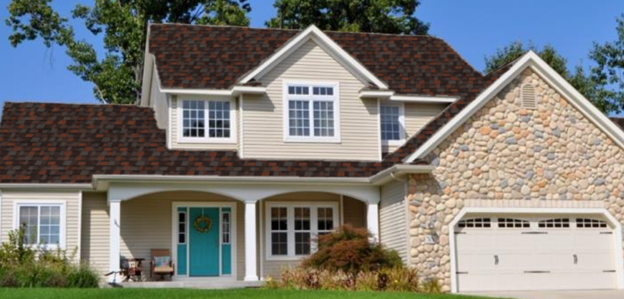 There's just too much color variety in this picture! The colors clash. If the home were wood sided and stained a medium brown, the Merlot might be the perfect tone for it.
Now, here is the same home with a roof with colors all on the brown spectrum to pick up colors in the stone. This is Owens Corning Duration Driftwood.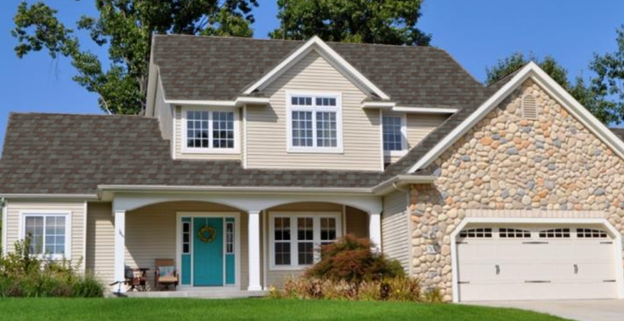 It is a much better choice for such a colorful home! It complements rather than clashes.
*These images were produced using the Owens Corning visualizer tool called Design EyeQ. The tool allows you to upload an image of your home – or choose a stock image of a home like yours – and then select roof shingles to be displayed on it.
A list of visualizers for major shingle brands with links to the tools is below.
When to Use Solid Shingle Colors
There are very few completely solid shingle colors. Black, perhaps. But every other shingle color will have some slight variation in color – a blend.
For "solid," then, consider shingles that have no variation (rare) or very little, like charcoal gray and black or medium brown and dark brown.
Use solid or limited blend colors when:
More than two colors are already present on your home's exterior (siding, door, trim, gutters, shades). A subdued shingle will prevent clashes and color conflicts.
Your seasonal landscape and décor vary throughout the year. These items include flowers – especially in a wide range of colors, yard flags, brightly colored yard/deck furniture pillows, holiday decorations and anything else you commonly use to add interest and variety to your home. A solid roof provides a better backdrop for a changing landscape.
Your roof is large and quite steep – above a 6/12 pitch. A large roof that is bright and varied in tones will draw all the attention, creating a lack of balance on your home's exterior.
When to Use Varied Shingle Colors
These shingles have a high contrast in colors – light and dark, sometimes in different tones. A gray base with blue, green, or red highlights is one common option.
Or tan with brown, black and/or light red highlights. These GAF Timberline Shakewood shingles are a good example – a medium brown base with both lighter and darker highlights.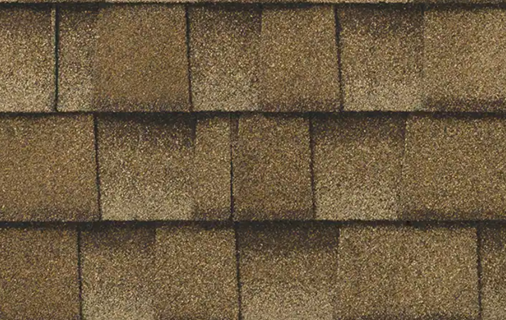 Use multicolored shingles when:
Your home's exterior uses two colors or less. For example, gray homes with white trim are trending – but they can be boring.

Liven yours up with an interesting roof color blend.

While not dazzling to the eye, and maybe that's a good thing, the multicolored roof matches the house, plus it is a visual upgrade from bland gray.
You find a shingle with colors matching those used in the exterior. This can be tricky, but when it works, it looks fantastic.
This home has a lot of color in the stone, trim and siding.
What do you think? Do these multicolored IKO Taupe Slate shingles work or do they clash? This photo is from IKO's gallery and compiled using the IKO ROOFViewer tool.
Roof Dormers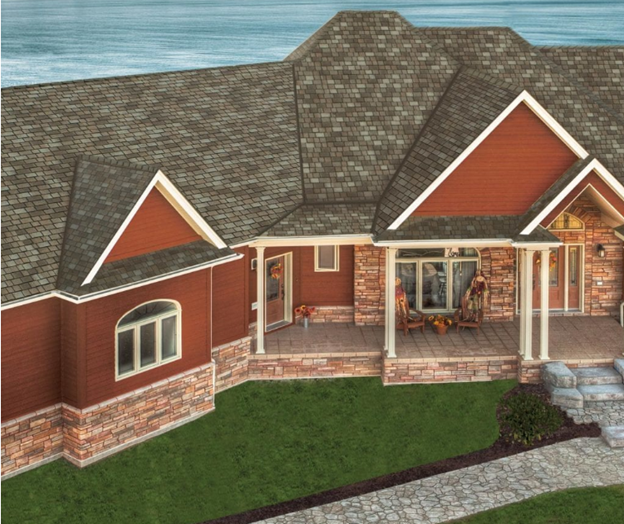 Dormers are a design feature on many homes including those in the Cape Code and Contemporary style.
You can take advantage of this look with a shingle color that contrasts with the siding or paint color on the dormer.
Note how the dormer stands out nicely on this home.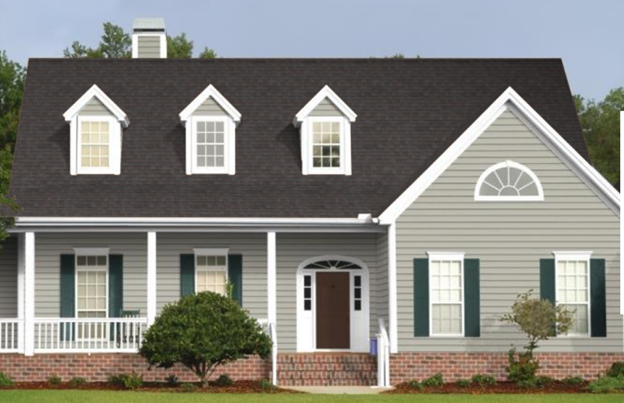 It is a Cape Cod with Owens Corning Duration Cool Plus Rolling Stone shingles.
When the dormer and roof are closer in color, as in the image below, the dormer loses some of its aesthetic presence.
In this case, the white trim helps a lot. Without it, the dormers would hardly be noticeable. It is the same home with Shasta White shingles.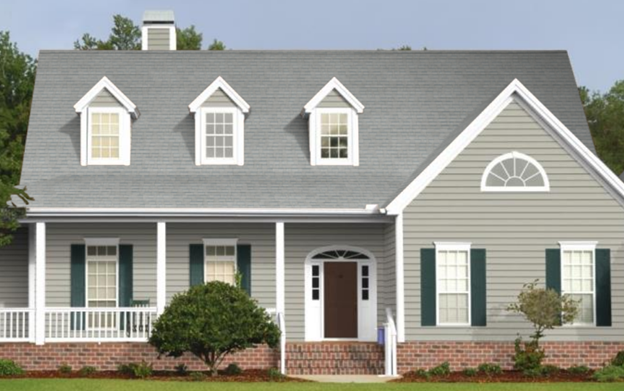 House Color and Best Shingles for Each House Color
Here are siding colors and best asphalt shingle colors for each.
White or off white – Just about any color will work. And using a multicolored shingle might enhance the appearance more than a solid.
Light earth tones – Dark brown with highlights of other colors that complement trim and the landscape.
Tan – Brown, black, dark green, blue green. Keep the roof color warm, so blue only works if it is warm blue.
Brown – Black, charcoal, dark green, dark blue. Browns can be warm like chocolate brown or cool like dark chocolate. Keep that in mind when selecting a shingle tone, especially in blue.
Gray – Black, charcoal gray, dark blue, dark green and possibly white.
Blue – Black, dark brown, gray.
Red brick – Black, charcoal gray, grays with red or brown highlights that pick up colors in the brick rather than clash with them.
Pink brick – Blacks, charcoal gray and medium grays. Avoid reds and greens.
Pastel – Dark gray with accents, gray, charcoal, black.
Varied colored brick – Black or charcoal gray, possibly medium gray. It's quite tricky to find a multicolored shingle that looks good with brick that has highlight tones in it.
The Best Shingle Colors for Your Climate
Darker shingles absorb more heat than lighter ones. Is that good? Bad? It depends on your climate.
Asphalt Shingles

$8,500

Average Cost

Metal Roof

$15,500

Average Cost

Flat Roof Membrane

$11,500

Average Cost

See what local pros charge Enter your zip code
Best Shingle Colors for Warm & Sunny Climates
Shingle color makes a significant difference in how much heat penetrates the roof and enters your attic or living space.
More heat means your home is less comfortable or you must run the AC more to combat the heat, and the result is higher energy bills.
Lighter shingles are a good choice for warm, sunny climates.
Most manufacturers make at least a few lines of shingles with a high SRI rating – the Solar Reflectance Index. The higher the SRI, the higher the effectiveness in reflecting solar heat away from your home.
Cool shingles include:
Owens Corning Duration Cool, Duration Cool Plus and more – the best selection of any major shingle brand.
GAF Timberline HDZ RS (Reflector Series)
IKO Cambridge Cool Colors
CertainTeed Landmark Solaris and Presidential Solaris
Atlas Pinnacle Pristine Pearl color and GlassMaster Cool White color
Malarkey Legacy Silverwood color only
California residents – Depending on where you live in the state, you might be required to use a roofing material that meets Title 24 requirements. Most of the shingles mentioned in this section meet the criteria.
What colors look best in bright sunlight?
Brighter, rich colors look best in bright sunshine. Shingles with bold color contrasts, like Owens Corning TruDefinition and GAF UHD (ultra-high definition) shingles, are options to consider.
These GAF UHD Weathered Wood shingles maintain their striking appearance in full sunlight.
Neutral, tans, beiges and off-whites tend to look bleached out or faded in the sun.
Best Shingle Colors for Cold and Snowy Climates
Where winter temperatures are cold and where snow is common, some extra heat is welcomed. The heat keeps the home warmer in winter, and yes in summer too, but in cool climates, that's a tradeoff worth making.
The extra heat helps melt snow and ice. And it will cut heating costs slightly, depending on how well insulated your home is – in other words, how much of the heat enters. In general, more insulation is always better. But a warm roof in winter sunlight helps prevent heat loss.
In other words, in a cold climate, a darker roof takes better advantage of the heat the sun provides. You'll gain more from extra winter heat than you'll lose by a little extra summer heat.
A Reminder About Homeowners Associations and Roof Color
If your neighborhood has an HOA, make sure that your shingle selection meets its color requirements, if it has them. Some are quite picky.
The "powers that be" might want to see a shingle sample. Or a picture taken from one of the visualizers below with your preferred shingle on your home might work too.
Visualizers and More
Here are the visualizer tools from the major manufacturers. They allow you to use a picture of your home or one from their galleries to view shingle options on the house.
Tip: If you take a picture of your home, choose an angle and elevation that shows as much of the roof as possible. This usually means taking the image from a distance – and from a height when possible.
The best visualizers are:
A Real Shingle is Better Than a Picture
Don't trust them. All the manufacturers tell potential customers to beware of printed images or digital pictures online – they might not accurately represent the actual color.
Instead, you should get your hands on a full-size shingle when possible.
Yes, each manufacturer makes shingle sample boards with pieces around 8" square, and that's better than nothing.
But once you narrow your shingle choices to just a few – or one final option – it really is best to get a full shingle to look at.
Hold up the shingle to your siding, trim and front door.
If it clashes, keep looking.
Consider it against your landscape, especially if you have tall trees. If your climate boasts a lot of sun, look at it in full sunlight. Does it look vibrant? Or does it get washed out by the light?
It's easy to make the mistake of choosing a shingle with a look you really like, even if it isn't a good look for your home.
Summary of Do's and Don'ts for Picking a Shingle Color
Dos:
Use a visualizer to begin exploring possible best colors for your roof.
Get a sample of the actual shingle – and look at it in different lighting conditions: Sunny, overcast, etc.
Hold the sample shingle up to your siding, trim and gutters.
Drive around your area to view similar homes – and see what shingles they use to get ideas, to see which colors work and which ones to steer clear of.
Choose a colorful shingle if your home is a single, neutral color.
Choose a neutral/dark color if you think you might sell – Nothing that "stands out." Neutral dark colors are also a good choice when you simply can't decide on anything else.
Don'ts:
Pick a shingle color only because you like its looks – it must go with the house.
Choose a color that doesn't fit in the neighborhood. If most homes have stately designs with dark roofs, for example, then a bright terra cotta red will stand out, and not in a good way. It could negatively affect resale potential.
Choose a multicolored shingle for a multicolored brick house – too busy.
Get Free Quotes For roofing Pros Near You