Mohawk laminate flooring is called RevWood, and it is available in four series including waterproof laminate flooring.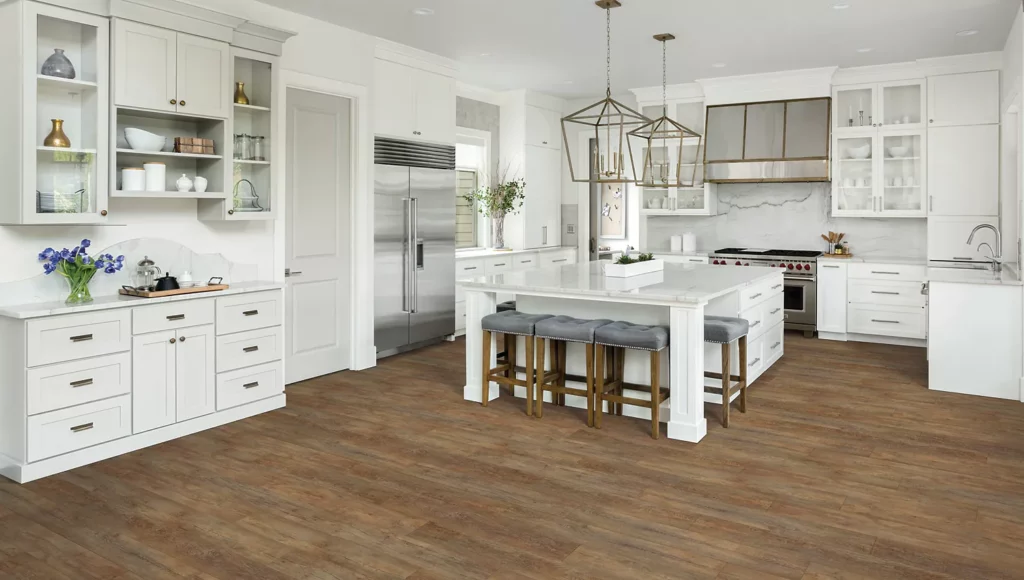 Mohawk RevWood laminate flooring reviews are generally good. It gets high marks for decent quality at a fair price while there are some concerns about its durability.
Did you know? There are four lines of RevWood laminate flooring. Many Mohawk RevWood reviews list just three series partly because the Mohawkflooring.com website only lists Plus, Select and Premier.
But the company also manufactures the basic RevWood line that is marketed as builder's grade. We've seen it referred to as RevWood Essentials. It is listed on Mohawk's contractor-focused MohawkBuild.com site.
What Is Mohawk Laminate Flooring?
Mohawk laminate is flooring manufactured with a wood fiber and polymer core. The core is topped with a photographic layer – a photo of genuine wood plank flooring printed on paper that gives laminate its realistic appearance.
A clear wear layer that is waterproof and scratch resistant is applied last. The edges of all the planks are sealed to make them resistant to water to the extent that Mohawk provides a waterproof warranty on most lines. Details of the Mohawk waterproof guarantee are included down the page.
RevWood pieces lock together with something like a tongue and groove design that Mohawk calls Uniclic. This creates a floating floor – the flooring isn't glued or fastened to the surface below.
Mohawk includes RevWood in the category of wood flooring because of the wood fiber core. But it does not contain any solid wood like genuine hardwood and engineered hardwood does. Like all laminate flooring, RevWood can be called fake wood or faux wood flooring.
Does Mohawk RevWood flooring have attached pad or underlayment? No. None of the lines offer attached pad. Most installers suggest a thin foam underlayment. And if you're installing it over concrete, a vapor barrier should be installed too.
How Much Does Mohawk Laminate Flooring Cost?
Mohawk RevWood flooring cost is $2.29 to $4.39 per square foot from most retailers, but you'll find it for $5.50 or more from some online sellers. Shop around for the best price.
Here are the four lines and their retail costs per square foot.
RevWood: $2.29 to $2.59.
RevWood Select: $2.29 to $2.79.
RevWood Plus: $2.69 to $3.29.
RevWood Premier: $3.49 to $4.39.
If you have a flooring contractor install it, the total cost of the floor is $5.00 to $10.00 per square foot.
Professional installation (warrantied labor) costs between $3.00 and $6.50 per square foot depending on factors like the complexity of the floor plan, volume of flooring being installed, the cost of living in your area and who you hire to do the work.
With professional, warrantied labor, the installed cost of RevWood laminate flooring looks like this:
RevWood: $5.25 to $9.25 per square foot.
RevWood Select: $5.65 to $9.90 per square foot.
RevWood Plus: $5.75 to $10.00 per square foot.
RevWood Premier: $6.50 to $10.75 per square foot.