An exterior deck is an addition to your home. Most room additions are considered "building up" while a deck is "building out." Even with fine quality materials, decks are generally less than half the cost of an interior addition.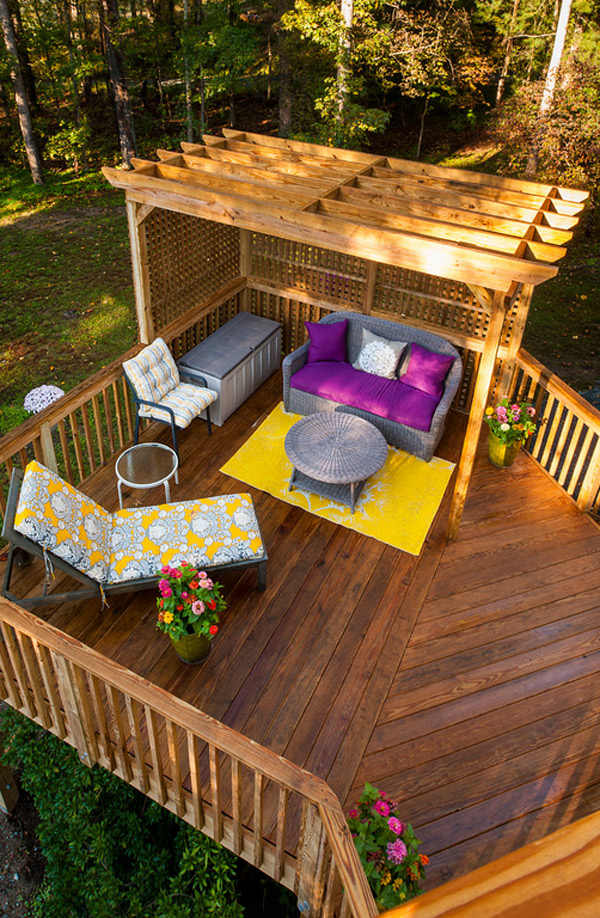 via CederbergKitchens.com
A deck often serves the purpose of providing an area to relax, cook, dine, and entertain guests. A deck is similar to a patio in several ways, but the main distinction is that a deck is usually elevated, and made of wood or composite materials, while patios are at a ground level and are often made of stone or cement.
Decks can be attached to your home or detached. Either way, a building permit is generally required for this type of upgrade, which means a site plan would benefit the project and/or be required as part of the building permitting process.
Planning for a new deck construction helps ascertain costs, materials and layout that you'll go with. Let's overview the costs, the price breakdown and advantages along with disadvantages of an exterior deck.
Cost
While a professionally installed deck can cost as little as $10.50 per square foot for materials and labor, the real world average cost is closer to $25.00 to $45.00 per sq. ft. installed, depending on the project scope, choice of materials, choice of a contractor doing the work, and local real estate values. If you are looking to save on costs, then the best advice is to lower the overall size of your deck.
Note that a parabolic rise in the cost of lumber during pandemic due to supply and labor shortages (Canadian cedar) and an out of control inflation in the cost of building materials and construction costs that have skyrocketed by double digits last year.
On average, homeowners tend to spend between $10,500 and $22,500 for a new deck installation. But what is it that makes for an average deck? Deck sizes vary and depend significantly on elements unique to the property. Generally, though, homeowners want one of three type of decks:
small decks – under 200 sq. ft. – for relaxation mainly
medium size decks – 200 to 500 sq. ft. – for dining, relaxing, and entertaining a small group of friends
large decks – more than 500 sq. ft. – may be multi-level – for cooking, dining, relaxing and entertaining larger group of friends
Building a deck is labor intensive and takes experienced contractors between one and three weeks to complete the job. While a handy person might be tempted to go the DIY route, it is not recommended. Decks must be ultra-sturdy. All floor boards benefit from being exactly even. Modern decks make room for electricity and plumbing that are well-hidden.
Material pricing is done on a per square foot basis, with a typical range between $7.50 and $30.00 per sq. ft. for materials alone. A professional crew will typically charge between $7.50 and $15.00+ per sq. ft. for all the warrantied labor involved.
Cost Info – Part 2
Materials are the main cost, aside from labor, for pricing a deck. When talking about a deck's material, say a pressure treated wood deck, it is the floorboards and trim that are being referenced.
There are essentially three main types of materials that homeowners select from: natural wood, pressure-treated wood, and composites (or plastics).
Natural wood runs the gamut in terms of costs. Cedar is the least expensive decking material (about $5.5- per sq.ft.), while exotic woods like Brazilian wood (aka Iron wood) at $25.00 per sq. ft. is the most expensive material. Pressure treated wood is a very common decking material that costs about $12.50 per sq. ft., while the composite materials, like PVC, cost about $10.50 per sq. ft. or more.
In breaking down the costs, it may help to overview what the project entails:
1 – Obtaining building permit – this varies by municipality, but let's go with $250
2 – Design of the deck / site plan – probably not necessary, but for mid-size decks or smaller can be had for $200 or less
3 – Leveling the land, building deck foundation / footing – this and everything below is included in overall labor charges
4 – Installing ledger – for attached decks this plank is bolted to the home, for detached this is not needed. Professionals use flashing with ledgers to prevent water falling down the exterior walls of the house
5 – Building beams and joists – the horizontal planks that attach to the footing and support decking surface
6 – Building stairs – as most decks are elevated, stairs are built from deck's surface to the ground. Building stairs is labor intensive.
7 – Installing floorboards – this is the primary decking material from homeowner perspective.
8 – Installing optional railings to contain foot traffic to the deck, prevent falling over edges
9 – Finalizing installation with trim boards around outside edges to mask joists and beams
Depending on materials used, floorboards and trim may be sealed and made waterproof. Sealing protects from weather elements, while waterproofing makes it so water beads up and rolls off. Sealing and waterproofing costs about $350 for every 250 sq. ft.
If natural or pressure treated wood is used, it is often stained. Initially, this includes some light sanding, and then spending about $2.50 per sq. ft. A red cedar deck or pre-finished composite deck doesn't need staining.
Then comes the part where the deck is made into a livable area. Adding lounge furniture, chairs, seat cushions/pillows, dining table, throw rug, plants/flowers, fire pit, sound system, lighting, storage bins, and possibly more. Obviously, any cooking or fire pits must be used with extreme caution, away from your home's exterior walls.
Factors Impacting Overall Costs
Labor and materials are the primary factors that impact the costs in building a deck. Everything up to installing floorboards will have a specific cost that can be determined during the planning stages. Railings can add slightly to overall costs or can be ornamental and therefore add a chunk of change to the price.
Turning a deck into a nice, or luxurious living space will further increase costs. How much, depends on how ambitious or creative you wish to get. Keeping this to under $1,500 and having many conveniences on a deck is certainly possible.
Through looking, hopefully for inspiration at the Pinterest page for backyard deck design, and you'll see how costs can easily exceed $1,000, after the construction is completed.
One item you'll see in the above images that we didn't previously mention is the construction of pergola. This is an open-frame shelter that surrounds and covers the deck space. It adds character with the option of adding temporary materials that shield your deck from light or inclement weather, while providing a tiny bit of seclusion.
The Good, The Bad and The Oh So Pretty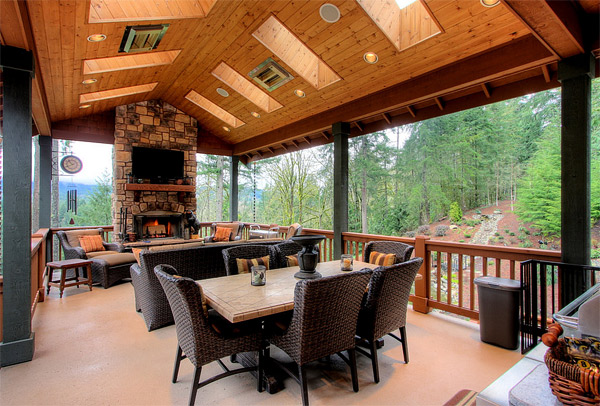 via MasterCraftNW.com
Below we list the pros, cons, and the chief reason for why to consider an exterior deck.
The Good: Decks offer additional, livable space to your property. For a homeowner, their primary purpose is enjoyment or a place to relax and/or entertain guests.
The Bad: Mid-size, medium quality decks are expensive and for some an unnecessary luxury. Compared to a patio, they are very expensive. Depending on the material you choose, they can require ongoing maintenance and thus additional expense.
The Oh So Pretty: While patios are typically less expensive, decks get greater return on your investment, or an ROI factor of 80% or higher (more with well thought out designs). You're not just adding an addition to your home, but also increasing the value and enjoyment of your property. 😉