A comparison of Trane vs. Carrier furnaces features the two top-rated brands in the industry.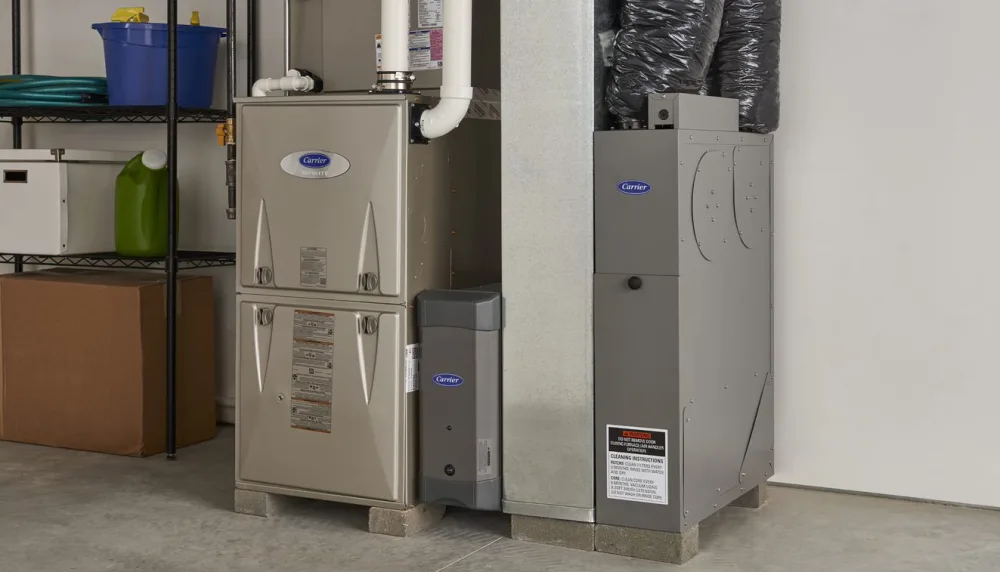 Yes, they've got the largest marketing budgets, so they are household names – but independent testing and homeowner surveys also put them at or near the top of the heap in reliability and customer satisfaction. Trane is a small step ahead.
Cost Overview
80% efficient furnaces – Average Installed Costs: 80,000 BTU 80% AFUE Furnaces
90%-Plus efficient furnaces – Average Installed Costs: 80,000 BTU 90% and Higher Furnaces
Installed Costs You can't buy a Carrier or Trane furnace separately and install it or find your own installer. Both brands are strictly sold by local HVAC companies in a package of equipment plus installation.
Both brands make around a dozen furnaces in efficiency ratings of 80% and 92% to 97% for Trane and 98.5% for Carrier. Your options in both are single-stage, two-stage, and variable capacity furnaces.
Warranties are essentially the same. 10-year general parts warranties with either a lifetime or 20-year heat exchanger warranty.
OK, that's the summary. Let's take a closer look at Trane vs. Carrier gas furnaces.
Full Cost Comparison
We've prepared a complete Trane and Carrier furnace cost table, which you'll find below. The cost comparison snapshot looks like this:
Trane furnace prices range from $3,250 to $11,000 for unit sizes ranging from 40,000 to 120,000 BTU. These are installed costs – Furnace, installation supplies and labor, setup, and testing. The most efficient Trane furnace is the XC95M at 97.3%.
Carrier furnace prices range from $3,100 to $11,250 for installed furnaces ranging from 40,000 to 120,000 BTU, with efficiency ratings of 80% to 98.5%. The most efficient being the Carrier Infinity 98, currently with the model number 59MN7.
| | | |
| --- | --- | --- |
| Furnaces | Trane Installed Cost | Carrier Installed Cost |
| 80% | | |
| Single-stage | $3,250 – $6,100 | $3,100 – $5,950 |
| 2-stage | $4,150 – $7,200 | $4,000 – $7,050 |
| 90% – 95% | | |
| Single-stage | $4,300 – $7,300 | $4,125 – $7,150 |
| 2-stage | N/A | N/A |
| 96% – 99% | | |
| Single-stage | $4,400 – $7,800 | $4,200 – $7,900 |
| 2-stage | $5,000 – $9,600 | $4,825 – $9,350 |
| Variable Capacity | $6,250 – $11,000 | $6,200 – $11,250 |
Average Cost To Install a Warm Air Furnace
Typical Range:
$3,840 - $5,570
Prices vary by location: Furnace prices come in a wide range of costs. Some of the disparity reflects the cost of living in your area.
A lot of it is how saturated the region is with dealers of a certain brand.
Take the popular Trane S9V2 2-stage, 96% AFUE furnace, for example. Here are installed costs from around the country:
Dallas, TX: $8,200
Miami, FL: $8,500 (+$300)
Portland, OR: $8,700 (+$500)
Chicago, IL: $8,800 (+$600)
Los Angeles, CA: $8,950 (+$750)
Trenton, NJ: $9,500 (+$1,300)
Detroit, MI: $10,100 (+$1,900)
Get Free Quotes For furnace Pros Near You
Get pro tips with the Homeowner's Guide to Buying a New Furnace: https://www.remodelingcosts.org/gas-furnace-prices/ – The guide covers popular brands, installation prices and cost factors, and what to look for in a new furnace.
Carrier Furnaces
Carrier Corporation used to be a part of United Technologies Corporation, or UTC, for decades. In 2020, Carrier was split off as an independent company. Carrier owns Bryant, Payne and ICP brands (Heil, Day & Night, Tempstar and others).
Carrier markets its furnaces in three lines. Quoting Carrier, here are the distinctions, though there is some overlap between lines:
Infinity: "Top-of-the-line comfort, performance and efficiency."
Performance: A "balance between performance and cost."
Comfort: "Budget-friendly, energy-efficient heating."
There are 80% furnaces and 90%-plus furnaces in each range.
Here are more details.
Carrier Infinity Furnaces
Higher cost and premium performance mark these furnaces.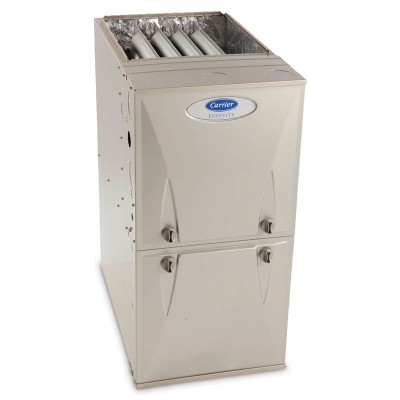 Models: There are five furnaces in this series, and three are widely available.
An 80% efficient and a 96.7% efficient furnace each have a 2-stage gas valve. They run on low fire, or about 65% capacity, most of the time to produce longer, quieter cycles that heat more evenly.
Efficiency: The top model, the Infinity 98 with 98.5% efficiency is a variable capacity furnace. Obviously, this means that 98.5% of the heat it creates is transferred into the air flowing through ductwork. A tiny percentage is lost in the exhaust gasses.
The variable capacity gas valve modulates from 40% to 100% to deliver the precise amount of heat required for even temperature.
The others, an 80% AFUE and a 95% furnace are low-NOx furnaces for the California market.
Climate control: All Carrier Infinity furnaces have variable-speed blowers that optimize climate control by reducing cool blasts at the start and end of the cycle and by evenly distributing heat in winter and cooled/dehumidified air in summer.
Carrier Performance Furnaces
There are four furnaces in this mid-tier of Carrier gas furnaces.
Models: Your choices are a single-stage or two-stage furnace at either 80% or 96.5% efficiency. All the units have variable speed blowers to optimize climate control. There are no low-NOx furnaces in the Performance Series.
Carrier Comfort Furnaces
These six models are all single-stage furnaces. This means their burners fire at full capacity whenever running. Blowers are multi-speed, which means they have 3-5 speeds they adjust to throughout the cycle.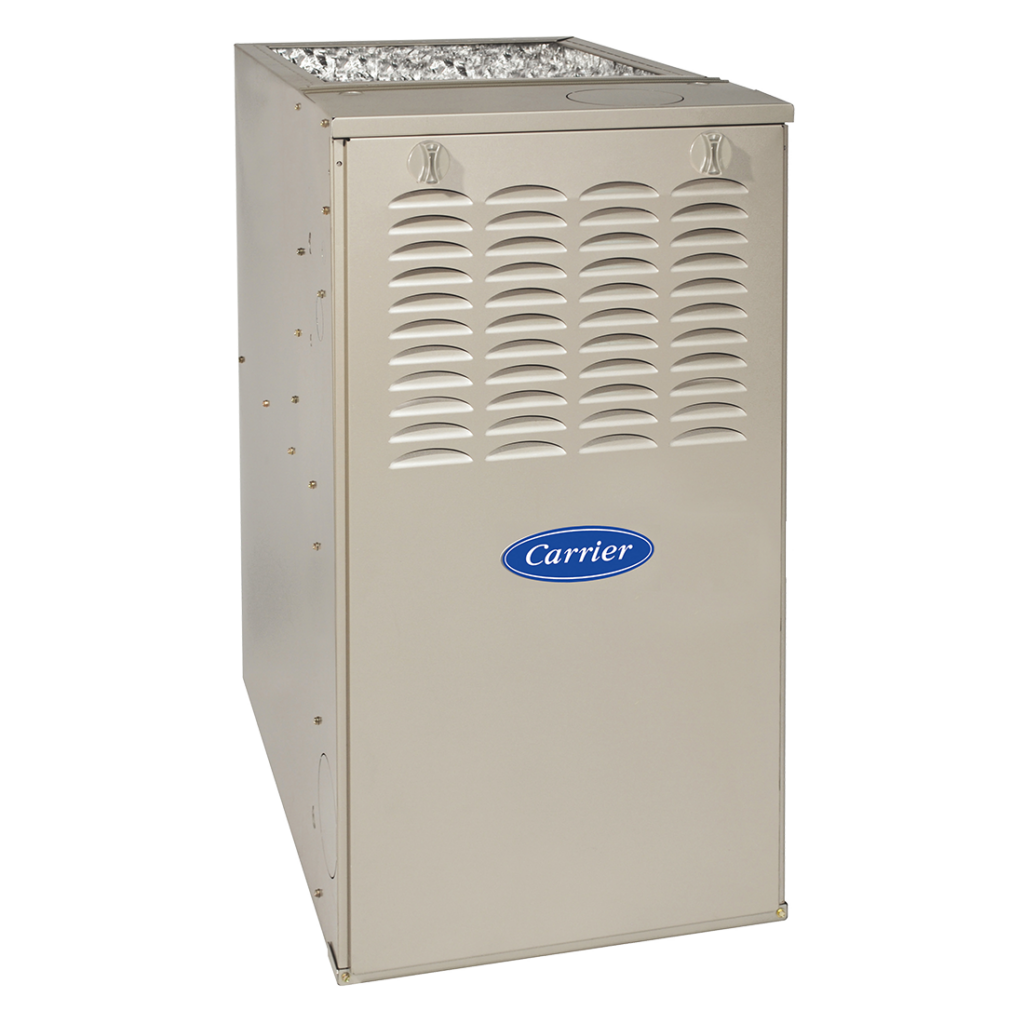 Indoor comfort: The results of these features include slight temperature swings and the potential to feel cool air coming out of the vent at a pretty good rate at the start or end of the cycle when the furnace isn't fully hot. Most homeowners don't notice these changes – or aren't bothered by them.
Efficiency: Options are 80% (3 models including a low-NOx), 92%, 95% low-NOx and 96.5% AFUE.
| | | |
| --- | --- | --- |
| Carrier Models | Efficiency | Heating Stages |
| Infinity Furnaces | | |
| Infinity 98 | 98.50% | Variable |
| Infinity 96 | 96.70% | Two-stage |
| Infinity 95 Low-NOx | 95.00% | Single-stage |
| Infinity 80 | 80% | Two-stage |
| Infinity 80 Low-NOx | 80% | Single-stage |
| Performance Furnaces | | |
| Performance 96 | 96.50% | Two-stage |
| Performance 96 | 96.50% | Single-stage |
| Performance 80 | 80% | Two-stage |
| Performance 80 | 80% | Single-stage |
| Comfort Furnaces | | |
| Comfort 95 | 96.50% | Single-stage |
| Comfort 95 Low-NOx | 95% | Single-stage |
| Comfort 92 | 92.10% | Single-stage |
| Comfort 80 Low-NOx | 80% | Single-stage |
| Comfort 80 | 80% | Single-stage |
| Comfort 80 | 80% | Single-stage |
Average Cost To Install a Warm Air Furnace
Typical Range:
$3,840 - $5,570
Are Bryant furnaces the same? Yes. Model for model, Bryant and Carrier furnaces are exactly the same except for branding.
Are Payne furnaces the same? Yes – but Payne furnaces are available in a limited number of single-stage and 2-stage models. These include a couple of the low-NOx units.
Are ICP brand furnaces like Heil and Comfortmaker the same? No – They're very similar, and a lower-cost alternative to Carrier, but not exactly the same.
Trane Furnaces
Trane is an Ingersoll-Rand company. Its furnaces consistently rank at the top of ratings for reliability and customer satisfaction – Except for the S9V2-VS discussed below, which seems to have a few "bugs."
Trane doesn't do us the favor of dividing its furnaces into three series.
Instead, let's discuss them by performance.
Variable Capacity Furnace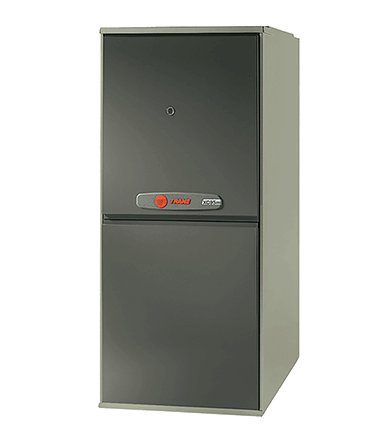 The Trane XC95m with 97.3% AFUE efficiency is Trane's only variable capacity unit. With variable speed blower and Trane communicating technology, it is designed to deliver premium indoor comfort.
While slightly less efficient than the Carrier Infinity 98, it is very similar in all other ways.
Two-stage Furnaces
These units deliver better indoor temperature balance and quieter heating since they run on low most of the time.
When matched with a 2-stage air conditioner, they also do a better job of removing humidity in AC mode, and drier air feels more comfortable.
There are three 80% AFUE furnaces plus high efficiency furnaces at 96% (2) and 97%.
Caution on the S9V2-VS: While Trane generally has some of the highest ratings in the industry, the S9V2-VS model has issues.
The main problem according to many verified customers is that it is very loud, which is strange because Trane advertises it as its quietest furnace. That might be part of the problem – people's expectations. Trane might solve this issue. If you consider this unit, ask the Trane rep you talk to what Trane has done in response to consumer complaints about noise.
Single-stage Furnaces
The five furnaces in this group give you decent efficiency options. But with single-stage heating, you might feel a slight temperature swing during and between cycles.
There are two 80% AFUE models, one with a variable-speed blower for more comfortable air flow.
Three high efficiency furnaces include a low-NOx 95% unit, the only one Trane makes, and standard models at 92% and 95% AFUE.
| | | |
| --- | --- | --- |
| Trane Models | Efficiency | Heating Stages |
| Variable Capacity | | |
| XC95M | 97.30% | Variable |
| Two Stage | | |
| S9V2-VS | 97% | Two-stage |
| S9V2 | 96% | Two-stage |
| S9X2 | 96% | Two-stage |
| XC80 | 80% | Two-stage |
| XV80 | 80% | Two-stage |
| S8X2 | 80% | Two-stage |
| Single Stage | | |
| S9X1 | 96% | Single-stage |
| L9X1 | 95% | Single-stage |
| S9B1 | 92% | Single-stage |
| S8X1 | 80% | Single-stage |
| S8B1 | 80% | Single-stage |
Get Free Quotes For furnace Pros Near You
Are American Standard furnaces the same? Yes. Exactly. And, no surprise, American Standard enjoys the same high consumer ratings and reviews.
Warranties
Things are quite equal here. Furnaces are covered by two warranties.
The heat exchanger warranty covers the single heat exchanger in 80% units and the primary and secondary heat exchangers in high efficiency – 90% and higher furnaces.
The parts warranty covers all other functional parts including the blower motor and fan, inducer motor and electronics.
Heat Exchanger Warranties
Both brands have two heat exchanger warranties.
Carrier Infinity Series furnaces and the 90%-plus Performance Series furnaces are backed with lifetime heat exchanger warranties and
The 80% Performance Series and all Comfort Series furnaces come with a 20-year heat exchanger warranty.
Most Trane furnaces come with a lifetime heat exchanger warranty. Trane L8X1, L9X1, S8X1, S8X2, S8B1 furnaces are backed by a 20-year heat exchanger warranty.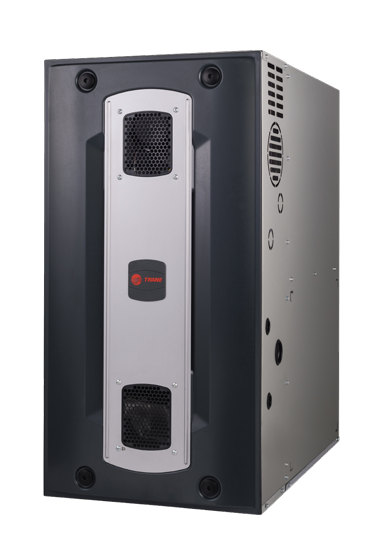 What's the difference between lifetime and 20-year warranties? Nothing, really. It's unlikely that a homeowner would want a heat exchanger replaced on a furnace that is 20+ years old.
Why? The labor isn't covered – just the part. And the 1-2 days of labor to tear down a furnace, remove and replace the heat exchanger before putting the furnace back together will cost $2,000 or more. Most homeowners opt to put the money toward a new furnace with a fresh warranty.
And all Carrier and Trane warranties only apply to the original owner. As Trane puts it, "Subject to the terms and conditions of this limited warranty, Trane U.S., Inc. ("Company") extends a limited warranty to the original purchaser ("Purchaser") only for parts (but not labor) replaced because of manufacturing defects…"
General Parts Warranties
All Carrier gas furnaces come with 10-year parts warranties covering functional parts.
It's the same with Trane. The general parts warranty is 10 years on all models.
Warranties Compared to Other Brands
Lifetime or 20-year heat exchanger warranties and 10-year parts warranties are standard for the industry. They are the norm for Rheem, Ruud, Heil, Armstrong, Goodman, Daikin and many others.
Lennox offers just 5-year parts warranties on some of its more affordable furnaces.
There is one area of warranties that Carrier and Trane have not ventured into yet – Unit Replacement Warranties. This is a new area of marketing competition between brands – all started by Goodman.
Furnace unit replacement warranties apply to the heat exchanger. If the part fails during a specified period, usually 5 or 10 years, or even lifetime, the manufacturer will replace the entire furnace.
Here are a few examples:
5-year unit replacement: Some "better" quality Heil, Tempstar and other International Comfort Products brands.
10-year unit replacement: Goodman's top furnace models and the best models from ICP brands.
Lifetime unit replacement: The top Amana furnaces are backed by this impressive warranty coverage.
Pros and Cons of Each Brand
Let's explore the advantages and disadvantages of each brand to see what, if anything, sets them apart.
Trane Pros and Cons
Trane offers high-quality furnaces that are above average in cost. It's not competing with Goodman for the "cheap" end of the market. Carrier and Lennox are its nearest head-to-head competitors.
Quality: Trane is #1. The data from independent sources like Consumer Reports shows Trane in the top spot in Predicted Reliability. Trane and sister brand American Standard get the highest marks from consumers too. Reviews show customer satisfaction for durability, heating comfort, quiet performance and good support from the manufacturer when needed.
If there's a cheap Trane furnace, it is the S8X1, its most affordable but not super durable.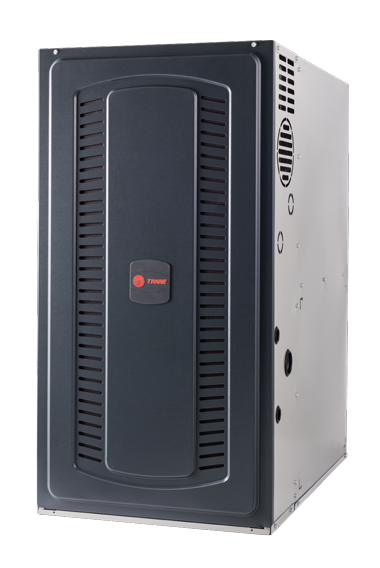 Installation: The second reason for Trane dependability is the quality of the installation. Trane has criteria for HVAC companies that want to be Trane dealers that involve training and demonstrated proficiency. Installation is just as important as the quality of the parts used to build the furnace.
Cost: Trane prices are higher than average, though Carrier prices are a little higher for the very top models. Still, you'll pay more for a Carrier that most other brands including Lennox. Carrier costs are approx. 25% higher than its ICP furnaces, for example. And 10% higher than Goodman for base models and more than 30% more expensive for the most efficient furnaces.
Efficiency: Trane covers the range well. You have a good choice of 80% efficient furnaces for mild climates. Where winters are colder, your options range from 92% to 97.3%.
Selection: Trane makes a couple fewer models than Carrier, less than Lennox's 17 models and far fewer than Goodman's 40 models. But there's decent coverage in efficient, as noted above, and you have options for single-stage and 2-stage furnaces in standard efficiency and high efficiency.
Warranty: The warranties are explained above. Carrier warranties are average for the industry in length and value.
Carrier Pros and Cons
Without splitting hairs between two of the best furnace brands, let's see if there are key differences between them.
Quality: We have Carrier a short step behind Trane in reliability. If Trane is a 9 out of 10, Carrier is an 8 or 8.5 out of 10.
We've always been impressed with the top-to-bottom quality of the Carrier lineup. There's a definite drop-off with the Lennox Merit Series compared to its best – not so with Carrier. There are no cheap Carrier furnaces.
Installation: Carrier is also picky about who installs its furnaces. You have to be a Carrier Authorized Dealer to sell/install these furnaces, and that definitely ensures consistent quality and better long-term results.
Carrier states, "It takes a lot of work to become a Carrier Authorized Dealer—from extensive training to keeping current industry licenses and insurance, to maintaining exemplary scores in customer service—we want the most qualified individuals helping you in your home."
Yes, this is the Carrier vs. Trane comparison, but compare both brands with Goodman. Anyone, whether license or not, can buy a Goodman and install (or try to install) it.
Use the quick form at the top of the page to check prices and to find an Authorized Dealer in your area.
Cost: The top Carrier models cost a little more – less than 5% more – than top Trane models. Both are among the most expensive furnaces on the market.
Efficiency: For decades, Carrier was the efficiency leader. Then Lennox overtook Carrier. But Carrier continues to produce some of the most efficient HVAC equipment available including furnaces with a top AFUE of 98.5%, just a half-percent behind the Lennox SLP99V at 99% efficiency.
Selection: Slightly better than Trane's with all the ranges covered from 80% to high efficiency furnaces at all performance stages – single, two-stage and variable capacity.
Warranty: Almost identical to what Trane offers. Neither brand covers labor – but that's standard for the industry.
We anticipate that Carrier, Trane, or both will soon begin to offer some sort of unit replacement warranty to keep up with the industry.
How to Choose Between Trane and Carrier
Differences between the brands are not as clear as we found in our Goodman Furnace vs. Lennox comparison. However, there are a few considerations that might help you select one over the other.
Strictly on Quality Ratings
Trane has a slight edge when the service records of all Trane furnaces are compared with that of the entire Carrier lineup.
It's a small difference, but if you want a brand "you can't go wrong with," that would be Trane.
But don't overlook installation. Don't ever overlook that!
Do You Know a Good Installer?
When the quality of the furnaces is nearly equal, as it is with Trane and Carrier, the difference in durability is often who installs the furnace.
Ask friends, neighbors, and family if they can recommend an installer with a fair price and good customer service that provided them with a furnace that works reliably and makes their home comfortable. How are their heating bills? Did they go down with the installation of the new furnace?
If you get better recommendations locally about a Trane dealer, choose Trane. The same goes for positive Carrier recommendations.
We can help: If you're looking for assistance in finding an installer, consider using the quick and convenient form above to find prices and a qualified, experienced furnace company in your area.
Get Free Quotes For furnace Pros Near You
Cost
Carrier costs are more consistent across the country while Trane costs vary significantly, as shown in the list at the top of the page.
So, if your choice comes down to cost, plan to get estimates for both brands to see how different they are on comparable furnaces.
In the Detroit area, as we saw above, it is likely that a Trane furnace will cost more than a Carrier of the same size, efficiency, and stages of heating (1, 2, variable).
In Dallas, though, Trane furnaces generally cost less than comparable Carrier models – enough less to make Trane a better choice.