GAF shingles are among the most popular asphalt roofing shingle brands in North America. While not necessarily considered the very best shingle brand, GAF shingles get good ratings from roofers and homeowners, and are considered a good value for the money at between $4.00 and $7.50 per square foot installed, depending on the shingle and accessory choices.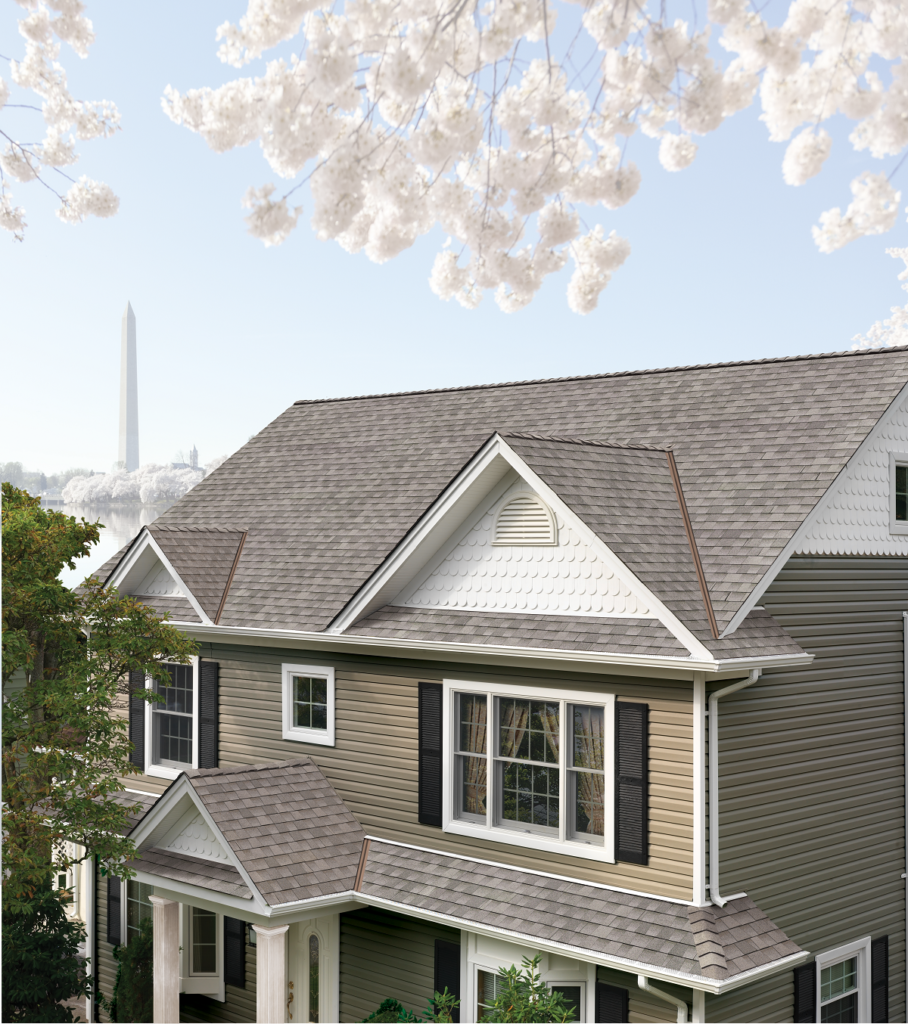 The GAF Timberline shingles are the best-known of the brand's products. The company makes complete asphalt roofing systems from underlayment to hip and ridge cap shingles.
This comprehensive GAF shingles guide includes a digest-style overview of available products, pros and cons, costs for shingles and accessories, and additional details to help you make an informed buying decision, as well as compare GAF to Owens Corning, CertainTeed, Atlas, and Malarkey roofing shingles.
This review starts with the GAF Timberline shingles and then moves to 3-tab shingles and premium Designer shingles.
GAF Timberline Shingles
GAF claims that its Timberline shingles are the "North America's #1 selling shingle."
Average Cost To Install a new Roof
Typical Range:
$5,960 - $12,740
That is very likely true, in part because GAF uses the Timberline name for all its standard architectural shingles with unique variations. This is similar to what Owens Corning does with its Duration lines.
Below is a brief overview of each GAF Timberline series:
HDZ – High Definition ($$ – Complete pricing is below)
These are easily GAF's best-selling series. They use a fairly thick top layer and tab cuts to create more definition and shadowing on the roof. This is designed to give the roof more of a wood shake look. Of course, nobody mistakes asphalt shingles for wood shakes. However, the styling does produce a more robust look.
An added bonus with these is a 25-year warranty against staining caused by algae. If homes in your area show dark streaks, that's algae. And choosing a stain-guarded shingle with a warranty like this makes sense.
NS – Natural Shadow ($$)
It can be difficult to differentiate between series of high-definition shingles. This line is designed to provide deeper shadowing, again to mimic wood shakes. If that's the look you prefer, choose one of the warmer brown colors that have more of a wood look to them.
UHD – Ultra Dimensional ($$$)
These are thicker than standard architectural shingles, and the color blends provide more contrast. They are a little pricier due to the increased thickness and the treatment that fights algae-staining. They have the GAF 25-year stain warranty.
UHD – W/ Dual Shadow Lines ($$$-$$$$)
The basic difference in these vs the standard UHD is the addition of a line of darker granules at the bottom of the tabs that give the shingle deeper shadowing. Check out pictures and, if possible, a few homes with these GAF shingles before making your decision. They also come with the GAF StainGuard Plus Algae Protection Limited Warranty.
CS – Cool Series Solar Reflective ($$$$)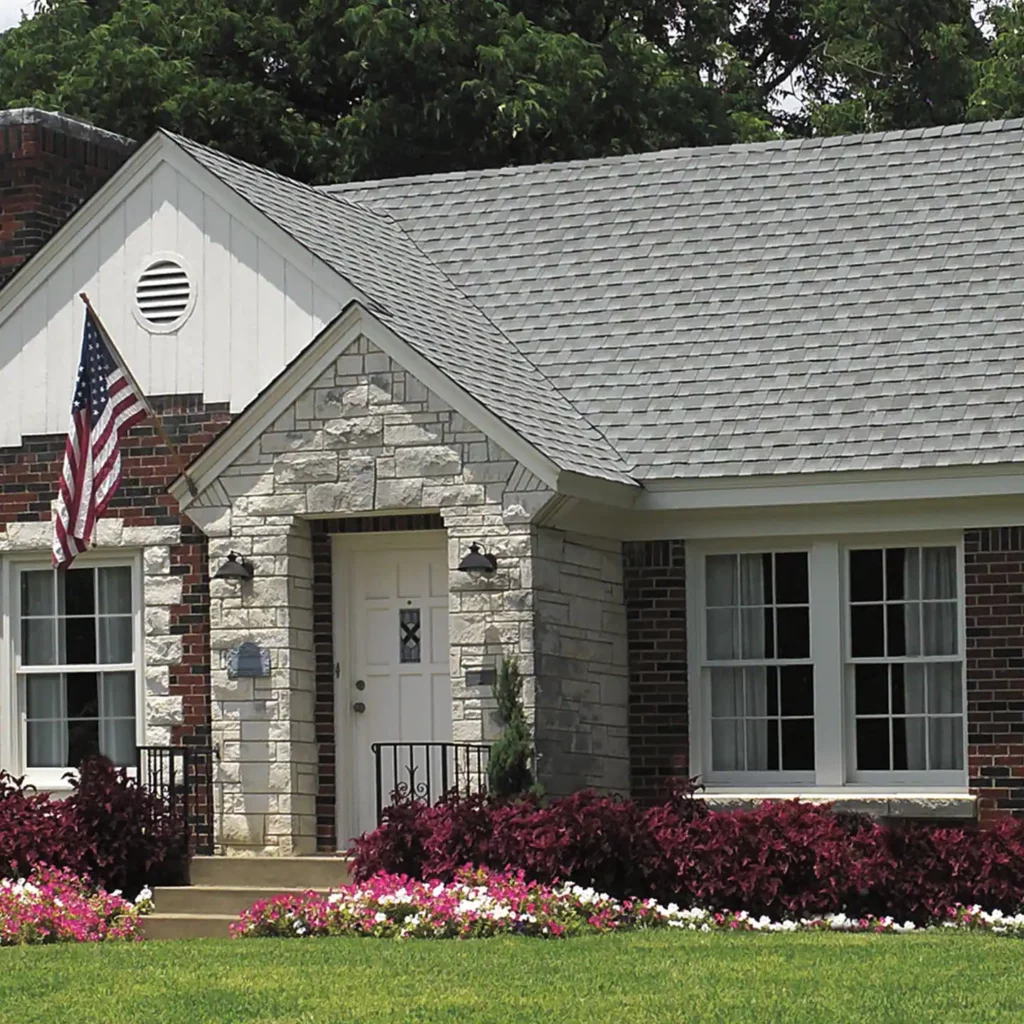 These shingles meet Cool Roof Rating Council guidelines for solar reflectivity that significantly reduces heat build-up in well-ventilated attics. GAF claims the result can be a reduction in home cooling costs of 7% to 15%.
GAF doesn't offer any data to back up the claim, simply saying, "Potential for savings depends on various factors including, but not limited to, climate zone, utility rates, location, and HVAC equipment efficiency."
The CS Series is available in areas of the country with a large number of sunny days – mainly in the western US.
These are the most expensive shingles in the Timberline brand. They come with the 25-year stain warranty.
AS II – Armor Shield Impact Resistant ($$$)
These are SBS-modified shingles. It means the asphalt has been blended with a synthetic rubber to create greater flexibility and resistance to impact.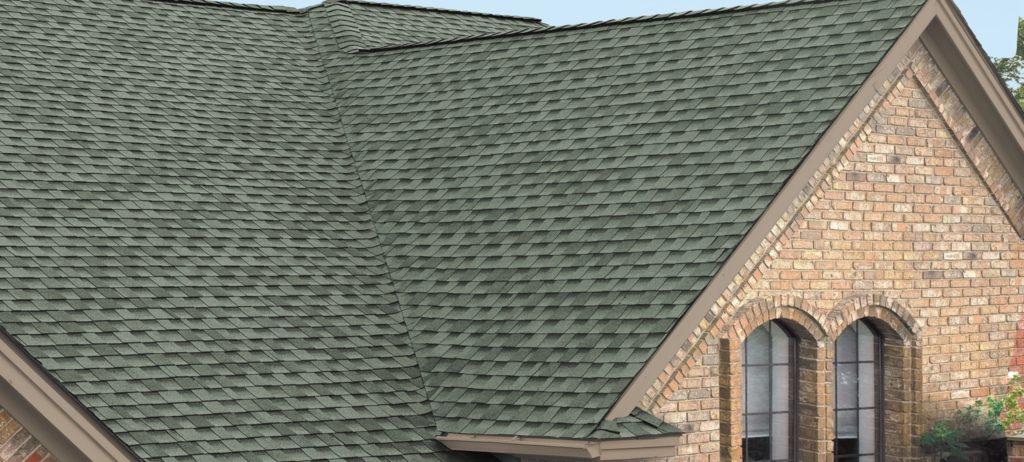 But beware if you buy this shingle for your home and expect it to be impervious to damage. GAF markets it to areas prone to hail but also clearly states that, "Timberline AS II Shingles are not warranted to withstand hail damage." OK then.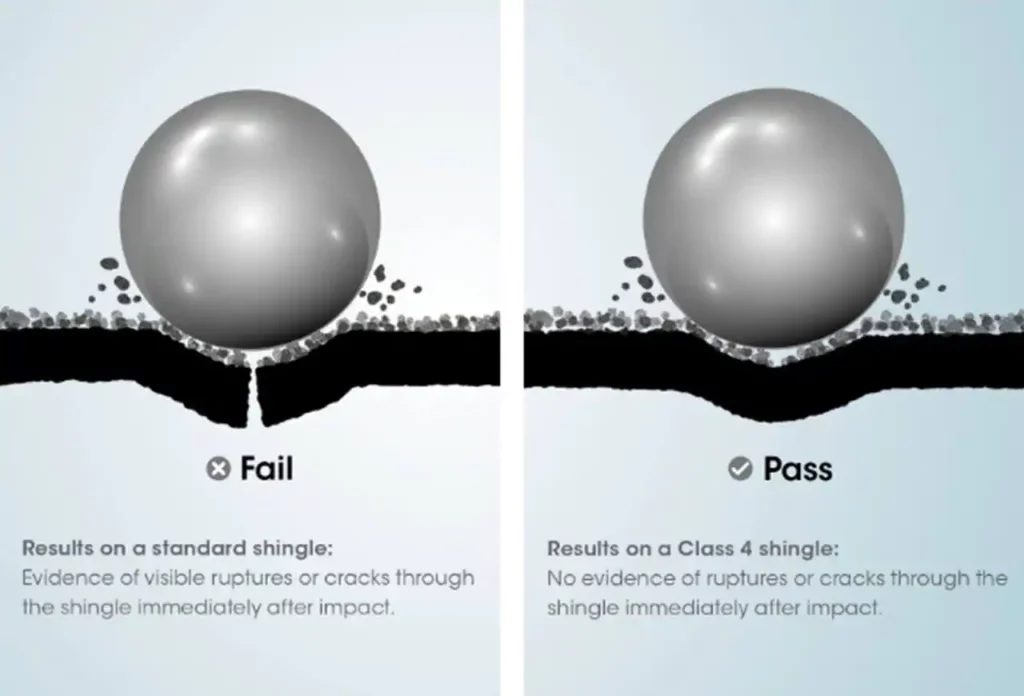 They do have the UL 2218 Class 4 Impact-Resistant rating, but there are quite a few asphalt shingles that do. "UL 2218 Class 4 Impact-Resistance Test: A 2" steel ball is dropped twice from a 20-foot height onto various target locations to evaluate the shingles' ability to withstand the impact." Class 4 is the best rating available for asphalt shingles.
HDZ RS & RS+ – Cool Roof reflective ($$$)
These shingles are designed to meet California's super-strict guidelines.
The standard HDZ RS shingles meet California Title 24 roofing requirements. The RS+ takes it a step further and meets Los Angeles County's higher standards.
AH – American Harvest ($$)
The American Harvest line has been quietly discontinued (no longer actively advertised on GAF.com), but stocks of these shingles are still available across the US. Among the cheapest of the Timberline lines, GAF American Harvest shingles had some of the lowest ratings, which likely led to them being discontinued.
| | |
| --- | --- |
| Timberline HDZ | High Definition |
| Colors | 22 |
| Warranty | Lifetime |
| Wind Speed Warranty | Unlimited with complete GAF roof |
| Retail Cost | $115 – $140 per square |
| Installed Cost | $365 – $570 per square |
| | |
| Timberline NS | Natural Shadow |
| Colors | 7 |
| Warranty | Lifetime w/ 3 GAF Products |
| Wind Speed Warranty | Unlimited with complete GAF roof |
| Retail Cost | $110 – $130 per square |
| Installed Cost | $360 – $555 per square |
| | |
| Timberline UHD | Ultra-high Definition |
| Colors | 7 |
| Warranty | Lifetime |
| Wind Speed Warranty | 110/130 |
| Retail Cost | $135 – $160 per square |
| Installed Cost | $385 – $590 |
| | |
| Timberline UHD Dual Shadow | Enhanced Shadow Line |
| Colors | 7 |
| Warranty | Lifetime |
| Wind Speed Warranty | 110/130 |
| Retail Cost | $140 – $170 per square |
| Installed Cost | $390 – $595 per square |
| | |
| Timberline AS II | SBS-modified |
| Colors | 7 |
| Warranty | Lifetime |
| Wind Speed Warranty | 110/130 |
| Retail Cost | $140 – $170 per square |
| Installed Cost | $395 – $580 per square |
| | |
| Timberline CS | Highly Reflective |
| Colors | 3 |
| Warranty | Lifetime |
| Wind Speed Warranty | Unlimited with complete GAF roof |
| Retail Cost | $150 – $185 per square |
| Installed Cost | $415 – $600 per square |
| | |
| Timberline HDZ RS & RS+ | Cool Roof Rating Council |
| Colors | 5/8 |
| Warranty | Lifetime |
| Wind Speed Warranty | Unlimited with complete GAF roof |
| Retail Cost | $145 – $170 per square |
| Installed Cost | $390 – $585 per square |
*1 roofing square is equal to 100 square feet.
Asphalt Shingles

$8,500

Average Cost

Metal Roof

$15,500

Average Cost

Flat Roof Membrane

$11,500

Average Cost

See what local pros charge Enter your zip code
GAF Designer Shingles
While Timberline dominates sales, some homeowners prefer premium shingles even if at a higher price.
While Timberline shingles cost from $3.65 to $6.90 per square foot, Designer shingles run $4.25 to more than $7.00 per square foot.
Manufacturer's Warranty: You'll get a Lifetime warranty on these lines when you purchase an entire GAF roof system. That means all old roofing will be removed down to the wood deck. From there, you'll need to purchase GAF Designer shingles plus 3 additional products such as GAF underlayment, starter and rake shingles and hip/ridge shingles.
Algae-protection and Warranty: All GAF Designer shingles are treated with stain guard and are backed by the 25-year stain warranty plus 110 MPH wind warranties with standard installation or 130 MPH warranties when extra nails are used.
Grand Canyon ($$$$)
These thick dimensional shingles are designed to give a rustic wood shake appearance in four dark colors.
Note that installation requires 6 nails per shingle to get maximum warranty coverage, so the installation labor charges will be higher than on standard dimensional shingles requiring just 4 nails per shingle.
Camelot II ($$$$)
The tabs on these GAF architectural shingles are cut to give them a slate appearance. Five dark colors are produced.
Slateline ($$$$)
If you like the look of a more uniform shingle, then Slateline features straight lines all around.
Grand Sequoia ($$$$)
GAF says of these shingles, "Artisan-crafted shapes combined with oversized tabs result in a sophisticated beauty unmatched by typical shingles." The look is unique, so be sure to see a few houses with this shingle on them before deciding on it.
Grand Sequoia AS ($$$$)
This version of the shingle is mixed with modified SBS synthetic rubber to deliver better resistance to heavy impact. Just keep in mind that there is no hail warranty on these or any GAF shingles.
Woodland ($$$$)
These GAF asphalt shingles are designed to look like hand-cut European wood shingles. Lines are not straight or uniform, resulting in a traditional appearance. It is offered in two colors.
| | |
| --- | --- |
| Grand Canyon | Rustic Wood Shake Look |
| Colors | 4 |
| Retail Cost | $175 – $215 per square |
| Installed Cost | $425 – $640 per square |
| | |
| Camelot II | Classic slate look |
| Colors | 5 |
| Retail Cost | $180 – $225 per square |
| Installed Cost | $440 – $675 per square |
| | |
| Slateline | Tapered slate look |
| Colors | 4 |
| Retail Cost | $180 – $220 per square |
| Installed Cost | $440 – $675 per square |
| | |
| Grand Sequoia | Oversized Shake-like Tabs |
| Colors | 5 |
| Retail Cost | $190 – $230 per square |
| Installed Cost | $450 – $700 per square |
| | |
| Grand Sequoia AS | Armor Shield modified SBS |
| Colors | 4 |
| Retail Cost | $200 – $240 per square |
| Installed Cost | $465 – $715 per square |
| | |
| Woodland | European wood shingle style |
| Colors | 2 |
| Retail Cost | $190 – $215 per square |
| Installed Cost | $450 – $680 per square |
Get Free Quotes For roofing Pros Near You
GAF 3 Tab Shingles / Strip Shingles
You've got two lines of strip shingles to consider.
Royal Sovereign is the most popular, available in 9 colors in most areas of the US. It is backed by a 25-year limited warranty. Wind ratings are up to 110 MPH.
The Marquis WeatherMax 3-tab shingle in 2 colors has a slightly more upscale look, if you prefer a 3-tab design. However, for less than $1.00 more per square foot, you could choose one of GAF's Timberline styles.
| | |
| --- | --- |
| Royal Sovereign | Classic 3-tab appearance |
| Colors | 9 |
| Retail Cost | $95 – $115 per square |
| Installed Cost | $330 – $500 per square |
| | |
| Marquis WeatherMax | Top of the line 3-tab |
| Colors | 2 |
| Retail Cost | $120 – $135 per square |
| Installed Cost | $350 – $530 per square |
Average Cost To Install a new Roof
Typical Range:
$5,960 - $12,740
GAF Complete Roofing System Components
Shingles are the most visible part of a roof, of course, but they're just one of several components that keep your home weathertight.
And every major roofing materials manufacturer has its own roofing system.
Warranty issues: To get the improved warranty coverage, you must purchase GAF shingles plus 3 to 5 accessories that are part of the complete system. See Warranty Options below for an overview.
Tear-offs: Of course, using these materials and getting the upgraded warranty implies a tear-off of the old roof rather than adding a second layer of shingles, which code allows.
A roof tear-off increases material and labor cost, pushing the price toward the upper end of the cost ranges given in the tables above. When rot must be repaired or flashing replaced, cost can become higher than listed in the pricing.
Here is an overview of GAF's roofing system accessory options.
GAF Starter Strip Shingles
GAF makes three standard options in either rolls or individual shingles. You or your roofer can choose the one best suited to your roof and climate.
There are also color-matching starter shingles for Grand Canyon and Grand Sequoia shingles.
All types line the eaves of the roof – the lowest edge of the roof. They give the roof more protection against water as it flows into the gutters. In freezing temperatures, the shingles also protect against water backing up under shingles due to ice dams.
GAF Ridge Cap Shingles
All sloped roofs have peaks and/or hips. These shingles cover them. They're oversized to cover ridge ventilation at roof peaks. Six options are produced, several with SBS-modified asphalt for better resistance to impact. Each style comes in a range of colors to match your shingle choice.
GAF Leak Barrier Products
Both GAF options, StormGuard and WeatherWatch, are peel-and-stick rolls of waterproof barrier. The second is mineral-surfaced for exposed areas like roof valleys. Wherever installed, they extend beneath shingles by a foot or so to prevent water that gets under shingles from reaching the wood roof deck.
GAF Roof Deck Protection Products – Underlayment
These are rolls of material from 36" to 48" wide – a total of synthetic underlayment designed with different climates in mind.
Shingle-mate and VersaShield are reinforced with fiberglass for more durable protection. VersaShield improves the fire resistance of the roof as well.
GAF Cobra Ventilation Products
Ridge vents cover the gap in the roof deck right at the peak. They are strips of plastic with built-in ventilation that allows airflow. The flow of air comes in at either gable or soffit vents and carries excess heat and moisture out through the ridge vents. Ventilation is essential for the long-term health of the house and durability of the roof.
Warranty Options
The warranty options are easy to review at a glance.
The GAF Shingle & Accessory Limited Warranty is standard with any products. You don't need to use any accessories for the shingle warranty to apply – whether you simply put on a single layer of new shingles over an old layer or use another brand's accessories. Warranty lengths and features differ slightly by shingle line. Most GAF asphalt shingles come with a Lifetime limited warranty.
GAF Roofing System Limited Warranty
Use 3 accessory products to get this upgraded warranty. It gives you Lifetime shingle coverage with 10 years of non-prorated coverage.
There's no tear-off protection. In other words, if the roofing fails, you'll have to pay to have it torn off, and GAF will supply new materials.
GAF System Plus Warranty
This also requires 3 accessory products – and the whole roof must be installed by a GAF Certified or Master Elite roofing contractor. That will almost certainly mean higher labor costs.
The non-prorated period is 50 years on this Lifetime warranty. Workmanship is not covered – so if the issue can be traced to poor installation rather than a defect in materials, the warranty won't pay.
GAF Silver Pledge Warranty
This upgrade requires the use of GAF shingles plus 4 accessories. And it all must be installed by a GAF Master Elite contractor. The resulting Lifetime warranty isn't prorated for the first 50 years – in other words, it covers 100% of the cost of new materials. And if the roof has to be torn off as part of a warranty claim, GAF will cover that cost.
There is 10-year workmanship coverage – and that's why GAF insists you hire a Master Elite roofer for the job. If installation proves to be the cause of the problem, the warranty will cover costs.
GAF Golden Pledge Warranty
It takes using 5 qualifying accessories to get this coverage. The warranty provides 50 years of non-prorated coverage and Lifetime protection against defects.
Yes, a GAF certified Master Elite contractor must install the roof, and workmanship is covered for 25 years on most shingles, 30 years on Timberline UHD. This warranty also covers the cost of a tear-off and disposal when necessary.
Pros and Cons
This brand uses a few features that ensure good performance during the life of the roof.
StrikeZone is GAF's wider nailing zone on Timberline HDZ shingles. It is also reinforced to hold more securely. This gives the shingles better durability in high winds and on steep-slope roofs.
LayerLock technology ensures that the shingles are fully integrated with overlapping layers. This improves the strength of the entire shingle field to help prevent shingle blow-off in high winds or individual shingles coming loose if nails miss the nailing strip or otherwise come loose.
Dura Grip sealant on the back of each shingle is a strip of roofing tar that adheres the shingle to the material beneath it.
StainGuard Plus is on most of the shingle lines. It includes time-release copper elements proven to prevent algae growth on the shingles.
Those are the advantages along with a good selection of shingle lines and colors.
The potential downside to GAF is one similar to other roofing lines – to get better warranty protection, you must tear off old roofing and choose a complete new roof made up mostly or entirely of GAF products.
If your roof has one layer of shingles only and is in good condition, no soft areas or loose/missing shingles, then the most cost-effective option is to add new shingles without a tear-off of the old shingles.
GAF Shingle Durability
The three key factors in shingle durability is the quality of the shingle, how well it was installed and your climate.
When your roof is installed properly, you can expect this type of longevity depending on the line:
GAF 3-tab shingles: 15-25 years
GAF Timberline shingles: 18-30 years
GAF Designer shingles: 20-35 years
Should I Use GAF Asphalt Shingles?
GAF compares pretty comparably to most other brands. Some CertainTeed and Atlas products have slightly higher ratings. But GAF is "good enough" in most cases.
The key is finding an experienced contractor – Not that you have to choose a GAF Master Elite roofer and pay extra for doing so. Any experienced roofing contractor with good ratings can be considered. And when talking with good roofers, and they recommend GAF, then that's a good reason to choose a GAF shingle or roofing system for your home.
What GAF Shingles Are Available Where You Live?
GAF makes 1s lines of shingles sold nationwide (RS and RS+ are designed to meet local California codes). On the GAF Shingles main page, select All Products to view them, if you'd like to. Then, type in your Zip Code to find those sold in your area.
Here's a sampling of locations around the country and the GAF shingles available. Examples of the lines not sold are in ().
Boston, MA – 9 lines (Timberline UHD, Grand Canyon, Grand Sequoia, and Marquis WeatherMax).
Charlotte, NC – 9 lines (UHD Dual Shadow Lines, all Grand Sequoia options and WeatherMax)
Miami, FL – 9 lines (Same as Charlotte)
Chicago, IL – 11 lines (Standard UHD, Grand Sequoia + RS, and WeatherMax)
Dallas/Ft.Worth, TX – 12 lines (UHD Dual Shadow, Grand Sequoia RS and WeatherMax)
Oklahoma City, OK – 12 Lines (Same as Dallas)
Seattle, WA – 11 lines (UHD Dual Shadow, Grand Sequoia RS and WeatherMax)
Los Angeles, CA – 12 lines (UHD Dual Shadow, Grand Sequoia AS)
Where are WeatherMax Shingles Sold?
You will find them at Lowe's and a few other building supply stores. US Home Depot stores carry several Timberline lines, but don't appear to have WeatherMax.
Did you know? Consumer Reports rates 3-tab WeatherMax a 65 out of 100. While that doesn't sound spectacular, it is among the highest score for strip shingles. Compare WeatherMax at 65 to other popular 3-tab options: GAF Royal Sovereign (52), Atlas StormMaster Slate (62), Atlas GlassMaster (60), Owens Corning Supreme (59) and CertainTeed XT25 (41).
GAF and the Environment
The brand has been In the News. GAF operates a shingle factory in West Dallas that residents would like to see closed due to emissions. GAF claims the plant does not emit excess sulfur dioxide and is compliant with Texas Commission on Environmental Quality regulations. While meeting code, the factory does release emissions that can affect air quality in nearby neighborhoods.
If that gives you pause about using GAF shingles, it is worth noting that most manufacturers use similar plants to make their shingles.
Here is GAF's 2030 Planet Goals from its 2021 Sustainability Report. It shows what steps the company has taken and plans to take in the future to limit its impact on the environment. This includes recycling old asphalt shingles into new roofing material, a process GAF calls the Roof Cycle. This is significant because while shingles are recyclable, there are few facilities that do it, and most of them are overwhelmed with more shingles than they can process.
GAF Timberline Solar Shingles
Timberline Solar shingles are low-profile solar panels. They plug into one another for easy connections and installation. Solar shingles can be neatly integrated into most asphalt roofs.
These solar roofing panels are usually installed by a separate contractor specializing in solar. The contractor will determine how many panels you need based on home size and how much sunlight is available throughout the year. Then they will develop a price estimate for your project.
The best time to install Timberline solar roofing is when replacing your old roof rather than integrating them into an existing roof.
Cost: Most homes in the range of 1,800 to 2,500 square feet require between 5 and 9 kilowatt/hour systems. Using the average sizes, expect the panels to add between $34,000 and $42,000 to your roof.
Credits: Tax credits of 30% are in effect through 2032, potentially reducing your cost by $10,000 to $12,600.
GAF solar roofing is the recipient of several industry awards including the CES 2022 Best of Innovation award.
Get Free Quotes For roofing Pros Near You