The Solar Energy Industries Association (SEIA) publishes a quarterly report about the US solar industry, which is officially called the Solar Market Insight Report.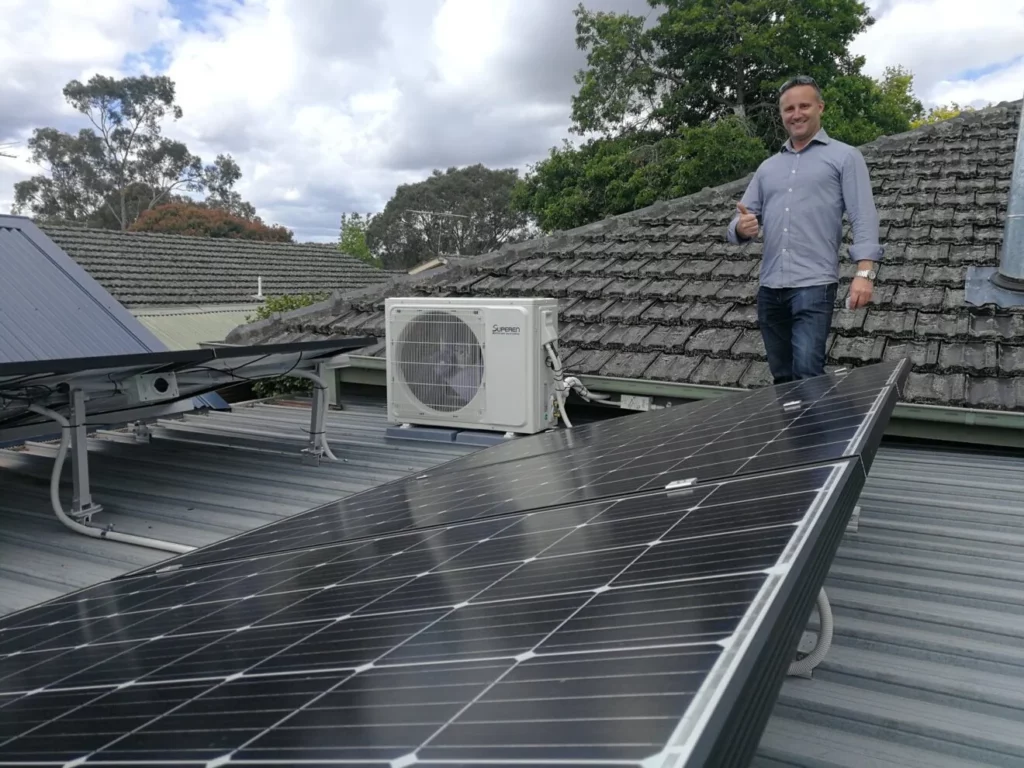 The latest edition was published on March 10, 2022, and it provides detailed information through the end of fourth quarter of 2021. The SMI report covers the installed PV capacity and average costs per market segment: residential, commercial, community, and utility-scale.
Along with Wood Mackenzie, a global consulting firm with ample experience in the renewables industry, the SEIA forecasts how the US solar industry could grow in the near future.
SEIA analyzes the potential impact of current opportunities and threats, such as the disruption of global supply chains, and how these factors could impact solar installations and their costs.
Here we will provide a summary of the main points in the latest Solar Market Insight Report, focusing on solar costs in the residential sector. We will also cover the installed capacity and number of installations in 2021, which was a record-breaking year for home solar power, despite COVID-19 and global supply chain issues.
What Is the Cost of Solar Power for Homes in 2022?
Each quarter, the SEIA estimates the average cost of solar power across the three main market segments: residential, commercial, and utility scale. To achieve this, they track the wholesale price of solar components, while conducting interviews. They also analyze the installed cost of standard mono-PERC solar panels and other high-efficiency modules.
According to the latest report from March 10, US homeowners can expect to pay $3.10 per watt of installed capacity. The following table summarizes the average prices you can expect for some common system sizes, based on this figure.
The table below also subtracts the 26% federal tax credits, which remain available until the end of 2022.
| | | |
| --- | --- | --- |
| Solar PV System Capacity | Average Price Based on Solar Market Insight Report | Net Cost after 26% Investment Tax Credit |
| 5 kW | $15,500 | $11,470 |
| 6 kW | $18,600 | $13,764 |
| 7 kW | $21,700 | $16,058 |
| 8 kW | $24,800 | $18,352 |
| 9 kW | $27,900 | $20,646 |
| 10 kW | $31,000 | $22,940 |
Note that solar panel prices vary by state, and your actual out-of-pocket cost can be much lower if you have access to incentive programs.
Keep in mind that the SEIA considers high-efficiency solar panels when calculating average costs. There is a common misconception that the efficiency of solar panels is an indicator of their quality, but there are also lower efficiency products with solid warranties.
If your local government or utility company offers solar panel rebates, they must be subtracted before applying the 26% federal tax credit.
Assume you get a $9,000 rebate for a 10-kW system that would normally cost $31,000.
You need to subtract the rebate before calculating the tax credit. In this case, the system cost after the rebate is $22,000, and the 26% tax credit is $5,720.
The correct value of the Investment Tax Credit is 26% of $22,000 (not 26% of $31,000).
The out-of-pocket system cost is $16,280 in this example, after subtracting the $9,000 solar rebate and the $5,720 federal tax credit.
EnergySage considers a wider product variety when estimating the average cost of solar panels, and they reported a value of $2.77/watt for 10-kW systems in 2022.
The typical out-of-pocket cost ranges from $17,538 to $23,458 after deducting the 26% federal tax credit, with an average cost of $20,498. Based on their marketplace data, solar panel costs have dropped by 13% during the last five years.
Are Solar Panel Costs Increasing in 2022?
If you check the five latest editions of the Solar Market Insight Report, you will notice that the cost to install solar panels has been increasing.
Q4 2020: $2.83 per watt
Q1 2021: $2.94 per watt
Q2 2021: $3.03 per watt
Q3 2021: $3.06 per watt
Q4 2021: $3.10 per watt
As you can see, solar costs for the residential sector increased by $0.27/watt between Q4 2020 and Q4 2021, which represents a change of almost 10%. According to the analysis carried out by the SEIA and Wood Mackenzie, this cost increase can be attributed to several factors: higher equipment costs, higher raw material costs, and higher freight costs.
The SEIA breaks down the cost of solar systems, and you can see that solar panels only represent around $0.50 per watt. The costs associated with the solar inverter, structural balance of system (BOS), electrical balance of system, labor, design, engineering and permits add around $1.00/watt.
Most of the PV system price increases stem from supply chain costs, overhead and margin; these items add around $1.60 per watt, reaching the average reported price of $3.10 per watt.
Each home solar system is unique since the design is based on roof geometry and sunlight conditions. Average PV system prices are useful as a starting point, but you can only get an accurate quote after a professional assessment by a qualified solar installer.
2021: A Record-Breaking Year for Home Solar Installations
According to the Solar Market Insight Report, the US installed 23.6 GW across all market segments in 2021, reaching an accumulated capacity of 121.4 GW. Solar power has become the fastest growing electricity source in the US, representing 46% of the generation capacity added in 2021.
The trend of increasing solar system deployments is expected to continue in 2022, according to the US Energy Information Administration, the US will deploy an estimated 46.1 GW of generating capacity, and solar power will account for 21.5 GW, almost half of the expected growth.
The SEIA quarterly report also breaks down growth by market segment for the year 2021. The utility-scale sector accounts for the largest share of new capacity, but the residential market is in second place, ahead of the commercial and community solar markets:
Utility-scale solar installations in 2021: 17 GW (17,000 MW)
Home solar installations: 4.2 GW (4,200 MW)
Commercial solar installations: 1,435 MW
Community solar installations: 957 MW
To put these numbers into perspective, one gigawatt of solar photovoltaic capacity can power almost 200,000 homes. The cumulative solar capacity of 121.4 GW can deliver enough electricity for 23.3 million US homes. Based on the current growth rate, the US is set to reach 464 GW of solar power by 2032.
However, the outlook improves dramatically if the federal tax credit is extended for 10 years: under this scenario, the US could be reaching 700 GW of solar power by 2032, which is nearly six times the current capacity.
Home solar installations not only broke records in terms of megawatts, but also in the number of new individual systems. The SEIA reported that 514,000 home solar systems were installed in 2021, which represents a 30% increase compared with 2020. This is the first time the US installs more than 500,000 solar panel systems in a single year.
In particular, the fourth quarter of 2021 was excellent for the US residential solar market. The installed capacity was 1,156 MW in this quarter alone, which also represents a record since the SEIA started gathering data.
The trend is expected to continue Wood Mackenzie is forecasting 13% growth in 2022, and the outlook could improve if supply chain issues are solved.
Solar installation costs have been increasing during the last 12 months, but the same is also true for electricity prices. According to the US EIA, the average electricity price increased from 12.78 cents/kWh in December 2020, to 13.75 cents/kWh in December 2021. Solar panels have become slightly more expensive, but the electricity they save has also increased in price.
How the Federal Tax Credit Expiration Affects Home Solar Costs
The Investment Tax Credit (ITC) has been a major incentive for US solar power since 2006, but the benefit ends in 2024, after more than 20 years. Homeowners can still get the 26% tax credit until the end of 2023, and a slightly lower 22% tax credit if you wait until 2023.
Unfortunately, the ITC drops to 0% for the residential sector in 2024, and only a 10% benefit will remain for business-owned solar installations.
As a quick example, assume two homeowners are considering 10-kW solar systems with a cost of $31,000, but one of them waits until 2023:
The homeowner who acts quickly to go solar in 2022 gets a tax deduction of $8,060, which reduces the net cost of the solar installation to $22,940.
The homeowner who waits until 2023 gets a reduced benefit of 22%, and solar prices could also be higher due to supply chain issues.
Assuming a 10% annual price increase similar to 2021, the 10-kW solar system could cost around $34,000.
The 22% tax credit is equivalent to $7,480, but the net price is now $26,520.
In this example, the homeowner who installs a 10-kW solar PV system in 2022 saves over $3,500 thanks to the higher tax credit. Even if solar panel costs remain stable this year, the extra 4% tax credit represents $1,240 with a system price of $31,000.
Also keep in mind that the federal reserve just raised the Federal funds interest rates by 0.25% or 25 basis points, with the expectation (dot plot) of seven hikes this year. But you can still get a well-priced loan for a home solar system at what is still considered historically low interest rates.