CertainTeed roofing shingles are known for superior quality that comes at a premium cost. However, CertainTeed's most popular Landmark and Landmark Pro lines offer good affordability and value, comparing favorably against flagship roofing products from GAF and Owens Corning.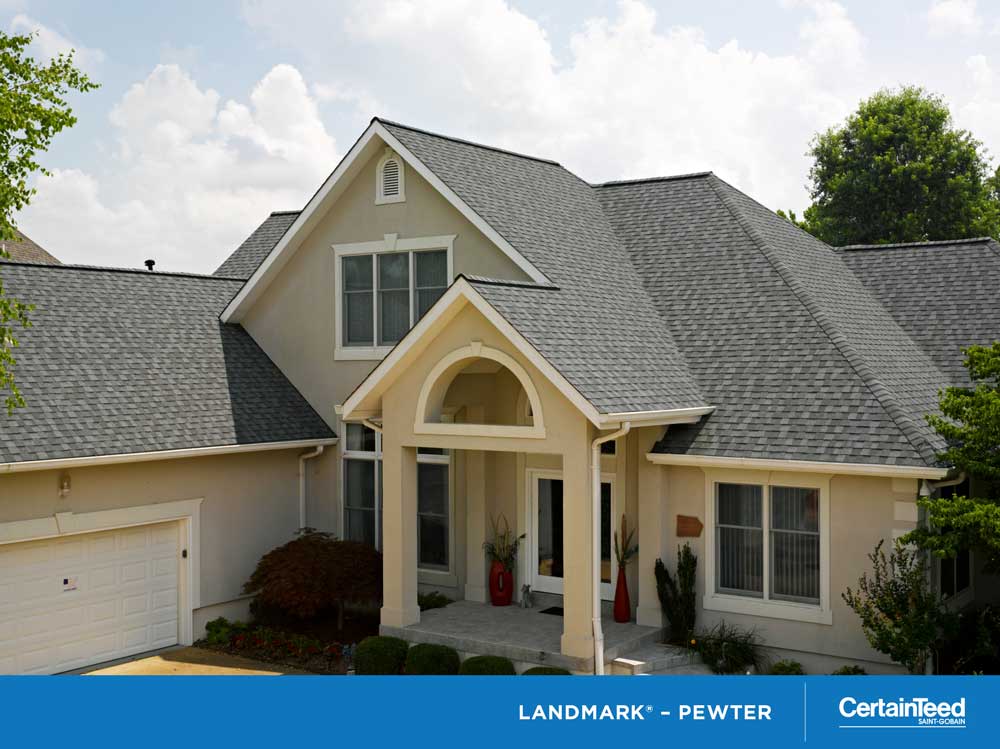 Source: CertainTeed
Owens Corning is known for its excellent selection of mid-priced TruDefinition Duration shingles that compete against top sellers like GAF Timberline HDZ and Malarkey Vista shingles. OC produces a few premium options like Berkshire dimensional shingles, and Duration Storm (and Duration Flex) lines designed to withstand heavy weather and hailstones.
Both CertainTeed and Owens Corning also make a single, decent-quality basic line of 3-tab shingles – Owens Corning Supreme vs CertainTeed XT25 shingles.
Let's dig into essential considerations when comparing CertainTeed and Owens Corning shingles.
Quality and Dependability
Many roofing contractors and independent testing agencies agree that CertainTeed and Owens Corning are #1 and #2 when it comes to quality – and the brands change places depending on who does the rating.
A look at the most recent Consumer Reports ratings on asphalt shingles shows that Owens Corning and CertainTeed dominate the rankings with more products than GAF, Atlas, Tamko, and IKO.
OC takes the top spot in the standard architectural shingles tier and in the luxury/premium shingles category. That's a huge statement about the quality Owens Corning delivers and the longevity you can expect.
Average Cost To Install a new Roof
Typical Range:
$5,960 - $12,740
Owens Corning
It's all about materials and construction, and OC doesn't cut corners anywhere.
Construction: OC shingles are manufactured with a woven mesh fiberglass core that is very resistant to tearing in high winds. The tough fiberglass core is encased in high-grade asphalt known as "weathering" asphalt because of its waterproof, high-density formulation.
Several lines, explored below, are produced with asphalt further enhanced for flexibility and resistance to denting or cracking when impacted by large hail and debris.
Strip and laminated shingles: Supreme 3-tab shingles and Oakridge 4-tab shingles are one piece; all other OC asphalt shingles are two or more fused, aka laminated, pieces that provide up to 4 layers of coverage when properly overlapped during construction.
Granules: The shingles are topped with granules formulated from quality minerals with a ceramic coating designed to reflect UV radiation from the sun. The next section discusses specialty granules on some shingles that improve solar reflectivity or inhibit algae growth/staining.
Warranties: The 3-tab Supreme shingles are covered by a 25-year warranty; all other lines feature a Lifetime warranty with a generous starting period when the warranty is not prorated. The Warranties section below has all the details for both brands.
CertainTeed
The reason CertainTeed ranks alongside OC is the same commitment to using high-grade materials and manufacturing superior products. We won't waste your time repeating ourselves, so here's a summary.
Construction: CertainTeed also employs fiberglass mesh cores soaked in premium asphalt. And yes, impact-resistant formulations are used on several lines.
Layers: XT25 3-tab shingles are a single layer; All others are laminated with at least two fused layers to produce, according to CertainTeed, four or five layers of protection on premium lines like Grand Manor and Carriage House.
Granules: CertainTeed takes nearly the exact same approach to granule technology as Owens Corning, so "ditto" sums it up.
Advantage – Owens Corning: Yes, that will surprise a few readers. But research data and consumer ratings favor our opinion that OC asphalt shingles produce a slightly better roof than CertainTeed's. It's close, but Owens Corning gets the nod.
CertainTeed vs Owens Corning: Cost
Here is a current CertainTeed vs Owens Corning price comparison. Prices remain elevated due to COVID-19 supply chain issues that have plagued building materials manufacturers.
Basic 3-Tab Shingles
OC Supreme: $85 – $115
CertainTeed XT25: $80 – $110
CertainTeed Highland Slate (4-tab): $150 – $175
Better Architectural Shingles
OC Oakridge: $98 – $120
OC Duration: $135 – $160
OC Duration Designer: $148 – $185
CertainTeed Landmark: $100 – $135
CertainTeed Landmark PRO: $130 – $155
CertainTeed Landmark Premium: $155 – $195
Best Architectural Luxury Shingles
OC Duration Storm: $145 – $185
OC Duration Flex: $155 – $200
OC Berkshire: $225 – $275
CertainTeed Presidential Shake: $235 – $285
CertainTeed Grand Manor: $245 – $295
CertainTeed Presidential Shake TL: $250 – $300
CertainTeed Presidential Shake IR: $260 – $325
CertainTeed Belmont: $260 – $325
CertainTeed Belmont IR: $285 – $350
CertainTeed Carriage House: $260 – $325
CertainTeed Northgate ClimateFlex: $335 – $375
The cost ranges are the result of price differences between retailers and that some colors, usually darker and richer tones, are considered premium colors and have a higher price.
Asphalt Shingles

$8,500

Average Cost

Metal Roof

$15,500

Average Cost

Flat Roof Membrane

$11,500

Average Cost

See what local pros charge Enter your zip code
Advantage – Owens Corning: We give a slim advantage to Owens Corning because its prices for comparable products are about the same, and they have an edge in quality/durability. For that reason, Owens Corning offers slightly better value for the money.
Retail Detail: CertainTeed shingles are now available at retail building supply stores across the country. Until recently, CertainTeed shingles could only be purchased by roofing contractors with accounts at wholesale distributors.
While the biggest names – Home Depot and Lowe's – don't yet carry them, CertainTeed shingles are found at ABC Supply, Carter Lumber, and regional/local building materials stores.
Shingle Style Selection
Here are the main lines of asphalt shingles each brand manufactures:
CertainTeed Shingle Styles
While CertainTeed still makes more options, the brand has reduced its selection in recent years. Since 2017, CertainTeed has discontinued CT20, XT30, Arcadia Shake, Independence, Patriot, Northgate, and Landmark Solaris Gold shingles.
CertainTeed XT25: This is CertainTeed's only 3-tab offering. Backed by a 25-year warranty, a total of 12 colors are made.
CertainTeed Highland Slate (4-tab): Highland Slate is a single-layer shingle in 6 colors with the lower portion divided into 4 tabs, a unique design in the industry. The layer is thicker for improved wind resistance to 110 MPH. The warranty period is Lifetime.
If you want the look of architectural shingles at a lower cost, check out Highland Slate.
CertainTeed Landmark: CertainTeed's top seller is a dimensional shingles with a Lifetime warranty available in up to 23 different colors, although most regions will have only about 9 colors available.

CertainTeed Landmark PRO: This line is a small step up from the standard Landmark line. Comparing the two, the PRO offers 15-year algae warranty vs 10 years, and 10-year non-prorated period vs 5 years. PRO shingles are offered in up to 20 different colors with a Lifetime warranty.

CertainTeed Landmark Premium: The Premium line has the same warranty coverages as the PRO shingles. The difference is that they are thicker at 300lbs per square vs 240 for Landmark and 250 for Landmark PRO.
CertainTeed Presidential Shake/TL/IR: You've got performance options here.
The Presidential Shake (7 colors) is a 2-layer shingle at 350lbs per square.
The Presidential TL (triple layer) version (7 colors) has three layers for added weather protection and a weight well over 400lbs per square. The Presidential IR shake shingles (4 colors) are manufactured with modified asphalt for enhanced impact resistance.
CertainTeed Grand Manor: These 425lbs per square slate-style asphalt shingles are produced in 10 colors and are backed with CertainTeed's best warranties.
CertainTeed Belmont (6 colors) and Belmont IR (4 colors): This is another beefy, slate-look shingle. The raised profile produces greater definition, and the modified IR shingles are formulated to resist impact.
CertainTeed Carriage House: Produced in 8 colors, these slate-style shingles have tabs featuring a horizontal lower edge but cut at 45 degrees on the sides for an attractive 3-sided look. These 350lbs/square architectural shingles have premium warranty coverage.
CertainTeed Northgate ClimateFlex: This is a new product available in areas with damaging hail. It is manufactured with polymer-modified asphalt for "rubberizing aspects" that make it more pliable and therefore suitable for cold-weather installation. It is also more resistant to wind tearing and to impact. The technology is similar to the Malarkey NEX shingle technology.
Owens Corning Shingle Styles
OC Supreme: OC's only 3-tab shingle is produced in a dozen colors including the Energy Star certified Shasta White with an SRI rating of 25. The 25-year warranty, 5-year non-prorated period and 10-year algae warranty match the CertainTeed XT25.
OC Oakridge: Highly popular, the Oakridge dimensional shingles with a wood shake appearance have a Lifetime warranty and are produced in 14 colors including the Energy Star certified Shasta White.
OC Duration: A top seller, the entry-level Duration architectural shingles come in 15 colors including Shasta White (Energy Star). At 260lbs/square, they're a mid-weight shingle with a Lifetime warranty. Copper-infused granules – used on most OC shingle lines – enhance resistance to algae growth.
OC Duration Designer: Bolder blends of colors are the only difference between Duration and Duration Designer shingles. 8 colors are produced – none of them Energy Star rated.
OC Duration Storm: While they don't use modified asphalt, the Storm shingles do boast a Class 4 impact rating due to an additional polymer backing called WeatherGuard. They're made in 7 colors.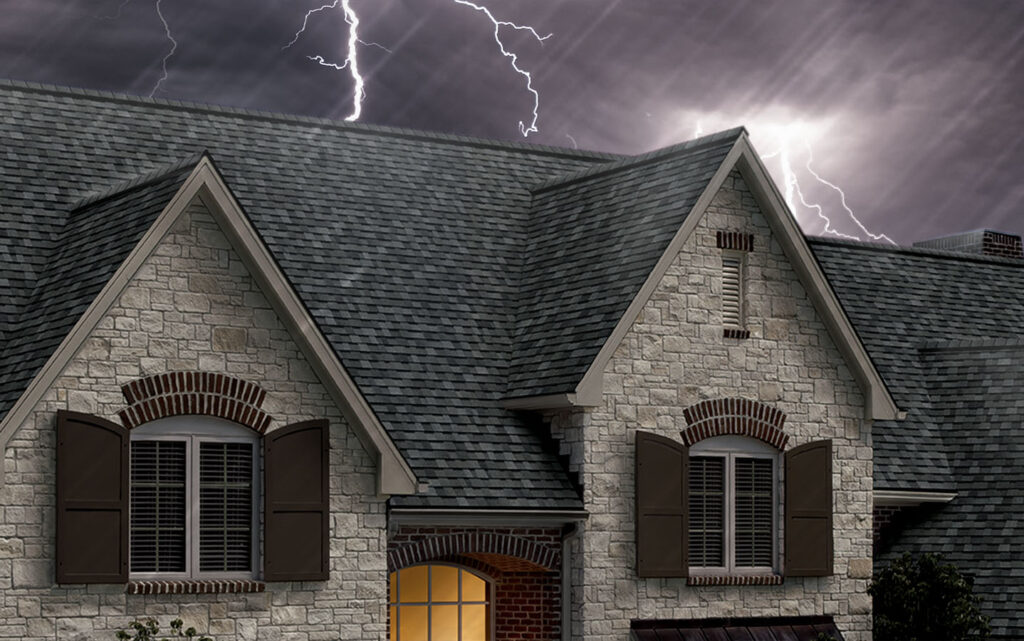 Source: Owens Corning
OC Duration Flex: This is an affordable SBS polymer-modified shingle designed for regions with frequent hail. It's a newer shingle line in 9 colors and Owens Corning's best warranty coverage.
OC Berkshire: Berkshire is OC's only super-premium architectural shingle competing with CertainTeed Carriage House, Grand Manor, and Belmont. And it is "temporarily unavailable" at this writing. The slate-look shingle has been made in 5 colors.
Advantage – CertainTeed: The comparison is close in 3-tab and the most popular midgrade architectural shingles. But CertainTeed dominates the super-premium category with Belmont, Grand Manor, and Carriage House.
Note on Availability: Not all shingle lines or colors are sold everywhere. The Landmark Solaris shingles, for example, are sold in the Phoenix, but not in Chicagoland because they are designed for optimal solar reflectivity.
Owens Corning vs CertainTeed: Warranty
Who has the best shingle warranty? Does it even matter?
Warranty coverage is an area of increased competition among manufacturers. In the last five years, they've gotten better across the roofing industry. It's good for marketing.
OC and CertainTeed offer warranties nearly identical with a few minor differences.
But in the end, warranties shouldn't be the key to your shingle shopping. Why? Because most claims are denied – that's a historical fact. Unless the manufacturer defect is obvious and grievous, the issue with most roofing shingles is blamed on installation errors, weather, normal wear or on an attic that is improperly ventilated. See CertainTeed's Asphalt Shingle Warranty for examples of reasons to deny or limit claims.
Frankly, in most cases, installation errors are a legitimate response from the manufacturers.
Hire Wisely Because claims are so often denied due to bad workmanship, it is vital that you take the time to interview and hire an experienced roofing contractor with a proven track record of quality installation.
We offer a free, no-obligation opportunity for you to get estimates for your job from several of the top installers in your area. They are pre-screened, licensed, and insured, and they know they are competing for the work. Use our convenient Need a Roofer/Free Quotes form.
Asphalt Shingles

$8,500

Average Cost

Metal Roof

$15,500

Average Cost

Flat Roof Membrane

$11,500

Average Cost

See what local pros charge Enter your zip code
CertainTeed Shingle Warranty
This manufacturer has simplified its warranty recently. The basic warranty is called SureStart. The upgraded warranty, which requires installing CertainTeed products from the roof deck to the ridge shingles, is called SureStart Plus and comes in 3 Star, 4 Star and 5 Star options. And yes, this is less complicated than the last version. 🙂
| | | |
| --- | --- | --- |
| | Base System Warranty | Better System Warranty |
| Name | SureStart | SureStart Plus: 3 Star, 4 Star and 5 Star |
| Warranty Length | Lifetime/50 years (25 years for XT25) | |
| Material Defects: Non-prorated | 10 years (5 years on XT25) | 20 years, 50 years, 50 years |
| Labor Covered | 10 years (5 years on XT25) | 20 years, 50 years, 50 years |
| | | |
| Workmanship | No | No, No, 25 years |
| Installer certification required? | No | Yes |
| Tear-off cost included? | No | 20 years, 50 years, 50 years |
| | | |
| 110MPH Wind Coverage | 15 years | 15 years |
| 130MPH Wind Upgrade | 15 years | Yes |
| Algae Warranty | 10 or 15 years | 10 or 15 years |
| Warranty Transferable | No | 10 years, 12 years, 15 years |
Lifetime – The Lifetime warranties are 50 years. They are prorated from year 11 or 16, depending on the warranty.
Owens Corning Shingle Warranty
| | | | | |
| --- | --- | --- | --- | --- |
| | Base Warranty | System | Preferred | Platinum |
| Length | Lifetime | Lifetime | Lifetime | Lifetime |
| Material Defects: Non-prorated | 10 years | 50 years | 50 years | 50 years |
| Labor Covered | 10 years | 50 years | 50 years | 50 years |
| | | | | |
| Workmanship | No | No | 10 years | Lifetime |
| Installer certification required? | No | Yes | Yes | Yes |
| Tear-off cost included? | No | Yes | Yes | Yes |
| | | | | |
| 110MPH Wind Coverage | 15 years | 15 years | 15 years | 15 years |
| 130MPH Wind Upgrade | 15 years | 15 years | 15 years | 15 years |
| Algae Warranty | 10 years | 10 years | 10 years | 10 years |
| Warranty Transferable | See notes below | | | |
Average Cost To Install a new Roof
Typical Range:
$5,960 - $12,740
Notes:
Tru Protection: Owens Corning calls the non-prorated period Tru Protection. It is equivalent to CertainTeed's SureStart plan.
Transferability: If you sell your home during the Tru Protection non-prorated period, and properly register the transfer with Owens Corning, the new owner receives full warranty protection. After the Tru Protection period, the warranty for the new owner is just two years.
Components: A minimum of 3 OC roofing components such as underlay, starter shingles and ridge shingles are required for the Base Warranty and System Protection Warranty. A minimum of 4 OC components are needed for Preferred and Platinum warranties.
Lifetime Warranty: All shingle warranties are Lifetime except Supreme shingles, which have a 25-year warranty.
Advantage – Owens Corning: The basic warranties are nearly the same. Neither brand has an advantage.
In the extended warranties, OC has the edge when it comes to the length of coverages for things like the non-prorated period, labor for replacement shingles and the workmanship of the installer.
Extended warranties – are they worth it? Not in our opinion. Find a good installer. If the job is done right, you won't need an extended warranty. Put the money into periodic roof inspections and maintenance instead.
Keeping a properly installed roof in good condition in this way is a far better strategy than paying a lot of money for an extended warranty when claims will likely be denied anyway.
Return on Investment – Is This a Reason to Replace Your Roof?
Over the last decade, the Cost to Value return (money you get back at resale) for an asphalt shingle roof replacement rises and falls between 60% to 70%.
In dollars, if you spend $20,000 on shingles, the investment will increase your home's value by $12,000 to $13,600. In short, you will lose money if you sell immediately.
Roof replacement is not cost effective for home sellers unless the old roof is in horrible condition and will thus discourage buyers maxing out their budget, with little room or optionality for a new roof – or those who don't want the hassle.
Pro Tip: Value drops as the upfront cost goes up. Our recommendation for maximum ROI is to buy a popular mid-price shingle like OC Duration or Duration Designer or Landmark/Landmark Premium rather than high-end shingles. Installed costs for these shingles average about $450-$650 per square (100 square feet), depending on your home's location, roof complexity, and project specific variables.
Sure, the OC Berkshire and CertainTeed Presidential Shake options have tremendous curb appeal but spending $600-$850 per square on roofing is hard to recoup.
When Owens Corning is a Better Choice
We've given Owens Corning the Advantage in Quality, Cost/Value and Warranties. Sure, the margins of victory are slim, but the point is that you get a really good shingle for the money when you choose Owens Corning.
Your best choices for value (quality at a reasonable price), durability and good looks are the Owens Corning Duration lines. Consider Duration Flex and Storm if heavy weather including hail is common in your area.
When CertainTeed is a Better Choice
We began this CertainTeed vs Owens Corning Shingles guide by stating these brands are neck-and-neck for the top spot by most objective standards.
This is one time it is fair to say, "you can't go wrong with either" brand when properly installed.
The CertainTeed Landmark lines compare pretty well with OC Duration lines, though we give the edge to OC.
Where CertainTeed beats Owens Corning is in the super-premium category. If you own an estate-level home with brick or stone exterior, and genuine slate isn't an option for you, then an upscale CertainTeed shingle like the Grand Manor or Carriage House will do your home justice.
When Installation Quality Counts
When you're comparing two excellent shingle brands like Owens Corning and CertainTeed, the difference in longevity often comes down to the quality of the installation workmanship.
You can't make a poor-quality shingle any better with perfect installation. But you can reduce a superior shingle to junk with bad installation.
Get estimates from several licensed, insured, and experienced roofing contractors. We can help with our Free Estimates form. Then check their online reviews, drive past homes they have roofed and interview your best options.
We emphasized hiring wisely earlier, and it is worth ending this comparison of Owens Corning and CertainTeed shingles by reiterating that important advice.
Get Free Quotes For roofing Pros Near You