We've researched the best water heaters available for residential use to help you, the homeowner, make a smart buying decision. In this guide, we provide the list of 10 best conventional "Tank Style" water heaters including their features, pros and cons, plus prices to consider as you make your buying decision.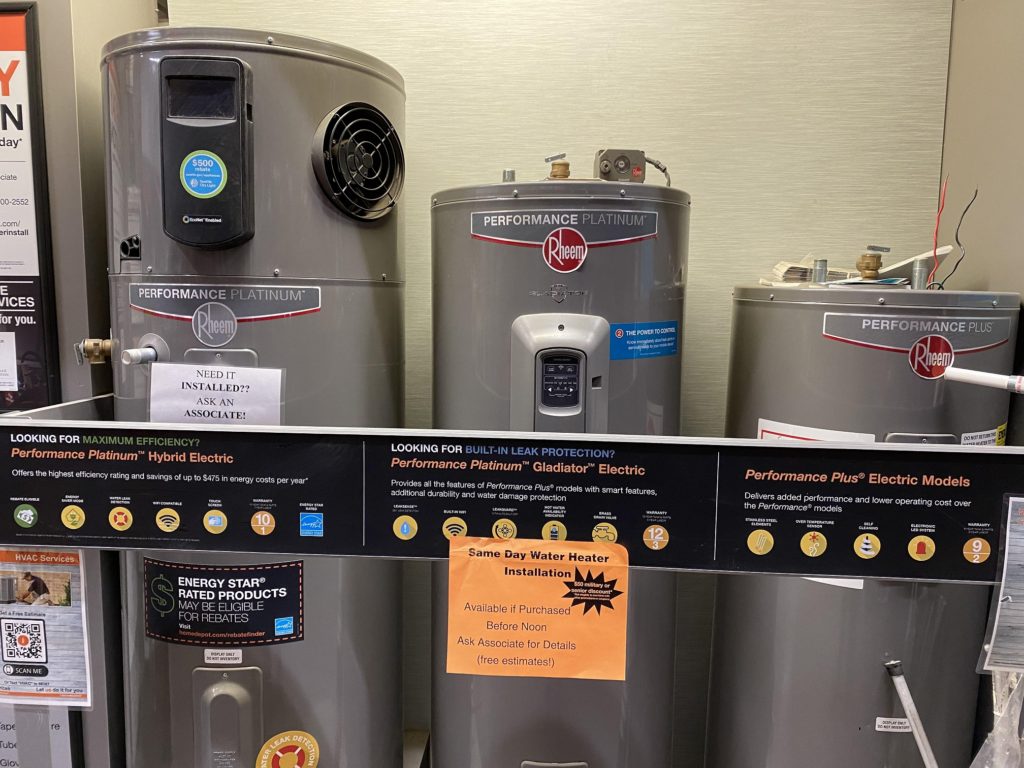 Conventional water heaters are also known as tank style water heaters. You'll notice that three brands dominate – Rheem, A.O. Smith, and Bradford White. We have no prejudice or affiliation with these competing brands. Our goal is simply to review the best water heaters for your consideration. And these brands lead the pack.
We have selected several models that give you options – gas, electric and hybrid types. Here's our top 10 list; reviews are found below.
Tank Style Water Heaters – Top Ten List
Of the different types of water heaters, the tank heater is the most commonly used. Tankless water heaters are more efficient but generally cost more. Solar water heaters are a growing niche, but they're not suitable for all climates and homes, are typically mounted on rooftops (some homeowners may not like the look of thermal panels on their roofs) and are fairly expensive relative to other options.
This guide will give you all the information that you will need to make a wise choice when it's time to purchase a new water heater for your home.
We will also include pros and cons on each model from verified purchasers, some recently, and some after a year or more.
Water Heater Cost of Installation
Nationwide, the cost of replacing a residential tank water heater with a new one generally falls within the range of $1,200 to $2,000, according to a survey done by Home Depot. The average cost of a water heater is right about $1,500 when installed by a pro.
If you DIY, expect to pay in the range of $550 to $750 for a tank water heater – compared with closer to $800 to $1,200 for a tankless water heater sized to serve an entire home rather than a single point of use.
Water heater cost factors that determine price are:
price of the water heater
labor – usually a per hour rate
fittings and plumbing supplies
permits when required
disposal of the old water heater
Also, if a gas-fired heater is installed to replace an electric model – or vice versa – there will be additional costs involved in running new electric wires, gas lines and associated parts and labor.
Tank water heaters can be found in sizes from 30 to 80 gallons and in several levels of quality. Your cost can rise significantly above the national average if you purchase a very large heater of the highest quality.
Because a reliable supply of clean, hot water is so important to our families, we recommend that you always enlist the services of a reputable plumbing business to install and/or replace your water heater. This cost will also vary depending on the area where you live.
Explaining Water Heater Terms
Throughout this review we use terms that are used to describe the performance features of water heaters. Since everyone is not familiar with them, here are the terms with a brief description of what they mean or refer to.
Capacity – The amount of water that the tank will hold as listed by the manufacturer.
First Hour Rating – This is the number of gallons of hot water the heater can supply per hour starting with a tank full of hot water.
Energy Factor – Basically, this is the amount of energy (gas or electricity) that is turned into hot water. The higher the number, the more efficient the water heater is.
However, gas water heaters cost less to run than electric heaters. A .70 gas water heater (70% efficient) costs less to operate than a .94 electric heater (94% efficient) because electricity costs more to produce than natural gas and propane do.
Standby Heat Loss – As soon as the tank of water reaches the thermostat setpoint, the water in the tank begins to cool down. This thermal reality is called standby heat loss, and it is the primary reason that tank storage water heaters use more energy than tankless water heaters.
Hybrid or Heat Pump Water Heater – These units use similar technology as HVAC heat pumps. Refrigerant is used to capture heat from the space around the water heater, and it is transferred into the water via a heat exchanger. While they use the least amount of energy, they often come with the highest price tag.
Operating Cost of a Storage Tank Water Heaters
The cost to operate these conventional water heaters is a major concern for homeowners – how much does a water heater cost to run? According to Consumer Reports, the annual cost to run a gas water heater is about $250 based on average use and cost of gas.
Electric water heaters cost closer to $600 to operate, or about $50 per month.
Is Upgrading to a Tankless Waterheater Cost Effective?
In the same article, Consumer Reports suggests that replacing a conventional electric water heater with an electric tankless will "pay for itself" in 12-20 years through lower energy costs.
Converting a conventional gas water heater to a gas tankless model comes with a payback time of 20+ years, so you'll really want to consider this factor before buying. This is especially true because most tankless models don't last long enough to pay you back.
Our research shows that an amount between $3,500 and $4,500 as the average cost of a tankless water heater, so it is easy to see that it isn't going to pay for itself anytime soon.
Our Top 10 Water Heaters
Tank storage water heaters will use either natural gas, liquid propane gas, or electricity to heat the water. The following reviews will include some water heaters of each type, including some electric hybrid units, which combine both electric elements and heat pump features to heat the water.
Because there are so many sizes to choose from, we are using the 50-gallon size for comparison purposes. This is the size that is usually recommended for 3 to 5 people in the home. Keep in mind that a larger or smaller size that you may need will cost more or less accordingly.
#1 Gas Water Heater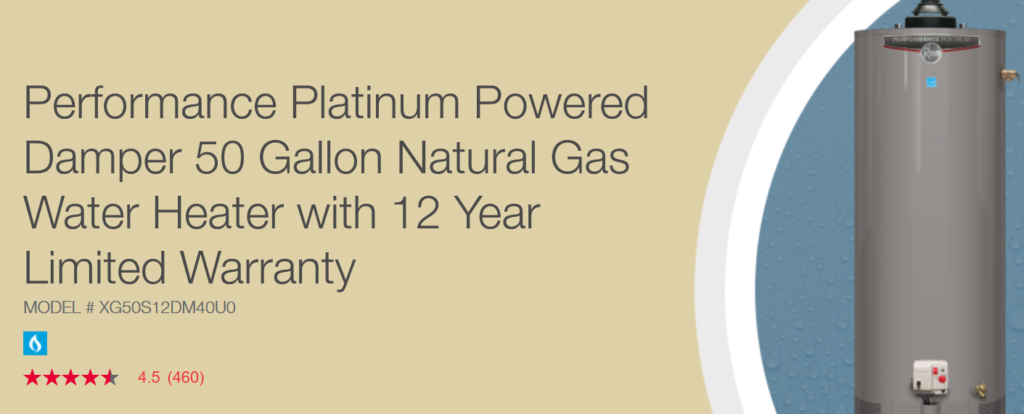 Rheem Performance Platinum XG50S12DM40U0
Rheem is one of the best-known names among manufacturers of water heaters. They have been around for almost 100 years. Offering a full range of water heaters, including gas, electric, tankless, solar, and heat pump models, they are a great choice when purchasing a new water heater for your home.
Cost Installed: Approximately $1,350 – $1,550
Capacity: 50 gallons
First Hour Rating: 78 gallons
Energy Factor: 0.66
Pros: Very quiet and efficient. The gas saving damper and no pilot light are great features. "I got a rebate from my local gas company," said one happy homeowner. You might qualify for a rebate as well. Check with your installer, the local utility company or search for rebates on DsireUSA.org.
Cons: While a 0.66 (or 66% efficiency) energy factor doesn't seem great, this Rheem water heater does well for a tank type HWH. The 66% means that 34% of the heat produced is lost out through the vent, not transferred to the water.
Why We Chose This One: The Performance Platinum series is next in quality to Rheem's best and most expensive line. It has an energy efficient powered damper, which results in it receiving the Energy Star certification. It is WiFi compatible with the separately sold WiFi module. Its 12-year warranty is one of the best for tank water heaters.
Why WiFi?
If you're home all the time, then WiFi isn't very helpful because you're consistently using hot water. But if you're gone frequently and like a hot shower when you return home, you can save money and always arrive home to plenty of hot water. Use the WiFi app to lower or even turn off the water heater while you're away and to turn up the water temperature an hour or so before you arrive home.
#2 Gas
A. O. Smith Signature Premier G12-UFDT5040NV
A. O. Smith is an American company that has been in business since 1874. Their products are sold by plumbing contractors and wholesalers, and they cover the range of tankless, hybrid, solar as well as traditional tank-style heaters. Especially known for quality gas-fired water heaters, many of their products have efficiency ratings that qualify for Energy Star certification.
Cost Installed: Approximately $1,495 – $1,695
Capacity: 50 gallons
First Hour Rating: 83 gallons
Energy Factor: 0.70
Pros: Really produces loads of hot water, so you'll rarely if ever face hot water shortage; turning down the thermostat setting has resulted in lower energy bills without reducing your hot water supply.
This unit is available at a great price for an Energy Star water heater. "Keeps our family of five in hot water through all our showers," says one satisfied homeowner who speaks for many.
Cons: It's hard to find anything bad to say about this AO Smith water heater. Here's something: Some consumers in Southern California report a humming noise coming from the damper plate required in their area by the CARB, or California Air Resource Board. Thanks, California!
Why We Chose This One: While Smith has some models that can only be purchased by plumbing outlets, the Signature series of water heaters is a high-quality line that is available to the average consumer.
This model is at the top of that line. It features an Ultra-Low NOx gas burner, qualifying it for installation everywhere in the U.S. It is Energy Star certified and has a 12-year Warranty.
#3 Gas
Bradford White Defender Safety System High Efficiency RG250T6N
Bradford White is another company manufacturing their products in America, however they only sell them through authorized representatives and wholesalers.
If you enlist the services of a licensed plumbing business (and we recommend that you do), they will probably have access to the full line of Bradford White water heaters. Purchased by many DIYers.
Cost Installed: Approximately $1,375 -$1,575
Capacity: 50 Gallons
First Hour Rating: 81 gal
Energy Factor: 0.63
Pros: Quiet and fairly efficient. Installation goes quickly and smoothly with no surprises.
Cons: A few units have a defective gas control valve right out of the box, but the issue is covered and replaced under warranty. Your installer will discover this issue, if it exists, immediately and will be able to repair it during installation.
If your water heater's gas control valve is bad, the plumber or mechanical contractor will replace it at no cost to you, and you'll have hot water just a few minutes later than you expected.
Why We Chose This One: With a first hour rating of 81 gallons and an 80% recovery rate, this model is a great choice for the average household.
The patented Defender Safety System is designed to prevent any errant flammable vapors from being ignited by the gas burner. The 6-year warranty can be upgraded to 10 years at the time of purchase.
Pro Tip: We're not in favor of extended warranties. There is a reason companies offer them: they make money on extended warranty. The warranties are usually through a third-party company – usually with a track record of finding some reason to deny your claim.
#4 Gas (Liquid Propane)
Rheem Performance Platinum XP50T12DM36U0
Among the many water heater models made by Rheem, some are fueled by liquid propane, which many households use for their heating needs. This propane water heater is one of their best.
Cost Installed: Approximately $1,550 – $1,750
Capacity: 50 gallons
First Hour Rating: 79 gallons
Energy Factor: 0.65-70
Pros: Provides lots of hot water with quick recovery time. Energy Star means a rebate from the local utility company. The WiFi option allows perfect control of water temperature.
Cons: This gas water heater needs plenty of space for enough combustion air, so it isn't a good fit for a home with a snugly built utility closet.
Here's an odd issue but reported by more than a few homeowners: The vapor sensor can be triggered by carpet cleaning chemicals, which means the unit will shut down until the air is exchanged. It's definitely a good idea to use cleaners that won't negatively affect indoor air quality.
Why We Chose This One: Using a 36,000 BTU burner instead of the standard 40,000 BTU burner used by most 50-gallon heaters, this model has an efficiency rating that qualifies it for the Energy Star certification.
The 12-year warranty on the tank and parts, plus a 3-year in-home labor warranty makes this a water heater that you can rely on. It can also be made WiFi compatible with the Rheem EcoNet home comfort Wi-Fi module (sold separately).
Did you know? It might seem odd to some readers that their water heater has separate mechanical and labor warranties. If the water heater breaks, doesn't the warranty cover both parts and labor? No – at least not usually.
Most product warranties cover parts for the term of the warranty, but the cost of labor – switching out the defective part for a new one – usually falls to the homeowner.
In light of this, Rheem's 3-year labor warranty is a step in the right direction. However, it's more marketing strategy than help to the homeowner. Very few water heaters fail in the first 3 years. The labor warranty sounds good, but a tiny percentage of homeowner's benefit from it.
#1 Electric
Rheem Performance Platinum Gladiator Smart XE50T12CS55U1
Rheem's line of electric tank water heaters are known for their reliability and their low maintenance requirements. While electric costs more than gas in most regions of the country, the low long-term costs of an electric water heater make them attractive.
Cost Installed: Approximately $1,295 – $1,495
Capacity: 50 gallons
First Hour Rating: 63 gallons
Energy Factor: 0.92
Pros: Leak detection and auto shut-off provide peace of mind. Wi-Fi connection feature is a plus and makes it easy to put it in vacation mode.
Cons: Leak detector is very sensitive to any moisture on the floor.
Why We Chose This One: The Gladiator line of electric tank heaters from Rheem has many desirable features. They include built-in leak detection and auto shut-off in case of a leak. They also have a self-cleaning feature to fight sediment build-up at the bottom of the tank.
All this and more, plus being Wi-Fi compatible! Oh yes, and it comes with Rheem's 12-year warranty to ensure long-term peace of mind.
Pro tip: If you have the choice between a gas-fired water heater and an electric model, go gas. Gas, gas, gas. As a national average, the cost of running a gas water heater is about 55% of the cost or running an electric water heater.
Spend $70 on an electric heater per month – or go gas for less than $40 per month. The cost of a gas water heater might be 25% to 50% higher, but you will recoup the higher cost in 2-5 years in most cases.
#2 Electric
Rheem Performance Plus XE50M09EL55U1
One step down from the Performance Platinum line is the Performance Plus. These are one of the most popular of this well-known brand and offer a great product at a slightly lower price. In short, this is a value option. If you're updating your home's mechanics to get it ready to sell, this should be your top choice.
Cost Installed: Approximately $1,195 – $1,395
Capacity: 50 gallons
First Hour Rating: 62 gallons
Energy Factor: 0.93
Pros: Quiet and quick hot water for plenty of showers. LED indicator is a plus. Energy efficiency really helps on the electric bill.
Cons: One new owner reported a leak around the anode rod after installation. It was difficult to find many negative comments on this model.
Why We Chose This One: This electric tank water heater is powered by two 5500-Watt elements and is controlled by an automatic thermostat to keep the water at the temperature you desire. It has a premium grade anode rod to provide long-lasting tank protection.
Models in this line are covered by a 9-year limited warranty for the tank and parts and a 2-year full in-home labor warranty.
#3 Electric
A. O. Smith Signature Select E9-50R55DV
A. O. Smith's Signature Select series is their middle line of tank water heaters. They routinely provide clean hot water to today's homes with an excellent reputation for quality and reliability.
Cost Installed: Approximately $1,200 – $1,400
Capacity: 50 gallons
Recovery Rate: 25.3 GPH
Energy Factor: 0.92
Pros: Foam insulation is better than fiberglass on older models. Doesn't run out of hot water during multiple showers. Excellent warranty – received a full replacement ¾ of the way through the warranty period.
Cons: WiFi option is not included in the basic unit.
Why We Chose This One: This model has a self-cleaning dip tube that is designed to reduce sediment build-up and extend the overall life of the water heater. Twin copper elements contribute to its quick recovery rate. This one is a "short" tank, shorter but wider, which can be more easily installed in a crawl space or other limited height locations. Its 9-year warranty will give you peace of mind.
#4 Electric
Cost Installed: Approximately $1,225 – $1,425
Capacity: 50 gallons
First Hour Rating: 63 gallons
Energy Factor: 0.93
Pros: Compact design saves space and makes it easy to install. Quiet and quick hot water for the whole family.
Cons: Higher than average price.
Why We Chose This One: Heated by two 4500-Watt screw-in style elements, this electric model has an energy factor and first hour rating equal to higher wattage units. Lined with their exclusive Vitraglas Lining and a magnesium anode rod to provide added protection against corrosion for long trouble-free service. 6-year limited warranty on the tank and component parts.
Pro Tip: We've had several of these models over the years – and Rheem electric too – on rental properties. The elements and thermostats are very easy to exchange.
Just remember to turn off the pump, if you're on a well, or shut off the incoming water before switching out the electrical elements. We learned that the hard many years ago and have the new carpet to show for it.
Electric Hybrid Water Heaters
Electric hybrid water heaters use the technology of a standard electric heater with that of a heat pump. Mounted at the top of the heater, the heat pump compresses room air to heat special coils which extend down to the lower portion of the tank and then wrap around it. This adds a second source of heat to the tank and results in an energy factor much higher than a standard electric heater.
#1 Electric Hybrid
Rheem Performance Platinum Hybrid Smart Tank XE50T10H45U0
When it comes to producing hot water for the lowest cost, this Electric Hybrid water heater is over the top. At 3 to 4 times as efficient as standard electric models, they will usually pay for themselves within 2-3 years. Rheem seems to have topped our list again with this model.
Cost Installed: Approximately $2,100 – $2,300
Capacity: 50 gallons
First Hour Rating: 65 gallons
Energy Factor: 3.75
Pros: Great energy savings from the first month. Can set in vacation mode from 2 to 28 days. The water sensor alert and audible alarm make for great peace of mind. The decreased energy use is super impressive with three people taking a shower a day.
Cons: Initial price is a little high. Some owners report that it takes some adjusting to find the best water temperature.
Why We Chose This One: With a whopping energy factor of 3.75, this Rheem Electric Hybrid will save your family approximately $480 per year – that's $4,800 over 10 years!
Energy Star certified, it may entitle you to state, local or utility rebates as well. Smart, EcoNet WiFi technology allows you to manage hot water and avoid cold showers and track weekly, monthly, and annual energy usage. Covered by a 10-year warranty and 1-year in-home labor warranty.
How can the energy factor be above 1.0? An energy factor, EF, of 1.0 means that every bit of energy expended goes to heat the water. So how could a unit have an EF of 3.75? Refrigerant is the key. The unit uses electricity to cycle refrigerant, and that takes very little power.
The refrigerant captures heat from outside the water tank and transfers it into the water. This is a much more efficient way to add heat to water than using an electric element or even burning natural gas (NG) or propane (liquid propane/LP).
#2 Electric Hybrid
A. O. Smith Signature Premier Hybrid HP10-50H45DV
It's no surprise that a top manufacturer of quality water heaters like A. O. Smith would produce an electric hybrid model to rival the best. This 4500-Watt Double Element Electric Water Heater with Hybrid Heat Pump is designed to reduce your water heating costs significantly.
Cost Installed: Approximately $2,115 – $2,350
Capacity: 50 gallons
First Hour Rating: 66 gallons
Energy Factor: 3.45
Pros: Efficient hot water with a low operating cost. Impressive energy savings – "Very pleased with this product" is a common response from verified users of this A.O. Smith hybrid water heater.
Cons: A little noisy. Needs extra room on the sides to make all plumbing and electrical connections.
Why We Chose This One: Nearly as efficient as the previous model, the A. O. Smith Signature Premier Hybrid will save approximately $306 per year on your energy bill over a standard electric model. It has a user-friendly electric interface so you can adjust the temperature, select from four operating modes and review service diagnostics for ultimate control of your hot water usage. This model is ENERGY STAR® certified and comes with a 10-year warranty.
A Word About Warranties
According to the International Association of Certified Home Inspectors, a tank water heater will begin to degrade between 6 and 12 years. This is the range of warranty numbers you will see that apply to the models in this review.
The full warranty period will often only apply to water heaters that have been installed by licensed professionals and may only cover the tank of a water heater. Other component parts of the water heater may be covered for 1 or 2 years, though there are some exceptions. Every manufacturer and model may be different, so be sure to check this out if it is a concern to you.