Most properly installed residential windows will generally last between 15 and 25 years before requiring a replacement. The materials that make up each window will usually last much longer (up to 50 years), but home windows are about function as much as they are about aesthetics, view, insulation value, ease of use, and security.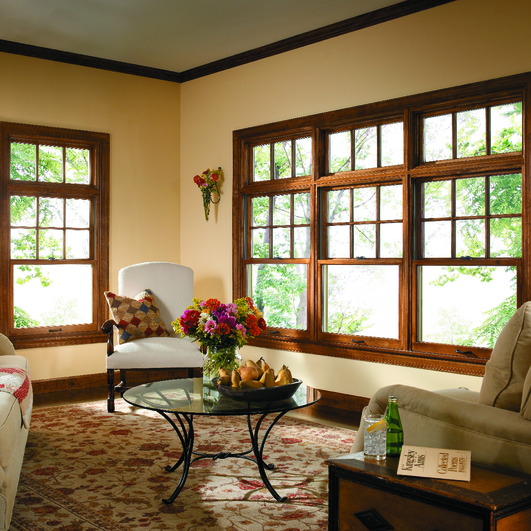 via Pella
Note: In this guide, we are not concerned with the new construction windows, as they can only be installed once, while a house is being built. Instead, our focus is on the replacement of existing windows, as that is one of the most popular projects for homeowners wanting to improve the look and comfort of their homes. To this end, we cover current window replacement costs for vinyl, fiberglass, and wood windows. We also explain the factors impacting replacement costs, and pros and cons of different window frames.
Cost
Average Cost To Repalace 10 Windows
Typical Range:
$3,840 - $6,530
The national average cost to install a typical double-hung, mid-range Vinyl replacement window can range between $650 and $1,100 per window installed, depending on your home's location and other variables. Therefore, homeowners can expect to pay between $6,500 and $11,000 for a typical project to replace 10 double-hung windows with mid-range double-pane, Low-E Vinyl-frame replacement windows.
However, depending on the type of the window-frame material, the price can range from $650 to $2,250 per window installed, which accounts for much of the variation in the window-frame material (from the lowest to the highest: vinyl, fiberglass, wood), window type and size (double-hung, casement, etc.), brand (Andersen, Pella, Milgard, Renewals by Andersen are some of the most expensive brands), and the local differences in pricing from contractor to contractor within the same market.
Practical Fact: Normally, the more replacement windows you purchase for a single project, the less you will pay on a per window basis. Most jobs involve between 5 and 10 replacement windows per project, meaning you can ask for an additional discount for a larger project.
Planning Considerations: Window replacement projects tend to be fairly basic in terms of planning because there are only three main types of windows for homeowners to choose from: vinyl (basic), fiberglass (better), and wood-clad (high-end). Yet, the number of window glass panes, along with the window energy efficiency considerations (Low-E glass, Argon gas filled), and window-frame material's durability and longevity are all important factors to consider when weighing the replacement costs of different options.
How a Window Style/Type, Size, and Frame Materials Impact Costs
Double hung windows are what most residential homes have. These are characterized by having sashes on both the upper and lower part of the window, and thus both parts can slide vertically up and down. Depending on the material (whether vinyl, fiberglass, or wood frame) and brand of the window, the average unit cost can range from $300 to $1,100 per window (for materials only).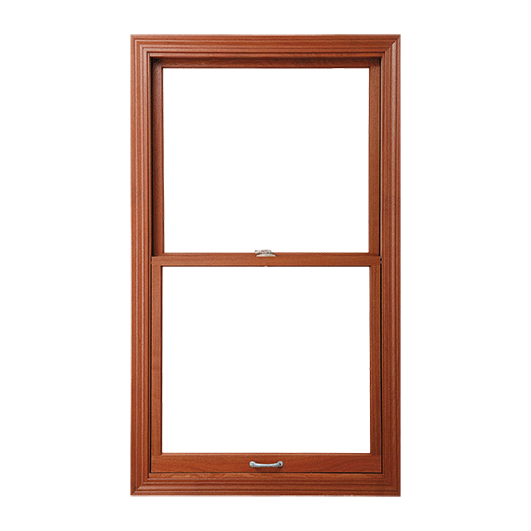 Classic windows (single-hung) look about the same as double-hung, but only the bottom pane moves, while the upper one remains stationary. Single-hung windows generally cost between $300 to $500 per unit and are less commonly available in today's market.
One exception is the popular brand of fiberglass windows, Milgard that offers fiberglass frame windows as a single-hung fiberglass Ultra series (premium $$$-$$$$) option. Notably, Milgard, also offers vinyl-frame windows available as a double-hung option like many other brands that carry vinyl replacement windows.
Average Cost To Repalace 10 Windows
Typical Range:
$3,840 - $6,530
Sliding windows slide horizontally and tend to be for larger window sizes, so they range in price from $450 to $1,500 or more, depending on the size, frame material, number and quality of glass panes, and the window brand.
Then there are the less typical window types such as: awning windows – opens outward on single hinge from the top.
Casement windows – opens inward on single hinge from left, or right.
Specialty windows – round, half round, picture (large rectangular windows), and bay windows.
Window frame materials are fairly basic, with vinyl, fiberglass, and wood clad being the most popular.
Vinyl is the least costly option and entails far less maintenance than wood. Vinyl is considerably less sturdy than fiberglass but is still fairly durable and offers long warranties.
Most practical options for vinyl replacement windows are double-pane Low-E windows that offer a good combination of value for performance and energy-efficiency.
Fiberglass is the mid-range option and is the sturdiest option than is more durable than either wood or vinyl.
Some examples of premium brands offering fiberglass-frame windows are Pella Impervia (Pella's flagship mid-range window) and Milgard.
Wood is the most expensive option that offers the authentic classic window look and feel and comes with great insulation properties for superior energy efficiency and street noise cancellation.
Wood-frame windows from top brands like Andersen, Pella, and Marvin, will typically feature aluminum cladding for whether protection from the elements on the exterior of the window.
Steel, aluminum, and Fibrex composite (mixture of PVC and wood fibers in Andersen, and Renewals by Andersen (RBA) Fibrex windows) all attempt to capture the positive qualities of all window-frame material types.
That said, wooden-frame windows with aluminum cladding on the exterior from brands like Pella, Andersen, and Marvin are usually the more expensive and premium options compared to the rest of the field.
The one outlier in terms of the window frame material pricing among different brands that is worth mentioning is the Renewal by Andersen (RBA) brand, a separate business unit under the greater Andersen's Windows umbrella, which sells premium Fibrex composite windows through independent dealers under the RBA brand.
RBA's sales presentations normally take place directly at customers' homes, with quoted prices that can be as high as $2,250 for a double-hung replacement window.
While RBA's Fibrex replacement windows are certainly of high quality and undoubtedly look great, it can sometimes be hard to justify their high-ticket price given all the other available options. If the bottom-line pricing is not a factor, then RBA windows can be a great option worth considering.
For homeowners with limited remodeling budgets, though, high quality mid-range or mid-premium windows like Pella's Impervia fiberglass (mid-range $$$) or Lifestyle wood aluminum clad (mid-premium $$$-$$$$) series windows can typically be installed for some 20% to 50% less than the RBA's offering.
Granted, Pella's Impervia and Lifestyle series vs. RBA Fibrex windows is not an apples-to-apples comparison, as these are completely different materials and brands, yet there is something to be said about the authentic value of wood in Lifestyle series.
And, consider the fact that the overall pricing difference can be very significant for many homeowners, while the intrinsic quality in the overall performance is probably fairly similar between the Pella's Impervia and/or Lifestyle series and RBA's Fibrex windows.
The Number of Glass Panes and Energy Efficiency
Then there are the number of glass panes considerations that deal with the energy-efficiency of a window. It used to be that all windows were single pane, which made for relatively inexpensive, less insulating windows. And they were everywhere. Not anymore, the single pane window is now rare, while the double pane design rules the market.
Double-pane provides greater insulation and can incorporate additional options, more on that in a moment.
There is also a triple-pane which increases costs, but it does provide better insulation value. With any window, but especially multi-pane, the glass can be treated (Low-E) to increase the window's energy efficiency or serve other purposes like clarity and brightness that affect visibility. All these options come with an added cost, but the purpose in triple-pane glass is to reduce home energy bills and street noise for improved home comfort and energy-efficiency.
Low-E coating minimizes amount of UV and infrared light, without lessening the visible light that comes through. So less radiant heat can enter inside a room through a window.
Laminated uses clear vinyl layer between multiple panes to increase strength and reduce exterior noise
Argon-filled adds a non-toxic gas between multiple panes to increase energy efficiency and reduce both frost and noise
Tempered glass is very strong and thus less likely to break during high winds or storms. If it does break, it shatters into tiny pebble-sized pieces rather than shards of glass.
Energy efficiency is a big deal in today's windows. Efficiency is measured by a U-Factor (lower is better) and an Energy Star label conveys this information. Alternatively, there are NFRC-certified products that communicate U-Factor as well as other criteria. Energy savings are said to average 25% when making use of these window types.
How Professional Installation Impacts the Overall Project Costs
Because labor can be as much as 50% of the overall cost including workmanship warranty, the single biggest suggestion we can make is for you to get multiple quotes. Three to five should be sufficient, while less than three may have you paying more for lesser overall quality.
Pricing Info – Part 2
You may ask yourself, why not just do the work myself and save on the costs? While that is certainly an option, window replacement is not a project to go the DIY route. Finding brand windows of various sizes and specific measurements is something most people can do. But a window specialist will be able to obtain all that at a wholesale rate, while the homeowner pays retail, thus more expensive.
Then there is the work, which is where it gets tricky. When encountering mold, rotted frames, areas needing repair, working with imprecise measurements, on top of doing all this at heights higher than the main floor — the non-pro can take either a long time to overcome hurdles or resort to calling a pro to finish off the job!
The basic materials for window replacement are the window (of course), wood shims, casing nails, (optional) insulation material (typically fiberglass) and caulk, and workmanship warranty. All of this is included in the price of a replacement window installed by a professional. An estimate or quote provided to you may appear as follows:
Please note that this is a general ballpark pricing example, based on the national averages.
10 Vinyl Double-Pane, Low-E, Argon-filled Windows: 4 of which are double-hung, 4 are casement, and 2 that are sliding = $6,500
Labor for Replacing all 10 Windows: $3,500 (includes removal and disposal of existing windows)
*Rates do not include potential for needed repairs to the old window frames
*Labor does include a building permit, caulking and insulating all windows, cleaning up, and installation warranty for 10 years
Total Project Cost = $10,000*
A quote in this vein would actually be nice and is what you would want to look for. It's simply not possible for a window specialist to quote rates for potential repairs until a window is removed, so they can see the extent of any issues. But they ought to be able to provide information at the time of the quote that helps in understanding their rates.
If the contractor in question is unable to provide this, then consider going with a contractor that does. Also, clean-up and warranty are items that may seem secondary during the planning stage, but once the project is complete, these become top considerations.
Usually, for the interior work installers need to do, you are responsible for moving any furniture or items around the window, while everything around the window or that falls to the floor is their responsibility. Caulking may be an additional charge, but it is usually less than $100 charge (for all windows in a project) and sometimes as low as $50.
Factors Impacting Costs of Replacement Windows
Professional labor and the number of windows being replaced are the two biggest factors impacting installation costs. Essentially, you can plan to pay, at least $200 per window for the actual work of installing it (not including the cost of window itself), and anything over $350 per double-hung vinyl replacement window is steep.
Note that installation (professional labor only) costs to install wooden-frame windows can be 50% to 100% higher compared to vinyl because wood-frame windows take longer to install, as they typically involve more labor. That said, 80% of homeowners getting opt for vinyl replacement windows due to vinyl's relatively low overall cost compared to fiberglass and especially wooden-frame windows.
The more windows are being replaced, the more likely their rates per window may be adjusted. A single window replaced is probably worth $350 to the installer to come out and do a vinyl window replacement job.
Having 10 vinyl windows done, doesn't necessarily mean it will come down to $200 per window, but you can get a good idea of the contractor's rates by asking them to quote you 5 vinyl windows being installed, followed by another quote for 10 replacement windows.
Complexity of the job is another significant factor impacting costs. In our above example, that would likely fit with a home that is single-story. If everything was the same in the order, but it was a two-story house, then the labor charge would be higher. Thus, your total project cost in the example above would likely increase to $10,000.
The Good, The Bad and The Oh So Pretty
Here we explain the pros and cons and the primary reason for choosing to install quality replacement windows.
The Good: Today's windows offer superior energy efficiency, reduced noise from the outside, and additional options to consider when upgrading. Replacement windows mean less maintenance than older ones, and greater overall home comfort and curb appeal.
The Bad: Unless the replacement is necessary in case of drafty and leaky old windows (high energy bills and low comfort), the project can be fairly expensive, but see below for why the upfront cost of replacement may be offset.
Finding the right contractor can sometimes be challenging, though less so if you get 5 or more quotes. If repairs to the old window frames are needed beyond a simple replacement, total job costs can go up significantly.
The Oh So Pretty: The ROI (Cost-to-value return) factor for a window replacement project is typically fairly good, at 68% to 78%, depending on the upfront cost.
Get Free Quotes For Pros Near You
FAQs
Why should I consider replacing my windows?
There are several reasons why you might want to consider replacing your windows, including:
Energy efficiency: New windows can help reduce your energy bills by providing better insulation and reducing drafts.
Improved comfort: New windows can help regulate the temperature in your home, making it more comfortable to live in.
Aesthetics: New windows can improve the appearance of your home and increase its value.
Maintenance: Old windows can require a lot of maintenance, while new windows are often easier to clean and maintain.
What are some of the most common types of replacement windows?
Some of the most common types of replacement windows include:
Double-hung windows: These are the most common type of window, with two sashes that slide up and down.
Casement windows: These windows have a hinged sash that swings out from the side.
Picture windows: These are large, fixed windows that provide a clear view of the outside.
Sliding windows: These windows slide horizontally on tracks.
How much does window replacement typically cost?
The cost of window replacement can vary depending on several factors, including the brand and type of windows you choose, the size of your windows, size of the overall project, complexity of the installation, and the choice of installer. The average cost to professionally replace a typical 36-by-60 double-hung window with a quality vinyl window can range from $650 to $1,100 per window.
How long does window replacement typically take?
Again, the length of time it takes to replace your windows can vary depending on several factors. However, most window replacement projects can be completed in one to two days.
How much energy can I expect to save by replacing my windows?
According to the Department of Energy, replacing single-pane windows with Energy Star-rated windows can save you between $101 and $583 per year on energy bills. The savings will depend on several factors, including the climate you live in, the size of your home, and the type of windows you choose. Note: Installing ENERGY STAR certified windows, doors, and skylights can shrink energy bills — and carbon footprints — by an average of 12 percent nationwide, compared to non-certified products.
What should I look for in a window replacement contractor?
When choosing a window replacement contractor, you should look for a company that is licensed, insured, and has a good reputation in your community. You should also ask for references, read online reviews, and compare quotes from multiple contractors.
How long do replacement windows typically last?
Most replacement windows are designed to last between 15 and 20 years, although some high-quality windows can last even longer with proper maintenance.
What are some signs that it's time to replace my windows?
Some signs that it might be time to replace your windows include:
Drafts or air leaks around the windows
Condensation or fogging between the panes of glass
Difficulty opening or closing the windows
Visible damage or decay to the window frame
High energy bills
Can I replace my windows myself, or should I hire a professional?
While it is possible to replace your windows yourself, it is generally recommended that you hire a professional. Window replacement can be a complex process, and mistakes can be costly. A professional contractor will have the tools, experience, and expertise to ensure that the job is done right.
How much value can new windows add to my home?
According to Remodeling Magazine's Cost vs. Value Report, homeowners can expect to recoup around 70% of the cost of window replacement when they sell their home. The actual return on investment will depend on several factors, including the type of windows you choose and the condition of your existing windows.
How much can energy-efficient windows reduce my energy bills?
Replacing single-pane windows with Energy Star-rated windows can reduce energy bills by an average of 12%. For homes with older, inefficient windows, the savings can be even greater.
How much do different types of windows cost?
The cost of replacement windows can vary depending on the material, style, and features. Here are some average costs:
Vinyl windows: $300 – $900 per window
Wood windows: $750 – $2,000 per window
Fiberglass windows: $750 – $1,250 per window
Composite windows: $500 – $2,000 per window
What is the most popular type of replacement window?
According to a survey by the Window & Door Manufacturers Association, the most popular type of replacement window is the double-hung window, followed by casement windows and sliding windows.
How much can window replacement improve my home's energy efficiency?
Replacing old, inefficient windows (single-pane) with new, energy-efficient windows can improve a home's energy efficiency by up to 30%, according to the Department of Energy. This can result in lower energy bills and a more comfortable living environment.
What are low-e windows?
Low-e windows are windows that have a special coating on the glass that reflects heat while still allowing light to pass through. This coating helps to keep the home cooler in the summer and warmer in the winter.
How much can low-e windows improve energy efficiency?
According to the Department of Energy, low-e windows can reduce energy loss by up to 30-50% compared to traditional windows. This can result in lower energy bills and a more comfortable home.
How much do low-e windows cost compared to traditional windows?
Low-e windows are generally more expensive than traditional windows, but the cost can vary depending on the type of window and the level of energy efficiency. On average, low-e windows can cost 10-15% more than traditional windows.
What types of low-e coatings are available?
There are several types of low-e coatings available, including:
Hard-coat low-e: This type of coating is applied during the manufacturing process and is more durable than other types of low-e coatings.
Soft-coat low-e: This type of coating is applied in a vacuum-sealed chamber after the glass is manufactured. It offers better energy efficiency but is less durable than hard-coat low-e.
Double low-e: This is a low-e coating on both sides of the glass, which can provide even greater energy efficiency.
How do I know if low-e windows are right for my home?
Low-e windows can be a good choice for any home, but they are especially beneficial in regions with extreme temperatures. If you live in an area with very hot summers or very cold winters, low-e windows can help reduce your energy bills and improve your home's comfort. Additionally, if you are concerned about UV damage to your furnishings, low-e windows can help protect against fading and other damage caused by sunlight.
Get Free Quotes For Pros Near You