The quality gas furnaces are reliable, first and foremost. And they deliver superior comfort at a minimum of 80% efficiency or 90% and higher efficiency.
Here are the 10 best gas furnaces along with installation prices for each model. Identical brands, like Trane and American Standard, are noted.
See complete reviews and the price range to install each model below.
The table below shows average price range for a complete professional installation by model. The breakdown of itemized costs per unit and installation cost factors is provided later in the guide.
Cost to Install
| | | |
| --- | --- | --- |
| Model | Installed Cost | Performance |
| Trane S9X2 | $5,500 – $8,900 | 2 Stage |
| Rheem R96T | $5,000 – $8,550 | 2 Stage |
| Carrier Infinity 98 | $5,750 – $9,300 | Variable |
| Payne PG95ESA | $4,450 – $7,500 | 1 Stage |
| Lennox EL296V | $5,500 – $8,750 | 2 Stage |
| Carrier Comfort 80 | $4,250 – $7,250 | 1 Stage |
| Trane S8X2 | $4,300 – $7,250 | 2 Stage |
| Payne PG80ESA | $3,900 – $6,500 | 1 Stage |
| Rheem R802V | $4,500 – $6,900 | 2 Stage |
| Lennox SLP280V | $5,000 – $7,550 | 2 Stage |
Average Cost To Install a Warm Air Furnace
Typical Range:
$3,840 - $5,570
Cost Factors:
Prices can vary significantly based on where you live. Yes, the cost of living is a factor. But brand competition and local brand availability are factors too.
For example, the Trane S9X2 costs about 18% more in metro Detroit than it does in Chicagoland and Dallas/Ft. Worth, comparable markets in terms of cost of living.
For each unit, the cost range reflects furnace sizes from about 40,000 BTU to 120,000 BTU, though the range of capacities varies by furnace.
These are current prices, and they're up significantly since the start of the Covid crisis. Like all other prices, inflation, supply chain and labor issues have created much higher costs to consumers.
For example, Carrier, Lennox, and Trane have all recently announced price increases in the 12% to 15% range. And gas furnace prices might go higher before costs begin to stabilize again.
What's Included?
The furnace, installation materials such as minor sheet metal changes, and the labor it takes to remove the old furnace and install the new furnace.
Can I buy just the furnace? Sure, you can find cheap Goodman and a few Rheem furnaces, plus other "off brands," available online or at home improvement stores.
But all top manufacturers sell the "whole package" including installation.
Installation is vital to the whole. Installation quality is a large part of what makes a top furnace reliable. Choosing the right size furnace, adjusting the blower speed for proper airflow based on duct dimensions and tweaking the gas valve to burn efficiently are just a few of the keys to proper installation that ensures high performance and optimal indoor climate control.
Itemized Furnace Costs and Installation Time Frame
Installation costs vary only a little from one furnace to another. The range is typically $1,500 to $2,900 per furnace. Labor rates range from $65 to $125 per hour for a certified technician. Most have an assistant, with an additional cost of up to $40-$50 per hour.
Factors include how much the sheet metal and vent connections must be modified for the new unit and where the furnace is located (first floor is easy, basement or attic is more difficult and costly).
If gas and power must be run to the site, and the furnace has to be vented, issues common only in new construction, then those are separate costs from furnace installation.
Furnace installation usually takes 5-8 hours.
Get Free Quotes For furnace Pros Near You
Here are today's best gas furnaces in two efficiency levels.
90% and Higher Efficiency Furnaces
High-efficiency furnaces have two heat exchangers. The secondary heat exchanger transfers additional heat out of the combustion gases before they are vented.
The second heat exchanger allows for efficiency ratings as high as 99% on the Lennox SLP99V – not in our list because it is a new model without a track record to review for dependability. The most efficient furnace from most manufacturers is 96% to 98%.
Obviously, 90%-plus furnaces are designed for colder climates where the higher cost of the furnace is recovered through lower energy costs in 3-10 years.
Trane and the identical brand, American Standard, top the list for overall dependability in numerous industry ratings including those from Consumers Report.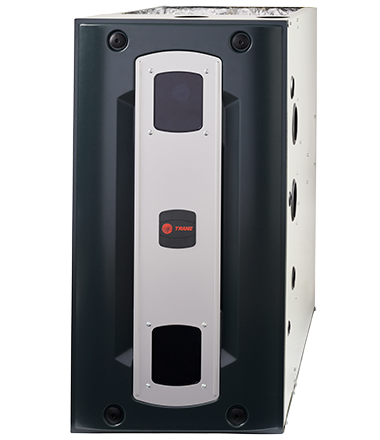 Why it Makes the List
This is Trane's best high-efficiency furnace, though not the most efficient or expensive.
It is very reliable, produces comfortable heating with even temperatures and supports a range of Trane central ACs. It can also be fitted with advanced air filtration equipment from Trane and controlled by a WiFi thermostat.
Trane's ECM blower motor uses less energy than standard PSC motors, and with constant torque, it delivers efficient and reliable service.
Both heat exchangers are stainless steel, which is standard on most high-efficiency furnaces. These units are also known as condensing furnaces because water in the exhaust gases cools enough to condense. The moisture is acidic, and hence the use of stainless steel, non-corrosive heat exchangers.
Available in 40K to 120K BTU models.
Efficiency: 95% or 96% AFUE depending on size.
Performance: 2 stages of heating. The furnace runs on low heat, aka low fire, most of the time to maintain the thermostat set point. When using low heat, the gas valve opens about 70%.
Warranty: Lifetime heat exchanger warranty; 10 years on all other parts.
Identical Models: American Standard Gold S9X2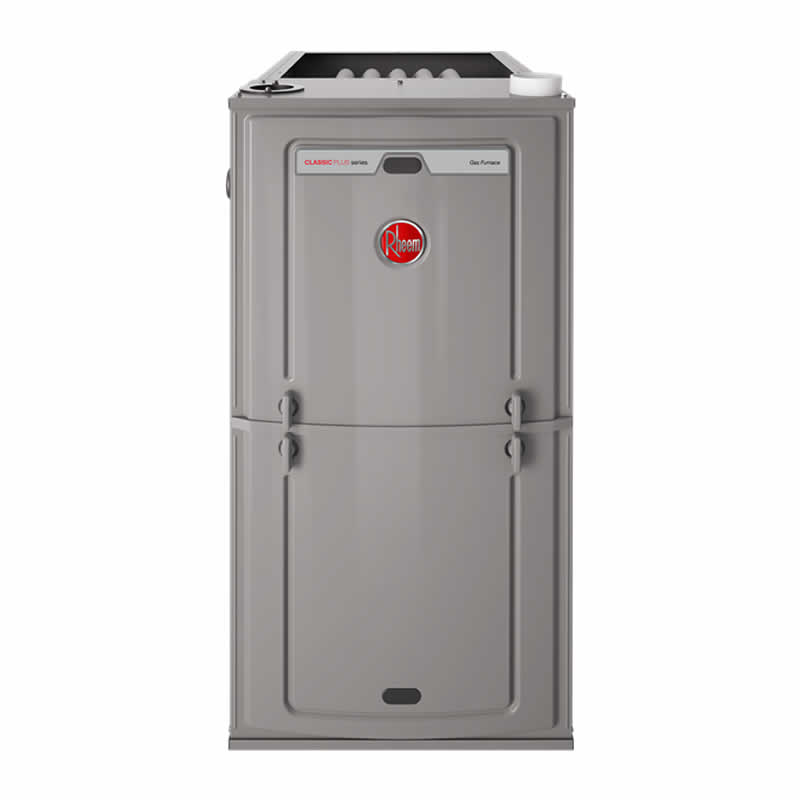 The rap on Rheem for many years was that the manufacturer was too big, made too wide of a variety of equipment, to pay close attention to any one product.
That has changed, and for the last decade or so, Rheem and sister brand Ruud have ranked near the top in consumer satisfaction and product reliability.
Why it Makes the List
Like the Trane model, this isn't Rheem's most efficient or highest-performing furnace. But the Rheem R96T is the most dependable, and it does a fine job providing reliable, comfortable indoor heat control.
Research shows that 2-stage furnaces like this one are more reliable than variable capacity / modulating furnaces such as the Rheem R98V and many others across the industry.
Like most furnaces, this one comes in upflow, downflow and horizontal-flow options.
Furnaces from 40K to 110K BTU are produced in this series.
Efficiency: 96% AFUE in all sizes.
Performance: 2 stage heating with an ECM constant torque, 4-speed blower motor. Low fire is 70%.
Warranty: Lifetime heat exchanger warranty; 10 years on parts – the industry standard for quality furnaces.
Identical Models: Ruud Achiever Plus R96T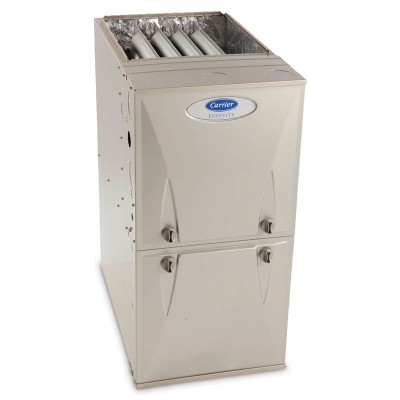 Did we just say that variable capacity furnaces are not as reliable as 2 stage models?
Yes – but this Carrier variable capacity furnace stands out due to its long track record of dependable service.
Carrier was the first manufacturer to introduce modulating gas valves in the early 2000s, and it has nearly perfected the technology.
Why it Makes the List
Proven reliability, outstanding comfort control of temperature and summer humidity, and efficiency guaranteed to lower your energy costs.
Efficiency:
Performance: Variable-capacity heating from 40% to 100%. Variable-speed blower motor that produces quiet heating with very balanced temperatures. Like many units in this list, the Carrier Infinity 98 is a "hybrid heat" furnace, meaning it can be paired in a system with a compatible heat pump.
Why hybrid? Also called dual fuel, these systems cost more but maximize energy efficiency. The heat pump does the heating when temperatures are above freezing, and heat pumps heat more efficiently than furnaces. When temperatures are too low for a heat pump to be effective, the furnace automatically takes over.
Warranty: Lifetime heat exchanger warranty; 10-year parts warranty.
Identical Models: Bryant Evolution 98 Model 987M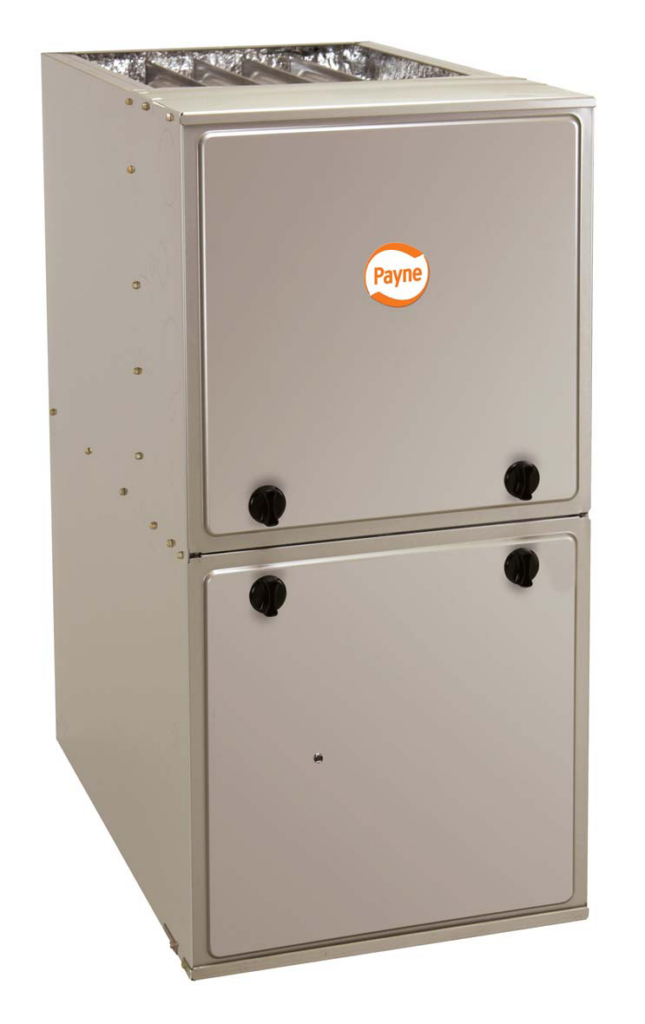 Payne is the best furnace brand most homeowners haven't heard of. It consistently ranks close to the top in brand performance and dependability.
Why it Makes the List
Here's the secret: Payne equipment is Carrier equipment on the inside. It is a Carrier brand made on the same assembly lines with the same parts that go into Carrier-branded furnaces.
While not exactly identical to any Carrier furnace, it is comparable to the Carrier Comfort 95 that is 96.5% efficient.
Models range from 26K to 140K BTU.
Efficiency: 96%
Performance: 1-stage heating supported by a 5-speed ECM blower that starts low and ramps up as the furnace heats up. This prevents cool air blasts at the start and end of cycles when the furnace isn't very hot.
Warranty: 20-year heat exchanger and 10-year parts warranties. Not backing it with a lifetime heat exchanger warranty is one way Carrier helps keep the cost down on Payne equipment – it's priced around 10-15% less than Carrier models.
Identical Models: None.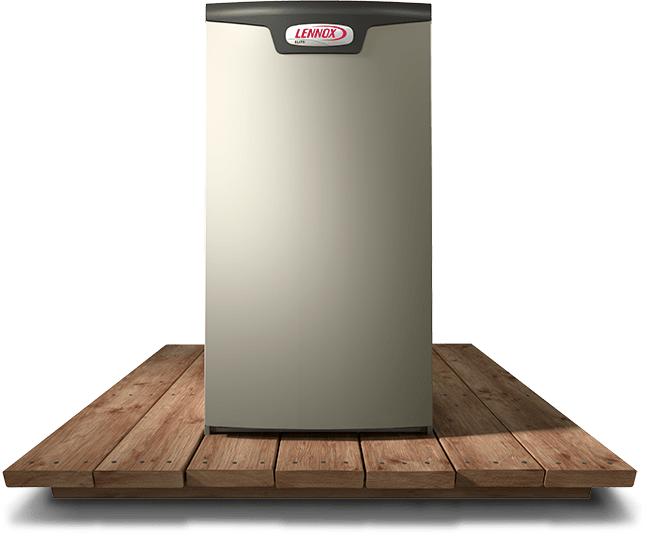 Lennox is another brand that had lost its way in terms of quality but found the path back to the list of most reliable brands. It took years to overcome parts and supply chain (pre-pandemic) issues.
But since about 2010, Lennox has proven to be one of the most reliable brands and enjoys high marks from customers in independent surveys.
Why it Makes the List
This is part of Lennox's mid-tier Elite Series, but this furnace is rated higher than most Lennox Signature Series (the top series) of furnaces.
Very efficient, it produces comfortable heating and dependable operation.
Efficiency: 96% in all sizes.
Performance: 2 stages of heating with a variable-speed ECM blower. It is dual-fuel compatible. The EL296V also works with Lennox's best iComfort WiFi thermostats.
Warranty: Lifetime heat exchanger warranty, but just 5 years on parts. It's not clear why Lennox continues to lag behind other top brands in standing behind its products.
Identical Models: None.
80% Efficient Furnaces
80% efficient furnaces have a single heat exchanger. They are suitable for warmer climates with short heating seasons. Occasionally they are installed in cooler climates in part-time locations such as a vacation home or workshop.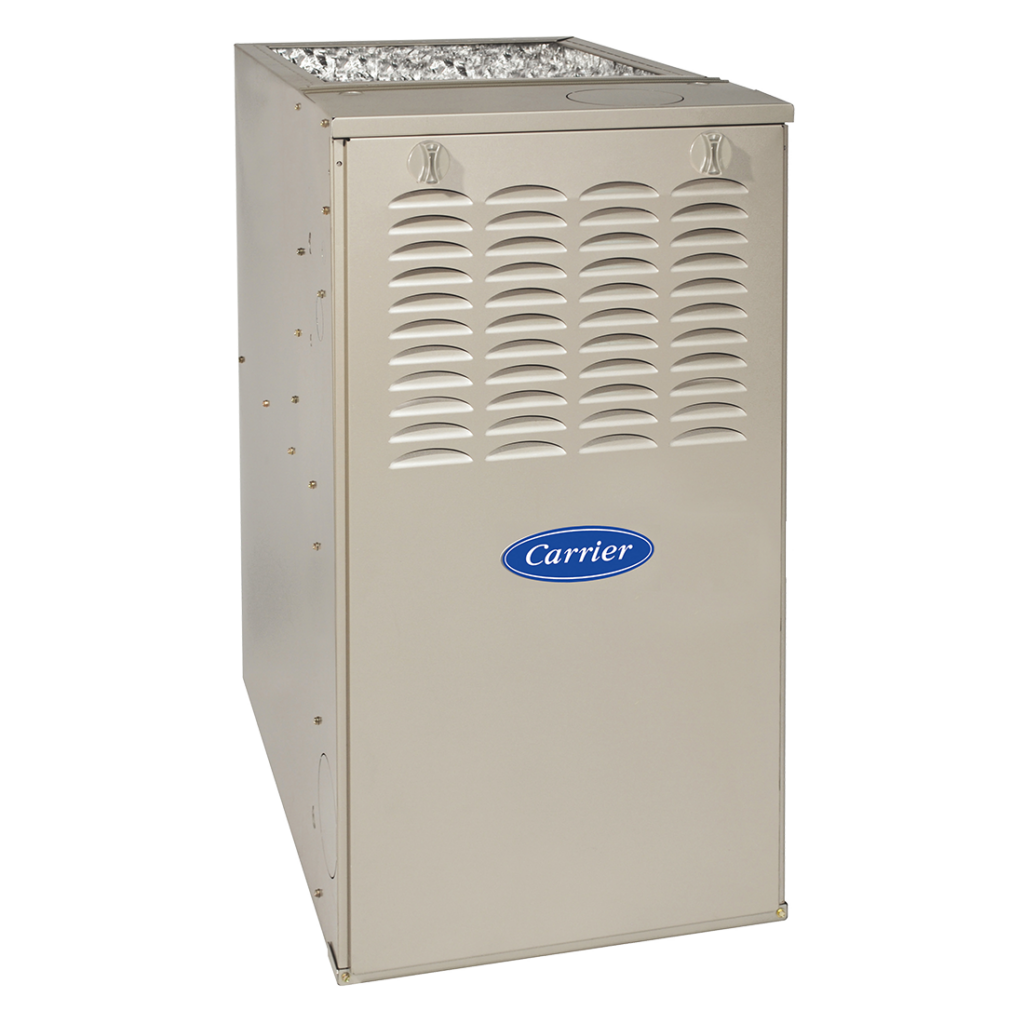 While this unit doesn't have the performance bells and whistles of many Carrier furnaces, it delivers proven reliability in an affordable package.
Why it Makes the List
This furnace is chosen for the best gas furnaces list because it works, plain and simple. It has one of the industry's best records for service – meaning it breaks down less than most furnaces.
The Carrier Performance Series is characterized by standard performance and lower cost. But quality doesn't suffer when compared with the Infinity Series.
Sizes range from 30K to 110K BTUs.
Efficiency: 80%
Performance: Single-stage heating. It runs at full capacity when on, and this can create minor temperature changes that most homeowners don't notice. The motor is multi-speed, so it starts slow and switches to a higher speed once the furnace is hot.
Warranty: 20-year heat exchanger and 10-year parts warranties.
Identical Models: Bryant Preferred 80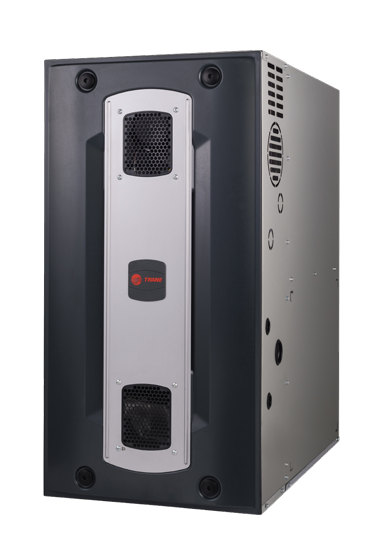 This is the 80% AFUE version of the S9X2 furnace listed above. It costs less and delivers the same quality and performance for a warmer climate.
Why it Makes the List
The primary benefit is longevity and an excellent service record. With 2-stage heating and a multi speed ECM blower, it makes any home very comfortable.
Running on low capacity most of the time also saves on fuel costs over 1-stage 80% furnaces.
Models from 40K to 120K are produced.
Efficiency: 80%
Performance: 2 heating stages.
Warranty: 20 years on the heat exchanger; 10 years on other covered parts.
Identical Models: American Standard Gold S8X2 furnace
Average Cost To Install a Warm Air Furnace
Typical Range:
$3,840 - $5,570
Here's another Payne – a brand with no ego or huge marketing budget, just reliable, hard-working quality.
Why it Makes the List
Value – defined as superior quality at a fair price. You'll pay less for this furnace than for the comparable Carrier model, and you'll get the same performance and durability when properly installed.
Note the last sentence – when properly installed.
One of the key differences between Carrier and Payne equipment is that Carrier furnaces must be installed by a certified Carrier dealer. Any licensed HVAC installer can install a Payne.
As a result, the quality of the installation workmanship isn't as uniformly high with Payne.
If you save with Payne, you can make sure you hang onto your savings by choosing a reliable installer with good reviews for quality. Get estimates from several installers. Check their references and google reviews to learn from the experience of others before choosing your Payne furnace installer – or whatever furnace brand you choose.
Efficiency: 80% in furnaces from 45K to 155K BTUs.
Performance: 1-stage heating supported by a multi speed blower fan. The furnace delivers balanced temperatures, though it might not remove as much humidity when supporting central AC as a furnace with a variable-speed blower.
Warranty: 20-year heat exchanger and 10-year parts warranties.
Identical Models: None
Some readers might think we've chosen a narrow range of brands for this list.
Well, there's some truth in that – and for a good reason. A handful of brands do stand out in testing for reliability and consumer surveys regarding customer satisfaction. Rheem and the others on this list reflect those high marks.
Why it Makes the List
Quality parts are used to build this unit. Expect longevity of around 20 years with consistent maintenance and occasional minor repairs.
Furnaces for all directions – upflow, downflow and horizontal airflow are available in sizes from 75K to 125K BTUs. That's the only downside to this furnace – a limited range of sizes.
Efficiency: 80%
Performance: 2 stages of heating are supported by a variable speed blower for improved indoor climate control over fixed-speed and multi speed blowers. The unit runs on low fire, or 70%, most of the time for quieter, balanced heating.
A 2-stage furnace with variable-speed blower, when paired with a 2-stage air conditioner, removes more humidity in muggy summer months.
Warranty: Lifetime heat exchanger warranty; 10-year parts warranty.
Identical Models: Ruud U802V
This model was first reviewed in 2010 when it had been on the market just a few years. More than a decade later, it has shown itself reliable and worthy of our list.
Why it Makes the List
In addition to a decade of demonstrable durability, this is a high-performance 80% furnace with variable-speed blower for optimized comfort.
Lennox claims it is the "quietest in its class," and at less than 70dB when running on high, that might be true.
Efficiency: 80%
Performance: 2-stage heating and a variable speed blower energy efficient ECM motor.
Warranty: 20 years on the heat exchanger and 10 years on other parts.
Identical Models: None
Average Cost To Install a Warm Air Furnace
Typical Range:
$3,840 - $5,570
Furnace Brands to Stay Away From
It is clear the top brands are Trane, Payne, Carrier, Bryant, American Standard, Lennox, Rheem and Ruud.
At the other end of the spectrum are Johnson Controls brands and Nortek Global brands.
Johnson Controls makes York, Luxaire, Coleman and Champion, and all rank near the bottom of reliability ratings. The manufacturer has improved its heat pumps and central air conditioners, but the furnaces it produces remain sub-par.
Nortek Global makes Maytag, Frigidaire, Gibson, Broan and NuTone. Tappan and Westinghouse have been retired as brands.
What about Goodman? That's a common question. It offers average quality at a lower cost with a good warranty. If low cost and decent equipment are your goals, Goodman is worth considering. It just isn't a top-tier brand. The same is true for identical brands Amana and Daikin, all owned by Daikin, but those brands cost more.
Other "middle of the road" brands are Armstrong Air/Air Ease, Lennox's value brand Ducane and the many International Comfort Products brands, owned by Carrier, that include Heil, Tempstar, Comfortmaker, Keeprite, Arcoaire and Day & Night.
Rebates – Get your Rebates!
Federal tax credits for energy efficient gas furnaces were renewed last year. You can get up to 30% of the project capped at $600 per furnace. ENERGY STAR certified gas furnaces with AFUE > 97% are eligible.
Energy suppliers are also giving rebates to customers that buy efficient gas furnaces and other equipment.
Ask your furnace contractor or check your energy company's website or call them. A few manufacturer websites also show current rebates. Trane offers the most information. When you enter your zip code on a Trane furnace product page, rebate offers are shown.
For example, rebates offered on the Trane S9X2 range from $150 in Dallas to $350 in Chicago, $475 in Los Angeles and $500 in Seattle.
Get Free Quotes For furnace Pros Near You