The 10 best central air conditioners have a proven track record of reliability based on consumer data.
This buying guide includes the list of top central AC brands and models including Carrier, Lennox, Trane, Armstrong Air and more. A comprehensive price list, full reviews, and product details are included below.
The Best Central ACs are:
Trane XV18 TruComfort
Carrier Infinity 26 with Greenspeed Intelligence
Lennox Signature Series XC21
Armstrong Air 4SCU16LS
Carrier Infinity 17
Rheem Classic RA17
Trane XR 16
Armstrong Air 4SCU14LB Ducane
Lennox Elite EL16XC1
Payne PA16NW
Comparison of Complete Installation Costs
These are installed prices. Sizes for most units range from 2 to 5 tons, or 24,000 to 60,000 BTU. A few of the models are produced in 1.5-ton/18,000 BTU options.
What's included? Prices are for the outside condensing unit, indoor evaporator coil, refrigerant line set, installation materials and the labor costs to do the work. This is how all top manufacturers and local dealers sell central air conditioners – a package of equipment plus installation.
To say it another way, no top brands allow their units to be sold by online retailers except for Goodman, and some would argue that Goodman meets the criteria for being a "top brand."
You will also find a few low-tier Rheem air conditioners and complete systems. The feeling from Rheem seems to be that Goodman is dominating the market of selling direct to homeowners, and they want a piece of the share.
| | | | |
| --- | --- | --- | --- |
| Model | AC Only | Full System | Performance |
| Trane XV18 TruComfort | $6,600 – $10,500 | $9,900 – $15,000 | Variable |
| | | | |
| Carrier Infinity 26 | $6,350 – $9,800 | $9,450 – $14,400 | Variable |
| | | | |
| Lennox Signature Series XC21 | $6,750 – $11,800 | $10,500 – $15,750 | Variable |
| | | | |
| Armstrong Air 4SCU16LS | $5,500 – $8,850 | $8,300 – $12,000 | 2-stage |
| | | | |
| Carrier Infinity 17 | $5,850 – $9,200 | $8,900 – $12,650 | 2-stage |
| | | | |
| Rheem Classic RA17 | $5,500 – $9,000 | $8,550 – $11,900 | 2-stage |
| | | | |
| Trane XR 16 | $5,675 – $9,250 | $8,800 – $13,350 | 1-stage |
| | | | |
| Armstrong Air 4SCU14LB | $4,650 – $7,200 | $6,800 – $10,950 | 1-stage |
| | | | |
| Lennox Elite EL16XC1 | $5,100 – $7,400 | $7,250 – $11,600 | 1-stage |
| | | | |
| Payne PA16NW | $4,300 – $7,375 | $6,950 – $11,000 | 1-stage |
Average Cost To Install a Central AC
Typical Range:
$4,870 - $6,470
Note on the Full System: The Full System column reflects the installation of an air handler or gas furnace in addition to all that was mentioned above with installation of the air conditioning equipment.
It is common to replace the entire system at the same time to ensure that the equipment is compatible in terms of efficiency and performance. Plus, the cost of installing a complete system is less than installing the various components at separate times.
Costs are UP!
Many homeowners are experiencing sticker shock over the cost of new central air conditioners and full systems.
Several of the largest manufacturers like Carrier Corp, Lennox Corp, Ingersoll-Rand (Trane) and Daikin have recently announced price increases of more than 15%, and other manufacturers have followed their lead.
Itemized Cost – Equipment plus Installation
Installation costs are consistent regardless of the efficiency and performance of the unit. Size plays a part, as it impacts the amount of the refrigerant charge.
The average cost to install a 3-ton central air conditioner system including refrigerant and the indoor coil is $2,200-$2,500. Professional labor rates range from $50 to $100 per hour for a trained technician plus additional costs for an assistant. Installation can take a day to a day and a half for a 2-person crew.
When a complete HVAC system is installed, total installation costs can range closer to $4,000 to $5,000. This cost does not include ductwork.
10 Best Central Air Conditioners – Full Reviews
Here are the best available central air conditioners. Identical brands, where applicable, are listed.
The list is divided into three performance tiers, variable-capacity, 2-stage, and 1-stage (or single-stage). There's a brief explanation of AC performance below if that's a concept you want to explore before buying your central air conditioner.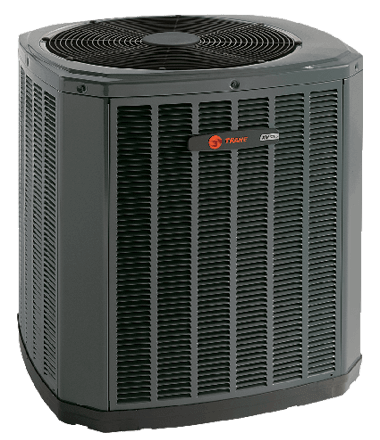 This is not the most efficient Trane AC. However, tt is on the list because it has a strong track record of reliability. It is clearly the best high-efficiency central air conditioner Trane manufactures and one of the best from any brand.
Why it Makes the List
It's a variable-capacity AC introduced more than 5 years ago, built with Trane's top compressor, the Climatuff variable speed compressor, and the all-aluminum patented Spine Fin coil.
The compressor ranges in speed/capacity from 25% to 100%. Trane says it adjusts in .1% increments, so it has, "750 stages of comfort for ultimate climate control." That's a little marketing talk, but the point is clear – it maintains precisely even temperatures when cooling.
And longer, lower-capacity air conditioning cycles remove more humidity – that's a plus in muggy, hot weather.
Efficiency: Up to 18 SEER
Performance: Trane's ComfortLink II communicating thermostat creates a two-way street. As it sends operating directions to the HVAC equipment, it receives data from components about performance, and using the input, it runs the system at peak efficiency and indoor climate control.
Warranty: 10 years on all parts.
Identical Models: American Standard AccuComfort Platinum 18
If it's proven reliability you want, Carrier Greenspeed models are tops. More than a decade ago, Carrier introduced its first Infinity with Greenspeed Technology air conditioner. This version continues a history of reliable performance and high levels of customer satisfaction.
Greenspeed is Carrier's variable-capacity, communicating technology.
Why it Makes the List
As with Trane, Carrier is right at the top of dependability ratings from independent sources like Consumer Reports. This is a workhorse air conditioner suited to the hottest climates. Carrier Infinity gas furnaces are nicely compatible in efficiency, performance, and quality.
This is one of the quietest, most efficient air conditioners available. When running at lower speeds, noise level is about 50dB. Like the Trane model, this Carrier air conditioner runs at levels between 25% and 100%.
Efficiency: Up to 26 SEER
Performance: To maximize climate control, you should consider the Infinity Control communicating thermostat. It's a $500+ investment, but if you want superior efficiency and comfort, you'll need it.
Warranty: 10 years on all parts.
Identical Models: Bryant Evolution Extreme 26
The Lennox XC21 is the most efficient 2-stage central air conditioner on the market.
Why it Makes the List
This unit has been in service for around 5 years, long enough to demonstrate solid reliability. That's a step in the right direction for Lennox.
Back in the day, the company used to have a poor service record for a decade or longer prior to the introduction of this unit, but Lennox successfully righted the ship. Lennox now ranks near the top in independent reliability rankings.
Efficiency: Up to 21 SEER
Performance: Two-stage central air conditioners have a low stage that is about 65% of capacity. The unit can typically keep up with the thermostat demand when running on low, and the advantage is better temperature balance and improved dehumidification over single-stage units.
The thermostat will kick the AC into high-gear, 100% capacity, when the temperature outside spikes or you turn down the thermostat by several degrees or more.
Warranty: 10 years on the compressor and other functional parts.
Identical Models: None
Armstrong Air is part of Allied Air, which is a Lennox Corporation company.
But some internal components of the Armstrong Air equipment are different. There isn't a directly comparable Lennox model.
Why it Makes the List
While not as well-known as the parent company, Armstrong Air gets high marks for dependability. This air conditioner has been available from around a decade and has a record of fewer-than-average service calls.
Efficiency: Up to 16 SEER
Performance: This is a high-quality, two-stage central air conditioner.
Warranty: 10 years on all parts.
Identical Models: None.
This is Carrier's best 2-stage central air conditioner, and it has proven its worth in thousands of homes.
Why it Makes the List
Carrier uses the best third-party components available like the Copeland Scroll compressor. The results are dependable central air conditioners that give homeowners years of low-maintenance service.
Another reason for Carrier quality is that the brand only allows certified technicians to install its equipment. The importance of quality installation cannot be overrated.
Efficiency: Up to 17 SEER
Performance: This is a 2-stage central air conditioner.
Warranty: 10 years on all parts.
Identical Models: Bryant Evolution 187B
Tried and true, this Rheem unit is highly recommended by technicians and installers for dependable service 10 years after it was introduced.
Why it Makes the List
It's an excellent value – a quality central air conditioner at a reasonable cost in today's market. With normal maintenance and minor repairs along the way, this Rheem should give you 15+ years of air conditioning you can count on.
Efficiency: Up to 17 SEER
Performance: Two stages of air conditioning.
Warranty: 10 years on all parts. If the compressor or coil fails while under warranty, Rheem will replace the entire condensing unit, not just the failed part.
Identical Models: Ruud UA17.
This is a single-stage AC that should deliver good quality and value in the years to come. The Trane XR16 was introduced about a dozen years ago. Service data shows it requires fewer repairs than most other central air conditioners.
Why it Makes the List
This might be the best single-stage AC on the market today. The parts are first-rate including Trane's proprietary compressor and coil. Plus, it is very efficient for a 1-stage air conditioner and quieter than most in this tier.
Efficiency: Up to 17 SEER
Performance: This is a 1-stage central air conditioner.
Warranty: 10 years on all parts.
Identical Models: American Standard Silver 16
There aren't any bells or whistles on this unit – just a reliable single-stage central AC ideal for all but the hottest climates. Why the "14" in the name? This unit used to be a 14 SEER AC. You'll notice this with other brands too – each generation of a given AC seems to be more efficient as the technology is tweaked, but the model's name isn't always changed.
Why it Makes the List
Consumers rate Armstrong Air among the most dependable year after year. This is a solid, hardworking central air conditioner that will last 15-20 years with proper maintenance.
Efficiency: Up to 16 SEER
Performance: Single-stage cooling, so it runs at full capacity when on.
Warranty: 10 years on all parts.
Identical Models: Allied Air 4AC16L and AirEase 4SCU14LB
Lennox's second AC on the list of the best central air conditioners offers basic, no-frills quality and good efficiency. It was once the most efficient single-stage AC available and is recommended for warm climates.
Why it Makes the List
There are tens of thousands of these air conditioners in homes around the country, and consumers give it high marks for reliability. Lennox has resolved quality and supply chain issues in the last 5-10 years, and this unit shows it. The EL16XC1 delivers excellence and dependable air conditioning throughout the cooling season.
Efficiency: Up to 17 SEER
Performance: This is a 1-stage unit.
Warranty: 10 years on the compressor; 5 years on other parts. When Lennox was struggling with quality, it reduced the warranty lengths to cover for its shortcomings. It hasn't raised them on its Elite and Merit units. As a result, Lennox has the shortest warranty periods of any major manufacturer.
Identical Models: None
Payne is a Carrier brand that offers 6 models compared to the more than 10 from Carrier. The models Payne does produce are identical to Carrier models.
Why it Makes the List
It's a Carrier at a lower price. The Carrier Corporation knows that not every homeowner will pay Carrier prices, regardless of the quality. To be attractive to more consumers, Carrier offers Payne products at reduced costs.
Sure, the profit margin might not be as high, but selling a lower-cost Payne is better than losing the business to Goodman or another budget brand.
Keep one thing in mind – Carrier products are installed only by factory-trained, certified Carrier dealers. Payne products are installed by a wider range of contractors, not all with the same level of training. If you choose a Payne, make sure the installer has good experience and training.
Efficiency: Up to 17 SEER
Performance: 1-stage AC.
Warranty: 10 years on all parts.
Identical Models: Carrier Comfort 15 24AAA5
What about Heil, Day & Night, Tempstar, etc. If you're familiar with the HVAC equipment market, then perhaps you know that Carrier owns a company called International Comfort Products (ICP), which makes the brands mentioned plus Arcoaire, Keeprite and Comfortmaker.
We bring this up because collectively Carrier/ICP are a large chunk of the market.
ICP brands are nearly identical to Carrier's products – some units are exactly the same.
But the same condition applies. Yes, they cost less – similar to Payne. But there are few controls on who installs them – meaning any licensed technician can become a Heil dealer, for example, and sell/install its equipment. ICP can't guarantee the same quality control over installation that Carrier can.
As a result, do your due diligence before hiring someone to install an ICP brand. If you choose a quality installer that does a good job, you'll get a high-quality AC at a lower cost.
Stages of Cooling
1-Stage: These units run at full capacity when on. They cost less, and some are very efficient. But they don't remove as much humidity, and you might notice slight temperature swings.
2-stage: Low capacity is about 65%, and the units usually keep up at that capacity. If not, they move to high/100% capacity. Running on lower capacity produces better climate control – balanced temperature and better dehumidification.
Variable-capacity: The compressors modulate in small changes from 25% to 100% (40% – 100% for some brands). Cost is highest – but climate control is optimized.
Get Free Quotes For HVAC Pros Near You
Climate Factors, Cost and Payback Period
It goes without saying that the hotter your climate is, the more a highly efficient central air conditioner should be considered. First, the more efficient unit will lower operating costs and eventually pay you back for the higher equipment cost. In most cases, the payback period is 7 to 15 years when upgrading, for example, from a 14 SEER to a 17 SEER or higher unit.
But it won't pay you back over the life of the AC to go with a high-efficiency unit in a moderate or cool climate. Don't let a sales rep sell you on an 18 SEER AC in Minneapolis – or in a temperate climate either like the Pacific Northwest.
Secondly, in a hotter, and especially a more humid, climate, a two-stage or variable-capacity AC will remove more humidity and make your home more comfortable than a 1-stage central air conditioner.
Cash Rebates are Available
Cut your purchase price with a rebate from your local energy company!
Almost all energy providers offer rebates on energy efficient central air conditioners.
If you view the Trane or Carrier AC pages, and others, you can find rebates offered by energy suppliers in your zip code. Of course, your installer should be aware of rebate offers and be able to steer you through the simple process of registering your equipment with the energy company and ensuring your rebate.
Rebates vary by equipment and energy supplier, but the more efficient the AC is, the higher the rebate.