Goodman central air conditioners have a reputation for being affordable with decent quality backed by some of the best warranties in the industry.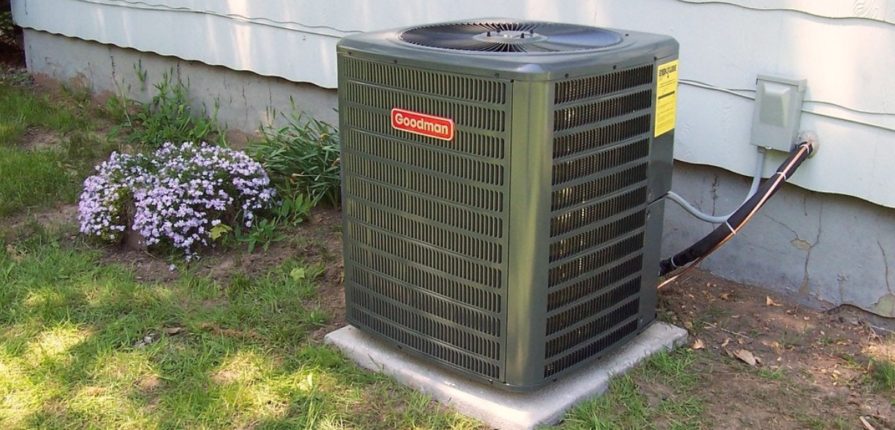 Lennox central air conditioners are considered a premium brand with very good quality in top models, not-so-great quality in its cheaper models. Its warranties are nothing special.
In this head-to-head comparison guide, we cover all the bases starting with the breakdown of costs you can expect for a complete installation based on various efficiency levels.
What's in this guide:
Lennox vs. Goodman Air Conditioner Comparison
You might be surprised that there isn't a huge cost difference between the two brands. Goodman units are better than they used to be even a few years ago, with higher quality parts, and so cost has gone up. Lennox has always been a premium brand in terms of how it's priced. But Goodman is catching up.
Cost
| | | |
| --- | --- | --- |
| Efficiency | Goodman Installed Cost | Lennox Installed Cost |
| 13-14 SEER 1-stage | $3,100 – $5,500 | $3,450 – $6,500 |
| 15-17 SEER 1-stage | $3,550 – $6,100 | $4,200 – $6,950 |
| 15-17 SEER 2-stage | $4,300 – $6,950 | $5,000 – $7,750 |
| 18-20 SEER 2-stage | $4,950 – $7,900 | $5,700 – $8,750 |
| 18-20 SEER Variable | N/A | $7,500 – $10,200 |
| 21 SEER+ Variable | $8,400 – $11,000 | $9,850 – $12,850 |
Average Cost To Install a Central AC
Typical Range:
$4,870 - $6,470
Note 1: Prices have gone up! If those Goodman and Lennox central air conditioner prices seem really high, you're right. All major brands have raised prices by as much as 25% in the last few years. You're probably familiar with the reasons – global supply chain problems, labor shortages and general inflation woes.
Note 2: Unit cost vs. installed cost. We've included installed costs only because you can't buy Lennox air conditioners anywhere but from a dealer who sells the whole package – the equipment plus installation.
Yes, you can buy Goodman air conditioners online, but note that the unit cost doesn't accurately reflect the whole cost – condensing unit, refrigerant lines, indoor coil, pad if needed and other installation supplies.
Equipment Quality – Which is Better, Goodman or Lennox?
Most data from technicians and homeowners confirm that Lennox air conditioners deliver higher quality.
Sure, Goodman has improved in the last couple years to try to shake its reputation as "cheap" or worse. And a Goodman AC unit bought today is likely better than one installed five years ago.
But a gap still exists between the two brands. Be sure to read the Installation Quality Factor for the way in which "who" installs your AC affects "how" it runs – and why Goodman is at a disadvantage.
Our ratings:
Lennox Signature Series: 8 out of 10
Lennox's best and most efficient series has been improved in the last 5-7 years with higher quality as well as industry-best efficiency levels. In independent testing from respected organizations like Consumer Reports, Lennox's best ACs rank just a short step behind top-ranked, identical brands Trane and American Standard.
Lennox Elite Series: 7.5 out of 10
These are very good central air conditioners with reliable mechanics.
Lennox Merit Series: 6.5 out of 10
Lennox's entry-level line tends to be a little cheap. Shorter warranties, discussed next, are one indication that the quality level isn't as high.
Goodman: 6.5 out of 10
Goodman quality is consistent throughout its lineup, though to be fair, we might give the top couple models a 7 out of 10 because there has been an effort to improve their performance.
Inferior quality and lower cost are a marketing strategy.
We'll keep this brief. Daikin bought Goodman and Amana in 2011 because this global HVAC leader did not have a presence in the North American split system heating and AC market.
At first, Daikin put a Daikin label on Goodman products, so that all three brands were identical.
Then, Daikin slowly began improving its Daikin-branded air conditioners, furnaces and heat pumps. It improved Amana units, but less so.
But it maintained the same quality for Goodman, so that it could sell Goodman equipment for lower costs. Now it has air conditioners to offer at cheap (Goodman), mid-quality (Amana) and high-quality (Daikin).
In the last couple of years, Daikin has shared its top central air conditioners with Goodman. For example, the 24.5 SEER Goodman GVXC20 is a Daikin-developed AC with very good quality. And you can see from the table above, its cost is well above other Goodman ACs.
Get Free Quotes For HVAC Pros Near You
The Installation Quality Factor
It's widely acknowledged that the quality of installation makes a huge difference on the long-term efficiency and mechanical reliability of HVAC equipment.
Lennox Installation: Most Lennox equipment is only sold and installed by Lennox-authorized dealers.
However, some of the more affordable Lennox Elite and Merit Series central ACs can be picked up at wholesale houses by "just any" licensed HVAC contractor.
Goodman Installation: Goodman is not picky about who installs its products. Anyone with a license and refrigerant certificate can install a Goodman ACs.
Homeowners can buy a Goodman central AC unit online and hire their own installer. Or give it a shot themselves (you would still need to pull a building permit/have the complete job inspected by a local building inspector) – just hiring an HVAC technician to charge the system with refrigerant.
When a competent installer does the job properly, then a Goodman can perform just as or nearly as good as a Lennox.
But when professional installation is faulty and/or the homeowner has bought the wrong-size AC for their needs or botches DIY installation, then a Goodman can be considered "junk." And Goodman gets the blame and the poor ratings and reviews.
If Goodman is to blame, it is mainly with its decision to sell to "anyone" and not have restrictions on who can install Goodman equipment.

Lennox Central Air Conditioners Reviews
As noted, Lennox makes three series of central air conditioners. It is accurate to say that the differences involve quality as well as efficiency and performance.
The Dave Lennox Signature Series
There are two models in this series, and they offer best-in-class efficiency.
The SL28XCV is a variable capacity AC with a SEER rating of 28, the best of any split system central air conditioner available.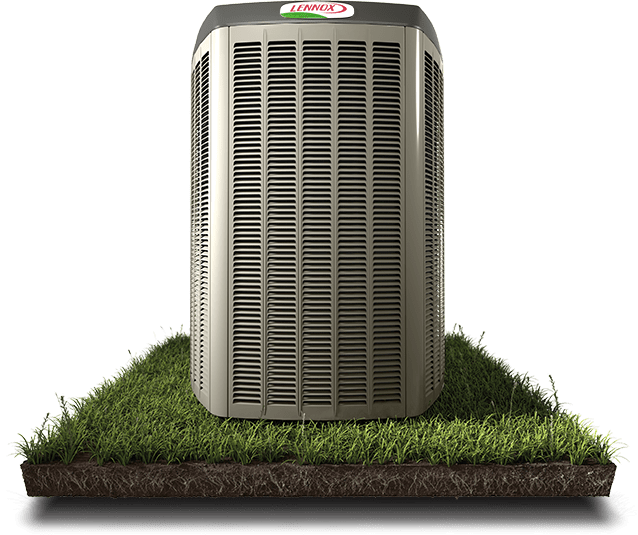 The variable capacity compressor air conditions at 40% to 100% of capacity based on the precise cooling and dehumidifying requirements of your home.
The result is even temperature and drier, more comfortable air in hot, humid weather.
The XC21 has a 21 SEER efficiency rating, which makes it the most efficient two-stage AC available. The unit runs on low most of the time to do a better job of creating even temperature and lower humidity than can be achieved with a single-stage unit.
Lennox Elite Series
This series includes two variable capacity air conditioners with efficiency ratings of 20, the XC29, and 18 SEER, the EL18XCV.
And there are two single-stage ACs with 17 SEER and 15.5 SEER Energy Star qualified efficiency levels.
Lennox Merit Series
These cheaper Lennox air conditioners give you options on the low-cost end of the Lennox price spectrum.
Keep in mind that the warranty on all parts is just 5 years, and mechanical issues usually begin after that period.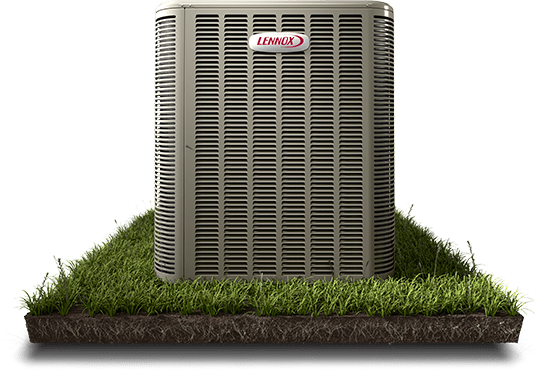 The two-stage 16ACX has a 17 SEER rating as does the single-stage ML14XC1. The entry-level 13ACX is a single-stage, 13 SEER unit that is also quite loud at 76dB. The last unit is recommended for cool climates or part-time applications where the AC isn't heavily used.
Goodman Central Air Conditioners Reviews
Goodman only makes 6 models, and there are no series names. So, we'll just list them.
GVXC20: This is a Daikin central air conditioner in a Goodman cabinet and logo. This variable capacity AC has a 24.5 SEER rating, one of the best in the industry.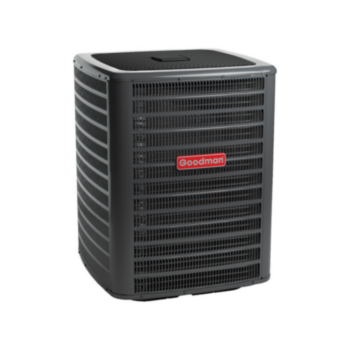 GSXC18: With a 19 SEER, this is one of the more efficient 2-stage models you'll find. This unit and the one above has Goodman's Lifetime compressor warranty and 10-year unit replacement warranty.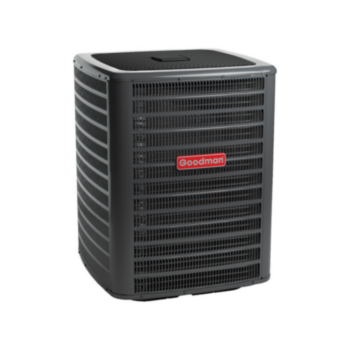 GSXC16: With a 2-stage compressor and 17 SEER efficiency, this is one of Goodman's most popular air conditioners for warm climates.
GSX16: This is a bare-bones, 16 SEER single-stage AC. It's a good fit when you want decent efficiency at a lower cost.
GSX14 (15 SEER) and GSX13 (13 SEER): These are other entry-level Goodman air conditioners, though they are backed with a very good 10-year warranty.
Are Daikin and Amana the Same as Goodman?
Not anymore.
Daikin, the parent company, has begun to differentiate the three brands.
Goodman – Lower cost and quality but still good warranties.
Amana – Midrange quality and cost with excellent warranties.
Daikin – The top brand with good quality and warranties.
The one model exception is the top AC, in Goodman's case the GVXC20. An identical version of it is sold by all three brands.

Pros and Cons of Each Brand
A lot of this ground has been gone over above. But here's a summary with a few additional pros and cons of Goodman vs. Lennox central air conditioners.

Lennox Pros and Cons
Quality: The Dave Lennox Signature Series is better than most Goodman models except for the top Goodman GVXC20 mentioned several times already which is on par with Lennox units.
The Elite Series is on par with mid-level Goodman ACs or perhaps a little better in terms of longevity/reliability. This is mostly due to better installation ensured by authorized Lennox dealers.
The Merit Series is a more affordable, average-quality line that still costs more than comparable Goodman air conditioners. When lower cost is a priority for you, get quotes on both cheaper Goodman and Lennox models, so you can compare cost and performance head-to-head.
Installation: Lennox has a clear advantage here because it requires its dealers/installers to have specific Lennox training about how to correctly do the job.
Cost: Lennox air conditioners cost more throughout the lineup. Cost ranges from $3,450 for the smallest, least efficient Lennox to almost $13,000 for the largest, most efficient top of the line.
Efficiency: Efficient performance is a top priority for this brand. Lennox makes one low-efficiency AC. All the rest are above-average including the most efficient 2-stage and most efficient variable capacity split system air conditioners currently made.
Selection: The 9 models offer more choices than Goodman's 6 models and about the same as Trane's 9 models. But it is not as good as Carrier's AC selection of 17 central air conditioners.
Warranty: Lennox warranties are not as long and don't offer unit replacement. However, as discussed above, Lennox warranties are more likely to be honored by the manufacturer.

Goodman Pros and Cons
Quality: Goodman makes average-quality central air conditioners. The Daikin-developed GVXC20 is above-average.
Installation: There are no restrictions on installers, so quality cannot be counted on. Take care to find an experienced installer with a track record of quality and customer satisfaction if you choose Goodman.
Cost: While prices are ticking up with improved quality, Goodman ACs cost 10-15% less than comparable Lennox ACs. The cost range for fully installed ACs is $3,100 to $11,000.
Efficiency: Goodman's efficiency has risen the last few years, and its models now compete pretty well with Lennox's. But Lennox remains the industry's leader in energy efficiency.
Selection: You have fewer choices with Goodman, but there are still enough options, 6, to find an AC that should serve your purposes.
Warranty: On paper, Goodman warranties are significantly better than Lennox's. Again, just do your due diligence to find a quality installer.

Warranty Analysis
Goodman long had the reputation as the low-cost brand with great warranties. Lennox is pretty stingy with its warranties.
Key differences remain in the warranties when comparing Goodman vs. Lennox central air conditioners.
Lennox Warranties
Dave Lennox Signature Series warranty: 10 years on all parts including the coil and compressor.
Elite Series Warranty: 10 years on the compressor; 5 years on all other parts.
Merit Series Warranty: 5 years on all parts.
Lennox warranties provide for replacement of the part only. They do not cover labor – almost no HVAC warranties do.
Goodman Warranties
Goodman doesn't divide its ACs into series, as Lennox does. So, let's discuss its best and second-best warranties and which models they cover.
Best warranties: Lifetime compressor warranty; 10-year general parts warranty and a 10-year unit replacement warranty. If the compressor fails in the first 10 years, Goodman will replace the entire condensing unit.
This warranty is offered on the top models, which currently include the GVXC20, GSXC18 and GSXC16.
Worst warranties: 10 years on all parts plus a 2-year unit replacement warranty on the compressor. Compressors rarely fail in the first two years, so this warranty is a marketing gimmick in 99% of cases.
All other Goodman central air conditioners are covered by this warranty, which is still as good as the best Lennox warranty.
How Important is the Warranty?
That's a simple question with a complex answer.
The short answer is that while Goodman warranties are better "on paper," Lennox warranty claims are more likely to be paid.
Lennox: Since each Lennox is installed by an authorized dealer with good training, there are fewer warranty claims. It is more likely that mechanical failures are the result of bad parts rather than poor installation.
And claims are more likely to be honored by Lennox because Lennox wants to keep its dealers happy and continuing to sell Lennox units. They sometimes honor claims even when bad installation was the likely cause of the issue.
Goodman: Because there are few safeguards to who can buy or install a Goodman, there are more mechanical issues that can be traced to bad installation or choosing the wrong size AC.
And since "everybody in town" can install Goodman air conditioners, Daikin/Goodman isn't as concerned about keeping any dealer happy.
If the installer messed up by installing the wrong size unit, not charging it properly with refrigerant, using the wrong refrigerant lines or several other issues that affect reliable performance, Goodman is less likely to accept responsibility.
Average Cost To Install a Central AC
Typical Range:
$4,870 - $6,470
Takeaway Truth on Warranties
For both brands, and especially Goodman, pay attention to who installs it.
Get written estimates from several dealers in your area. Compare their prices. Make sure they are licensed and insured.
Find out about the experience of the installation crew in installing the brand or brands you are considering.
Check Google and Yelp reviews – or anywhere else you can find reliable information from other homeowners.
Hire an installer you believe knows what they're doing and has good ratings for workmanship and customer service.

Choosing Between the Two Brands
The differences in the brands and the specifics of your needs will help you choose in the Lennox vs. Goodman debate.

When Lennox is Better
Many homeowners don't realize that Lennox was a poorly rated brand a decade ago due to the use of too many proprietary parts that led to repair needs – and slow times for repairs because parts were hard to get.
But we mention it for those who are aware of that.
Lennox quality has improved as they've overhauled the way they produce parts and make them available to local dealers to make repairs.
The Lennox Signature Series and Elite Series are better than most Goodman units. The Merit Series is on par with comparable models from Goodman.
If lower energy costs and/or green air conditioning are priorities, Lennox is the clear favorite. Its 2-stage and variable capacity air conditioners are the most efficient in the industry.
Bottom Line: If you're willing to pay more to get better quality and higher efficiency, and you're willing to accept an inferior warranty, then we recommend a Lennox central air conditioner.

When Goodman is Better
Have you had good results with Goodman in the past? There's no reason not to stick with them, especially if you hire the same installer, who apparently did a good job the first time.
And Goodman cost is lower by 10% to 15%. The tradeoff might be in durability – most Goodman ACs last 12-18 years compared to 15-20 for Lennox.
But both brands – any brand – should be maintained per manufacturer suggestions/requirements to get the best efficiency and durability from the AC.
How long do you plan to live in your current home? How much does your AC run? If you think you will move in the next decade or you don't use your AC heavily, then Goodman is a good fit.
Bottom line: When spending less and still getting decent equipment is your goal, especially if moving soon is a real option, a Goodman central air conditioner should meet your needs.
Get Free Quotes For HVAC Pros Near You