We're all aware that prices are significantly higher now than just a few years ago – and increases have been felt in the air conditioning and heating industry more than in most others.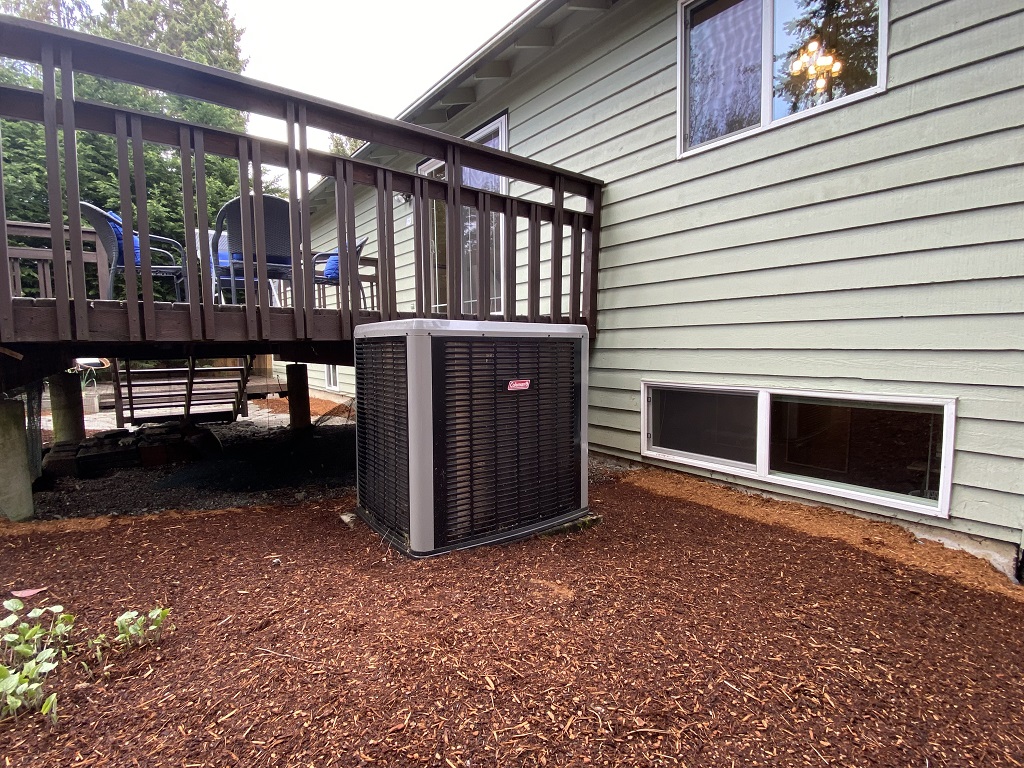 So, this guide gives you a "heads up" about pricing information you'll hear when you get local estimates. And it will help you choose a heat pump efficiency range that makes the best sense for return on investment.
What's the focus – Heat pump costs
A heat pump is the outdoor unit, which is technically called a condensing unit. For a full system, you'll also need an indoor air handler and coil, refrigerant lineset and potentially a refrigerant charge. A lot of home and property owners upgrade their thermostat too. – Those "extras" are covered briefly, but the emphasis is on the outdoor unit for those just replacing that part of the system.
Either way you go – heat pump only or full system – you'll have accurate, fresh pricing to work with as you discuss your project with heat pump contractors.
Central Heat Pump Cost Installed
Nearly every brand makes basic, better, and best tiers of heat pumps. Trane, for example, makes basic XR models, midrange XL heat pumps and premium XV models. For Carrier, it is Comfort, Performance, and the top-of-the-line Infinity.
SEER and Stages are explained below for those unfamiliar with the terms:
| | | | |
| --- | --- | --- | --- |
| Equipment $ | With Installation | SEER | Stages |
| $3,100 – $7,200 | $5,150 – $10,100 | 13 – 17 | 1 |
| $4,950 – $9,600 | $7,200 – $13,400 | 16 – 19 | 1 or 2 |
| $6,700 – $13,150 | $9,300 – $15,500 | 18 – 24 | 2 or Variable |
SEER is the seasonal efficiency ratio, an efficiency rating. Higher is better. Heat pumps are also rated for heating efficiency. It's called the heating seasonal performance factor, or HSPF, and it rises with SEER. Today's heat pumps range in HSPF from 8.5 to 13.0. As you can see, there is some overlap in efficiency ranges. It's not always tied to quality.
Stages – Single-stage heat pumps run at 100% all the time. They're affordable but less efficient. Two stage heat pumps run on low or high settings based on what is needed to keep your home comfortable. Variable capacity heat pumps modulate from 25% or 40% based on the model up to 100%. They're the most expensive but the most efficient.
What Do You Get for the Money?
Here's an itemized price list for a new or replacement heat pump.
| | | |
| --- | --- | --- |
| | Range | Average |
| Condensing Unit | $1,600 – $10,800 | $5,100 |
| Indoor Coil | $475 – $1,500 | $700 |
| Lineset & Charge | $500 – $875 | $625 |
| Wiring Harness | $35 – $100 | $60 |
| Outdoor Disconnect | $40 – $110 | $65 |
| Pad or Bracket (Optional) | $75 – $200 | $125 |
| Permit | $150 – $300 | $225 |
| Warranty | No Charge | N/A |
| Standard Thermostat | $50 – $125 | $75 |
| Smart Thermostat | $150 – $700 | $300 |
| Labor | $2,200 – $3,800 | $2,900 |
Labor includes removal and disposal of old equipment, if applicable, and installation of the new equipment plus miscellaneous supplies.
Ductwork Not Included
If you're building a home or addition, consider whether you want a ducted split system or might prefer skipping the ductwork and installing a mini split ductless heat pump system.
There are many variables including where the indoor unit is installed, the type and size of ductwork and home size. Ductwork for the average 2,400 square foot home being built costs $1,800 to $4,000. Replacing old ductwork costs more because the project is more invasive and time-consuming.
Factors Affecting Cost
Here are cost factors in order of their impact on the price of a central heat pump.
Heat pump size/capacity: The range is 1.5 tons to 5.0 tons. Common sizes in tons are 1.5, 2.0, 2.5, 3.0, 3.5, 4.0 and 5.0. Some heat pump series only come in whole # sizes – 2, 3, 4 & 5 tons. Each "ton" is 12,000 BTU, the amount of heat the system can move into or out of your home per hour.
Efficiency & Performance: These factors go hand-in-hand.
Single stage, 13-17 SEER heat pumps: $5,350 to $10,100
Two stage, 16-19 SEER heat pumps: $7,200 to $13,400
Variable capacity, 18-24 SEER heat pumps: $9,300 to $15,500 or slightly more when installation is complex.
Brand & Quality: Some brands, like Trane/American Standard (that's right, they're essentially identical) and Carrier/Bryant (ditto) have higher quality throughout the lineup. Those premium brands cost more.
Others, like RunTru and Airquest are intentionally made to be bargain brands. Then there is Lennox that makes Signature (very good), Elite (average) and Merit (lower quality).  So, you must know your brands when comparing heat pump costs.
Electrical: If a unit is being replaced, the necessary 240V circuit and wiring is in place. If this is a first-time heat pump installation, then
Installation Labor: The price – and the quality – of installation varies quite a bit. If you choose a certified installer of the brand, someone with proven experience, you'll pay more for labor. But only when your heat pump system is installed and tuned correctly will it give you the efficiency and longevity you expect.
Indoor Unit Cost
We've priced the essential heat pump equipment.
But many homeowners also replace the indoor unit – the unit that circulates air through the ductwork. Your two options, with costs are:
Air Handler (no heat, just a blower): $800 to $4,900.
Gas Furnace (heat and blower): $1,200 to $6,200
Similar factors as those above apply to the air handler or furnace.
Central Heat Pump Costs by Brand
Not all heat pumps are created equally. Marketing budget might play a role in price too ; )
But here are heat pump prices for the major brands, and a few maybe you haven't heard of.
Note: Only one brand is listed for identical brands. We sort out brand identity below the table.
| | | | |
| --- | --- | --- | --- |
| Brand | Basic | Better | Best |
| Lennox | $6,000 – $9,450 | $8,550 – $12,000 | $10,950 – $15,500 |
| Trane | $6,200 – $9,650 | $8,900 – $12,650 | $11,350 – $15,400 |
| Carrier | $6,550 – $9,700 | $9,250 – $12,500 | $11,450 – $15,300 |
| Rheem | $5,550 – $8,950 | $8,000 – $11,750 | $10,850 – $14,450 |
| Daikin | $5,600 – $9,250 | $8,200 – $12,050 | $11,000 – $15,100 |
| Heil | $5,250 – $9,000 | $7,950 – $11,900 | $10,050 – $14,550 |
| Goodman | $5,150 – $8,750 | $6,850 – $11,550 | $9,300 – $14,400 |
| York | $5,300 – $9,250 | $7,100 – $11,800 | $9,650 – $14,750 |
| Armstrong Air | $5,400 – $9,000 | $7,450 – $12,000 | $10,250 – $14,900 |
| Payne | $5,950 – $9,100 | $8,950 – $12,100 | N/A |
| Aire-Flo | $5,150 – $8,400 | $6,750 – $11,000 | N/A |
| Ducane | $5,300 – $8,250 | $6,900 – $8,400 | N/A |
Brands – Who's Who?
Lennox: The Lennox Signature Series are unique units. But Lennox also makes Ducane and Aire-Flo, and some of their products are identical to or nearly identical to Lennox Elite and Merit Series heat pumps. But those brands don't make variable capacity heat pumps.
Trane: Trane Technologies makes Trane and American Standard, which are nearly identical. It also manufactures RunTru, a budget brand of decent quality.
Carrier: The Carrier Corporation, no longer part of United Technologies, makes Bryant, which is identical to Carrier. It also makes Payne, which sells a limited lineup without high-end models.
Rheem: Paloma Industries make identical brands Rheem and Ruud.
Daikin: Daikin International makes Amana, which is mostly identical to Daikin, and Goodman, which is designed as an affordable brand.
York: Johnson Controls makes identical brands York, Luxaire, Champion and Coleman.
Heil: International Comfort Products makes Heil, Arcoaire, Keeprite, Tempstar, AirQuest, Tempstar and Day & Night as identical brands. ICP is owned by Carrier, but the products are slightly different.
Armstrong Air: This brand is owned by Allied Air, which also makes AirEase. Allied Air is a division of Lennox, but the products are different.
Buying Guide – Choosing a Heat Pump with Great ROI
"Should I buy the most efficient heat pump?" That's a common homeowner question, and the answer is almost always, "no."
If your goal is to heat and air condition your home in the most ecofriendly way, then yes, buy the most efficient heat pump you can afford. But most other times, the best return on investment comes from something less efficient.
What is ROI? Or better, what do we mean by return on investment?
In a word: Value – Finding the most cost-effective balance between equipment and operating costs.
Here are some factors to consider.
1) The upfront cost of the heat pump
2) The monthly operating cost
Example: If you are currently spending $150 per month on air conditioning using a 10 SEER heat pump, you'll reduce cost about 30% if you choose a 14 SEER model and by 50% if you select a 20 SEER heat pump.
3) How long would it take you to recover the higher cost of a more efficient heat pump?
The payback period is difficult to determine. You'll want to know how much less energy the more efficient model uses and a general idea of how much you're spending on air conditioning and heating.
For example, if you're comparing a 14 SEER AC to a 20 SEER unit, the more efficient model will use 30% less energy. If your average throughout the year is $100 per month on heating/cooling, that's a potential savings of $30 per month and $360 per year.
Using the chart above, a 14 SEER model would be a "basic" model, while the 20 SEER unit would fall under "Best." Using averages, you would spend about $5,000 more on the 20 SEER model. At $360 per year, your recovery time would be almost 14 years. Would it be worth it? Probably not.
In a climate with extreme weather, the payback time might be less than 10 years, and if you intend to live in your current home through the life of the heat pump, then sure, choose the more efficient unit if you'd like to. Along with the better efficiency, you'll enjoy staged heating/cooling for better climate control.
OK, here's a basic principle and some pro advice:
Principle: The warmer the climate, the better the ROI of a highly efficient heat pump. We just illustrated that.
Pro tip: In cold climates, most HVAC pros still recommend a furnace for heating, and not a heat pump. The problem is that the heat pump loses effectiveness in temperatures below freezing. And when they do, the electric heat elements in the air handler kick on to assist in keeping the house warm. And those electric heaters use a lot of power, driving up operating costs potentially wrecking the energy cost savings of a heat pump.
This is a good discussion to have with an experienced heat pump contractor – How efficient should you choose for the best ROI?
The important questions are:
1) How extreme are temperatures in the climate in which you live?
2) What are you currently spending on air conditioning and heating? Maybe this information from the US Energy Information Agency will be useful: Air conditioning accounts for just 7% of energy use in single-family US homes. If you live in a hot region, the percentage is closer to 15%.
Heating accounts for an average of 46% of energy use. But since that figure includes gas furnaces, the percentage should be lower if you are using a heat pump – more commonly in the 10% (warm climate) to 30% (cool climate) range.
3) What are the equipment costs of the heat pumps you are considering?
And then do the math described above to determine how long it will take you to recoup the cost of the more efficient model through lower energy bills.
4) Are you willing to pay a little more – and extend the payback time – to get better climate control? In other words, if you move from a single stage heat pump to a two-stage unit, indoor temperature will be more balanced. And the air will be a little drier during AC mode, and drier air in summer is more comfortable. The heat pump will also run on low most of the time, so it will be a little quieter.
The jump from a 2-stage heat pump to a variable capacity unit is a bigger step in cost, and with similar climate control benefits. The payback period will be extended even further, potentially making it a sure thing that you won't recover the extra cost.
The answer to Q. 4) above is a purely personal preference decision. But it can have a dramatic impact on ROI.