Compare Lennox furnaces to Carrier furnaces and Trane furnaces? OK. That's what we do – evaluating each in key areas and pointing out where one brand is superior – or in some cases inferior – to the others.
The data gathered from technicians that work on all brands and surveys taken by homeowners that own them paints a pretty clear picture.
Carrier, Trane, and Lennox furnaces break down less than most other brands – and that is really what matters to the average homeowner in the middle of February.
Lennox vs Carrier vs Trane Overview
Trane furnaces are the top-rated brand for quality. Lennox and Carrier are slightly behind, essentially tied for second spot. But Lennox quality isn't as good in its cheapest furnaces, as explained below.
Lennox furnaces are the most efficient furnaces, but the small differences in efficiency aren't worth considering when making a purchasing decision – about 1% in the most efficient furnaces.
Carrier furnaces could be said to win the "all around" competition by delivering good quality and efficiency levels right up there with the others. A lot of the "quality" part has to do with Carrier's network of highly trained Authorized Dealers who properly install them most of the time.
What about cost? It depends on where you live. Carrier usually has the highest price followed by Trane and Lennox. But in some markets, like metro Detroit and the Northeast, Trane is the most expensive brand.
More on this below – but the takeaway is that you should get estimates on all three brands because they vary regionally – and even from dealer to dealer within your area.
Lennox vs Trane vs Carrier – All the Details
As three of the top furnace brands, they have much in common – more, say, than a Lennox vs Goodman or Trane vs Amana furnaces comparison would show.
So, in the following information, similarities are discussed while an effort to point out differences is made.
Topics are cost, selection, quality and dependability, efficiency, features, repair costs, warranty and thermostat options. A "winner" is chosen in each category.
Note on Branding: Lennox markets its furnaces as Merit (basic), Elite (better) and Dave Lennox Signature Collection (best).
Carrier brands their furnaces Comfort (basic), Performance (better) and Infinity (best).
Trane does no such thing.
Lennox divisions are based on a mix of quality, efficiency, and performance (single stage, two stage and variable capacity).
Carrier's divisions are mostly based on efficiency and performance. We think Carrier furnaces are solid in quality top to bottom – which isn't the case with Lennox.
Cost
Here are Trane vs Carrier vs Lennox furnace prices. Details follow.
| | | | | | |
| --- | --- | --- | --- | --- | --- |
| Brand | 80% single stage | 80% two stage | 90% & Up single stage | 90% & Up two stage | 90% & Up variable |
| Trane | $3,400 – $6,250 | $4,275 – $7,350 | $4,700 – $8,000 | $5,350 – $10,200 | $6,400 – $11,500 |
| Carrier | $3,575 – $6,400 | $4,450 – $7,500 | $4,750 – $8,200 | $5,500 – $10,250 | $6,575 – $11,750 |
| Lennox | $3,050 – $5,875 | $4,150 – $7,200 | $4,250 – $7,875 | $5,400 – $10,000 | $6,600 – $10,950 |
Prices are competitive for top furnaces and mid-level models among these brands.
Carrier, Trane, and Lennox are all more expensive than most other major brands.
It's a different story with entry-level, basic models. Lennox makes cheaper furnaces – both in quality and cost. While anecdotal, one HVAC technician put it this way when discussing the Lennox Merit Series: "Lennox feels cheap. Cheap sheet metal held together with cheap screws."
You've got to cut quality if you're going to reduce costs. Data shows that the quality drop might affect functional parts too – not just the cabinet sheet metal.
Note the lower starting point on price for Lennox single stage 80% and 90%-plus furnaces. Warranties are 5 years on these models compared with 10 years for the other brands. Lennox knows something about how they are built.
Remember, costs vary from place to place. Why? The top reasons are shipping distances/costs and dealer competition being greater in some regions. Of course, prices for all the brands vary somewhat with the local cost of living.
Selection
All three give you plenty of choice for 80% AFUE furnaces and those with an efficiency rating of 90% and higher.
In addition, all offer single stage and two stage units in both efficiency tiers plus variable capacity furnaces.
| | | | | | |
| --- | --- | --- | --- | --- | --- |
| Brand | 80% single stage | 80% two stage | 90% & Up single stage | 90% & Up two stage | 90% & Up variable |
| Trane | 2 | 3 | 3 – 92%, 95%, 96% | 3 – 96% (2), 97% | 1 – 97.3% |
| Carrier | 5 | 2 | 5 – 92%, 95% (2) 96% (2) | 2 – 96.5%, 96.7% | 1 – 98.5% |
| Lennox | 3 | 3 | 4 – 93%, 95%, 96% (2) | 4 – 96% (3), 97.5% | 1 – 99% |
Trane: Five 80% furnaces, six standard 90% and higher furnaces and a 95% AFUE low-NOx furnace for locations like parts of California where emissions are restricted.
Lennox: Six 80% furnaces including two low-emissions model and nine 90% and higher units including two low-emissions furnaces.
Carrier: Seven 80% furnaces, two of which are low-NOx. Eight models with at least 90% efficiency including two 95% AFUE low-NOx furnaces.
Winner: Carrier and Lennox tie with 15 furnaces including 4 low-emissions models. Trane makes 12 furnaces including 2 low-emissions furnaces.
Quality and Dependability
Technicians who work on all furnaces rate Trane as the most reliable of all major brands with Carrier and Lennox right behind. Our top brands from across the industry:
Trane 9 out of 10
Carrier 8.5 out of 10
Lennox 8 out of 10
Bryant 8 out of 10
American Standard 8 out of 10
Rheem/Ruud (identical brands) 8 out of 10
Trane's top position is recognized across the industry.
Following a recent survey of technicians and homeowners by one respected, independent survey organization, their conclusion was, "Only Trane earned Excellent ratings for both predicted reliability and owner satisfaction."
Information tip: American Standard furnaces are identical to Trane. However, Trane is stricter about requiring its installers to be well-trained and experienced. That's likely the reason Trane scores slightly higher than its sister brand American Standard. The quality of installation is a major factor in how well a furnace runs from the minute it is installed.
The same is true of Carrier and Bryant – Carrier ranks a little higher due to more consistency in the quality of the installation.
Trane Quality
The highest quality is found in its most popular single stage and two stage furnaces. Even the least expensive Trane furnaces do well in testing.
The variable capacity: XC95M – like all modulating furnaces, requires an expert touch. Skill is needed in choosing the right size furnace, airflow/blower speed, coil size if supporting AC, flame adjustment and a checklist of other important considerations to tailor it to the specific home's needs. – This furnace is considered reliable because the parts are good quality and Trane only allows technicians to install it who have been trained specifically on the installation and setup of a variable capacity furnace.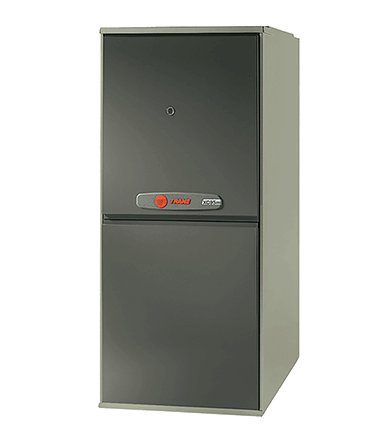 Carrier Quality
There is little drop-off, if any, in Carrier's lineup including the Comfort Series. Most of the same parts are used where applicable in all the models. The Infinity Series "Greenspeed" variable capacity gas valve technology is the oldest in the furnace industry and has an excellent track record of dependability. But these furnaces should still be installed by experienced pros.
Lennox Quality
Signature Series and most Elite Series furnaces are on par with Carrier and Trane – or close to it. The cheaper Elite Series furnaces and the Merit Series show a step down in quality.
Winner: Trane is considered the more reliable brand compared with the others. And both Trane's and Carrier's most affordable furnaces are superior in quality to Lennox's cheaper models.
Efficiency
At one time, Lennox manufactured the most efficient variable capacity, two stage and single stage furnaces in the market.
Lennox still produces the top modulating model – the Signature Series SLP99V that is 99% efficient. And the SL297NV is the most efficient two stage furnace from these brands – and maybe from any brand.
| | | | |
| --- | --- | --- | --- |
| Most Efficient  | Single Stage | Two Stage | Variable Capacity |
| Lennox | 93% | 96% | 99% |
| Carrier | 92.1% | 96% | 98.5% |
| Trane | 92% | 96% | 97.3% |
Overall, the differences are minor and would have little noticeable impact on your energy bills if you were to choose a comparable furnace from either Trane or Carrier.
Winner: Lennox has a slight edge in total efficiency. You also have a larger selection of furnaces at least 95% efficient – 7 furnaces to 6 for Carrier and 5 for Trane.
Features
Furnace features affect either indoor climate control or convenience like WiFi. These brands are quite similar in what they offer, but we can point out a few differences too.
Furnace Performance
Carrier, Trane, and Lennox sell single stage, two stage and variable capacity furnaces.
Carrier makes quite a few more single stage furnaces in both 80% and 90%+ efficiencies. These furnaces run at full capacity whenever heating, and the result can be slight temperature swings. Plus, running at 100% is louder than running on low fire, which can be bothersome if the furnace is located near living space or bedrooms.
Lennox makes the most two stage furnaces, 7 to Trane's 6 and Carrier's 4. These furnaces run on low fire, or about 65%, most of the time. This means they can run quieter and they produce temperatures that are even throughout the home.
Each brand makes a variable capacity furnace. These furnaces have modulating gas valves which precisely adjusts to deliver precision heating for the most even, consistent heating.
Winner: Slight edge to Lennox with its advantage in two stage models.
Variable Speed Blowers
Furnaces with two stage and variable capacity burners are equipped with variable speed blowers to optimize the control of temperature. The blower speed matches the heat output (low/high or variable). When the unit is in Heat mode, the blower starts slowly and then ramps down at the end of the cycle. This reduces cool air coming from the furnace at the start or completion of a heating cycle.
When the system is in AC mode, the compressor and blower run at the slowest speed needed to keep up with the cooling demand. These slower cycles end up being longer, and that's a good thing, since longer cycles produce better dehumidification. Drier air in the summer is more comfortable than humid air.
Winner: Lennox, for the same reason given in the performance category – it makes more models equipped with this technology.
Humidity Control
If you live where high humidity is a plague of discomfort, this might be meaningful information to you.
Variable-speed blowers are one key to lower humidity in AC mode.
There are two other effective technologies. One is to slow down the blower fan speed while the compressor is running, and refrigerant is gathering heat for removal. This produces a longer cycle during which humidity is removed from the air by condensing on the cold refrigerant coil and running into a drain.
The other is to keep the blower running after the AC compressor has shut off. The coil in the furnace remains cold for some time, and moisture continues to condense on it.
Winner: Tie – all three. Trane ComfortLink II, Lennox iComfort and Carrier Infinity thermostats all have humidity sensors and are designed to modulate fan speed for optimal dehumidification. However, these features are available only with furnaces equipped with variable speed blowers.
Communicating Furnaces
Standard thermostats sense indoor temperature and "tell" the HVAC equipment what to do to hit the temperature setting on the thermostat. Communicating thermostats and equipment have a conversation – like synced devices.
One technician sums it up well, saying, "Because the system [thermostat and furnace/heat pump/AC] works a lot like a computer network, there is an ongoing communicating process where the unit sends performance information to the thermostat. This data is then used to refine the performance of that particular HVAC unit and thereby improve efficiency by a large margin."
These thermostats can be used with some two stage furnaces. They are "standard equipment" for variable capacity furnaces if you want to optimize their performance.
We'll just say this and leave it with you – Most HVAC technicians do not believe the potential benefits of communicating equipment are worth the higher cost and the potential for trouble.
Communicating equipment costs for – for the furnace and thermostat. For the money, it improves climate control and efficiency only marginally. As one pro put it recently, "I have not seen any benefit to communicating thermostats. In theory, they are supposed to create greater comfort, but rarely happens."
All communicating systems are proprietary, so working on them can be a headache for techs. Instances of the components failing to communicate are not uncommon, and when this happens, the entire system might not work until the issue is resolved, which is sometimes difficult to do.
OK, if you still consider a communicating, high-end furnace, then here's your winner…
Winner: Trane ComfortLink II systems seem to be the most reliable.
WiFi and Smart Thermostats
All the brands make thermostats with a range of capabilities from simple controls to WiFi thermostats that give you a 5-day weather forecast.
Lennox offers thermostats that work with Alexa, Google Assistant, Apple HomeKit and Control4 and have IFTTT capabilities too.
Carrier's smart thermostats work with Alexa. And the brand sells two "ecobee powered by Carrier" thermostats that work with Alexa, Apple HomeKit, Google Assistant, Samsung SmartThings and IFTTT.
Trane makes a few ComfortLink II thermostats that work with the Nexia system and have a built-in bridge for Z-Wave devices.
Winner: Tie between Carrier and Lennox for the range of smart capabilities.
Warranties
Here's an overview of Trane, Lennox, and Carrier warranties. See the note on registering your warranty below.
Functional Parts
Heat Exchanger
Carrier
10 years on all furnaces
Lifetime on Infinity & 90%+ Performance models

20 years on other models

Trane
10 Years on all furnaces
Lifetime on most models

20 years on budget models

Lennox
10 Years on top furnaces

5 years on other furnaces

Lifetime on Signature Series & some Elite Series

20 years on all others
Trane
Parts: All furnaces are covered by a 10-year general parts warranty.
Heat exchanger: Most Trane furnaces have lifetime heat exchanger warranties.
The heat exchanger warranty is 20 years on a handful of the base models like the S8X2 and S8X1. We say "handful" because the currently published Trane furnace warranty needs updating to reflect changes in the product lineup – some models listed are no longer made while others in production are not listed.
Labor: Labor is covered for 1 or 2 years on some models – again, Trane's warranty needs updating to reflect current models.
Lennox
Parts: The Signature Series parts warranty is 10 years. It is 5 years on the Elite and Merit Series.
Heat exchanger: Lifetime on the Signature Series and the better Elite Series furnaces. The heat exchanger warranty on the other Elite and all Merit furnaces is 20 years.
Labor: None. Your installer might offer their own short labor warranty – but not from the manufacturer.
Carrier
Parts: 10 years on all Carrier furnaces.
Heat exchanger: All Infinity furnaces and high-efficiency Performance furnaces (90% AFUE and higher) are backed by lifetime heat exchanger warranties. The 80% Performance furnaces and all Comfort furnaces have a 20-year heat exchanger warranty.
Labor: None. Ask potential installers if they offer one – they should, even if it is 90 days to ensure the furnace isn't a "lemon" and was properly installed.
Loser: Lennox. Instead of a Winner here, it makes more sense to choose a loser, since Lennox's parts warranty on its mid-level and base level models is as poor as any. Even Goodman's warranties are superior, for example.
A 5-year parts warranty indicates that the manufacturer isn't confident in its product. Yes, some of it is a choice to limit the risk of future cost, so they can sell the furnaces for less money. But if it is just a cost measure rather than a decision based on quality, then it's bad marketing. It makes Lennox look inferior; don't you think?
Register your Warranty!
All brands cut your warranty length if you fail to promptly register your warranty. It's 90 days for Carrier and 60 days for Lennox and Trane.
Failure to register it means you'll get the "base" warranty, as Trane and Lennox call it. Carrier calls it the "otherwise" warranty 🙂
The Carrier parts warranty is 10 years "If properly registered within 90 days of original installation, otherwise 5 years."
This scheme isn't legal in California – failure to register the warranty doesn't shorten it. You can register a warranty online or by mail. In some cases, the installer will handle it for you – but just make sure it gets done. It takes 5 minutes.
Pros and Cons – And the Winner
Here are a few thoughts on the pros and cons of each brand that summarize our findings.
Trane
Trane is our overall top choice for these "pros":
Proven track record of quality installation and mechanical reliability, the category that outweighs the others
Industry-average warranty protection
Good-enough selection across all efficiency and performance levels from basic models to those with all the bells and whistles
Trane cons are:
Higher cost in some areas of the country – as much as 15% above comparable Carrier and Lennox models.
Smart home options are poor – no Alexa, etc.
Issues with the Trane S9V2-VS furnace, which was introduced in 2017. The bugs haven't been worked out, apparently, even after 5 years. Trane calls the S9V2-VS furnaces its "Quietest" model.
But read the reviews on the Trane site, and you'll see that homeowners who have installed it do not agree. To quote one reviewer who speaks for many, the furnace is "SOOOOOOOOOOOOOOOOOOOO LOUD." So, steer clear of that one.
Carrier
We wouldn't hesitate to recommend Carrier. It has these pros:
Consistently good quality throughout the lineup – part of a small group of brands right behind Trane
Carrier provides perhaps the best training for its Authorized Dealers, so you can be confident of proper installation
Excellent selection of furnaces at all prices, efficiency levels and performance (single stage, two stage, variable capacity)
The warranty coverage is good – same as Trane's
Carrier cons are:
A slightly worse – really, we should say a "not quite as good" – record of mechanical reliability compared to Trane
That's really about all. Trane could be #1 and Carrier #1A.
Here's a fun fact: Payne gets the same top reliability rating as Trane, and Payne furnaces are made by Carrier – same parts, same assembly line as Carrier. The difference between the brands is that Payne sells a limited range of furnaces – just 7 of the most popular and reliable single stage and two stage models. That accounts for the slightly better reliability and consumer satisfaction ratings than Carrier.
Lennox
Lennox's best models rate just as high as the best from Trane and Carrier. They offer these pros:
Good quality and reliability
Best-in-class efficiency
Signature Series and some Elite Series warranties on par with the other brands
Well-trained, certified Lennox installers
The best selection among the three, especially in high efficiency furnaces
Good smart home options
Beware of Lennox cons:
Lower quality and shorter warranties in some Elite Series and all Merit Series furnaces
Potentially slower repair times due to parts shortages, which have been a Lennox issue "forever" because the brand uses a higher percentage of Lennox-made rather than universal replacement parts
Bottom Line
The battle for the top spot is Trane vs Carrier with Lennox a step behind.
Choose a brand you've had good success with – or an installer that has served you well in the past. This is true even for Lennox, especially if you plan to buy a mid-tier or premium furnace.
If you're new to the brands, then we recommend that you start by getting estimates from local Trane and Carrier dealers. Ask all the questions you have and get pricing you can compare head-to-head.
Before hiring a furnace company, check its reviews on Google, Yelp, the BBB – wherever you can find them. A bad review or two is common – but is a response from the company given? Did they do what they could to make the situation right? That's important.
You've done the brand research. And after you've done your due diligence on potential installers, you'll be in position to choose a quality furnace and have it installed by a competent technician. That's the best route to getting a furnace you will be happy with for the next 20 years.