This buying guide starts with a list of the best heat pumps updated for 2023 – these are air source, split system heat pumps rather than ductless mini split heat pumps.
Our price list followed by full product reviews gives you, the homeowner, the details you need to make an informed buying decision.
The guide concludes with an explanation of the differences between heat pumps and air conditioners, followed by a brief FAQ section.
The Best Air Source Heat Pumps
Trane XV18
Carrier Infinity 24
Lennox XP25
Carrier Infinity 18VS
Payne 16 PH16NA
Coleman HC19
Trane XL18i
Coleman CH6
Heil Ion 16
Armstrong Air 4SHP16LE
Where are Bryant, American Standard? Goodman?
Well, Bryant and Carrier are identical brands, so where you see Carrier, think Bryant too. And ditto for Trane and American Standard. The models from the identical brands are identified in the full reviews below.
Goodman? The brand has a huge market share. And it offers decent quality – about middle of the pack overall – with warranties that are above-average.
But what concerns us, and should concern homeowners, is the installation of Goodman equipment. "Anyone" with an HVAC and refrigerant license can install a Goodman.
There isn't the same quality control as you get with the top brands on this list. And hiring an inexperienced or poor-quality contractor can lead to choosing the wrong size equipment and faulty installation. If done right – great. But the results, if mistakes are made, are poor efficiency, performance, and reliability.
Comparison of Complete Installation Costs
These are installed prices. Unit size for most is 2 tons to 5 tons; the equivalent in BTUs is 24,000 to 60,000. A few of the models are available in a 1.5-ton, 18,000 BTU size.
The full package: These heat pumps are sold in a package that includes the equipment and installation labor.
Equipment includes the condensing unit, or outdoor unit, indoor coil installed in an air handler (typical) or furnace (dual fuel), refrigerant and all installation supplies. A pad for the condensing unit is an option.
Here is the heat pump price list. We've broken it down by the heat pump-only, if that's all you're replacing, and the Full System if you're buying the heat pump and an air handler.
| | | | |
| --- | --- | --- | --- |
| Model | Heat Pump Only | Full System | Performance |
| Trane XV18 | $7,500 – $12,500 | $13,500 – $18,250 | Variable |
| Carrier Infinity 24 | $7,900 – $12,750 | $13,750 – $18,500 | Variable |
| Lennox XP25 | $7,950 – $13,500 | $13,900 – $18,900 | Variable |
| Carrier Infinity 18VS | $7,000 – $11,950 | $12,950 – $17,500 | 5-stage |
| Payne 16 | $5,900 – $10,750 | $11,850 – $16,750 | 2-stage |
| Coleman HC19 | $6,150 – $11,500 | $12,400 – $17,550 | 2-stage |
| Trane LX18i | $6,500 – $11,750 | $12,400 – $17,500 | 2-stage |
| Coleman CH6 | $5,700 – $10,500 | $11,550 – $16,500 | 1-stage |
| Heil Ion 16 | $5,850 – $11,000 | $11,700 – $17,000 | 1-stage |
| Armstrong Air 4SHP16LE | $6,100 – $11,500 | $11,800 – $17,250 | 1-stage |
Average Cost To Install a Heat Pump?
Typical Range:
$6,430 - $12,470
Sticker Shock!!!
Those prices are high, a lot higher than you can find in many "heat pump cost" articles online.
Why? Because they are accurate for 2023.
Prices of all leading brands are way up, and you probably aren't surprised as you watch the cost of everything else rise.
Back in 2021 and into 2022, all the major manufacturers announced price increases in the neighborhood of 12% to 17%.
Local dealers facing their own rising costs for labor and transportation bump up the price even more in many cases, so they can continue to be profitable.
So yes, homeowners are paying 20% to 35% higher prices now than pre-pandemic.
Itemized Cost – Equipment plus Installation
Buying one of the best heat pumps and having it installed by a pro is a major investment. Here is where the money goes when you choose one of the models on this list in 1.5-ton to 5.0-ton sizes.
Condensing unit: $3,100 to $7,800
Indoor coil, refrigerant line set, refrigerant charge: $1,250 – $2,000
Air handler: $1,000 – $3,900 (cost factors are quality, blower type and airflow cubic feet per minute/CFM)
Installation labor: $1,650 – $2,800 for just a heat pump and $4,000 to $5,500 for a complete system
Ductwork: Not included
10 Best Central Heat Pumps – Full Reviews
This isn't a list of the highest SEER heat pumps or those with the most advanced climate control features. Yes – some of them fit those criteria.
But not everyone needs a 20+ SEER or variable capacity heat pump.
These are the best heat pumps in three performance tiers: Variable capacity, multiple stage and single stage.
This approach gives you options:
Variable capacity – Highly efficient and very expensive, they are ideal for very hot climates and those where humidity is a major problem. The first 3 on the list are variable capacity, aka variable speed or modulating heat pumps.
2 stage – The "perfect" middle ground of climate control and efficiency without the big price tag. These are favored in warm-to-hot/humid climates. The middle 4 on the list are two-stage heat pumps, except the five-stage Carrier Infinity 18VS heat pump.
Single stage – Most affordable, but generally not as efficient or effective in balancing temperature and removing humidity. They're a good choice for moderately warm to cooler regions and part-time or supplemental use. The last 3 are single stage aka 1-stage heat pumps.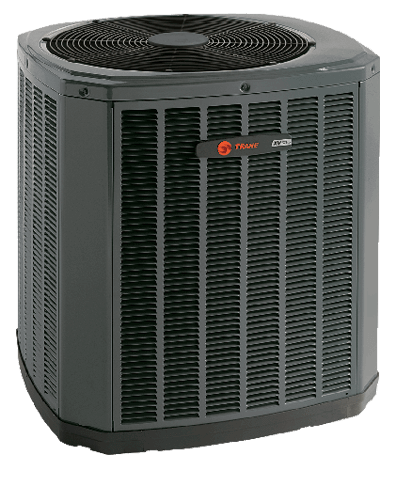 While this is a variable capacity Trane heat pump, it isn't the most efficient Trane heat pump. But it is the best, with high marks for reliability and comfort control.
The AC version of this model tops our 2023 Best Central Air Conditioner list.
Why it Makes the List
Trane in general ranks at the top in most independent tests and surveys from reputable organizations like Consumer Reports. The ranking is due to models like this one.
Pros and cons: For the higher-than-average cost of a premium Trane system, you get proven quality and a lower risk of mechanical failure during a summer heat wave or winter cold snap. This is the basic pro/con choice for all the units on this list. And this unit is very efficient, though 5 to 10 SEER below the most efficient heat pumps.
Efficiency: 18 SEER; 10 HSPF
Performance: Variable speed. The compressor adjusts in .1% increments between 25% and 100% capacity, so Trane likes to say it has 750 stages. And the system uses communicating technology. The ComfortLink II thermostat sends and receives data from the condensing unit and air handler to produce precision heating and cooling with little change in temperature. Humidity control in AC mode is excellent.
This heat pump can be paired with an air handler, which is most typical, or a compatible Trane gas furnace to create a dual fuel system. It is manufactured in units of 2, 3, 4 and 5 tons.
Warranty: 10 years on parts; 2 years for labor.
Identical Models: American Standard AccuComfort Platinum 18. American Standard has the same high reliability and customer satisfaction ratings as Trane because both require their brand to be installed by well-trained and experienced technicians.
This is Lennox's second-most efficient heat pump, but it ranks #1 from the brand in quality and reliability. The more efficient unit, the SL25XPV was only introduced in 2021, so we'll wait to see how reliable it is.
The full name of this heat pump is the Dave Lennox Signature Series XP 25.
Why It Makes the List
In the last 5-7 years, Lennox has improved quality and parts distribution, so homeowners are happier to own a Lennox heat pump than surveys showed a decade ago.
Pros and cons: This heat pump is extremely efficient. It reduces energy costs in most homes by 30% to more than 50% when replacing old equipment. Keep in mind, though, that Lennox seems to have parts shortages and higher repair costs because they use proprietary parts instead of universal parts for many repairs.
If the system goes down, you might have to wait a few days to a week for repairs compared with immediate repairs or the delay of a day or two for Carrier, Trane, Goodman, and most other brands.
Efficiency: 23.5 SEER; 10.2.
Performance: Variable speed. The compressor modulates in 1% increments between 35% and 100% capacity.
Warranty: 10 years on all parts. No labor coverage.
Identical Models: None. While Carrier owns Ducane and Armstrong Air and AirEase brands, the equipment is not identical.
This unit is also called the Carrier 25VNA4 Infinity 24 with Greenspeed Intelligence.
Why it Makes the List
Carrier heads the list of brands just a short step behind Trane and American Standard in reliability.
Carrier's Greenspeed Intelligence variable capacity technology was the first to be introduced in a central split system AC. It has proven its worth and dependability since the early 2000s.
Pros and cons: This is a reliable and very efficient unit that should give you outstanding durability if you keep it maintained. But here's a buying tip. Carrier makes a bunch of brands similar in quality through its subsidiary International Comfort Products – Heil, Tempstar, Day & Night, etc. See the Heil unit below for the full list.
While giving you almost the same high quality, ICP brands cost 25% less, on average. So, get estimates from Carrier and one or more of the ICP brands to compare costs. And pay equal attention to the track record of the installer.
Efficiency: 24 SEER and 13.0 HSPF. This is the most efficient heat pump on this list.
Performance: Variable capacity from 25% to 100%. In addition to precise climate control, the compressor is the quietest when running at the lowest speeds – as low as 51 decibels.
Warranty: 10 years on all parts plus a 10-year unit replacement warranty on the compressor. If the part fails while under warranty, Carrier will replace the entire condensing unit. That coverage is unique to this list.
Identical Models: Bryant 284ANV Evolution Extreme 24
Payne is a Carrier brand with only slight differences in parts and technology. But the cost is lower than comparable Carrier heat pumps by up to 30%.
Why it Makes the List
Carrier-level quality at a lower cost is available with Payne equipment.
This is a reliable two stage heat pump with very good efficiency for warm climates.
Pros and cons: Here's another buying tip. The Payne brand offers a limited number of models – but the heat pumps they do offer are identical to Carrier models. You get Carrier quality for at least 25% less.
So, why not choose Payne over Carrier? The concern is that Payne doesn't have the same high standards for who installs its heat pumps, and the quality of the installation process is hugely important to the functioning of the system.
If you choose Payne to save money, that can be a cost-effective choice as long as you hire an experienced installer with a record of quality installation.
Efficiency: 17 SEER; 9.5 HSPF
Performance: The two-stage compressor runs on the low setting most of the time to produce quieter, longer heating and cooling cycles. The result is better control of temperature and humidity.
Warranty: 10-year parts warranty
Identical Models: The Carrier 25HCB6 Performance 16 and Bryant Evolution 286B are nearly identical models.
This heat pump has a 5-stage compressor, a feature which is unique to the heat pump market.
Why it Makes the List
Quality, dependability, and performance – the criteria used to put this list together.
Yes, it means that there is a lot of Carrier equipment here when the Payne model and ICP brands are included. But the purpose of this page is to bring you the best 2023 heat pumps, and this unit belongs on the list.
Pros and cons: To summarize what is said above, when you choose Carrier over Payne or ICP brands, you pay more but get better assurance that the installation will be done correctly, and the quality of the install is just as important as the equipment you choose.
Efficiency: 19 SEER and 11.0 HSPF
Performance: 5 stages or speeds from 25% to 100%. The five stages are 25/40/60/80/100%.
Warranty: 10 years on all parts. There is no unit replacement warranty as there is with the Carrier model higher on the list.
Identical Models: Bryant Evolution 288BNV
Coleman is a Johnson Controls brand and identical to Luxaire and York.
For almost a decade, the Johnson Controls brands were plagued with leaky coils that made them unreliable and expensive to fix.
However, the issues were resolved, and Coleman and the identical brands have made an impressive comeback in terms of quality and dependability.
Why it Makes the List
Much-improved quality along with the best compressor warranty of any unit on this list.
Coleman has a feature it calls EcoTrak that allows the installing technician to choose settings specifically designed for your climate –temperature range and humidity levels. The settings control blower speed and airflow which impacts dehumidification during AC cycles.
Every heat pump system can be adjusted to some degree. Coleman makes it simple to better ensure that the settings are customized for where you live.
Pros and cons: The short-term data shows that the quality of Johnson Controls brands has improved. But the real test of quality is how well it works over 10 to 20 years, and that information won't be available for some time.
Efficiency: 19 SEER; 10.0 HSPF
Performance: 2-stage heating and cooling from a reliable scroll compressor.
Warranty: Lifetime compressor warranty; 10 years on all other parts plus a 90-day labor warranty. The compressor warranty is impressive. The manufacturer's 90-day labor warranty is pretty meaningless. Your installer should give you a labor warranty of at least that long.
Identical Models: Luxaire HL19 and York YZT 19
Like Carrier, Trane offers the quality throughout the heat pump lineup that deserves more than one model on this list.
Why it Makes the List
The Trane Climatuff compressor in this unit is one of the most reliable in the industry. And since the compressor is the "heart" of the outdoor unit and the most expensive part, quality matters there as much as anywhere.
The unit gets excellent ratings from verified users.
Pros and cons: The factors are simple with this Trane heat pump. You get premium quality at a higher cost. If that bargain is worth it to you, then the Trane XL18i might be your brand.
Efficiency: 18 SEER and 9.5 HSPF.
Performance: This is a two-stage heat pump.
Warranty: 10 years on all parts with a 2-year labor warranty.
Identical Models: None. American Standard does not offer this model under its brand.
Coleman makes this heat pump in 1.5-to-5.0-ton sizes, so an experienced HVAC technician doing a load calculation should be able to select a size that is "just right" for the heating and air conditioning requirements of your home.
Why it Makes the List
This is a quality single stage heat pump that delivers good efficiency and reliability. As noted earlier, Johnson Controls' new coils are a definite upgrade from earlier versions that were prone to leaking.
Pros and cons: The coil in this unit is a newer design, and the Coleman CH6 gets good reviews from homeowners. So far, so good. But the real test is how reliable are these heat pumps over 10, 15 or more years? We won't know for 5+ years.
Efficiency: 16 SEER and 9.5 HSPF
Performance: Single-stage heating and cooling. The unit, like all single stage models, runs at full capacity when on, so you might notice slight temperature changes or imbalances in your home.
Warranty: 10 years on all parts.
Identical Models: York YHG 16 and Luxaire THG.
The Ion Series is Heil's premium set of heat pumps. This is the best single stage heat pump Heil offers, and it is backed with a very good warranty.
Why it Makes the List
Heil and several identical brands are part of International Comfort Products (ICP), a company owned by Carrier that uses many of the same quality parts as those found in Carrier equipment.
This unit is manufactured in seven sizes from 1.5 to 5.0 tons.
Pros and cons: This product offers a near-Carrier quality at a lower cost. That's a good value. But make sure the installer is experienced and has good reviews to demonstrate they do the job right. The point is that the ICP brands don't require the same level of experience for their installers. And that is the biggest factor in why they can offer lower prices.
Efficiency: 16 SEER and 9.0 HSPF.
Performance: One stage of heating and AC.
Warranty: 10-year parts warranty and a 5-year No Hassle replacement warranty. If the compressor or coil fails in the first five years, Heil will replace the whole condensing unit, not just the failed part.
Identical Models: The other ICP brands are Tempstar, Day & Night, Arcoaire, Comfortmaker and Keeprite. Each has a unit identical to this one.
Armstrong Air is part of Allied Air, which is a Lennox company. However, the models are not identical to Lennox heat pumps.
Why it Makes the List
Armstrong Air probably deserves a higher place on this list, but there's only so many spots. The brand is noted for good quality and customer satisfaction with its reliability.
Pros and cons: Armstrong Air delivers above-average quality for lower cost than Trane, Carrier, and Lennox. If you want to save money on good equipment, even if it isn't premium, then this is a unit to put on your short list.
Efficiency: 16 SEER and 9.5 HSPF
Performance: Single stage heating and air conditioning
Warranty: 10 years on all parts.
Identical Models: AirEase 4SHP16LE
FAQ
Heat Pump vs Central AC – What is the Difference?
Often brands make an AC version and a heat pump version. The Trane XV18 was noted above as an example.
What's the difference? Starting with cost, heat pumps cost $600 to $1,000 more based on the specific models you're comparing.
In terms of what they do, central air conditioners and heat pumps are very much alike with one difference.
They both collect heat using refrigerant, pump it somewhere else, and release it.
Here's the difference: For an AC, it is a one-way street. It is a two-way street for heat pumps. Here is the explanation.
Air Conditioners: ACs collect heat inside your home. Here's how. Refrigerant running through the indoor coil captures heat from the air the blower fan circulates over it. The refrigerant carries it outside, and it is released through the outdoor coil, which looks like a radiator. Less heat inside means cooler air.
Heat pumps: They are air conditioners too. They do exactly what is described above when cooling your home in warm weather. However, they are equipped with a reversing valve and other parts that allow them to do the opposite too.
In cold weather, the refrigerant captures heat outdoors, carries it to the indoor coil – which also has radiator-style fins – and releases it into the air the blower is circulating through your ductwork.
The physics are amazing and allow huge amounts of heat to be transferred using only enough electricity to energize the system. That's why heat pumps are much more energy efficient for heating than gas furnaces.
Which Lasts Longer?
Let's use the top model on our list – which is also the best central AC on the market.
The Trane XV18 AC will probably last longer than the Trane XV18 heat pump. They are identical except for those parts that allow the heat pump to reverse function.
The simple reason is the workload. The heat pump does double-duty, so it works anywhere from 5 to 10 or 11 months depending on your climate compared with 2 to 7 or 8 for the AC.
Based on climate and the quality of the system:
Central heat pump longevity: 12-20
Central air conditioner longevity: 15-25 years
Expect the heat pumps on this list to last 15-20 years and possibly longer with regular maintenance and occasional minor repairs.
Heat pump vs furnace? When does a heat pump make sense?
Each has advantages. A furnace produces 100% of its heating capacity regardless of the temperature outside.
Most standard split system heat pumps start losing effectiveness when outside temperature drops into the 30s and below because they must collect heat outside. And the supplemental electric heat strips in heat pump air handlers are like space heaters – expensive to operate.
However, when a heat pump functions at full capacity without using the heat strips, it is a more energy efficient heating choice. Your savings by using a heat pump are subject to the varying costs for electricity (heat pump) and natural gas (furnace) in different states.
How does a heat pump heat?
With the "miracle" of refrigerant. The system's compressor circulates refrigerant through a set of lines connecting an outdoor coil in the condensing unit and an indoor coil in the air handler.
When heating, the refrigerant passes through the outdoor coil where it collects heat. The heated refrigerant is pumped through the indoor coil, and its heat is released through the coil's radiator-like fins. The blower fan circulates air over the coil to heat the air and distribute it throughout the home.
When in AC mode, the physics are opposite. The refrigerant collects heat indoors and releases it outside.
Standard heat pump or mini split heat pump?
If you have ductwork, then a standard heat pump will cost less to install, especially when you have multiple rooms or zones.
A mini split ductless system is a good choice for new construction or to supply supplemental heating and AC to rooms not effectively served by existing equipment.
Mini split heat pumps range in efficiency from 17 SEER to 42 SEER while standard heat pumps come in models from 13 to 28 SEER.
How much does a heat pump cost?
A cheap brand like Goodman can be installed starting at about $5,000. The best heat pumps cost from about $6,000 to $12,500 based on the size, efficiency, and heating/AC stages of the unit.
Average Cost To Install a Heat Pump?
Typical Range:
$6,430 - $12,470