Ribbed metal roofing is in the same family as corrugated metal roofing. It is made in a similar fashion (at a metal mill), attached to the roof in the same way, and installation costs are about the same.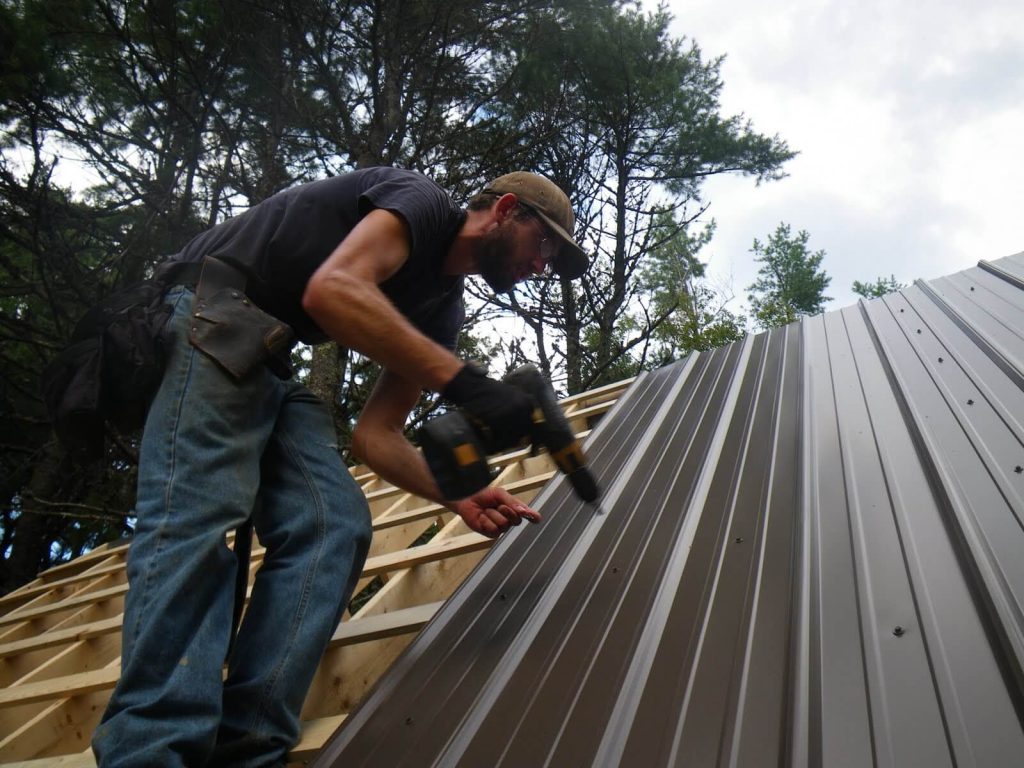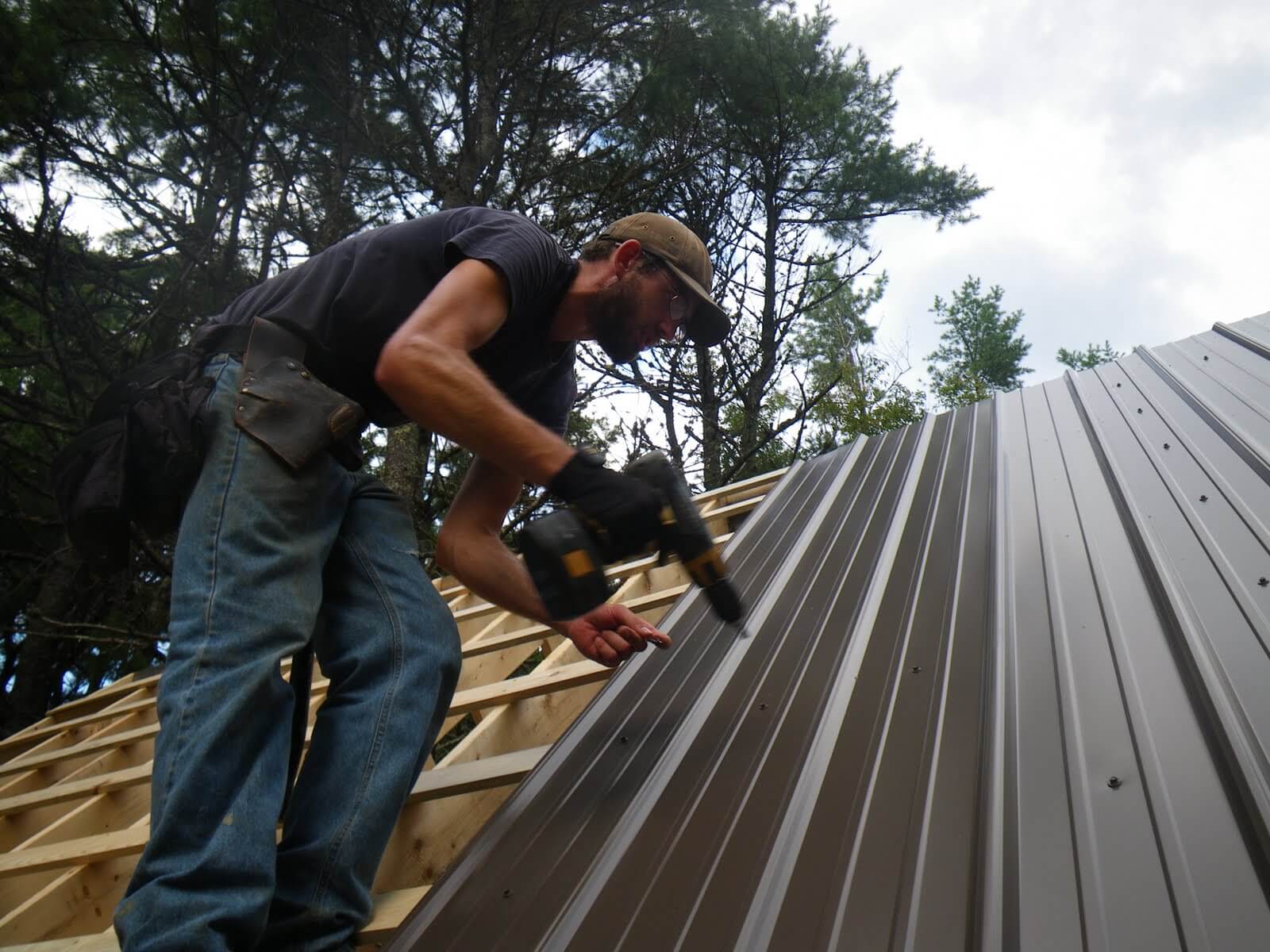 The key difference is in the appearance. Ribbed and 5V crimp metal panels roof can often be mistaken for standing seam, which is in the upper echelon of residential and architectural metal roofing options.
Cost
Based on the price of materials alone, ribbed "R" metal paneling is certainly in the same ballpark as Corrugated metal paneling.
The pricing does depend a bit on who you are purchasing the materials from, but a price range of $1.50 to $3.50 per square foot is what you'll routinely find when buying materials from roofing and building materials suppliers. — This assumes you are going with a coated steel (i.e., G-60 or G-90 galvanized steel, or Galvalume), stainless steel or aluminum product.
Note: For residential re-roofing projects, it best to set the minimum material quality bar at the G-90 galvanized steel or better to get the most value from a corrugated or ribbed metal roof.
It may also be a wise choice to only go with metal panels that have a Kynar 500 Paint Finish or better, rather than opting for less durable less-costly options like metal panels with Polyester paint finish that will require repainting sooner than most homeowners would expect from a quality metal roof.
On top of the cost of materials, you will also need to add a minimum of $2.50 to $4.50 per sq. ft. for professional and warrantied installation. Combined with the cost of materials, you'll get a base rate of $5.50 to $8.50 per sq. ft. of ribbed or corrugated metal paneling installed.
Note: For more complex re-roofing projects, installation costs can be significantly higher than $3.00 per sq. ft.
The total average cost of the project, though, should not exceed the $7.50-$9.50 per sq. ft. installed range, which means the cost of the warrantied professional labor could go as high as $4.00 to $6.00 per sq. ft., in some rare cases.
Asphalt Shingles

$8,500

Average Cost

Metal Roof

$15,500

Average Cost

Flat Roof Membrane

$11,500

Average Cost

See what local pros charge Enter your zip code
Why would the installation costs ever be that much higher? Well, project location is a part of it, along with the roof complexity of your roof, slope or pitch of the roof, and the amount of custom metal flashing required for the job.
If your existing roof is to be torn off and disposed of, that could be a separate line-item cost. Same goes for the possible repairs to the roof. The good news is that ribbed metal roofing can be installed over the existing roof.
For an average sized roof (say 1,600 sq. ft.) on a small house (with 1.5 stories/levels like a split-level house), the total installation cost is likely to fall within the $8,800 to $10,500 range.
A very large roof, say 3,000 sq. ft. would then be double, right? Not necessarily. If it is a non-complex roof, it could be significantly less than double, as the more product you order and the more work being provided to the contractor, the less of an overall charge per sq. ft. the project could result in.
ROI: With all metal roofing, the return (value to cost) on your investment will be excellent. It starts at around 70% and can go up to 86%, and again, depending on your location, may be even higher.
This means that if you were to spend say $10,000 for a ribbed metal roof and sell your home while the roof is still in great condition, you can plan to recoup $8,600 of that value just from this part of your home.
Residential homes along the east coast of the U.S. tend to fetch better than 70%-86% ROI (cost to value return) when the house is sold.
Ribbed Metal Panel Options (R and 5V-Crimp Panels)
With corrugated metal panels, the discernible characteristic is the wavy U-shaped curve. With ribbed or "R" paneling, there is lots of variation that can occur between the upper curves (or ribs).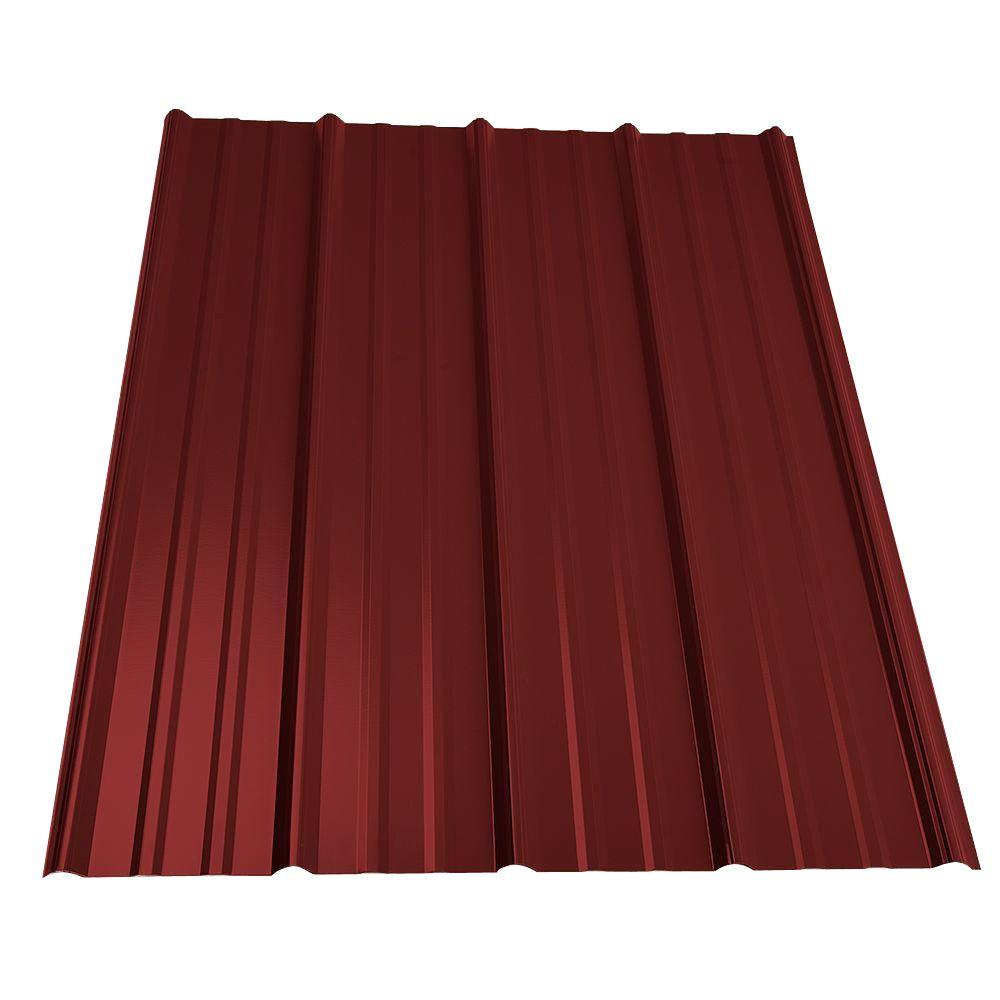 Generally, each panel is 36 inches wide, sometimes less. On each end will be a rib or raised point which is intended to overlap with another panel. Those are fastened together with metal screws which are then inserted into your roof deck and held tightly against your roof.
Between the two ribs (on either side) will be some consistent pattern, that will look like your roof is made of long vertical panels from the ridge to the eaves.
Essentially, there are 2 primary types: R-panels and 5V-Crimp panels. The 5V-Crimp, a popular choice for the cost-conscious homeowner, very much resemble standing seam panels, with the key difference between that the fasteners, for 5V-Crimp, being exposed; whereas for standing seam, they are hidden.
The R-panel can have lots of variation. The names can be a tad confusing at first, but if thinking of the side profile of how these panels appear, it makes it easier to understand the naming.
The outer rib, along the edge, would be the upper part of an "R," then the panel is flat, until a ridge appears, resembling the bottom part of an "R."
The 5V-Crimp, viewed from the side has, you guessed it, 5 "V" shaped ridges to each panel. With R-panels, there's a whole bunch of creativity on the market for how ripples are spaced and how ridges are shaped.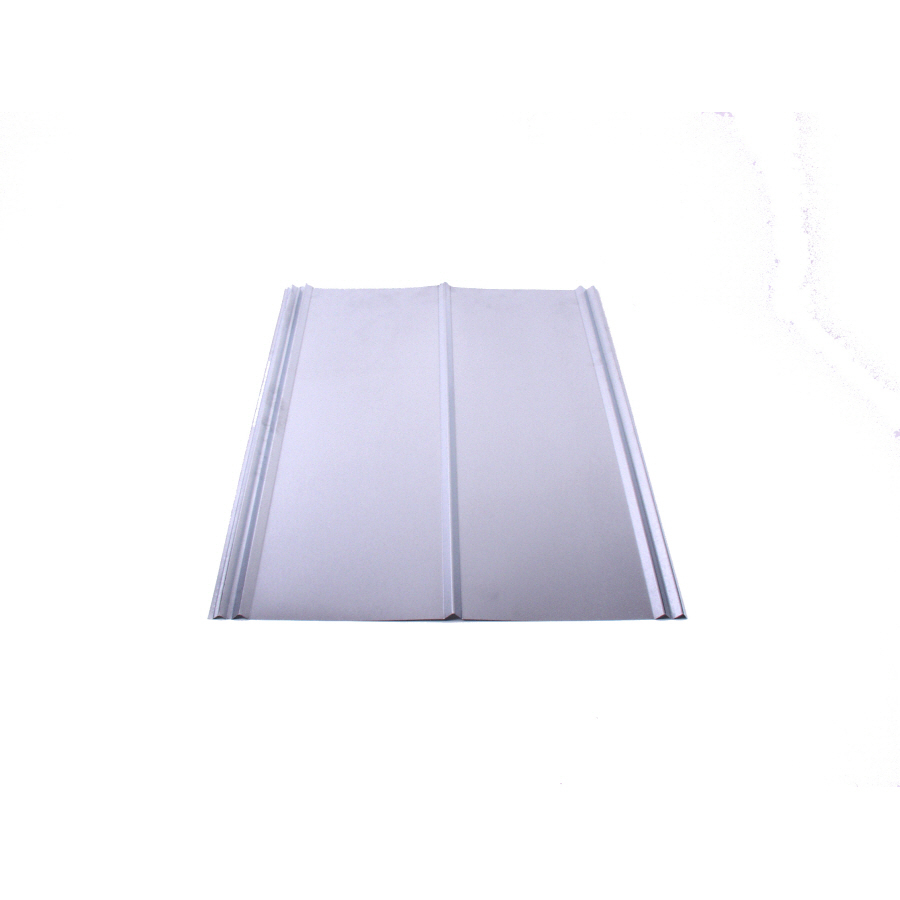 Did you know? There are even some Ribbed panel types that don't fit so neatly into the R-panel category, such as PBU panels.
You'll find a few examples of somewhat wavy metal panels where fasteners are hidden or concealed, such as the CFS panels from Mueller Inc. The fasteners are concealed by a locking mechanism, similar to standing seam.
Panel length can range from 3 to 42 feet (maybe longer). Home Depot sells R-panels that are 16 feet and under in length. They have about 10 colors available. Which brings us to another consideration. Are there only 10 colors available for this product? Nope, and not even close.
The metal roofing manufacturer, Fabral, which is what Home Depot and Lowe's carry for their ribbed metal panels, lists 20 color options on their site. And they certainly aren't the only producer of Ribbed metal paneling.
The reality is color options are not limited and each brand will offer slightly different color hues, while most of them likely offer ability to customize to order any possibly color. Though that will cost more than what they mass produce for the residential market.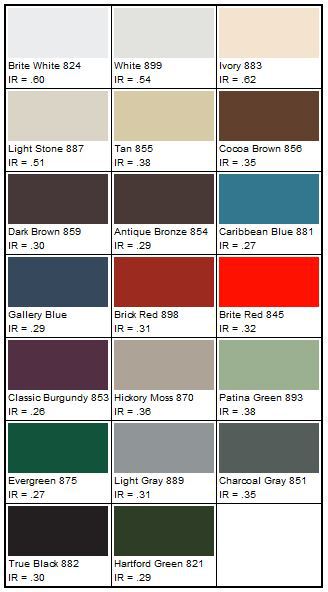 Gauge would be another option to consider. You'll mostly find 29 or 26 gauge for Ribbed metal roofing. We found at least one seller, MetalDeck.com, that offers 22 and 24 gauge in addition to the 2 standard thicknesses. And remember, the smaller the steel gauge number, the thicker and more durable the material/panels are.
Estimated New Roof Costs (2,000 sq.ft.)
Asphalt
Metal
Flat

$8,500
$15,500
$11,500

See what local pros charge
Advantages
Inexpensive when compared to other metal roofing, or on par with Corrugated metal
Much Variation in Ribbed Roofing styles – Can Resemble Standing Seam
Unlimited variation in color, though 10 to 40 options are widely available
As a metal product, it is fire resistant, mold and insect resistant
Great ROI
Eco-friendly – material is recyclable, and does offer cool roof benefit
Disadvantages
Fasteners are generally exposed, with means maintenance / repair every decade or so
As caulking is likely used to seal any gaps between panels, that is additional maintenance concern
Metal can dent or be scratched, which is another item of concern or reason to inspect the roof no more than every 5 years
Need a Pro?
Check out Prices from Local Roofers: