The color of your metal roof should be something you like, a match for the home's architecture and a good fit for the neighborhood or surrounding area. Local climate also plays an important role in choosing the right color for a metal roof.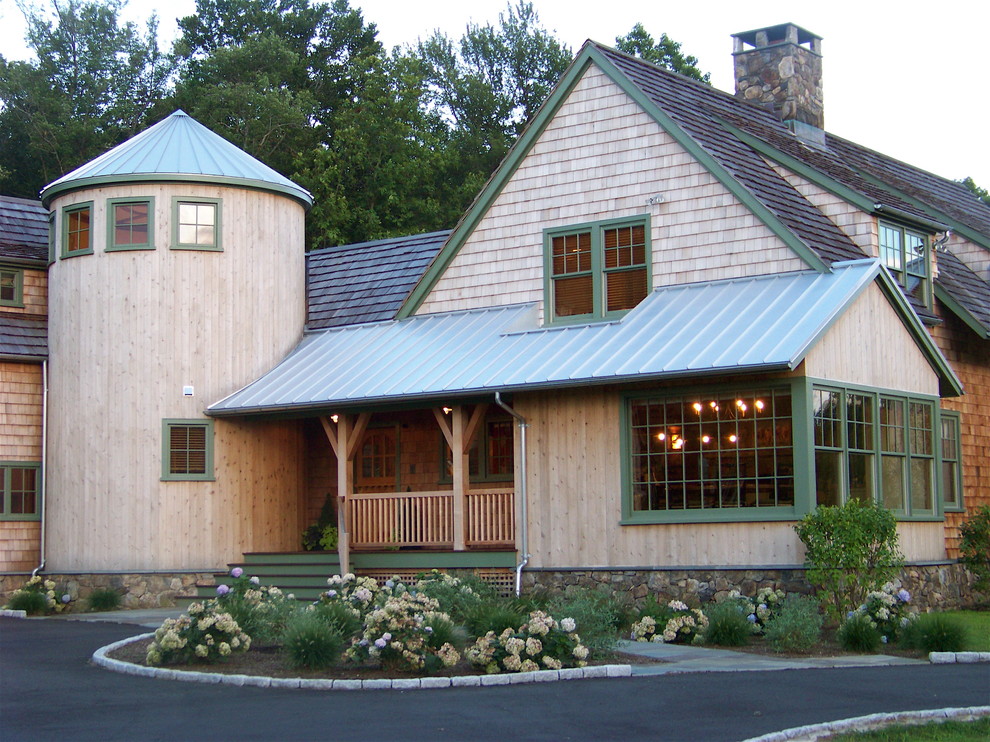 Let's take a closer look at the aesthetics and weather factors that guide the process of how to select the right color for a metal roof. Your options might get narrower as we walk through the choice factors, and that will make your decision easier.
Choose a Color you Like
Sure, this goes without saying, but it is worth exploring your color options. You will likely be surprised at how many different hues are available, from black to white to copper and slate tones, once you start browsing the colors available for architectural metal roofs like standing seam, metal shingles, shakes, and tiles.
Today's quality metal roof finishes like Kynar 500/Hylar 5000 resin-based coatings for architectural metal roofs can last for decades (30 year warranties are typical for Kynar 500 PVDF and FSF resin-based coatings) before re-coating is required, so take your time in selecting the right color – you're going to have to live with it for quite a while!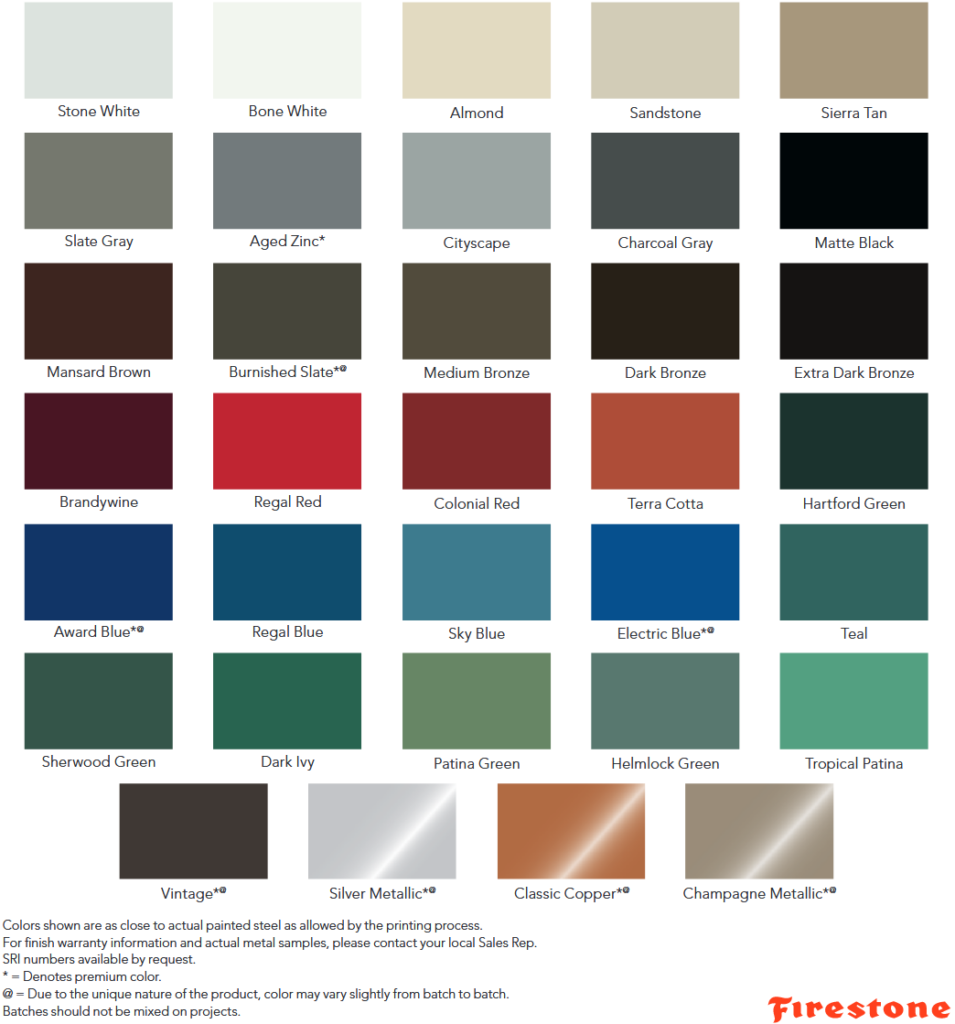 In addition to the common color spectrum, you'll also find that metallic colors are available that closely resemble polished copper, copper with a patina, bronze, oiled bronze and more.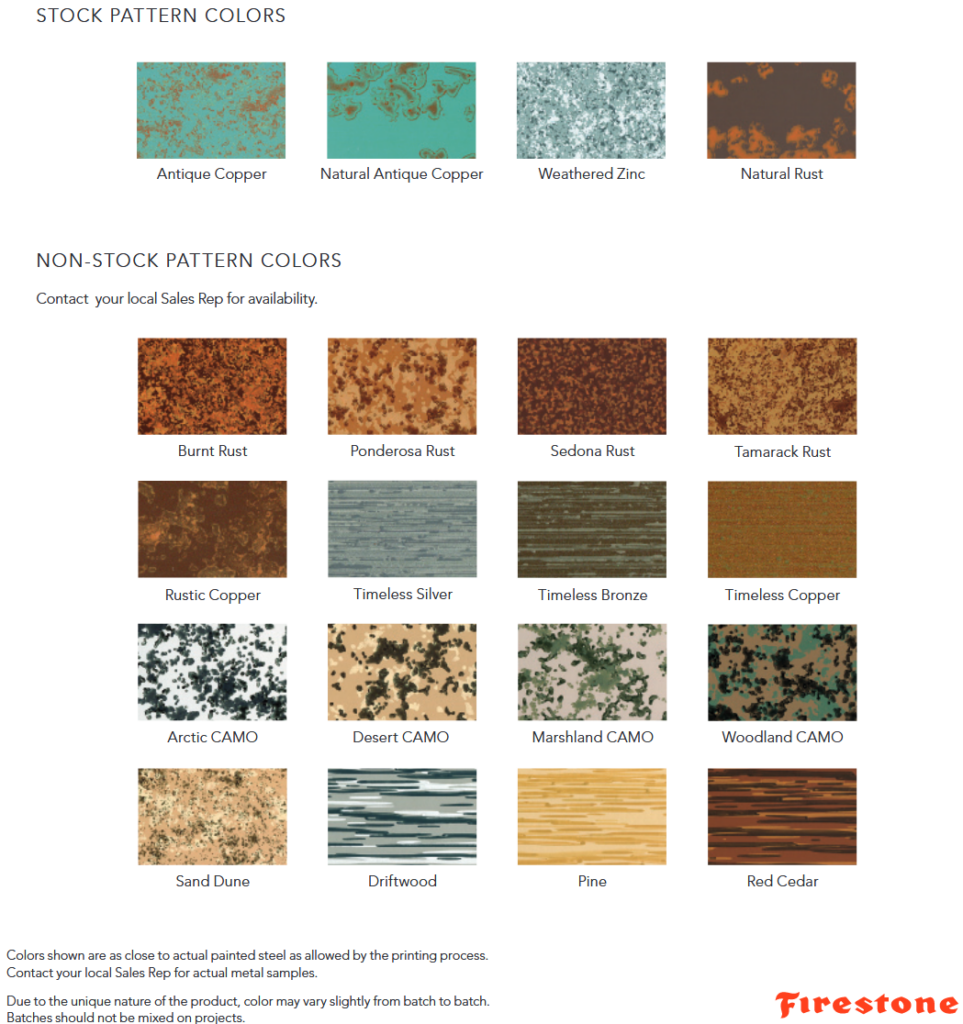 via Firestone (PDF brochure)
Stone colors resembling slate tones are also available. Some of these metallic and slate colors are "premium" CRRC-rated colors and come with a slightly higher cost.
Can't Find "Just Right"? Ask for a Custom Color
If standard metal roof colors don't appeal to you, the roofing manufacturer you select probably offers a color match system to provide you with a custom color.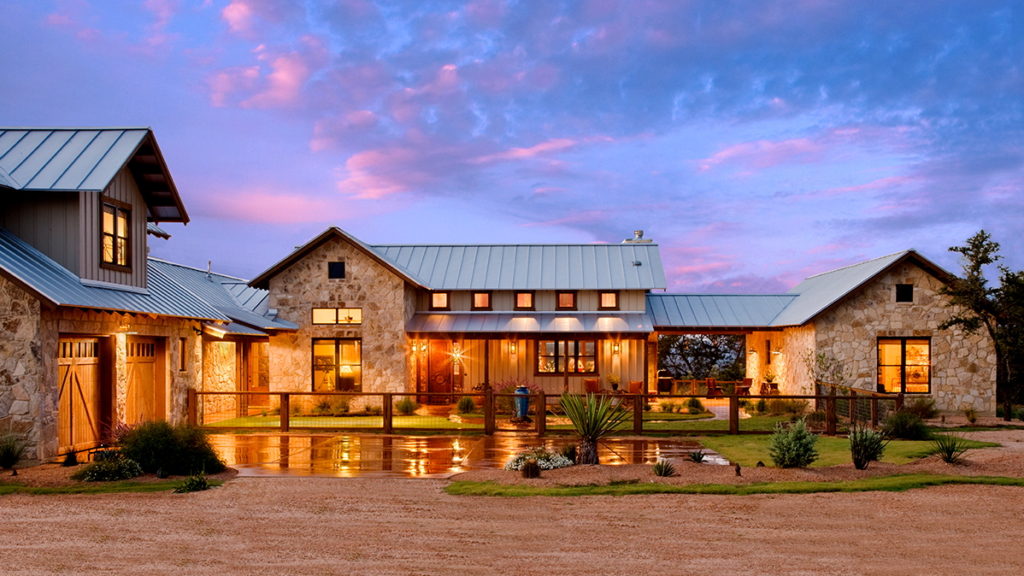 These colors can be solid or a blend that produces a multi-colored or dappled appearance many homeowners find quite appealing. Of course, custom colors are also premium, so they cost a bit extra (anywhere from $0.50 to $1.50 per square foot more than standard colors). But you might find one that's perfect for your home – and the cost will be well worth it.
Select a Color that's Right for Your Home's Shape
Colors and color combinations can affect perception, and that must be considered when browsing various color combinations and options. Here are three general roofing color "families" and how they impact your home's appearance and curb appeal.
Bright colors: White, off-white, powder blue and light grays are among those hues that make the roof look smaller. They minimize the roof. Is that a good thing? It doesn't sound great – but it could be the right option for some homes. As with all roof colors, it depends on the size and shape of your home and the slope of its roof. Successfully combining roofing color with the home's architecture is a critical process that is explained in a minute.
Neutral colors: Medium blues, greens and grays and light browns are some of the neutral colors that provide balance between the roof and the house, and for that reason, they are among the most popular choices. But it isn't an "automatic" that you should select a medium metal roof color for your home, as we'll soon discuss.
Dark colors: Rich reds, deeper browns and grays, and of course black, make the roof look bigger.
With those basics of color and perception in mind, what is the "right" color for your metal panel or shingle roof? It's the one that makes your roof look like a good fit for the house beneath it.
When is light right?
And when should you select something else? If your home has a lot of roof for its size and shape, lighter colors are a very good choice.
Here's a negative example that makes the point. Consider a low-profile ranch or single-story house with a slope of 10/12. That's a steep slope that creates a tall roof, a lot of metal or roof surface to see from the road.
Going with a darker hue for the roof will make the house appear "top heavy." The roof will dominate, and that's not what you're looking for. A lighter shade on the roof will produce a better visual fit for the house.
But light isn't always right. Get a mental picture of a saltbox style roof on a two-story 40 to 48 feet wide house.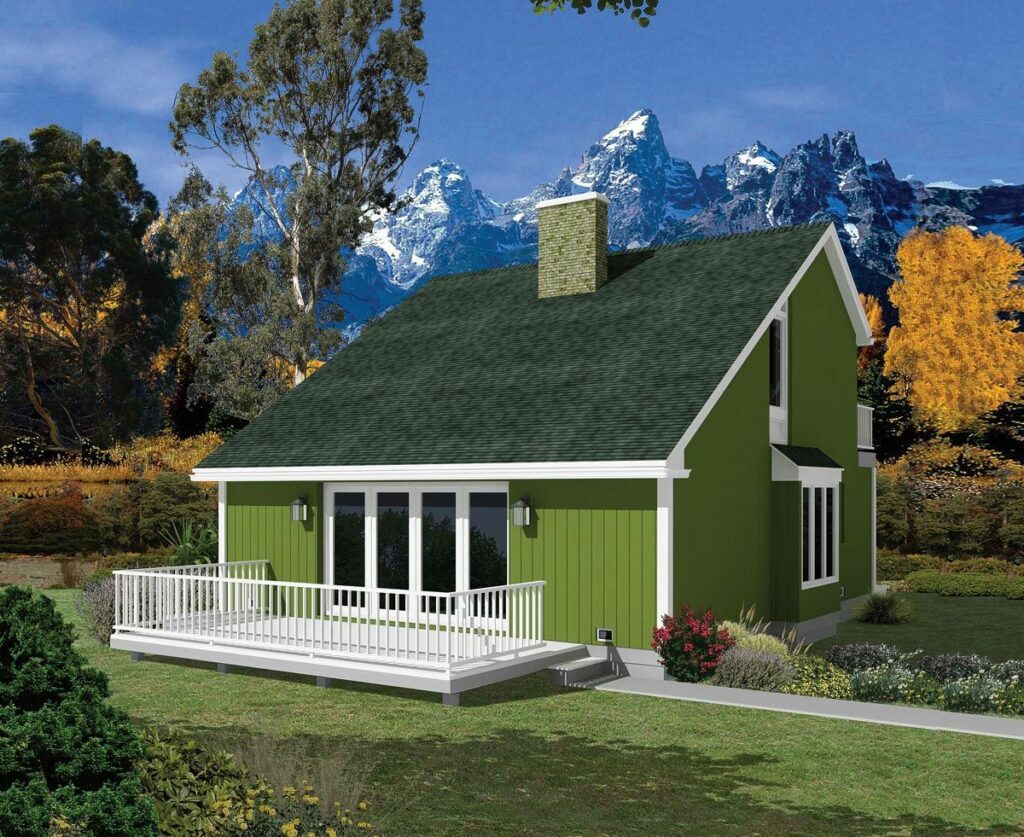 The view from the curb shows a lot of horizontal surface. If the roof slope is 4/12 or 6/12, comparatively low, then a white or light tone on makes the roof look too small. A medium or dark color will give the roof and house a better balance.
Light metal roofing colors are the right choice for ranch homes and smaller homes topped with roofs of average to steep slope. They're fine too on larger two-stories and split-level homes with steeper roofs.
When are medium color tones a good fit?
If there is already a good visual balance between the house and roof, medium colors are best. Going with something very light or quite dark might upset that balance, especially if the choice would produce a sharp visual contrast between the roof color and siding color.
Single-story homes with lower to average slopes and two-story homes with medium-to-steep sloped roofs are good candidates for colors in the middle of the spectrum.
When are dark colors the right choice for a metal roof?
As noted, when the house and roof are balanced in size, then a dark roof color with dark siding works. And if the roof is a little undersized (less steep) for the house – a 4/12 or 5/12 roof on a large two-story for example – then a darker tone will make the roof appear more robust and a better fit.
Keep siding colors in mind When a roof and house enjoy balance, then it's OK to go light on the roof if the siding is light – and the same for dark/dark combinations. A dark green roof above wood siding stained a rich brown? That's a gorgeous fit.
Add some shine. For most colors, several levels of sheen, like with house paint, can be selected. When the right color for your home is enhanced with a bit of gloss, the combination will sparkle.
Keep it Within Neighborhood Norms
This point means more if your home is in a subdivision or other neighborhood type with houses fairly close together. It's less important in rural areas where homes are spread out and homeowners doing their own thing is more acceptable.
While the number of homes with metal roofs is growing, most homes still feature asphalt shingles. And most shingles are dark or medium, though in very sunny climates, light shingles that better reflect the sun are becoming more common.
Where dark roofs dominate, go with a darker metal roof when possible – that is, when it will match your home's size, siding and roof-to-house balance. A bright blue or white metal roof will stick out among black, charcoal gray and deep brown asphalt roofs.
Who cares what color your roof is? Why not choose whatever shade you want? That perspective is fine if you plan to stay in your current home "forever." But if selling your home in the future is a viable option, then roof color might make or break a sale based on whether it fits in with roofs on nearby homes.
One more consideration – the HOA Does your neighborhood have a homeowner's association? Some HOA's are pretty uptight, uh, let's say specific, about what type and color roofing you have on your home. Check the HOA rules and regulations, often in the form of bylaws, to see if color choice is restricted. And if you are replacing an asphalt roof with a metal roof, be sure that metal roofing is an-OK in your HOA.
Consider the Local Climate
Metal roofing is energy efficient roofing. The color has only a minor impact on conditions inside the house because the roofing is installed with an air gap between the metal and the roofing deck. This allows airflow that moves heat and prevents most of it from penetrating into the house.
However, in hot, sunny climates, a light tone on a metal roof is still a good choice for minimizing heat absorption and penetration inside the house. In fact, most coating manufacturers make Energy Star certified colors with high solar reflectance and thermal emittance (aim for high Solar Reflective Index aka SRI index) to keep solar radiant heat out of your home. Many colors are certified by the Cool Roof Rating Council, or CRRC.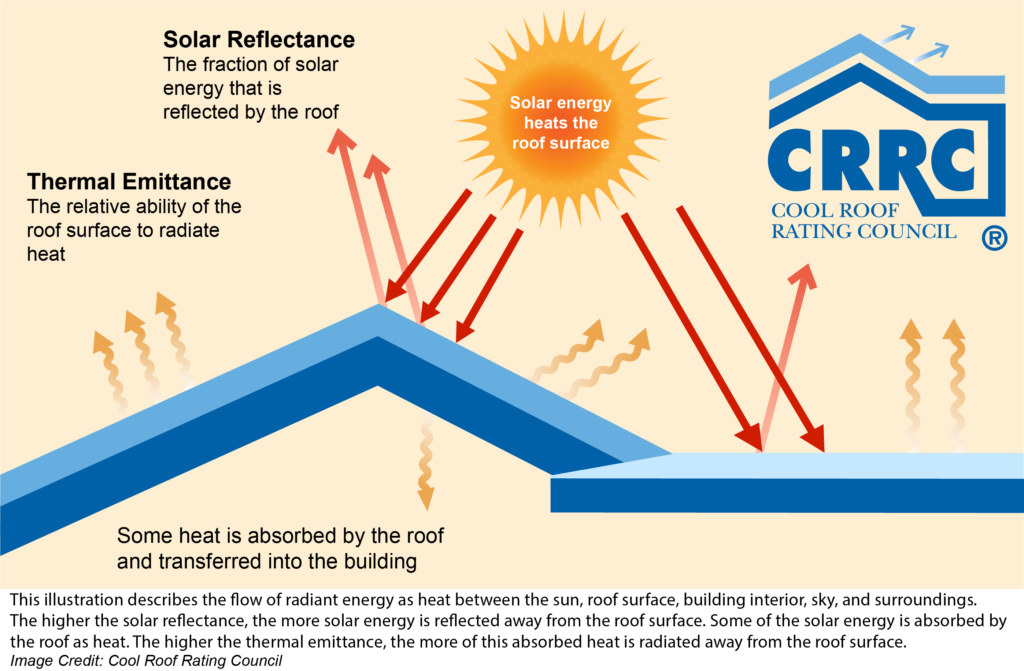 On the other hand, where winter brings cold and snow, a darker metal roof will help the roof shed snow and ice faster.
Choosing the Right Metal Roof Color – Summary Guidance
What starts out as a nearly unlimited spectrum of color choices begins to narrow as you work through the process of choosing.
What colors do you like? Make a short list of your favorites. Consider whether each one will throw off your home's visual roof/house balance. If so, cross that color off the list.
Do the colors match your home's siding and other exterior features in a way that appeals to you? A sky-blue roof above seafoam green siding, for example, might clash. But that blue roof over cedar siding or off-white brick might be perfect… as long as it fits the neighborhood aesthetic. 😉
Finally, choose a lighter tone in sunny climates and a darker hue in cold regions when doing so fits the other criteria, too.