Furnace brands to avoid are:
York and other Johnson Controls brands
Maytag and other Nortek Global brands
Entry-level Lennox Merit Series
DIY brands like Airquest and Goodman
There are other brands, too, all listed and explained below.
The general rule is to stay away from Johnson Control brands (York, Luxaire, Coleman & Champion), Nortek brands (Maytag, Frigidaire, Gibson & Broan) and anything sold online or at Home Depot as a DIY option.
As for Lennox, avoid its cheapest units – and a couple of its most complex furnaces because they are prone to mechanical failure. And the more complex the furnace, the higher the repair bill when it breaks down.
What is on this page about furnace brands to avoid? This page has a list of the worst brands and furnace types and why you should not buy them. Reasons are explained, so you can decide for yourself.
Poor quality and/or installation: It's more than just furnace quality, though that's at least half of the equation. The rest of it surrounds installation – which is a huge factor in how durable a furnace will be.
Furnace Brands to Avoid Because of Bad Quality
Some HVAC manufacturers make inferior furnaces. It doesn't matter if the "Furnace Technician of the Year" installs them, they won't have the durability of a Trane or a Carrier. There are two families of brands that make the worst gas furnaces.
Avoid Maytag, Broan, Frigidaire and Gibson Furnaces
These are four identical brands manufactured by Nortek Global. Never heard of the company. It was Nordyne until the name change in 2015, if that name rings a bell.
This company also made Tappan and Westinghouse furnaces, but those brands have been retired.

Top Reasons to Avoid These Furnaces
Poor quality parts plus design issues in these furnaces leads to them breaking down early and often compared to quality furnace brands.
Parts that failed at an unacceptably high rate, along with pro repair cost, include:
Draft inducer motors ($390-$800)
Control boards ($275 – $600)
Gas valve assemblies ($300 – $500)
Heat exchangers ($1,500+ or a new furnace)
Cheaper parts with a higher-than-average failure rate include various sensors ($125 – $225) and igniters ($100 – $175).
One pro installer gives insight into what might be causing most of these issues. Keep in mind that moisture is a byproduct of natural gas combustion.
The technician, Jason F, said, "There is entirely too much moisture building up inside these units and they are shorting out the motors and the control board."
That shoe seems to fit the major complaints from homeowners who are frustrated with these brands. The technician says that the "fix" for one of the issues is to "put the control board in a plastic bag…" OK then. That's not going to solve the issue.
The installer goes on to criticize in graphic language the cheapness of Nortek – in this case Maytag – parts and sheet metal. Anecdotal, yes, but not isolated. This is what we're hearing from pros around the country.
*What about MrCool gas furnaces? Did you know MrCool makes furnaces? Well, they don't. MrCool-branded furnaces are Nortek Global furnaces, identical to Maytag models. Perhaps that is all that needs to be said.
Avoid York, Coleman, Luxaire and Gibson Furnaces
These are Johnson Controls brands. But, but, but Johnson Controls is one of the largest and most successful manufacturers in the world!
Yes. And sometimes huge companies get too big to maintain effective quality control over every division.
Respected third-party testing group Consumer Reports puts York, Coleman and Luxaire at the bottom of its most recent Furnace Reliability Rating.
These brands share the worst rating, 2/5, with Maytag and Frigidaire. The other Johnson Controls and Nortek Global brands aren't rated – but they're identical to the rated brands from the same manufacturers.
Ray of hope? It should be pointed out that Johnson Controls has revamped much of the York, Luxaire, Coleman and Gibson HVAC equipment lineup including, of course, most of the furnaces.
The new models have been out for 1-3 years, depending on which model you're considering. So far, quality appears to be better.
But that's a short track record to go by. Time will tell, but for now, these brands remain in the "Avoid" pile.
Reasons to Avoid These Furnaces
The quality of the internal parts is sub-par. Technicians across the board agree on that.
Secondly, the furnaces need more tweaking at initial setup than some others. This is especially true of York variable capacity / modulating furnaces. And that could be leading to issues early on.
One HVAC installer says, "York has a reputation for mechanical issues within the first year or two of installation." That speaks to installation issues, though it could be both cheap parts and poor setup, a double whammy of bad.
Mike, a frustrated homeowner, said recently, "I have a York furnace YP9C THAT is 5 years old. The unit has broken down every year many times."
The York YP9C is York's most efficient and highest performance unit – a variable capacity furnace. Unfortunately, that means that it is hard to properly install and set up. Get an inexperienced installer, and you might very well have problems.
Again, this is not a one-off complaint but an example of common problems with York furnaces.
Avoid Entry Level Lennox – And High Performers
A furnace's warranty tells you what the manufacturer thinks of it.
10 years or 5 years? Carrier's base models have a 10-year parts warranty. Ditto for Trane, Rheem, Heil…and even Goodman.
But not Lennox. The parts warranty on Lennox Merit Series entry level furnaces is 5 years. Lennox doesn't think these furnaces can be trusted to run without mechanical problems after 5 years.
At least Lennox owns the poor quality of these furnaces by showing ratings for them from verified buyers. They range from 1.8 out of 5, a terrible rating, to 4.5/5, which isn't too bad.
The Merit Series ML193 is the lowest rated. A couple comments on the Lennox site from those who bought it are:
"I bought a new home with a Lennox ML193 and have nothing but issues."
"This unit has been nothing but trouble since day one."
Note the recurring theme…" nothing but" problems. Waking up to a cold house because your furnace quit is a hassle. Repeating the hassle multiple times tells a homeowner they bought the wrong furnace.
Peruse the site for yourself and read buyer reviews before considering a cheap Lennox or one of its top models.
What are the problems with Lennox furnaces at the top of the line?
Avoid Some Lennox Top Models
The best Lennox furnace, the 99% efficient SLP99V gets poor ratings. There's another recurring theme: The most efficient, variable capacity furnaces get the worst ratings (York, Lennox as two of many examples).
Ratings on the SLP99V, the most efficient residential gas furnace currently available, are 3.6/5.
The problem with this furnace seems to be that its high complexity leads to poor installation and setup. The results are ongoing performance problems. To be fair, variable capacity aka modulating furnaces are the hardest to install and tune. That's true for any brand. But the brands we've listed have a significantly higher rate of errors than most.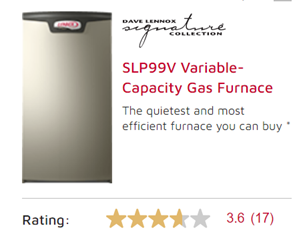 The Lennox premium low-NOx 80% furnace, the SL280NV, also has bad reviews. But the low-NOx furnace is California's problem – that is the only place it is sold.
Avoid DIY Furnaces – Brands "Anyone" Can Install
These have been called DIY furnaces because anyone can buy them and take a crack at installing them. Yes, you're supposed to be or hire a certified installer for the job.
But any "Chuck in a truck" who has an HVAC license can tackle the install.
These furnaces are sold by online HVAC retailers and local home improvement stores like Home Depot and Lowes.
There are two potential issues: Poor quality and poor installation.
Quality
Brands like Oxbox (Trane/5-year warranty), WeatherKing (Rheem/5-year warranty) and Royalton (Ducane/Lennox) are entry-level furnaces, aka budget or cheap furnaces.
RunTru, Ameristar and AirQuest quality is decent. But furnace quality can't overcome bad installation.
So, yes, in many cases, a bigger issue is installation.
Installation
At this point we should add Goodman to the list.
When properly installed, Goodman furnaces are middle of the pack. However, most models, if not all, are sold online for anyone, licensed or not, to purchase. A quick search shows this to be true. No other major brand has a "sell to anyone" policy like Goodman's.
*The problem with installation of these brands is that there are no controls over who installs them.
And quality installation is critical if you want quality performance from the furnace – meaning that it will run as efficiently and as durable as it should.
What can go wrong with the installation side of the equation? Size, setup and safety.
*Size: The furnace can be sized incorrectly. Wrong sizing can result in your home being chilly or too hot, or both. And an oversized furnace will turn on and off a lot, shortening its life.
And if ductwork is part of the project, duct sizing and configuration have to be "right," or you'll have a myriad of potential issues around furnace durability and indoor comfort.
*Setup: Most furnaces can be tweaked for things like blower speed and burner capacity during installation. Get those issues wrong, and indoor climate control will suffer.
*Safety: Worst case scenario, a badly installed furnace might leak unburned gas with the potential for explosion or leak exhaust gasses that contain deadly carbon monoxide. It's rare. But the potential goes up significantly with amateur installation or faulty pro installation.
Takeaways
It's quite simple.
Furnace brands to avoid are York, Luxaire, Coleman, Champion, Maytag, Frigidaire, Broan and Gibson. These are the major ones.
Steer clear of cheap, budget furnaces sold to the "general public" rather than those only sold to licensed HVAC contractors. In other words, choose a brand that requires a proven level of expertise from its installers. This includes "authorized dealers" of Trane, American Standard, Carrier, Bryant, Rheem, Heil, Day & Night, etc. Those furnaces cannot be obtained by "just anyone."
If you seek to save money on a cheap brand and low-cost installation, you are likely to lose that money again and again through repairing the furnace to keep it going – or finally giving up and buying a quality brand installed by someone who knows what they're doing.