There are several high-quality solar shingle roof options currently available on the market, but Tesla is arguably still a leader in brand popularity/recognition for the solar roof offering. Tesla has become a household name, and their home energy product selection also includes Powerwall batteries and traditional solar panels.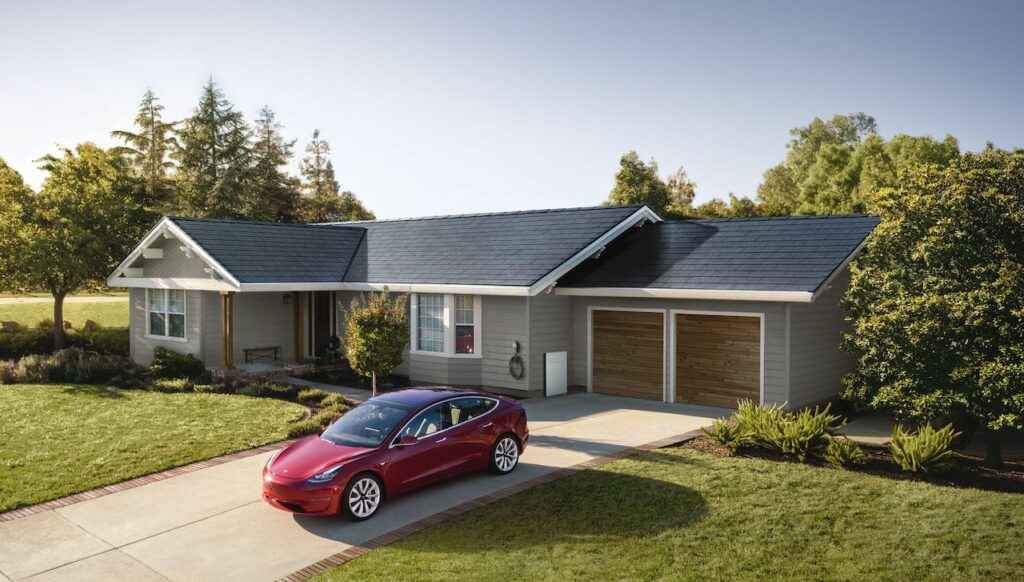 In this guide, we will focus on the Tesla solar roof, covering aspects like pricing and delivery times, while providing a comparison with other solar roofing products.
The Tesla solar roof can be considered a premium product, and this is reflected in its pricing. Due to popularity of the Tesla solar roof, you can expect long delivery times in most regions.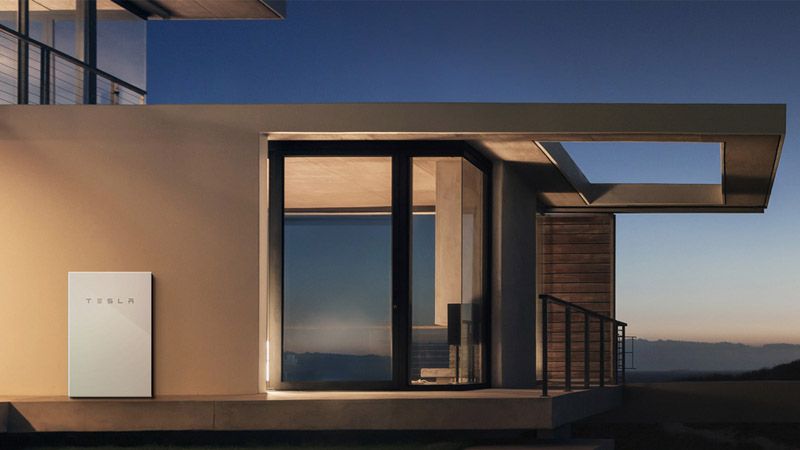 However, you are promised to get a solid 25-year warranty, and you can combine the solar roof with a Powerwall battery, and an EV (heavily discounted as of late) for a complete renewable energy solution.
The Powerwall can turn your solar roof into a 24/7 power source, storing electricity for times when the sun is not shining.
The system can also be sized for EV charging, and you can forget about trips to the gas station.
Electricity tariffs and fuel prices are both on the rise, and a Tesla solar roof with energy storage and an EV charger can help you avoid them.
According to their website, Tesla has already installed more than 400,000 solar panel systems, including Tesla solar roofs, with an accumulated capacity of over 3.6 gigawatts. This is roughly equivalent to the power generation capacity of 10 million conventional solar panels
Tesla Solar Roof Specifications

Previously, Tesla only provided limited information about their solar roofs, but detailed specifications have become publicly available since 2021. The technical information provided on their website and product documents is summarized below:
Solar shingle model: SR72T1
Number of PV cells per shingle: 14
PV cell type: Monocrystalline
Open-circuit voltage:20 V
Voltage at maximum power point:34 V
Short-circuit current:80 A
Current at maximum power point: 6.32 A
Maximum power:67 W
Dimensions: 15 in x 45 in
Wind rating: ASTM D3161 Class F
Fire rating: Class A, the highest rating
Hail rating: ANSI FM 4473 Class 3
Roof pitch: 2:12 to 24:12
Roof tile warranty: 25 years
Inverter Power:8kW / 7.6kW
Inverter Efficiency:5% efficiency
The SR72T1 Tesla solar tiles are very durable, offering fire resistance and weather resistance. They are also a great option for homeowners who like high-pitch roofs, since they can be installed safely with a pitch of up to 24:12. Just keep in mind that the Tesla solar roof has a minimum pitch of 2:12, which means you cannot use it with flat roof designs.
Considering the power output of 71.67 W per tile, you need five of them to match the output of a traditional solar panel. For example, if your home needs 10 kilowatts of generation capacity, you could use 28 traditional solar panels with a capacity of 360 W (10,080 W), or a Tesla solar roof with 140 photovoltaic tiles (10,034 W). In this case, the rest of your roof uses non-generating tiles that look identical to the solar PV tiles.
Tesla was previously using the 58.5-watt SR60T1 solar tile, which means that more tiles were needed for a given generation capacity. Using the same example as above, you would have needed 171 of the 58.5 W tiles to reach 10 kW. The newer SR72T1 tile brings a 22.5% increase in generating capacity, which reduces the number required to reach a specified system wattage.
Tesla solar tiles can only be purchased as part of a complete roof, and they are not available for partial roof upgrades. The Tesla solar roof might be an option for new construction projects, and for existing homes that need a roof replacement soon.
However, if your current roof is in good condition and you don't want a full replacement, the Tesla solar roof might not be an attractive option. In this case, you can consider traditional solar panels (Tesla also offers them), or solar shingles/tiles from other providers that offer partial roof upgrades.
Purchasing a Tesla Solar Roof: Design, Pricing and Delivery Times
Tesla follows a unique design process when you purchase a solar roof. Their website has an estimation tool that asks for your home address and your typical monthly bill in dollars. Based on this information, an automatic calculator will determine the optimal system capacity in kilowatts, along with a price estimate.
If you proceed with the order, Tesla uses high-definition satellite images to analyze the geometry of your roof, and a more accurate quote is provided based on that information. Tesla also reviews local regulations and permitting requirements, based on your address, and this information is considered during the design process.
The installed price of a Tesla solar roof can vary significantly, depending on the size and complexity of your roof.
You might get an installed price of around $6.00 per watt if your roof design is very simple, or around $8.00 per watt if your roof has a large area or complex geometry.
However, there have been cases where homeowners get a price estimate of over $10.00 per watt.
When estimating the cost of your Tesla solar roof, you can also decide to add one or more of their Powerwalls. This adds energy storage capacity to your solar roof, which means you can keep using your own electricity during nights and cloudy days.
You can add up to 10 Powerwalls, which can be connected into a single energy storage system, but 1-2 Powerwalls are enough for the energy storage needs of most homeowners.
The Tesla Powerwall has a rated energy storage capacity of 13.5 kWh, which means that two units offer a combined capacity of 26 kWh.
When using the calculator on the Tesla website, one Powerwall adds $11,500 to your price estimate, while two units add $18,500.
The Tesla solar roof and Powerwall can qualify for the 30% federal tax credit and local incentive programs, and this reduces their out-of-pocket cost.
Traditional solar panels and solar roofs both qualify for the federal tax credit, but only components involved in power generation qualify in the case of solar roofs.
The Tesla Powerwall and other energy storage systems also qualify for the 30% federal solar tax credit, but only if they are connected to and charged with an eligible solar power system.
What's the Current Wait Time to Get a Tesla Solar Roof?
Since the Tesla solar roof has become a very popular product, delivery times can be long in some regions. According to the company website, the delivery time can range from several weeks to six months. However, many homeowners have reported far longer waiting times and outright cancellations.
There have also been multiple reports of Tesla pausing scheduling new solar roof installations in most markets in the US. It's not clear what's going on, but it might be due to solar roof not being profitable for Tesla.
Woods Mackenzie analysis estimates the average installation rate of just 21 solar roofs per week last year, suggesting Tesla has a difficult time scaling solar roof installations.
Comparing the Tesla Solar Roof with Competing Products
Tesla enjoys a remarkable brand popularity, but there are other solar roof providers offering excellent products. In fact, some of them have been selling solar roofs for more than a decade, long before Tesla launched its own following the acquisition of SolarCity. The list of solar roof providers includes:
Luma Solar
SunTegra
SunPower
CertainTeed
GAF Energy
Forward Solar
3-in-1 Roof
Tesla can be compared with GAF Energy, Forward Solar and 3-in-1 Roof. All four companies offer complete roof replacements, and their solar shingles/tiles are not designed for partial upgrades. This means they are great options when you already need a new roof, but they might not be the best options if you don't want a roof replacement.
Prices can be very variable with all three options since you're getting a complete roof.
As the size of your roof increases and its geometry becomes more complex, you can expect to pay a higher price.
Forward Solar current offers the lowest prices among the solar roof providers who provide complete replacements. According to their company website, you can expect to pay $3.75 per watt, which is slightly above the cost of traditional solar panels.
Luma, SunTegra and CertainTeed have a different product strategy. They offer solar shingles and tiles that are compatible with other roofing materials, and this means you can use them for partial upgrades. — This can be a great option for homeowners who currently have a roof in good condition: instead of replacing it completely, they can simply use solar shingles/tiles on the areas that get the most sunshine. Under favorable conditions, a partial solar roof installation can achieve costs of around $5.00 per watt.
SunPower does not offer photovoltaic shingles and styles, strictly speaking. Instead, they offer the OneRoof mounting system, which integrates traditional solar panels as part of your roof structure. This means you don't need a conventional racking system, and your solar panels are installed along the roof surface instead of being separated by a gap.
Does the Tesla Solar Roof Have a Good Warranty?
The Tesla solar roof comes with a 25-year warranty, which can be compared with the coverage offered by leading solar panel manufacturers. This warranty not only covers the photovoltaic cells, but also weatherization and power generation. In particular, the power output warranty has the following conditions:
The Tesla solar roof will have at least 95% of its rated capacity after five years.
Generation capacity will then decrease by a maximum of 0.50% per year after that point.
In other words, the power warranty offers 85% of rated capacity after the 25-year coverage period.
The solar inverter provided with the Tesla solar roof has a 12.5-year warranty, which is above average in the industry. For comparison, solar inverters typically come with a 5–10-year warranty.
If you decide to include a Powerwall along with your Tesla solar roof, the warranty period is 10 years. This is the typical coverage period offered for high quality battery systems that use lithium-ion technology.