You don't have to totally remodel the kitchen this year to give it a fresh feel. These top kitchen upgrades stand on their own and deliver excellent ROI whether you stay put forever or decide to sell in the next few years.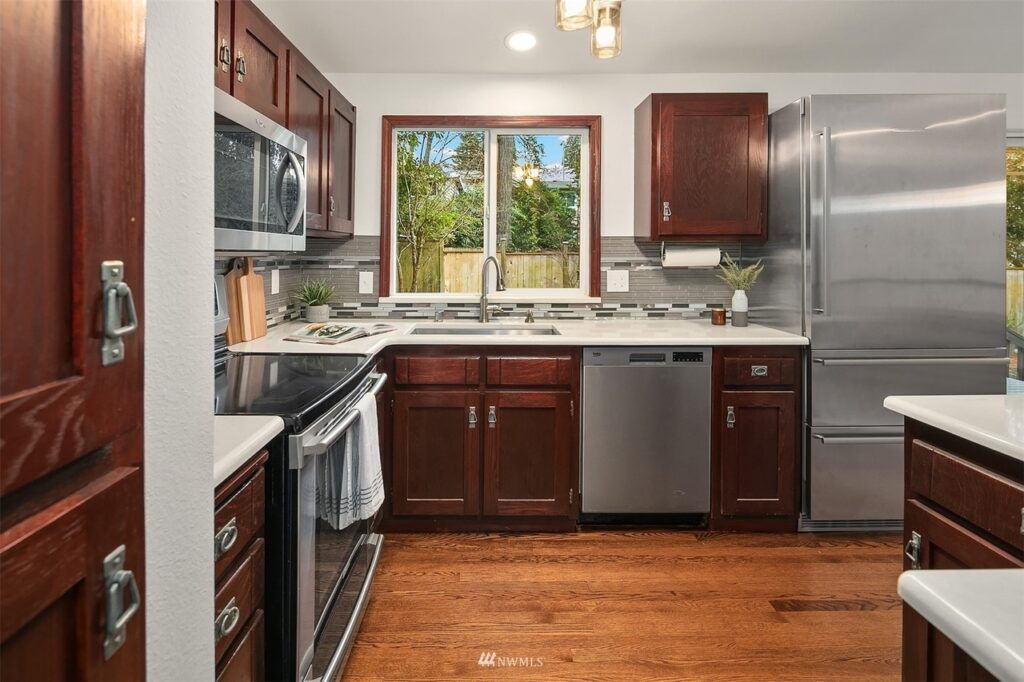 This isn't a "kitchen trends you will see everywhere" article. Who wants a kitchen that looks like everyone else's?
Instead, these hot kitchen trends give you room to personalize the design to fit your vision of what the perfect kitchen should be.
Leading trends in design, color, texture, materials, and kitchen components are explored throughout to give you insight into how to customize your kitchen improvements.
Kitchen Upgrades – Two Guiding Themes
Feel free to jump down to the list and discussion of the top kitchen upgrades if you're pressed for time.
But if you are interested in the theme and counter-theme that designers are driven by in creating the hottest kitchens this year, you might enjoy this section. It's a 60-second read.
Theme One is the Multi-function Kitchen
In the pandemic years, day-to-day life became more focused on the home. Work from home. School from home. Stuck at home.
As a result, the kitchen, more than ever, has become the hub of the house. Austin designer Claire Zinnecker affirms what we all know, "The kitchen is the perfect multi-use room because people naturally gather here."
Many households embrace this in their kitchen improvement choices. "Kitchen meets living room." There are appealing ways to make this work.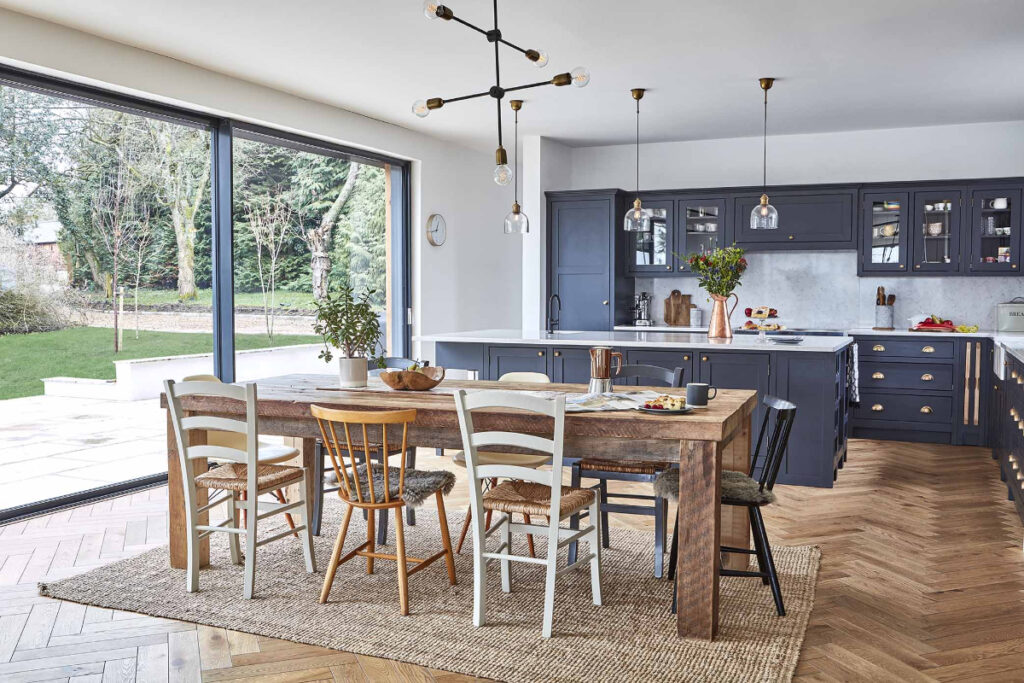 Source: These Three Rooms (Design: The Shaker Kitchen Company Photography: Malcolm Menzies)
Think versatility Is this your view of the kitchen? The multi-function kitchen is a combination of components related to food plus the addition of living space. As a result, it needs a little bit of everything – decent appliances, adequate storage, a tea and coffee station, generous counter space, open shelving, a charging device station, and decor that would fit just as well in a living room. The vibe says, "relax and stay a while." Desk space or a second island with casual seating are wonderful if the kitchen's footprint allows.
Terminology tip – This kitchen style is also called the blended kitchen and multipurpose kitchen.
Theme Two is the Food-focused Kitchen
This is the counter-theme. Yes, home life has become busier, the outside world is crazier, and some of us want a place to get away from it all. For many, the kitchen is that place!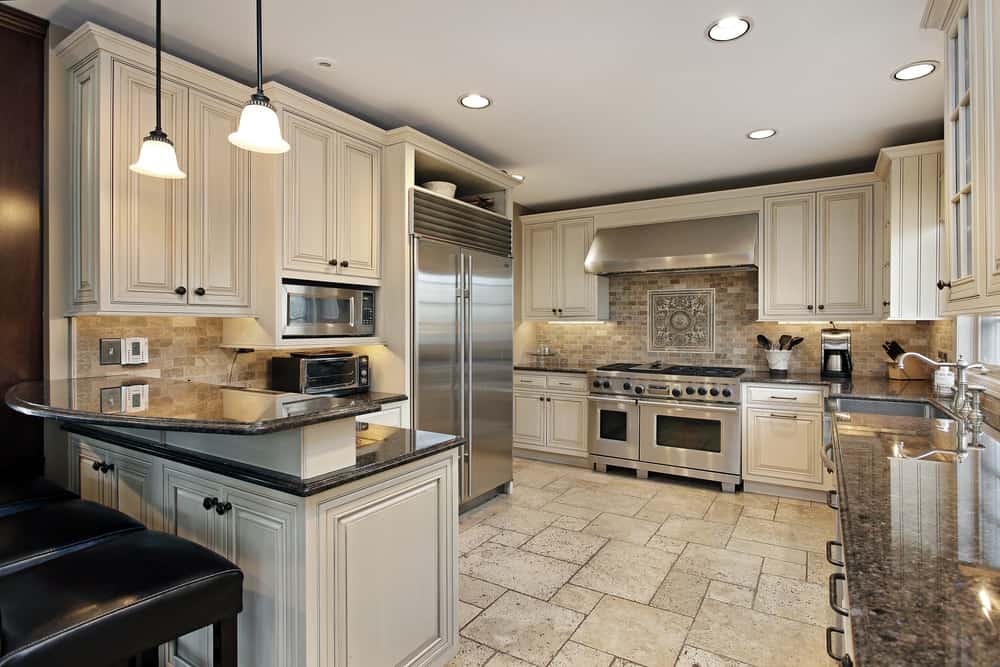 Think more specifically of a space designed for food preparation – a daily routine that keeps you centered on what's most important. In this kitchen, the price of gas and the politics of the day are forgotten.
This kitchen is best outfitted with high-performance appliances, plenty of storage for food and your favorite food-prep tools, spacious countertops, a double-basin sink – and a prep sink if possible.
Average Cost To Remodel a Kitchen
Typical Range:
$7,190 - $23,240
What's this about? This page discusses individual kitchen improvements, not a full remodel. That topic, with cost tiers, is covered here: https://www.remodelingcosts.org/kitchen-remodel-cost/
Kitchen Upgrade Costs
Here is the list of the best kitchen upgrades and their cost ranges:
| | | | |
| --- | --- | --- | --- |
| Project | DIY/Low | Average | High |
| Walk-in Pantry – Updated | $550 | $1,400 | $3,300 |
| Walk-in Pantry – New | $4,200 | $6,800 | $12,000 |
| Banquette Seating | $2,400 | $4,500 | $7,500+ |
| A Second Island | $1,700 | $4,400 | $8,000+ |
| Full-length Cabinets | $250 – $400/L.F. | $370 – $615/L.F. | $580 – $800/L.F. |
| Slab Backsplash | $165/S.F. | $250/S.F. | $400/S.F. |
| Workstation Sink | $550 | $900 | $1,400+ |
| Smart Appliances | $300 | $950 | $2,200 |
| Office Workstation | $1,800 | $4,500 | $7,500 |
| Tea & Coffee Station | $575 | $2,750 | $4,500 |
| Open Shelving | $70/L.F. | $245/L.F. | $615/L.F. |
| Flexible Lighting | $150/fixture | $325/fixture | $600/fixture |
| Skylight | $1,500 | $2,250 | $3,500 |
| Garden Window | $1,300 | $2,500 | $3,700 |
| Wall-to-wall Windows | $650/L.F. | $1,200/L.F. | $2,000/L.F. |
| Waterproof Wood Flooring | $4.30/S.F. | $7.25/S.F. | $9.50/S.F. |
Average Cost To Remodel a Kitchen
Typical Range:
$7,190 - $23,240
Top Kitchen Trends
Now that we have a grasp of the "big picture" possibilities, here are the details. These are the best kitchen upgrades, their cost, pros, and cons plus a discussion of which vision of the kitchen they best fit.
Walk-in Pantries
The uncluttered kitchen is an important trend. Clutter causes stress, and nobody needs more of that. The pantry allows you to keep your countertops and shelves orderly and provides room for items that are visually appealing – items you might find on living room shelving or in a curio cabinet. This approach promotes a peaceful kitchen.
Here's something interesting: 81% of homeowners consider a pantry or double sink either essential or desirable as part of their kitchen remodeling. These upgrades tied for #1 in a recent survey by the National Association of Home Builders (NAHB).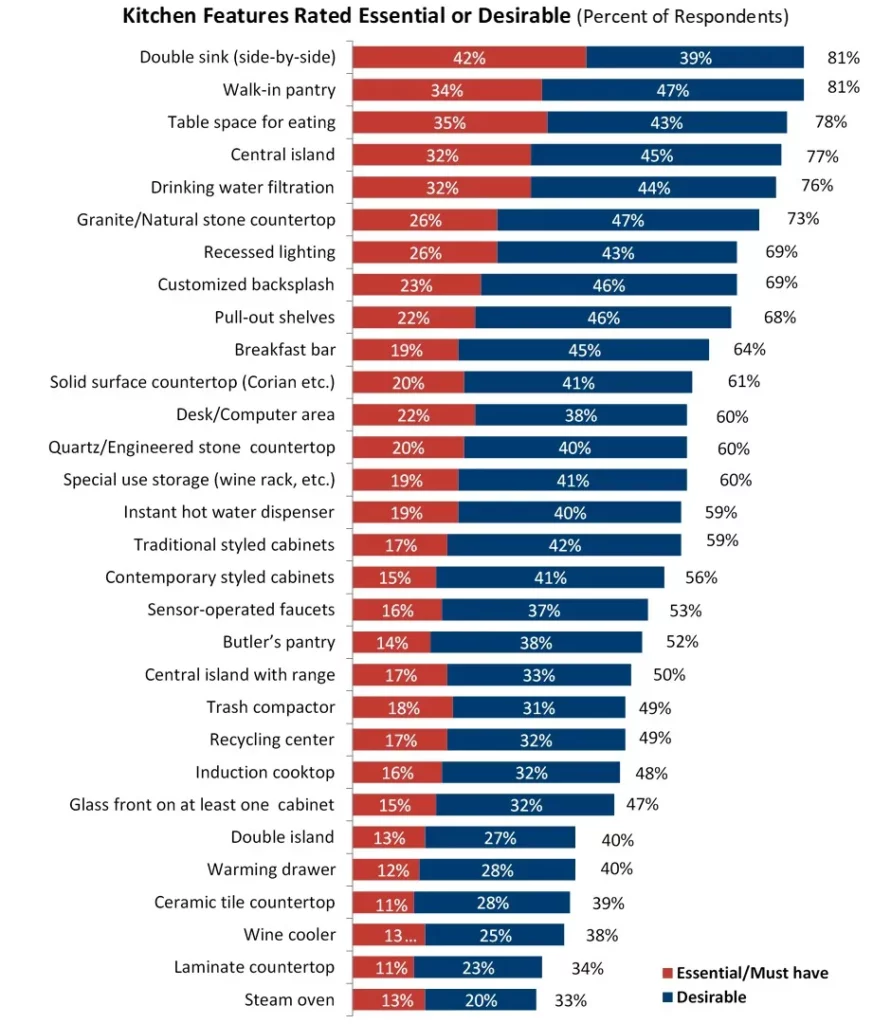 You have two design options: Upgrade an existing pantry or create a new one.
Do you have a walk-in pantry now? If so, perhaps it's time to update its style and upgrade its functionality.
Where there isn't a pantry, this is a larger-scale kitchen upgrade often requiring structural change to borrow space from an adjoining area. You'll gain in the kitchen but lose space elsewhere, so think this through before giving it the green light.
Design tips: An experienced kitchen contractor can help you decide if this project is possible in your home and where best to locate the pantry.
Also, consider including a tea and coffee station or electronics charging station in the pantry where it is out of sight but readily available too.
Pros and Cons: A walk in pantry is a plus for any kitchen style. In the multi-function kitchen, stored items might include food and small appliances, of course, but also craft items, board games, seasonal decorations, or a shelf of favorite reading.
In the food-focused or gourmet kitchen, a walk-in can be dedicated to items enhancing the utility of the kitchen and your enjoyment of spending hours in the preparation of delicious food.
If the area is large enough, it is also suitable for storing pots, pans, extra dish sets and other kitchenware.
Cost: You can update an existing pantry with DIY shelving, bins, baskets, or canisters for $300 to $1,800. Hiring a storage specialist for the project costs 2-3 times as much depending on the materials you select. Low – $550, Average – $1,400, High – $3,300
When a contractor is hired to design and complete structural changes, the cost of a walk-in pantry rises significantly. Low – $4,200, Average – $6,800, High – $12,000.
What's the ROI? According to the highly respected 2023 Cost to Value Report from Remodeling Magazine, this kind of minor kitchen remodel will bring a return of about 71%.
In other words, if you spend $10,000 on a really nice walk-in pantry, it should boost your home's sale price by around $7,100 if you sell in the next few years. Plus, it might be the kind of improvement that moves a potential buyer from a "maybe" to a "Yes!"
Comfortable Seating for Casual Eating
The same NAHB study showed that 78% of homeowners want kitchen dining space, and it is a perfect fit for a multipurpose kitchen.
Now, eating space within the kitchen footprint isn't new.
What is fresh and exciting is the trend toward integrating this component into the heart of the kitchen where those preparing food and others "just hanging out" feel more closely connected. It is relaxed and inviting, a place for family to eat together and a cozy spot to chat with guests deep into the evening. Flexible/dimmable lighting, discussed later, is an asset for this spot.
Design tips: To make this concept work, the seating is more comfortable and multi-dimensional. That's why we like the term "lounge" seating. It is also commonly called banquette seating.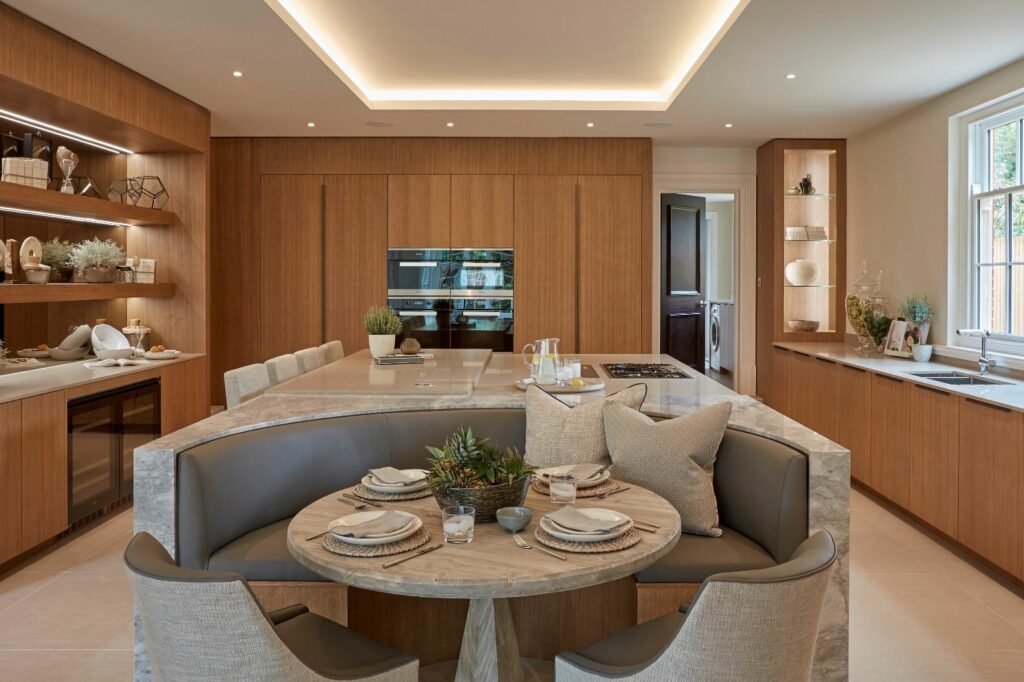 If your goal is a multi-functional kitchen, then plan seating for at least four and as many as eight or ten.
For a quieter kitchen setup, a pair of comfy chairs and a low, round table make a perfect setting for relaxing by yourself or chatting over tea with a family member or friend while enjoying delicious aromas of something baking in the oven.
Pros and Cons: You've got to have room for the seating, of course. And it is often built in, meaning that it is an extension of an island or cabinetry. This makes it more permanent – you can't move it around or remove it to suit your needs. The upside, though, is that it helps make the best use of everyone's favorite part of your home.
Cost: The cost is $600 is $2,800 for most banquette seating for two to six people. If the seating is built into cabinets and countertops, cost rises to $2,800 to $8,000 based on the complexity of your design and the materials used. Low – $2,400. Average – $4,500. High – $7,500+
A Second Island
Kitchens have grown in size in the last 20 years, and a central island is an essential, according to 77% of homeowners. And most of them would like a double island if space allows, according to the NAHB list of Kitchen Features Rated Essential or Desirable.
When another island is added, the two often have different purposes – one for cooking with a sink or cooktop, and the other with seating and open space for work, homework, games, crafts, rolling out pie crust, etc. Open shelves where items are easy to access are popular for a second island.
Design tips: Natural wood tones with robust textures are part of a kitchen trend toward organic elements. Adding a light stain that highlights the woodgrain gives you an opportunity to choose a shade that fits your design scheme.
Where space won't allow two islands, consider one larger island with room for food preparation plus a breakfast bar with seating.
Pros and Cons: Yes, this option is limited to large kitchens, and it only suits the multi-dimensional plan. But it creates a place where it is easy to share activities.
Cost: Ready-to-assemble islands large enough for seating cost $1,200 to $2,000. Built-in islands start around $3,000 and range up to $10,000 or more depending on size, island, and countertop materials, and what the island features such as cabinetry, electrical outlets, plumbing and a sink.
Add your choice of a cooktop, dishwasher, beverage or wine cooler or warming drawer for $950 to $2,500 per item. Low – $1,700. Average – $4,400. High – $8,000+
Note: Most of the features discussed as part of island design are on the NAHB list of favorite kitchen upgrades.
Floor-to-Ceiling or Countertop-to-Ceiling Cabinets
This trend gives you maximum storage space for the footprint needed. These cabinets are popular for both kitchen schemes – multipurpose and food-focused.
Floor to ceiling options include stacked cabinets or a full-length pantry.
Design tips: If you want out-of-site storage, choose solid doors. When you have pretty things, you'd like to display, select doors with glass panels or even those with open shelves. A combination of these can be very attractive.
Additionally, not all the wall cabinets should be countertop-to-ceiling. You'll want some traditional wall cabinets with space below for food prep, small appliances, decorative pieces, or canisters.
Pros and Cons: Full-length cabinets cost more, but they are a better value because they give you more square feet of storage for the price. And there are no cabinet tops collecting dust.
Keep in mind that items on upper shelves will be quite high, so you will want a stepstool kept nearby. Store least-used items on the highest shelves.
Cost: Your cost will depend on the type and quality of the materials used.
Countertop cabinets: Low – $250 per linear foot, Average – $370 per linear foot, High – $580 per linear foot.
Floor to ceiling cabinets: Low – $400 per linear foot, Average – $615 per linear foot, High – $800 per linear foot.
Matching Slab Backsplash
This kitchen style is all about elegance. It is an expensive upgrade to include a backsplash slab of stone that matches the countertop.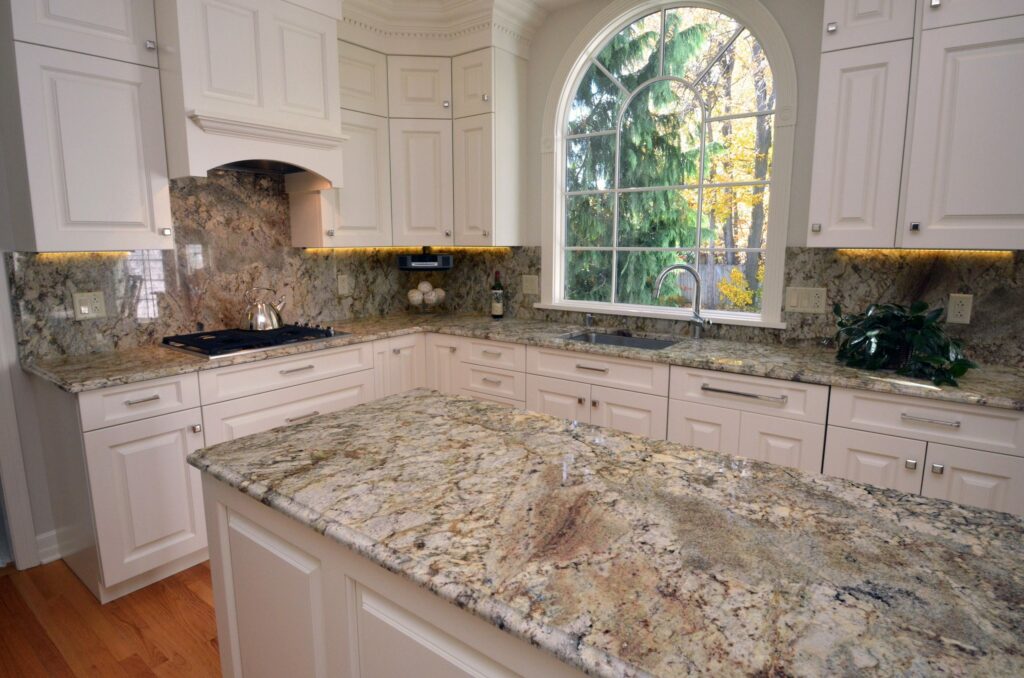 Design tips: Green-toned marble is a hot color this year – and it has a classic appearance that should look fresh for some time. If you think a matching green marble backsplash might be a little too much of a good thing, consider a slate tile backsplash with complementary green hues.
Pros and Cons: The upside is continuity and elegance. But those features come at a higher cost than traditional backsplash materials.
Cost: The installed cost per square feet is quite high compared to other upgrades. Low – $165 per square foot, Average – $250 per square foot, High – $400 per square foot.
Workstation Sink
A workstation sink is an undermount sink with an edge where a cutting board, drainage board, colander or drying rack can rest over the sink. Most are double sinks, since they offer greater utility than large, single-basin sinks.
Workstation sinks are most often installed in the food-focused kitchen, but they are useful for food prep and cleanup regardless of kitchen design.
Pros and Cons: A workstation sink saves counter space and makes kitchen work easier. You have a good selection of sink sizes and accessories. The average cost of a workstation sink is higher than standard sinks of the same size and material, but the value makes up for the higher price.
Cost: Workstation kitchen sink cost varies by size, single vs double sink, material, and package of accessories you select. These are installed costs, but if you're handy, you can DIY and save labor of $100 to $250. Low – $550, Average – $900, High – $1,400+
Smart Appliances
PCMag says, "There are ways to cook with your phone that don't involve ordering delivery through an app." That's a great way to describe the wide range of kitchen appliances you can control and monitor from anywhere using a smart device, home assistant or your voice.
Here is PCMag's list of the best smart kitchen appliances. It includes countertop ovens, microwave ovens, pressure cookers, an air fryer and more. Full-size smart ranges and refrigerators are also available from top manufacturers.
Pros and Cons: The added convenience of WiFi connectedness and/or Alexa commands comes at a cost of $50 to $200 when these appliances are compared with standard appliances.
Cost: Price varies on appliance type. Here are average costs. Microwave – $300, Countertop steam or convection oven – $475, Range – $1,500, Built-in steam oven – $2,000+ or Refrigerator – $2,200+
Office Workstation
Kitchen Magic executive JT Norman shares that "home offices and classrooms are rapidly becoming the norm these days, and the kitchen is often the perfect spot for a desk space or mini-home office."
Having a little office space is essential to the multipurpose kitchen. Your workstation can be as simple as an IKEA desk tucked in a corner. A section of lower countertop space with room for a chair to slide under it is a popular option.
If you work from home full-time, you might want a more spacious work nook with built-in shelves and drawers.
Can you deduct this expense? According to the IRS, you must be self-employed to take a home office deduction. And if you are, then you can deduct expenses for up to 300 square feet of home office space.
Pros and Cons: The upside of a kitchen workspace is multitasking and making great use of your kitchen area. The concern is that work requiring focused concentration might not mix with the kitchen busyness of large households.
Cost: A small desk and chair that you assemble starts around $195. Built-in space with all the features you might need in a high-functioning office environment can run $10,000 or more. When the workstation is built into the design, here are cost options based on size, materials, and features: Low – $1,800, Average – $4,500, High – $7,500.
Tea and Coffee Station
This kitchen upgrade can be as simple as a wire cart from Amazon with a Keurig coffee maker and as extravagant as a built-in bar well-equipped with coffee maker, hot water dispenser and espresso machine plus cabinet space for storing supplies.
If you're looking for a quality coffee maker, Cuisinart dominates the top spots on Consumer Reports' list of the very best this year!
Pros and cons: The station gives everyone the opportunity to choose their favorite hot drink. And every cup is fresh. The only disadvantage is the loss of space it requires versus using existing counter space.
Cost: Price begins with stand-alone carts that you assemble and progresses to custom design with cabinetry, countertop and any wiring/outlets added.
Of course, the type and features of the equipment you select will impact cost too. Here are prices the for an equipped coffee bar or station. Low – $575, Average – $2,750, High – $4,500. A station with a sink and water filtration costs closer to $7,000.
Open Shelving
Open shelf space is a trend in all kitchen designs. What goes on the shelving is guided by how you use the space.
Design tips: Choose the location of open shelf space based on what you will store there and who can reach it. Open shelves must be kept neat and uncluttered, or they become a detriment to a peaceful kitchen.
Trending materials are nicely textured wood shelves with light staining. The look is organic and natural with a touch of rustic. And yes, as you've read elsewhere, green tones remain popular. Choose the color and style that blends best with the rest of your kitchen.
Pros and Cons: Open shelves make access easy – a pro for a busy adult reaching for a small appliance, but a con when curious toddlers are doing the same and the shelving is low.
On the other hand, if the family gathers in the kitchen, and you want books, games and toys within easy reach of little hands, a few open shelves below a countertop are ideal.
Cost: The price of built-in open shelving ranges from: Low – $70 per linear foot, Average – $245 per linear foot, High – $615 per linear foot.
Flexible Lighting
The multifunction kitchen needs multipurpose lighting. Bright light is essential for food preparation. Tone it down for cleanup, and when the chores are done and the kitchen is used for lounging and conversation, softer lighting is perfect.
Versatile kitchen lighting that can be brightened or dimmed with a smart light switch controlled by an app, smart assistant, or voice command. Of course, old-school rheostats are still available, but wiring costs are high and unnecessary with your smart options.
If you are simply swapping out old fixtures for new, then DIY is a way to save around $50 per fixture. Just be sure you know how to do it safely!
Design tips: Bold fixtures, what some call statement fixtures, especially those with round designs, are top picks for the year. Brass highlights are embraced by some designers while others say they are on the way out.
We leave it to your preference, but if you're asking us, we would avoid brass in favor of wood, wood-tones or silver depending on what is the best fit for your kitchen. Those are hotter colors.
Pros and Cons: Lighting flexibility allows you to choose the light level and set the mood for what is taking place in the space. If there is a downside, sometimes tech trouble or a user's lack of familiarity with smart equipment causes hassles.
Cost: The size, light capacity and quality of your fixtures affect cost. And when you choose recessed lighting, installation costs are higher. If your kitchen is poorly lit and new lighting junction boxes must be wired in, cost can be quite high. Here is the cost of kitchen lighting per fixture: Low – $150, Average – $325, High – $600.
Natural Light
Skylights, garden windows and glass wall sections are wonderful ways to bring natural light into the kitchen. A garden window doubles as an opportunity to beautify the kitchen with natural plants. And you can grow herbs or start tomato plants too. A glass wall is a "must" for the kitchen trend discussed next.
Pros and Cons: Natural light reduces energy costs considerably. But anywhere you have openings in the wall structure – and that's what these are – the room's overall energy efficiency drops due to heat loss in winter and heat gain in summer.
For best results, consult a window specialist and select an insulated glazing (glass) type best suited to your climate.
Cost: The cost of a skylight installed ranges from $1,500 to $3,500 or more. Size and whether it opens or is fixed are cost factors.
The cost of a garden window is $2,200 to $4,000 when the opening must be created in the framing of the home.
When replacing a standard window with a garden window, cost can be $1,200 to $2,500. Size of the window, its material and whether any part of it can open for ventilation affect cost.
Merging Indoors and Outdoors
The trend here is to tie in the two realms to create a seamless transition. And, of course, it is best suited to a kitchen with a wonderful view of natural surroundings rather than a busy street or neighbor's garage. This upgrade makes any kitchen feel more spacious and gives you a sense of being connected with nature.
This trend can be accomplished with any combination of fixed and operational windows and panels. Movable glass wall panels are available too, but they are extremely expensive.
Pros and cons: The benefit is a healthier perspective when the great outdoors can be easily seen and enjoyed. The upfront cost and a loss of energy efficiency are concerns.
Plus, while window replacement brings an average return of 67%, turning a whole wall into windows or movable glass panels will likely have a smaller return due to the high cost.
Cost: Factors include the square footage of the project, quality, and type of materials and whether the panels are fixed or operational/moveable. Plan on costs of $650 to $2,000 or more per linear foot. For an 8-foot wall that is 15 feet wide, here are potential costs. Low – $9,500, Average – $14,000, High – $25,000+
Waterproof Wood Flooring
Wood makes wonderful flooring, but water is its nemesis. Here is a solution that's gaining a lot of attention this year. Waterproof engineered hardwood is manufactured by several names you'd know including Bruce and Pergo.
The top layer is a veneer of genuine hardwood sealed against moisture penetration. The core is typically fully waterproof, either a stone polymer core (SPC) or wood polymer core (WPC) fully encapsulated in waterproof coating.
Design tips: Wood flooring trends include wider and longer planks, lighter colors, heavily textured wood, and low-gloss finishes.
Pros and Cons: You can have a real hardwood surface on your floors instead of fake wood like laminate or luxury vinyl. The cost is competitive too. The drawback is that this type of wood flooring cannot be refinished. Expect it to last 12-20 years, about as long as faux wood choices, depending on initial quality and how much traffic it gets.
Cost: Price begins with DIY planks. The average and high costs that follow are pro-installed prices. Low – $4.30 per square foot, Average – $7.25 per square foot, High – $9.50 per square foot.
Choosing the Right Kitchen Upgrades
Start where the National Home Builders Association does in its annual survey – by asking which upgrades are essential? And which are desirable?
Decide on your total budget.
Narrow your project choices based on your budget, giving higher priority to changes you consider essential.
View the pricing ranges above to determine how to allot your budget. If you want to complete more of the upgrades that are a high priority for your kitchen, you might have to spend less per upgrade.
Discuss your decisions with a kitchen contractor to finalize your choices and budget.
Do you need an architect? Probably not. Forbes Advisor says, "For most kitchen remodels, an architect's services would be more of a luxury than a necessity. However, if there is major disturbance to the structure of the home, the skills of an architect may be required."
Paying for your Kitchen Upgrades
Using cash out of savings is the most economical way to pay for an upgrade. A HELOC, or home equity line of credit, is a popular option too. But along with inflation, interest rates are rising. That's a trend that might continue, so now is a good time to apply.
Get Free Quotes For kitchen Pros Near You