Some of these tell-tale signs indicate your roof needs replacement right now. Others are clues it won't be long before you need a new roof.
Roof Leaks – Water staining or damage in your attic or on ceilings
Visible Deterioration – Cupping shingles, splitting shakes, cracked tiles, rusting metal
Missing Roofing – From wind damage, poor installation, walking on it
Algae Streaks – Washing will sometimes help
Sagging Roof Line / Spongy Roof – You'll need a tear-off and the roof decking replaced
Daylight in the Attic – You need roof replacement "yesterday"
Storm Damage – Call your insurance agent to see what's covered
Moss – Clear the moss, but moss traps moisture, and it might be too late
Blistering – Moisture below, a sure sign of needed roof replacement, causes blisters
Missing Flashing – Check around walls, dormers and chimneys where water can penetrate
Granules in Your Gutters – The shingles are losing reflectivity, and shingle damage will soon follow
Your Roof is Just Old – See expected roof life estimates below, and plan ahead for a new roof
Average Cost To Install a new Roof
Typical Range:
$5,960 - $12,740
What Can Shorten the Lifespan of Your Roof?
Most of these are preventable – all but the weather. Obviously, storms can damage a roof, but many weather conditions will shorten its lifespan.
Extreme heat or cold can cause asphalt shingles to become brittle, high winds can tear shingles and tiles, large hail can damage any kind of roofing material (stone coated steel roofs can provide the best protection from hail impact damage). While none of us can change the weather, you can choose a roof best suited to your climate.
Poor Maintenance
If you could prevent your roof from going bad prematurely, you would, right? Right!
Act quickly to defend your roof when you see a few missing or broken shingles or tiles, wet debris sitting in roof valleys, popped nails, loose flashing, scratches on metal – or worse, a rusting scratch. — These are minor issues, but if left unrepaired, they will lead to major problems and significantly shorten the lifespan of the roof.
Overhanging Branches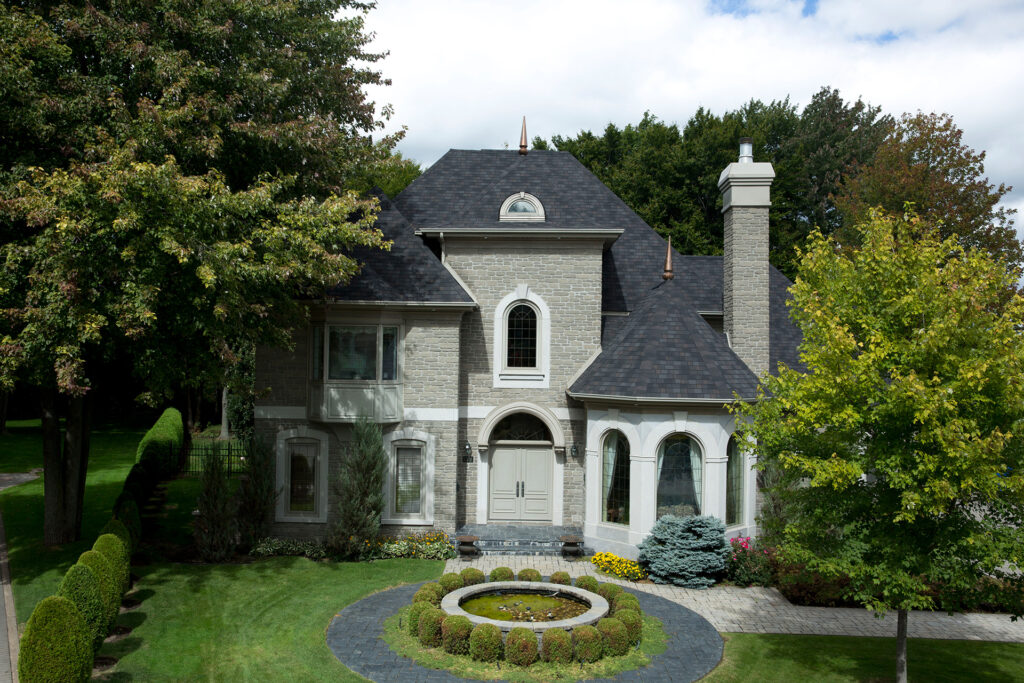 Source: Iko
If overhanging branches are allowed to constantly scrape against a roof, they will eventually cause damage. In a storm, large branches can fall on the roof, denting, or even puncturing it.
Overhanging branches serve as a bridge for critters onto your roof. Raccoons, looking for a place to nest, can actually tear shingles or vents off the roof.
And those branches drop leaves, needles and twigs that can lay in valleys, absorb water and eventually cause roofing damage.
Plant Growth
Moss and algae should never be allowed to grow on your roof. As noted, plant material will retain moisture leading to deterioration and roof rot. Plant growth also blocks the water from flowing off your roof allowing water to pool. Weeds growing in your gutters blocks water drainage from the roof.
How to Extend the Lifespan of Your Roof
Some roofing materials just last longer than others, but you can extend the life of any type of roof by taking these measures.
Proper Installation
Hire a reputable roofing contractor that is licensed, bonded, and insured with excellent references and credentials. A properly installed roof is crucial to getting the longest lifespan and achieving the warranty limit of the materials. Bad or poor quality roofing installation reduces the lifespan of the materials by as much as half.
Attic Insulation and Ventilation
The importance of a healthy attic is second only to installation. In winter, a properly insulated and vented space beneath the roof stays colder. This prevents snow from melting, running to the unheated eave where it freezes and causes an ice dam.
The ice dam forces water flowing into it from above to sneak up under shingles where it will wet the decking and eventually rot it – and perhaps leak into your attic and home.
In summer, improper ventilation can allow your attic to become warm and moist causing mold and rot in roof framing and escaping through the deck to damage roofing.
Quality Materials
Once you decide on the type of roof you want, purchase the best materials you can afford. The good stuff lasts longer, and it looks better too. Who doesn't love improved curb appeal? Buyers surely will if you put your house on the market.
Some quality options are:
Underlayment
Under what? It used to be called tar paper (which is still used) or 15Lbs to 30Lbs felt, but there's a whole range of underlayment materials in play today.
Roofing underlayment is a water resistant or waterproof material that is installed directly on your roof deck. It is often the last line of protection from rain, snow, and ice, along with the Ice and Water shield used at the eaves and in the valleys of a roof.
Invest in the best quality underlayment like a breathable (for a more balanced attic and roof deck ventilation) synthetic undelayment from GAF or Owens Corning if your area experiences harsh winters and/or torrential, wind-driven rain.
A quality underlayment will also be immensely helpful for the ultra long-lasting and expensive roofing systems like slate or concrete and clay tiles
Annual Inspection and Maintenance
It's important to have your roof checked by a pro every year. And you should eyeball it from the ground or by getting up on a ladder after major storms. If any damage has occurred, fix it before major issues develop.
Maintenance should include gutter cleaning, flashing inspection, removing debris, moss, or algae, and trimming overhanging branches.
Roofing Materials – Lifespan and the Warranty
A manufacturer's warranty is intended to provide protection against defects in the product or defects in the manufacturing process for a specified length of time. This means that the manufacturer will repair or replace the roof if the materials fail and it's their fault. This usually means something went wrong in the manufacturing process.
Fact: Warranties do not mean that your roof will last as long as the warranty period. Many things can cause a roof to need replacement before the warranty expires. And they certainly do not mean that the roof will look newly installed for the length of the warranty.
It's an "open secret" in the roofing industry that manufacturers rarely pay on warranties. In their eyes, it is usually the installer's fault, the result of normal wear and tear or an act of Mother Nature that caused your roof to fail. None of those issues are covered.
Proper Installation is Crucial
Yes, we've said this. Repeatedly.
But the life of a roof depends on many factors, and none are more vital than installing the roof the way it was meant to be done. Fail here, and the roof will fail before its time.
Don't skimp on quality by going with a cheap installer. That doesn't mean you have to go with the highest bid, but make sure the people you hire have a good track record installing the kind of roofing you've selected.
It might even be worth checking to ensure they've installed the specific brand of shingles or metal or tiles you choose. They all have slightly different installation
Roof Replacement Options and Average Estimates for a 2,000 to 2,200 Square Foot Home
Learn more about popular roof replacement options and compare costs here: https://www.remodelingcosts.org/roof-replacement-cost/
3-Tab Asphalt Shingles: $10,000 to $12,500
30-year Shingles: $10,500 to $19,800
50-year (Thicker) Premium Shingles: $11,500 to $20,500
EPDM Rubber Membrane: $10,500 to $17,500
TPO or PVC Membrane: $11,500 to $20,500
Wood Shingles: $15,500 to $27,500
Steel Shingles: $15,500 to $27,500
Aluminum Shingles: $16,500 to $29,500
Standing Seam: $18,500 to $31,500
Natural Slate: $25,000 to $50,500
Concrete Tiles: $25,000 to $40,500
Clay Tiles: $25,000 to $45,500
Estimated New Roof Costs (2,000 sq.ft.)
Asphalt
Metal
Flat

$8,500
$15,500
$11,500

See what local pros charge
Get Free Quotes For roofing Pros Near You