The best gas furnaces are the highest quality models made by Trane, Lennox, Carrier, American Standard, Bryant, Payne, Rheem and Ruud furnaces.
They aren't always the most efficient gas furnaces, though some of them have high efficiency ratings.
They don't always have the most "advanced" technology because those units are shown to have higher rates of mechanical failure and worse customer reviews. In short, they aren't worth the extra cash.
No Goodman. No Heil. No York – definitely no York. That's the bottom line, and it is fully explained on this page.
Data Analysis – Where Do We Get the Information?
The gas furnaces on this list have a proven track record as quality products. Track record?
Yes – based on statistics compiled from real homeowners and HVAC technicians that work on all brands and see with a trained eye what is a good furnace and what isn't.
Furnaces, Not Brands
Most brands make basic entry-level (cheap) furnaces, midrange "best sellers" and high-end furnaces that are expensive and not always as reliable.
So, ignore comparisons of the "best furnace brands." They're meaningless. Lennox, for example, makes quality Signature Series and decent Elite Series furnaces – and they make Merit Series furnaces which don't belong anywhere near a Best Furnaces list.
The Best Gas Furnaces
The top-rated furnaces are:
Carrier Infinity 98
Trane S9V2
Payne PG95ESA
Rheem Prestige R96V
Lennox Elite EL296V
Carrier Infinity 80 58TN
Rheem Prestige Series R802V
Trane XV80
Average Cost To Install a Warm Air Furnace
Typical Range:
$3,840 - $5,570
The top gas furnaces are produced in two efficiency tiers:
80% AFUE (annual fuel utilization efficiency) furnaces are designed mainly for milder climates where spending an extra $900 to $3,600 for a high-efficiency furnace won't pay off in lower energy bills during the furnace's lifespan.
90% to 99% AFUE furnaces are a better choice where winter comes with long periods of very cold weather. But even there, the most efficient furnaces often aren't the highest quality, and they come with a price tag that the monthly energy cost savings won't cover.
How is the higher efficiency achieved? Through putting a secondary heat exchanger in the furnace to transfer more heat out of exhaust gasses and into the air circulating through your ductwork.
The Top Gas Furnaces
The year's best furnaces are mostly two stage furnaces, aka 2 stage furnaces. There is only one variable capacity furnace, the Carrier Infinity 98.
Also called modulating furnaces, they simply are not as reliable as less-complex furnaces. Issues can be harder to diagnose and more expensive to fix.
A glaring example of this is the Lennox SLP98V that delivers an impressive 99% efficiency. That's where the fun ends.
By Lennox's own admission – they at least publish customer reviews on the site – this super-efficient variable capacity furnace is one of the worst rated Lennox furnaces.
About 25% of reviews give the furnace the lowest 1-out-of-5 rating. Comments include, "Terrible furnace; should have stayed with Carrier," "furnace has had nothing but issues," and is "junk."
Buyer beware, indeed. There's a brief section below with more details on these high-expectation, low-satisfaction furnaces.
Top Gas Furnace Models
| | | | |
| --- | --- | --- | --- |
| Furnace | Efficiency | Stages | Installed Cost |
| Carrier Infinity 98 | 98.50% | Variable | $5,700 – $10,200 |
| Payne PG95ESA | 96% | 1 | $4,400 – $7,800 |
| Trane S9V2 | 96% | 2 | $5,500 – $9,900 |
| Rheem Prestige R96V | 96% | 2 | $4,700 – $9,000 |
| Lennox Elite EL296V | 96% | 2 | $5,100 – $9,800 |
| Carrier Infinity 80 | 80% | 2 | $4,400 -$7,000 |
| Trane XV80 | 80% | 2 | $4,200 – $7,300 |
Get Free Quotes For furnace Pros Near You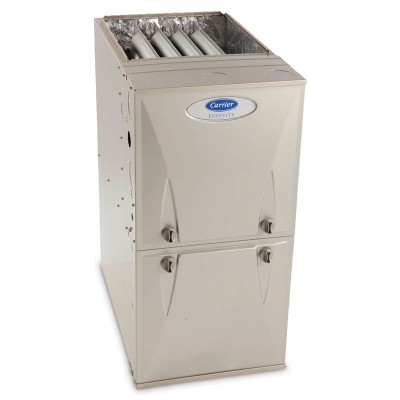 So, yes, we're going to start the list with a variable capacity furnace. It is the only one on the list, the only one we are comfortable recommending as a "best furnace" option. It is placed first because it is the most efficient model among the best gas furnaces.
Carrier was the first manufacturers to have success with a variable capacity furnace – technology it calls Greenspeed for the eco-friendly efficiency levels achieved.
And Carrier still makes the best available.
Ratings are good from consumers and from independent testing agencies like Consumer Reports. Technicians report fewer issues with this brand's modulating technology than with others.
The current model number of the Infinity 98 is 59mn7, but it changes year to year.
*The Bryant Evolution 98 is identical to this furnace.
Efficiency: 98.5 AFUE
Performance: Variable capacity – This means that the gas valve opens anywhere from 40% to 100% based on your home's heating demand. On a 50ish fall day, running at 40% to 55% is sufficient to keep your home warm.
The lower the temperature, the more gas the furnace burns to keep pace with your thermostat's demands.
It is easy to see how variable capacity performance reduces fuel use compared to a single stage furnace that runs at 100% whenever on and even compared to two stage furnaces that run on low-fire 65% or high-fire 100% as the only options.
This furnace has advanced features beginning with the modulating gas valve and a variable speed blower. Single speed blowers come on full blast before the furnace is fully heated, so coolish air comes out of the vents.
In contrast, variable speed blowers start slow, get the air moving, and as the furnace warms, they speed up. And they slow down gradually too, so you don't get a blast of cool air at the end of the cycle either.
Warranty: Lifetime heat exchanger warranty; 10 years on all other parts.
Installed Cost: $5,700 – $10,200
Pros and Cons
Pros: The advantages start with premium efficiency and move to indoor climate control. Variable capacity heating keeps the temperature in your home very even.
One verified buyer says, "never see any, and I mean any, temp change."
Single stage furnaces often produce fluctuations of 1-2+ degrees. A furnace that only produces enough heat to keep up will hold the temperature within 1 degree of the thermostat setting. And because this furnace runs at less than full capacity most of the time, it is slightly quieter.
Finally, when the furnace is supporting central air conditioning, the variable speed blower running at lower capacity improves dehumidification of the air – and drier air during AC weather is more comfortable air.
Cons: Premium efficiency comes at a premium price. This is an expensive furnace and not worth the cost in terms of efficiency – you'll save a thousand dollars or more if you choose one of Carrier's efficient two stage furnaces, but only lose a few percentage points of efficiency.
Secondly, when variable capacity equipment breaks down, the repair costs are higher because the replacement parts are more expensive.
Best Use
Homeowners who choose a variable capacity furnace either want the super-efficient heating or they prefer exceptional indoor comfort – or both. Otherwise, a less-efficient two-stage furnace is a suitable alternative when you choose one with an efficiency rating that's right for your climate.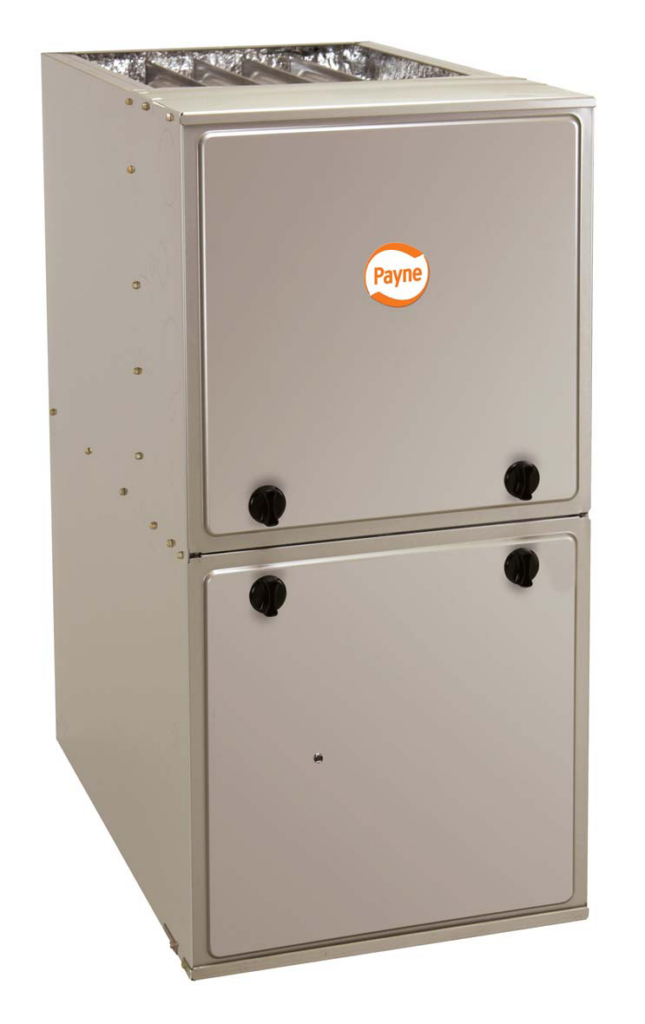 This is a singl- stage furnace that is 96% efficient – only 4% of the heat produced is lost out the exhaust. And it is affordable. And the quality is excellent.
In fact, Consumer Reports ranks Payne at the top of the list for Predicted Reliability, sharing the space with Trane and no other manufacturer. Furnace technicians will tell you that Payne makes quality equipment.
Yes – Carrier makes Payne, and Payne furnaces are nearly identical to Carrier models.
But here's the catch, and it's a nice one: Payne prices are significantly lower than Carrier's. Why? Because not everyone wants to spend Carrier money.
And while the profit margin is lower on Payne furnaces, the Carrier Corporation would rather make less profit on a Payne than no profit if you buy a brand it doesn't own.
Efficiency: 96%
Performance: This is a single-stage furnace, so it runs on full capacity whenever heating. The blower motor has 5 speeds, so while not quite variable, it does start on a slower speed, ramp up, and then slow down in steps to prevent cold blasts of air at the beginning and end of the heating cycle.
This Payne furnace has an ECM motor that uses less electricity than PSC motors. No, an ECM blower motor's efficiency won't make a huge difference on your utility bill, probably $3.00 to $8.00 per month depending on how much the furnace runs.
Oh, and an ECM motor running at variable speed helps remove more humidity when your system is in AC Mode.
Pros and Cons
This unit is on the list for its quality and dependability. Plus, it is Energy Star rated at an excellent 96% AFUE and less costly than comparable Carrier furnaces. Those are its advantages.
The main disadvantage is the single stage performance. You might feel some fluctuation in temperature throughout the day.
Comfort Tip: If you want two stage heating at Carrier quality but a lower cost, consider the Payne 96 PG96VTA. It has a 2-stage burner and a variable speed blower motor to optimize indoor comfort and climate control.
The PG96VTA could easily have been added to this list – maybe should have been.
Warranty: 20 years on the heat exchanger; 10 years on all other parts.
Installed Cost: $4,400 – $7,800
Best Use: If your buying goal is reduced energy use/cost at an affordable price, this is a good buy. That's as long as you are OK with potential, but small, temperature swings. The fluctuations are especially noticeable in rooms most distant from the furnace.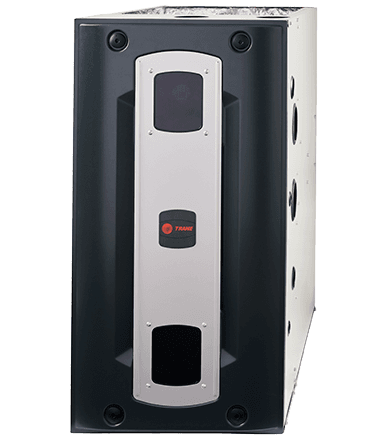 This is the overall best furnace on this list. It is the highest rated furnace from the highest rated brand – Trane.
*The American Standard Gold S9V2 furnace is identical. If you want this furnace, talk to both your local Trane and American Standard dealers, check their Google reviews, and choose the HVAC contractor you believe will do the best job on installation. The level of installation quality can make or break a gas furnace.
Efficiency: 96% AFUE
Performance: This is a 2-stage furnace with a variable speed fan. While a 2-stage furnace doesn't deliver quite the precise climate control as a variable capacity furnace, most homeowners won't notice a difference in comfort.
The furnace will run at low capacity, or 65%, as long as that amount of heating is enough for your home at your thermostat setting.
The variable speed blower (Vortica II) matches the heating cycle – starting low, ramping up and then slowing back down as the burner shuts off and the blower gently pushes out the remaining heat.
As noted, a variable speed blower also makes air conditioning more efficient and comfortable. The motor is an ECM, a more energy efficient type than standard PSC motors.
This Trane furnace has communicating technology. Rather than the components simply "taking orders" from the thermostat, the furnace – and a central AC if one is included in the system – relay data back to the thermostat. The result is optimized comfort control.
Pros and Cons
It is worth saying again – this is the best furnace from the top-rated brand.
The advantages begin with proven Trane quality. This is a durable, high-performance furnace that should last 18-25 years with normal maintenance and a few repairs. It is efficient and comfortable.
On the downside, Trane furnaces are among the most expensive. Yes, perhaps you get what you pay for compared to lower rated brands, but if you're not planning to live in your current home for 10+ years, then, frankly, buying a mid-tier furnace from Heil, Armstrong or, gasp, Goodman, is worth considering.
Warranty: Lifetime on the heat exchanger; 10 years on parts.
Installed Cost: $6,000 – $9,900. That is one of the nice aspects of the Trane pricing page: Estimated pricing is given for most furnaces.
Enter your zip code to see Trane's estimate of pricing in your area – it varies significantly across the country mainly due to shipping distances and local cost of living. Always consult a dealer for specific price estimates.
Best Use: This furnace is best suited for homes in cold to very cold climates when homeowners want efficiency coupled with very good climate control in all seasons. If you like Trane but live where winters aren't horrible, then consider one of the brand's 80% 2-stage models. There's one on the list below.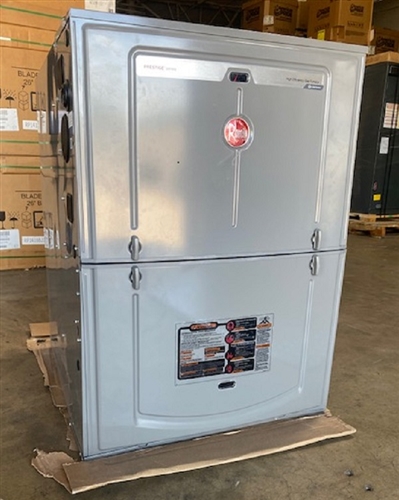 Rheem's quality has risen and fallen over the last few decades, but it is on the rise again. Once a mediocre brand, along with identical Ruud furnaces, Rheem furnaces, at least the best models, now get very good to excellent ratings.
*The Ruud U96V is identical – the same furnace with a Ruud cover.
Efficiency: 96%
Performance: Two stages of heating combined with a variable speed blower.
Wow, that's like a lot of furnaces on this list! Yes, it is. And that's because this performance range provides the best value, which is defined here as the best efficiency plus best climate control for the money you spend.
With this Rheem gas furnace, you get two stages of heat supported by the comfort-giving variable speed blower motor. No cold blasts during heating and no warm blasts when the AC is on in warm weather.
The motor is an energy-saving ECM (if you aren't familiar with the name and haven't looked it up yet, ECM means electronically commutated motor. The other option is a PSC, or permanent split capacitor, motor).
Pros and Cons
The advantages are very good quality, efficiency, and climate control. Plus, you would likely spend less on a Rheem or Ruud than on a Trane or Carrier.
One concern, and an important one, would be about installation. Rheem isn't as picky as Trane, Carrier or even Lennox about who installs its furnaces.
If you go with Rheem or Ruud, you will pay more but get better installation if you choose a Rheem/Ruud certified installer compared to the local installer that says, "sure, we install anything… but we're not certified in Rheem or Ruud."
Warranty: The industry standard – Lifetime heat exchanger, 10 years on other parts.
Installed Cost: $7,100 to $12,200
Best Use (and an alternative): This is a cold-climate furnace, like those above. Do you like what you're hearing but live in a milder climate? Then consider the Rheem R802V. It is essentially the same furnace with only one heat exchanger, and hence 80% efficiency, vs. two heat exchangers and 96% efficiency.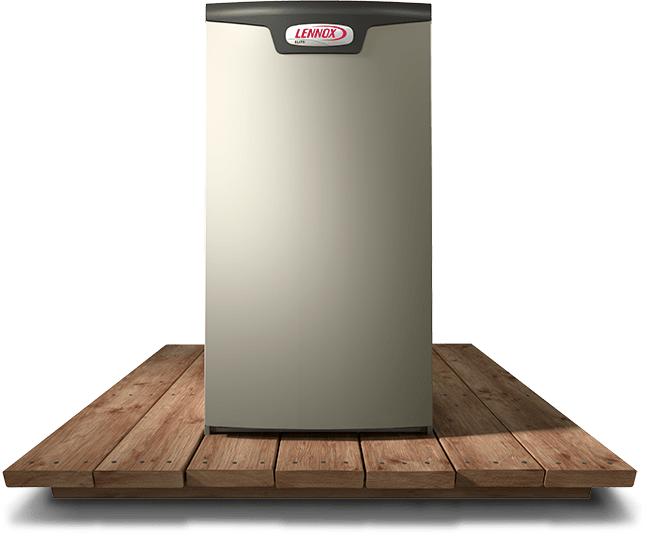 One of the frustrating realities with Lennox is the mixed quality of the products in its lineup. Ratings from users range from less than 2 out of 5 to 4.7 out of 5.
And there is a chronic problem with getting parts – but more on that in the Pros/Cons.
This Lennox EL296V gas furnace is one of the better ones – the highest rated among Lennox furnace owners.
Efficiency: 96%
Performance: Two-stage heating, variable speed blower, enhanced efficiency ECM blower. It's quite similar to several others above.
Warranty: Lifetime heat exchanger coverage; 10 years on other parts.
Pros and Cons
The advantages include good quality and better climate control than a single stage furnace offers. The furnace is quiet whether heating or supporting central air conditioning. Durability of this furnace – though not all Lennox furnaces – is similar to Carrier and Trane. It is very good.
The disadvantages are cost – Lennox is close to Trane in price – and potential repair delays through parts shortages and shipment times.
The problem with parts is this – Lennox uses more of its own parts and less third-party universal parts for repairs. And when a service technician has to order a specific part from across the country rather than pick it up the same day locally, delays are the result.
Here are a few of many examples from verified buyers of this furnace, "Technician says it needs a new module. Lennox has NONE available for at least a month. Warranty is useless if they can't get the parts to fix it and I'm left cold." Brrrrr.
Another said, "I have not had an operating furnace for two weeks, I am waiting on Lennox parts." Unfortunately, that's a common story with Lennox.
Installed Cost: $5,100 to $9,800
Best Use: It's a broken record, but at least it's the last time around on this page – this is a cold-climate furnace best suited to the northern regions of the US.
This is Carrier's best 80% furnace. It has all the quality and features of the Infinity 98 above but in a 2-stage version with a single heat exchanger.
*The Bryant Evolution 80 furnaces are identical.
Communicating vs non-communicating: A furnace or HVAC system with communicating technology means that the components send operational information back to the thermostat.
The intended result, often with success, is superior efficiency and climate control compared to a non-communicating system in which the thermostat just barks out orders for the components to follow.
Beautiful, right? Yes, until there's a "failure to communicate," and the components and thermostat can't understand one another. This usually leads to the system shutting down and refusing to heat your home.
And here is an unpleasant reality – a lot of technicians don't have the experience to get the lines of communication opened up again, and there are delays in repairs. In fact, a lot of times, the "repair" involves circumventing the communicating technology to make the system a one-way street, like all non-communicating systems.
The alternative is the Carrier Performance 80 58TP, the same furnace without the communication set up and thermostat. So, it's up to you. Carrier's communication technology is better than most, but it isn't perfect.
If you want premium climate control and are willing to take the risk, go with the Infinity 80 communicating furnace – the Infinity 58TN. If you prefer to play it safe on a high-quality furnace, the 58TP is a better choice.
Efficiency: 80%
Performance: 2-stage (low-fire of 65% and high-fire of 100%) with a variable speed blower that prevents blasts of untreated air at the beginning and end of the cycle. In other words, outstanding indoor comfort.
Warranty: Lifetime heat exchanger/10-year parts warranties.
Pros and Cons
The benefits are high quality, durability and, if a repair is needed, parts are readily available and fairly priced.
The other side of the story is that Carrier furnaces cost more than average. And keep in mind the communicating issue. If you want to avoid problems without losing much comfort, choose the non-communicating 58TP furnace.
Installed Cost: $4,400 – $7,000
Best Use: This furnace is designed for milder climates. If you plan to stay where you are for the foreseeable future, it might be worth spending a little more on a premium Carrier furnace like this one than on a brand with lower quality.
Trane does make some average-quality furnaces, but this isn't one of them. The XV80 and similar XC80 communicating furnaces are top-tier furnaces in terms of the quality of the components used to build them.
*The American Standard Platinum 80 furnace is identical.
Efficiency: 80% – Suitable for milder climates and locations with part-time use like vacation homes, workshops, and guest apartments.
Performance: Two stages of heat supported by a variable speed blower.
Warranty: Lifetime heat exchanger/10-year parts warranty.
Pros and Cons
This furnace has been around for about a decade, and it has a track record of reliability.
You get premium quality plus the two-stage heating and variable speed blower. They provide better indoor comfort than you get with a single stage/single speed option. The furnace is pricey though. And some customers report it can be a little noisy.
Some contractors might try to upsell you to the XC80 communicating furnace, which actually gets pretty good ratings, though not quite as high. The extra $400-$750 isn't worth it because with the "upgrade" comes the potential for communication problems that can be hard to identify and solve.
Installed Cost: $4,200 – $7,300
Best Use: This furnace is designed for mild climates where paying for a 90% or higher furnace wouldn't be worth the money. In cooler climates, it is sometimes purchased for part-time when dependability is uppermost in the buying decision.
The Trane XV80 is a good choice for homeowners that are willing to pay more to get a superior furnace -it especially makes sense if you don't plan to move anytime soon.
FAQ and Buying Guide
Here are a few more areas of discussion for informed furnace buying.
What Do You Get for the Money?
Here is a list of components, accessories, and services you get with the purchase of a new furnace.
Load calculation (Manual J) to determine the right furnace size
Remove old furnace if necessary
Install new furnace
Modify or install sheet metal connections to the ductwork
Install gas line, vent, and electrical wiring – not always necessary on furnace replacement
Supply and install condensate switch and pump (90%-plus furnaces)
Reinstall AC coil from old system into new system if necessary
Install new thermostat and program it at customer request
Set up remote app – WiFi thermostats only
Start and test furnace
Make adjustments to blower motor to tailor performance to the home's needs
How Much is Furnace Installation?
The general labor to replace a furnace runs $1,600 to $2,800.
Average Cost To Install a Warm Air Furnace
Typical Range:
$3,840 - $5,570
If there's no gas line, electrical or vent for the furnace – in other words a new furnace rather than a replacement furnace – then those necessary additions and labor can add $1,500 to $3,000 to the price of the furnace.
Are Variable Capacity Furnaces a Good Investment?
The guidance on this page has been to avoid variable capacity furnaces because the extra cost does not pay for itself in lower energy bills over the life of the furnace – certainly not in the first decade.
Secondly, the "top tier" variable capacity furnaces from most brands also have communicating technology. Again, probably not worth the money when you consider a higher furnace cost plus the need for a communicating thermostat – $200 to $750 depending on the other features it has.
Finally, along with the higher costs comes a greater incidence of mechanical failure. And the pricier the equipment to start with, the more it costs to repair.
So, consider this a "second opinion" on variable capacity and communicating furnaces. Compare the concerns raised here with what benefits a furnace contractor or sales agent lists for you. Knowing the pros and potential cons at least makes you an educated consumer.
What is the Return on Investment of a New Furnace?
Roughly 55% to 75%.
Peak furnace replacement ROI comes when your current furnace is kaput – at the end of its life – and you install a midrange furnace ideally suited to your climate.
In warm climates, a single stage or two stage 80% furnace like the Carrier Infinity 80 or Trane XV80 is best.
In cool to cold climates, you'll maximize return on investment with a good-quality 90% or higher furnace from the list above. The single stage Payne PG95ESA, for example, is an excellent option because the furnace is a good value to begin with and is Energy Star rated.
You'll lose ROI when you buy the "wrong" furnace for your climate. You won't get a lot back on a high-end, 95% or higher furnace in a warm climate. The same problem arises if you install an 80% furnace in a cold climate where losing 20% of the heat made will produce sky-high fuel costs.
Repair vs Replacement? What are Repair Costs? Moving or Staying?
If your furnace is in good condition, less than 12 years old and the current repair need is minor, then repairing it makes sense.
The only times to replace a furnace in "decent" condition are 1). If it is too small and isn't heating your home on the coldest days or 2). Is way too large and runs on short, hot cycles that produce temperature swings or 3). Is inefficient and your gas bills are very high.
Most readers of this page likely have an older furnace that's already given them issues. There's a general rule for you: Multiply the cost of the current repair times the age of the furnace. If the number is 6000 or higher, replacing the furnace is the cost-effective decision.
For example, your repair is $550, and the furnace is 14 years old. That equals 7700 – replace the furnace. But if it needs a $100 igniter replacement, or a 1400 number, then repair it.
However – back and forth we go – if you plan to move in the near future, then repairing the furnace to "get by" should be considered. Don't replace a furnace in hopes of making a quicker home sale. You won't get your money back – ROI for a new furnace is 55% to 75%. Instead, drop your sale price a little bit – or be willing to – for buyers who recognize the furnace is older and will need replacement in the next 5 years.
The longer you plan to stay, the more it makes sense to replace the furnace with something new, efficient, comfortable and under a fresh warranty.
Furnace Only or Entire Split System?
Because furnaces and air conditioners don't always last the same number of years, it is common for a home to have components of different ages.
In this case, it is OK to replace just the furnace if the AC or heat pump are running well and you're happy with their efficiency, etc.
The exception is if you're considering a high-end variable capacity and/or communicating furnace. To get best results, you should install an entire new system with components designed to work together.
Consult a knowledgeable HVAC pro for what makes the most sense for your specific system – in fact, get input and cost estimates from several companies in your area with good online (Google/BBB/Yelp) reviews.
Get Free Quotes For furnace Pros Near You