Residential metal siding offers five primary choices of materials: G-90 Galvanized steel, Galvalume coated steel, aluminum, zinc, and copper. Steel and Aluminum are the predominant choices when it comes to metal wall cladding systems available for residential and commercial projects.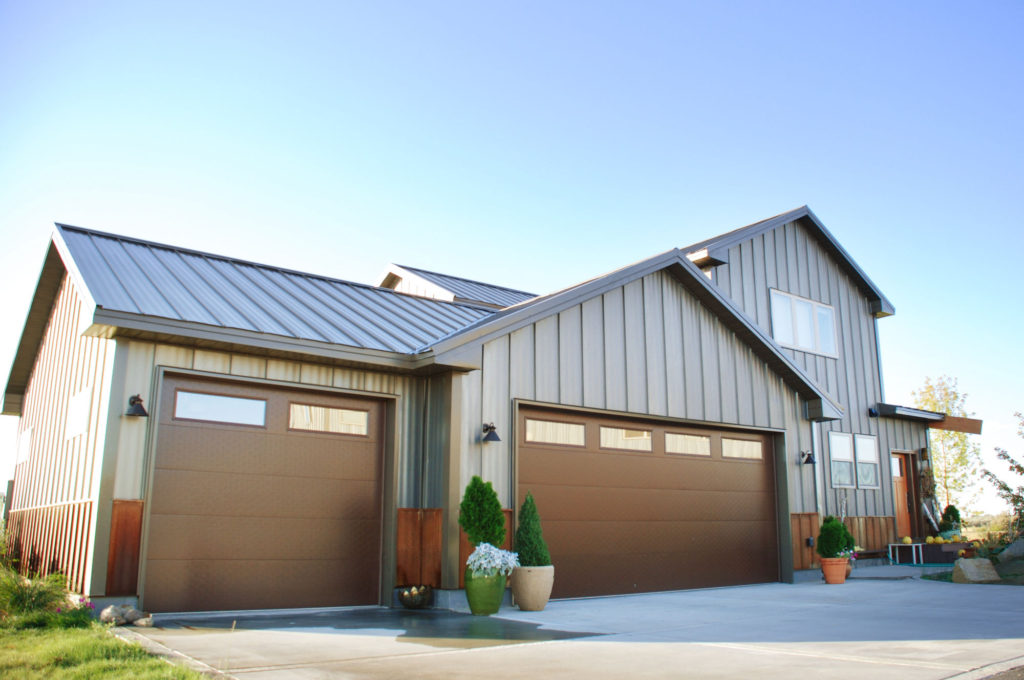 via Bridger Steel
Zinc wall panels are considerably more expensive, but they are also more durable and longer lasting compared to steel and aluminum. Zinc panels are typically used in high-end commercial metal wall projects and roofing applications.
Copper is the more exotic and most expensive metal that can also be used in roofing and metal wall cladding applications. However, copper is rarely used as a siding material due to its high cost and highly reflective surface, which makes it far more suitable for roofing
Thanks to the remarkable durability and versatility of metal, the panels can be shaped as corrugated or ribbed, or made to mimic lap siding or vertical boards. However, metal siding doesn't attempt to mimic stucco, stone or brick siding, as these generally constitute unique shapes.
Cost
Residential-grade metal siding panels can range in cost between $10.00 to $25.00 per sq. ft. installed, depending on the metal panel profile, material, project complexity, and your home's location.
Architectural grade steel panels including G-90 Steel and Galvalume steel with Kynar 500 paint finish can typically be installed for $10.00 to 15.50 per sq. ft.
Aluminum siding with Kynar 500 paint finish can typically be installed for $10.50 to $16.50 per sq. ft.
Zinc cladding and zinc wall panels can typically be installed for around $12.50 to $25.00 per sq. ft.
Copper is the least common and most expensive metal siding option that can be priced as high as $20.00 to $35.00 per sq. ft. installed.
For a metal siding installation on a house, it is strongly recommended you go with a professional and experienced contractor. For smaller projects, such as a shed or garage, the DIY approach is feasible.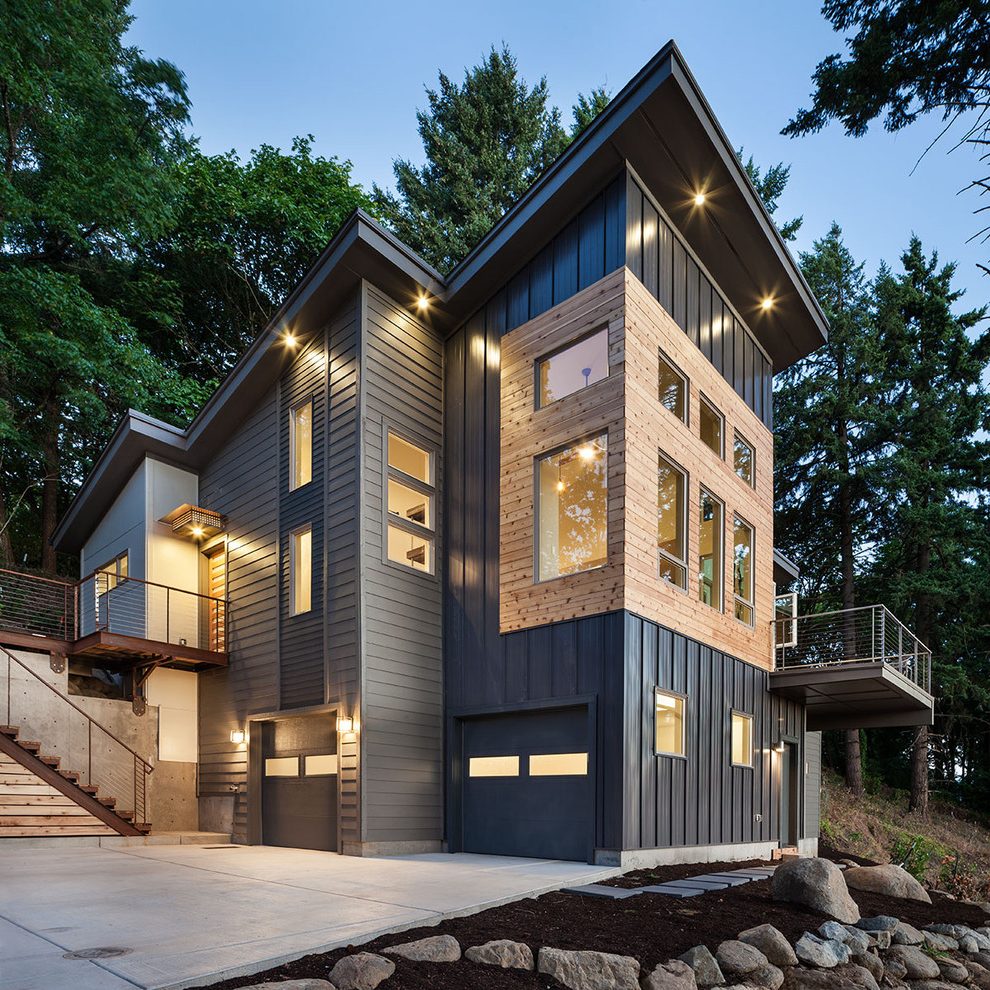 On larger projects, where pieces are cut to cover either larger areas or unique layouts, a professional will not only work faster but be more careful. Metal is malleable which if not careful can lead to waste of purchased materials. Plus, metal installation can be somewhat dangerous with its sharp edges.
To get a better picture of the costs, let's break down what a project may entail.
Average Cost To Install New Siding
Typical Range:
$5,780 - $8,210
Pricing Info – Part 2
Metal for residential homes is a craftsman's dream. Metal siding is often blending colors, shape, and other materials to produce a sleek, modern design or to mimic a traditional style with the advantages that come with metal.
In the following examples, we'll present 4 different projects with their additional material and their on-the-job considerations. Please note that these are ballpark estimates based on national averages.
Project Example 1: Kynar 500 Factory-Painted G-90 Galvanized Steel Ribbed Panel Siding: 2,000 sq. ft. x $10.50 = $21,000 including professional installation and warranty.
Additional Building Materials and Supplies: (i.e., J-Channels, underlayment, galvanized nails and fasteners) = $1,000
Removal of previous siding: $1,600
Garbage Rental / Disposal Charge: $1,000
Building permit: $400
Total Project 1 Cost = $24,950
Project Example 2: Factory-Painted Kynar 500 Aluminum Lap Siding: 2,000 sq. ft. x $12.50 = $25,000 (including professional installation and warranty)
Additional Building Materials and Supplies: (i.e., J-Channels, flashing, vapor barrier, aluminum nails and fasteners) = $1,000
Building permit: $400
Total Project 2 Cost = $26,400
Project Example 3: Pre-Patinated Zinc Panel Siding: 2,000 sq. ft. x $17.00 = $34,000 (includes professional warrantied labor)
Additional Building Materials 1: (i.e., J-Channels, flashing, vapor barrier, nails and fasteners) = $1,000
Additional Building Materials 2: (updating window/door trim, soffits, and eaves) = $6,500
Building permit: $400
Total Project 3 Cost = $41,900
Project Example 4: Premium-Grade Custom Copper Panel Siding: 2,000 sq. ft. x $25.00 = $50,000
Professional Labor Charge: $12,000
Additional Building Materials: (i.e., J-Channels, flashing, vapor barrier, nails) = $1,750
Building permit: $400
Total Project 4 Cost = $64,150
Quite the variation in the above examples, but let's delve even deeper.
Factors Impacting Overall Costs
For metal siding, the type of metal selected would probably be the foremost impact on cost. Copper and Steel are so far apart in cost, it helps to understand the benefits each material has to offer.
G-90 galvanized steel is widely available — the reason why it is so inexpensive compared to Zinc and Copper. Its zinc coating (hence the galvanization) means the steel will not corrode as quickly as uncoated steel would.
With a Kynar 500 coat of factory finished paint on top, G-90 steel siding should be good to go for 30 to 50 years, before additional painting may be necessary.
Zinc and Copper need no painting nor coating to protect them from aging or weathering. They have it naturally and are non-corrosive metals. Both metals will change color due to their patination processes, but that is truly a natural aspect of their overall aesthetic value, not to mention their impressive longevity.
Zinc specially benefits from its self-healing property which means scratches to its surface will actually correct over time.
All metal siding is good to go for at least 50 years, but steel siding may need re-coating after 30 years, or no longer than 50 years. Copper and zinc can go for more than a century before replacement is even a consideration.
Professional labor to install the product is a significant factor impacting cost. Again, because steel and aluminum are widely available, the charges to install them are usually competitive in all regions.
With zinc and copper, finding truly qualified and experienced installers may not be as easy and this, of course, will drive up the installation costs.
Whether to remove previous siding is another consideration. It is likely in most siding jobs, but not all. There tends to be standard charges that vary only slightly by region and whatever local charges there may be for garbage rental and disposal.
The additional materials that are beyond construction features needed to complete the job, such as fasteners, are the final consideration.
A building permit is one of those things that is necessary in most home improvement jobs that are impacting the home in a significant way. When adding or replacing window and door trims, or soffits and eaves, these charges will very much add up.
From a design/architect perspective, the completed job can look awkward or even unfinished if these are not updated. They can add a good chunk of change to the bottom line, but unless sticking to a traditional style option like lap siding, they are most definitely worth considering.
The Good, The Bad and The Oh So Pretty
Here we list the pros, cons, and chief reason for why to consider ANY metal siding.
The Good: Metal siding can offer pretty good insulation properties. The R-Value for the options we presented in are above examples is less than wood, but greater than brick.
Metal siding can also be foam-backed with the specific intent to offer better insulation, which then surpasses wood and is second only to stone siding.
Metal also benefits from being waterproof, insect-proof, and resistant to fire. And its return on investment is above average, coming in at 86% of recouping the costs you spend.
The Bad: Metal is prone to denting, though this depends on gauge, or thickness, of the material. Scratches are common and overtime can be noticeable, though Zinc has a natural way to overcome this.
For Steel and Aluminum, there is a bit of a maintenance factor involved, but compared to say wood it is not all that much.
If going with Zinc or Copper, the expense may be considered a con, but those certainly make up for that in terms of longevity.
The Oh So Pretty: Craftsmanship is a solid reason to strongly consider metal siding, but that isn't our top reason.

Metal is fully recyclable and is another great benefit of the material. With metal there is no disposal charge associated with its removal as there are many metal manufacturers that partially rely on recycling metal to increase their production. Other siding materials fill up national landfills by the metric ton, but not metal.
Get Free Quotes For siding Pros Near You