Cedar shingles and shakes are a classic style of roofing that is often installed on Cape Cod style homes, especially in New England and around the greater Cape Cod in Massachusetts. Cedar roofs are also popular in the pacific Northwest including Oregon and Washington state.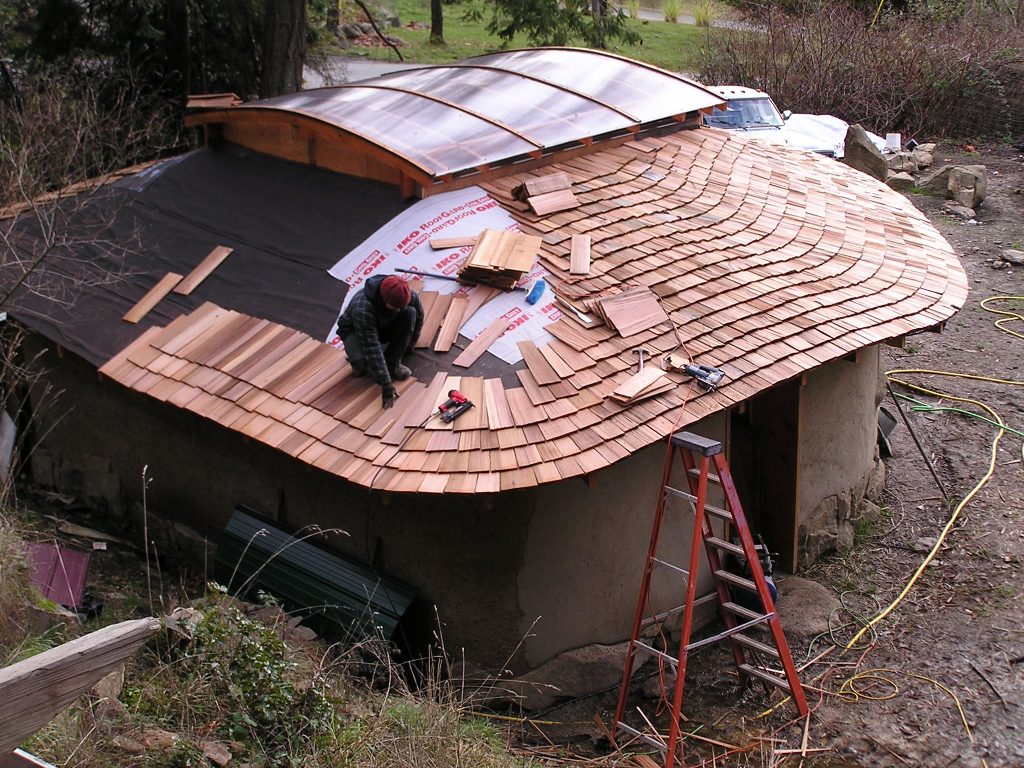 via Inspirational Village
However, cedar roofs are not exclusive to New England and PNW. In fact, you can see wood shingle roofs anywhere across the US, especially in areas that land themselves nicely to the classic look of traditional roofing — think beach houses and/or homes nearby green/wooded areas, etc.
Cost
On average, you can expect to pay between $10.50 and $16.50 to install a cedar shingle or shake roof on a typical house, not including the cost of removal and disposal of the old roof. The cost can vary a lot, depending on the roof difficulty, number of stories, and your home's location.
For a typical, 2,000 square foot roof (20 squares), homeowners can expect to pay between $21,000 and $33,000 to install cedar wood shingles or shakes, not including the cost of removing and disposing of the old roof.
By the square, which equals 100 sq. ft., the price for wood shingles installed is between $1,050 to $1,650 per square or $10.50 to $16.50 per sq. ft. This includes materials and permits, professional installation, and warranty, but doesn't always include the cost of removing and disposing of the old cedar shingle/shake roof, which can be between $1.00 and $2.00 extra per square foot, depending on the number of existing layers of shingles and ease (or difficulty) of removal and disposal of old layers.
Asphalt Shingles

$8,500

Average Cost

Metal Roof

$15,500

Average Cost

Flat Roof Membrane

$11,500

Average Cost

See what local pros charge Enter your zip code
If going with cedar shakes instead, the price increases up to $1,050 to $1,550 per square or $10.50 to $15.50 per sq. ft. installed.
Note that in the more expensive real estate markets like the greater Boston, Cape Cod MA, or Seattle, the cost can easily exceed $15.50 per sq.ft. or $1,550 per square of cedar shakes installed/replaced, especially on more complex roofs with multiple dormers.
If going with bargain priced materials, the costs can come significantly down, but the value or how long it lasts will also go down.
Home Depot sells bundles at about $50, where 4 bundles are enough to cover a square, thus $200. — This doesn't take into account the other materials that go into a roofing job, such as fasteners, underlayment, flashing, tools and supplies, etc., but it does let you know that if you go the DIY route (not something we would recommend), your total upfront cost could be reduced significantly.
What is the Difference Between Cedar Shake and Shingle Roofing?
First, let's differentiate between the two similar products. Shake means split with an axe, shingle means cut with a saw. It's that simple.
Obviously shake came first, historically. Both are used today, while shake is generally considered the premium product between the two.
Cedar shakes tend to be thicker (up to 3/4th on an inch in thickness) than wood shingles (up to 1/2 inch thick), and hence also more expensive. With the advent of shingle mills in the early 19th century, came the ability to mass produce the wood material, along with possibility to access it in several locations.
Besides thickness, there is also variation in shape, width, texture and eventually treatment and color. Royalty and Perfection. These terms refer to length, with Perfection referencing an 18-inch-wide shingle and Royalty attributed to 24-inch-wide shingles. Shape tends to be rectangular, especially as it relates to material for roofing.
As cedar shakes are also used for siding, the shape may vary, with how the butt-end (lower side of the shake) appears, as in whether it is rounded, straight, or even a bit wavy.
Did you know? Wood shake material of higher quality is often used for roofing, whereas cedar siding projects tend to use lower quality shakes.
Being that these wood shakes are on the upper portion of the house, the need or even purpose for anything uniquely shaped is not necessary.
Wood shake is the material that is routinely synonymous with cedar, but that's not the only grain of wood used in shakes. There's white and red cedar, along with California redwood, which are the primary wood choices in North America. Outside the US, pine may be the primary choice for shakes.
Color options are essentially without limit as any paint or stain can be applied, but typically a clear stain is used due to the natural beauty associated with the material. What is more common is how the wood is treated.
Chemically treated wood will last longer than if it is not treated. Often it is laced with fire retardants to overcome an inherent, albeit natural design flaw. Or treated to prevent algae and insect infestation. Such treatments can have the material last a good 30 years, or longer.
Value to Price Further Explored
The rustic charm of wood shake is arguably its most alluring value. While there are metallic, and stone tile products that can come close in matching its appearance, none really compare to the authentic beauty of natural wood.
Added thickness in the material means better insulation of the home's uppermost layer. But the real value is in how it holds up to wind. Asphalt shingles top out at 130 mph for wind uplift resistance, whereas cedar shakes can withstand speeds up to 245 mph. It is also impact resistant, or more so than most other materials with exception of stone.
While the product isn't requiring special tools or skills to install, it can be quite labor intensive due to the multi-layering, general thickness and moderate heaviness of the material.
For a 1,600 to $1,800 sq. ft. roof (which is equal to a small and mid-size roof on a house), the total installation cost can be between $17,000 and $30,000 on the low-end to mid-range of the pricing spectrum.
Estimated New Roof Costs (2,000 sq.ft.)
Asphalt
Metal
Flat

$8,500
$15,500
$11,500

See what local pros charge
If using premium materials and going with fully licensed and insured contractor (as you always should), or having a complex-shaped roof with multiple slopes, dormers, end-walls, and cut-up angles, then the installation price goes up. Unless the home is unusually large, you can expect the total cost to not exceed $35,000-$40,000 for a new cedar shake roof, but a fair average would be between $20,000 and $35,000 for most mid-sized homes.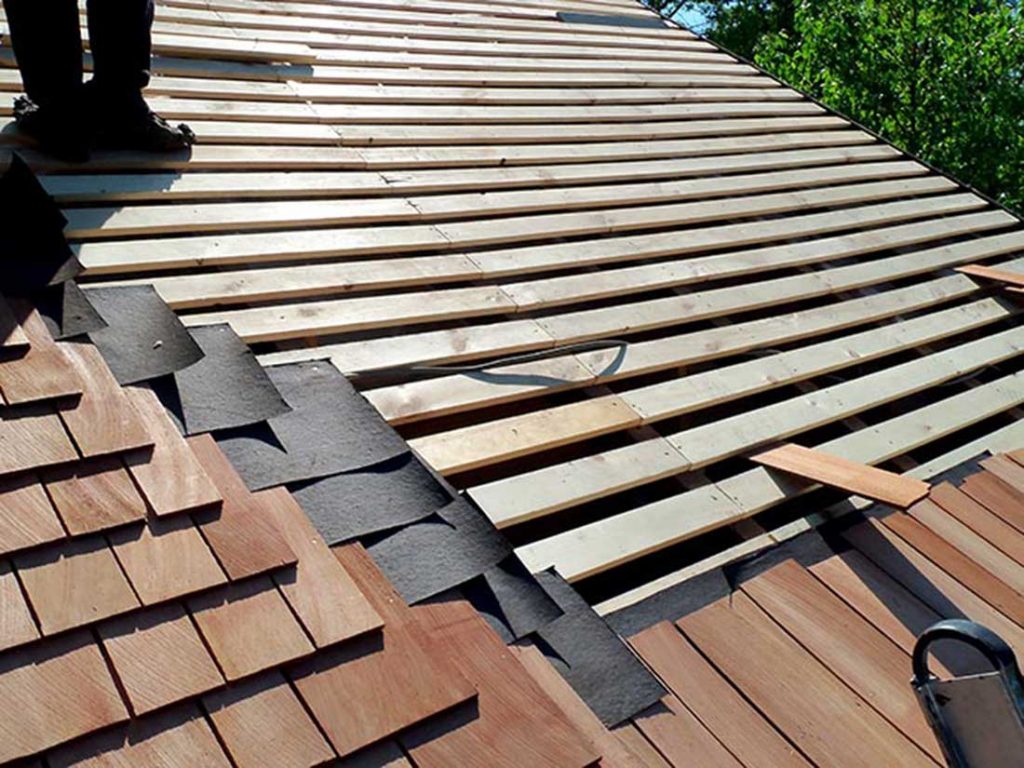 via ASCH Roofing
A newer roof in general will see a recouped value of about 60% to 70%, although that is based on the most popular sloped roofing product, asphalt shingle.
The cost-to-value return goes up from there, and given that cedar shake has more allure and better than average durability, it is likely closer to 75% or even 80% ROI, depending on the house and upfront cost of a new cedar roof.
This assumes the shakes or shingles are in good condition, and that they are well maintained. Which brings us to a significant drawback.
If not paying for premium, read as properly treated material, then the product will probably last 20 years, or less, especially if you are in the area with heavy precipitation or much moisture, such as Seattle and the Pacific Northwest. If the roof is well cared for, and inspected annually, a cedar shake roof could last for as long as 30 plus.
Advantages
unmatched beauty
with treated wood comes sufficient durability and a roof that can last a half a century
great wind resistance
moderately easy installation
decent ROI
natural material, very eco-friendly
Disadvantages
more expensive than asphalt shingles
untreated or less maintained material will last maybe a couple decades
within a decade it requires annual maintenance of some sort
Need a Pro?
Check out Prices from Local Roofers: