Asphalt shingles remain the most popular residential roofing material in America. While not the most durable option around, composition shingles aka fiberglass mat asphalt shingles are often the most economical option. Composition shingles typically make for a quick installation and continue to be improved upon.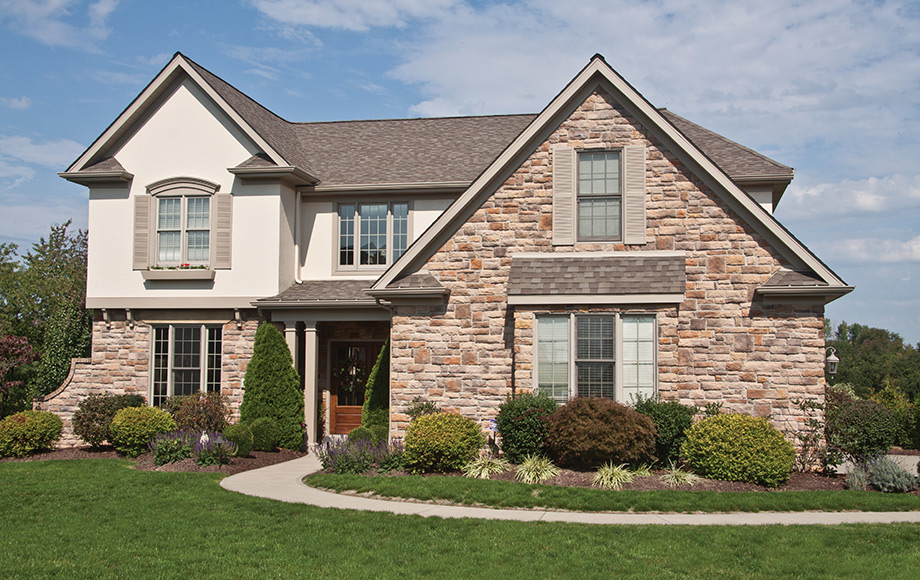 Since the 1980s, fiberglass shingles have effectively displaced the traditional organic asphalt shingles that weren't as durable. The cost of materials and installation has stayed relative to the rate of inflation.
Cost Basics
As roofers discuss everything in terms of squares (100 sq.ft.), let's use those rates. On average, a square of fiberglass architectural roofing shingles will run between $5.00 and $7.00 per square foot or $500 to $700 per square installed.
Note: In high cost of living areas such as Northern Virginia, Miami, Washington DC, NYC, Boston, Seattle, San Francisco, San Jose, and Los Angeles, the cost can easily exceed $7.00-$9.00 per square foot or $7.00-$900 per square installed.
If choosing to go with a warrantied professional installation, on average, you can expect to pay between $10,000 and $18,000 for a typical 20-squares or 2,000 square foot roof. — This includes the cost of all the necessary materials and supplies, professional warrantied labor, tear off and disposal of the old roof, building permits and fees, and a minimum of 5-year workmanship warranty from the installer.
Asphalt Shingles

$8,500

Average Cost

Metal Roof

$15,500

Average Cost

Flat Roof Membrane

$11,500

Average Cost

See what local pros charge Enter your zip code
Cost of Materials vs. Other Alternatives:
The material costs per square foot for all other roofing options like metal and cedar shakes, start at about $4.00 per square foot and go up to well over $8.00 per square foot from there; while fiberglass shingles are easily well under $2.00 per sq.ft. including all the required system components like starter shingles, ridge and hip caps, and flashing trim for most asphalt roofing material options.
A few exceptions, where the material only price of composition shingles can exceed $2.00-$3.00 per square foot, would apply only to some of the most premium designer (ultra-premium) options from the likes of GAF, CertainTeed, and Malarkey premium shingles on the west coast.
You'd have to go with the high-end, premium architectural or designer shingles to have the material costs of fiberglass shingles from top brands like GAF and CertainTeed rise to the level of premium materials like cedar shingles and metal roofing.
Material Composition
Back in the day, traditional asphalt shingles used to have organic mat-base and were heavier than the contemporary fiberglass shingle version. This is the result of using 20% to 40% less asphalt with fiberglass shingle.
The fiberglass base mat along with ceramic granules are the primary materials, while the asphalt layer serves the important function of waterproofing the mat. The granules, both old and new, serve the purpose of shielding the shingle/mat from harmful UV rays.
Less asphalt does make for less flexibility and initially less durability. Though organic mat-based mats (no longer manufactured) are well known to absorb water which during changes from hot to freezing temps, would lead to more cracking or warping of the shingle back in the day.
Being lighter weight, fiberglass shingles are also easier and less costly to transport, thus more Eco-friendly in terms of energy needed for their transport.
And, with fiberglass composition shingles, there is somewhat less of the overall weight or volume of asphalt that will end up in landfills — something that is still a major disadvantage of asphalt shingles compared to recyclable materials such as metal and ceramic tiles.
Stylistic Considerations
Two different types of fiberglass shingles exist, with enormous number of sub-variations. The three-tab or basic strip shingles are the less expensive version that delivers an overall flat looking roof.
The 'tabs' are a part of the shingle that on a finished roof are not detectable as all shingle tabs look like individual pieces, when in reality, they are overlapping pieces of three-tabbed shingles.
Architectural grade shingle is the second, more expensive version. Sometimes referenced as dimensional 3D or laminate shingles.
Architectural fiberglass shingle provides extra depth and shape to what is the resulting shingle appearance. The contoured look gives off more of an impression slate tile or even wood shake.
Both types of fiberglass shingles are available in different colors, but the three-tab is commonly available in a single color, while architectural or dimensional shingles have often feature multiple visible shades and hues, providing more unique coloring schemes and richer appearance.
All contemporary residential roofing materials offer a good selection of standard and premium color options and fiberglass shingles are no different. Green, red, brown, gray, and black are all common for fiberglass composition shingles.
Additional Considerations and Features
A significant advantage architectural shingles has over 3-tab is the manufacturer's warranty. Typically, the 3-tab or strip shingles will carry a material warranty for anywhere from 20 to 30 years, depending on the manufacturer, climate, and regional environmental factors. Architectural grade composition shingles typically start with a minimum of 30 years prorated warranty.
The same roof mentioned in the "Cost Basics" section above, using the midrange tier laminate shingles like GAF Timberline HDZ or Owens Corning Duration shingles, would be priced between $9,500 to $15,000 for a typical 20 squares or 2,000 square foot roof professionally installed.
Estimated New Roof Costs (2,000 sq.ft.)
Asphalt
Metal
Flat

$8,500
$15,500
$11,500

See what local pros charge
For lower-sloped roofs, three-tab is often a better option as the contours of a dimensional/architectural roof shingles could hold or trap water more than the flatness of the three-tab version. A minimum roof pitch of 4/12 is recommended for most asphalt shingle roofs. That said, some asphalt shingles can be installed on roofs with a minimum pitch of 3/12.
A pitch shallower than 3/12 would require either a flat roofing membrane or a specialty standing seam metal roof designed for low slope applications.
Some manufacturers use colored granules designed to reflect the sun's harmful UV rays, thus delivering cool roof performance on an asphalt shingle application.
While metal roofing is superior when it comes to actual CoolRoof benefits, you'll want to check for either Energy Star or CRRC (CoolRoof) rated fiberglass shingles to achieve these sorts of benefits.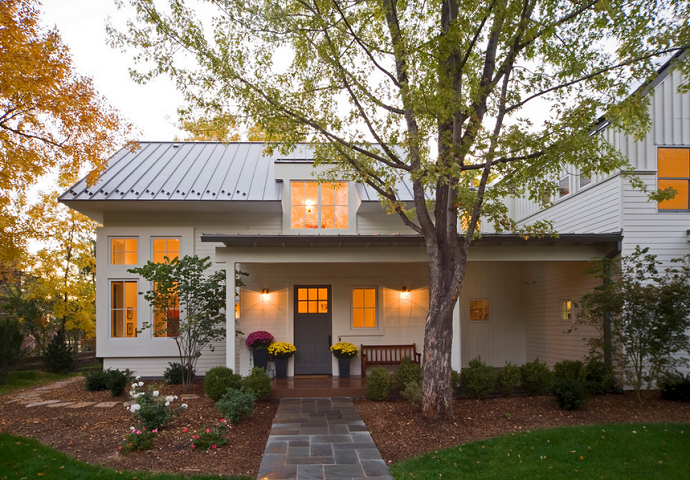 Similarly, contemporary fiberglass shingles can be treated for algae resistance and many popular architectural shingle products like GAF Timberline HDZ and Owens Corning Duration shingles are pre-treated for algae protection.
Plan to pay about 5 to 10 percent more for the pre-treated algae-resistant shingles. For homeowners in high humidity or increased precipitation areas, algae protection is a must have.
Advantages
Ease of installation — almost all professional roofers can install composition shingles including the basic three-tab and architectural shingles. Many DIY'er types can handle smaller asphalt roofing projects with a help of a friend
Very budget friendly, or for sure one of the most economical choices available for adding a new roof to your home
Great versatility with lots of styles and options to select from
Widely available
Unlike many other types of roofs, fiberglass shingles can be walked on without need for special attention or fear of cracking/denting the material
Decent to good return on your investment. 3-tab shingle replacements generally amount to 65% ROI at resale, while architectural grade shingles can not only further improve the curb appeal of a house, but also fetch as much as 70% cost to value return at resale
Disadvantages
While fiberglass composition shingles are somewhat Eco-friendlier than the older organic version, they lag far behind other roofing options like metal or cedar shingles and shakes
Far less durable than most other roofing options that can last 50 to 100 years, by the time one needs to replace a slate tile roof, the homeowner who stuck with fiberglass will have paid for 3 roofs that are subject to escalating costs over time
Due to shorter lifespan, the need for annual checkups is greater along with possibility of needed repairs from curled or cracked shingles. Especially a factor for three-tab shingles in hotter climates
Need a Pro?
Check out Prices from Local Roofers: