Installing a metal shingle roof on a residential home will cost, on average, between $11.50 and $19.50 per sq. ft. In this buying guide, we'll explain all the important factors that determine the total cost of a metal shingles, along with pros and cons. We'll also cover material costs of various metal shingle options and draw some comparisons to other popular roofing materials.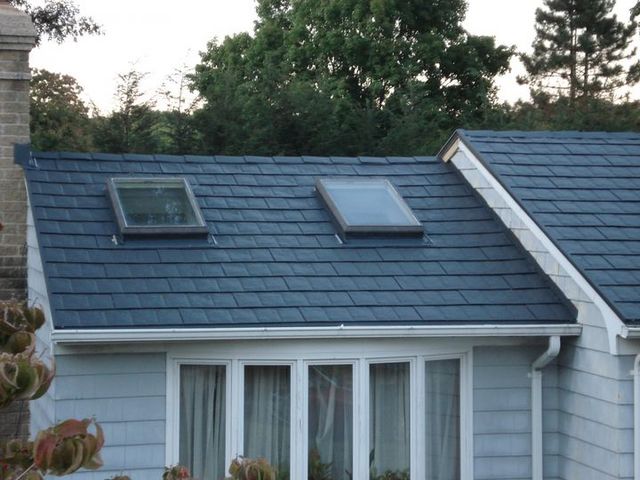 It's perhaps most important to realize that of the three primary options for metal roofing (the others being Standing Seam at the high-end, and Corrugated and Ribbed Metal Panels at the low-end), metal shingles and tiles are in the middle of the pack in terms of costs.
Understanding Your Options
At first mention, metal shingles sound bland or traditional, or perhaps too risky of an option for an HOA or in an area where metal would clearly be outside the norm (i.e., all your neighbors have asphalt roofs).
Estimated New Roof Costs (2,000 sq.ft.)
Asphalt
Metal
Flat

$8,500
$15,500
$11,500

See what local pros charge
Yet, when researching metal shingles styles and options for residential homes, you might be surprised to pull up some images that look a lot like asphalt shingles. 😉
Why would that be? Because the reality of metal shingles today, is that these are really metal tiles that are intended to mimic just about all other possible roofing styles designed for sloped roofs; slate tiles, ceramic tiles, asphalt shingles, cedar shakes and say redwood shingle are all materials that metal shingles can mimic.
From the curbside view, it would be hard to tell the difference between the metal material and its usual counterparts. That's how diverse the metal roofing industry has gotten.
Add to this the idea that metal itself can have a pleasing appearance, as is the case with copper, zinc, painted aluminum and steel tiles. Gone are the days when metal shingles would only have a silver/gray, metallic appearance.
Key Fact: There are really two basic types of metal shingles, or metal tiles: G-90 galvanized steel coated with a protective layer of zinc plating, often finished in a factory-applied Kynar 500 paint finish, and the second type finished with stone granules referred to as stone-coated steel tiles.
Did you know? The "G-90" refers to the amount of protective zinc plating, as in .90oz per square foot of steel sheet.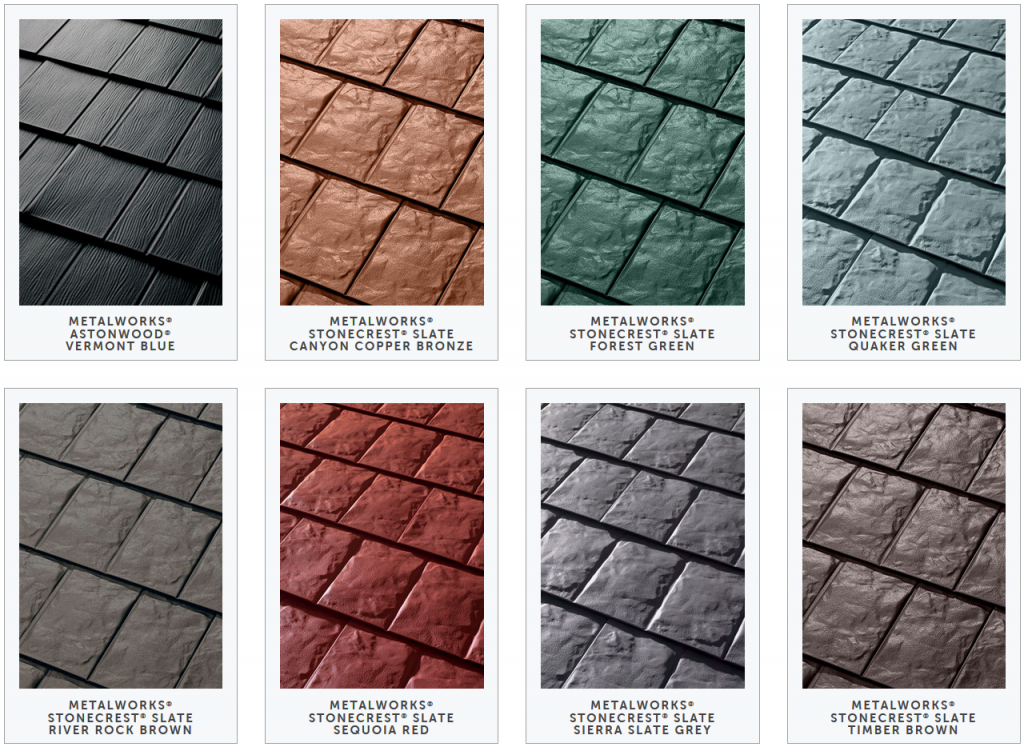 It's the stone-coated variation that opens the door to having metal shingles that look nearly identical to asphalt shingles, because like asphalt shingles, they are coated with granules. Metal shingles are also available in aluminum, zinc, and copper.
So, it's not just color, but texture that allows metal shingles to obtain a great diversity in product options.
With texture as an additional option, slate, wood, and ceramic are all possible appearances for metal roofing.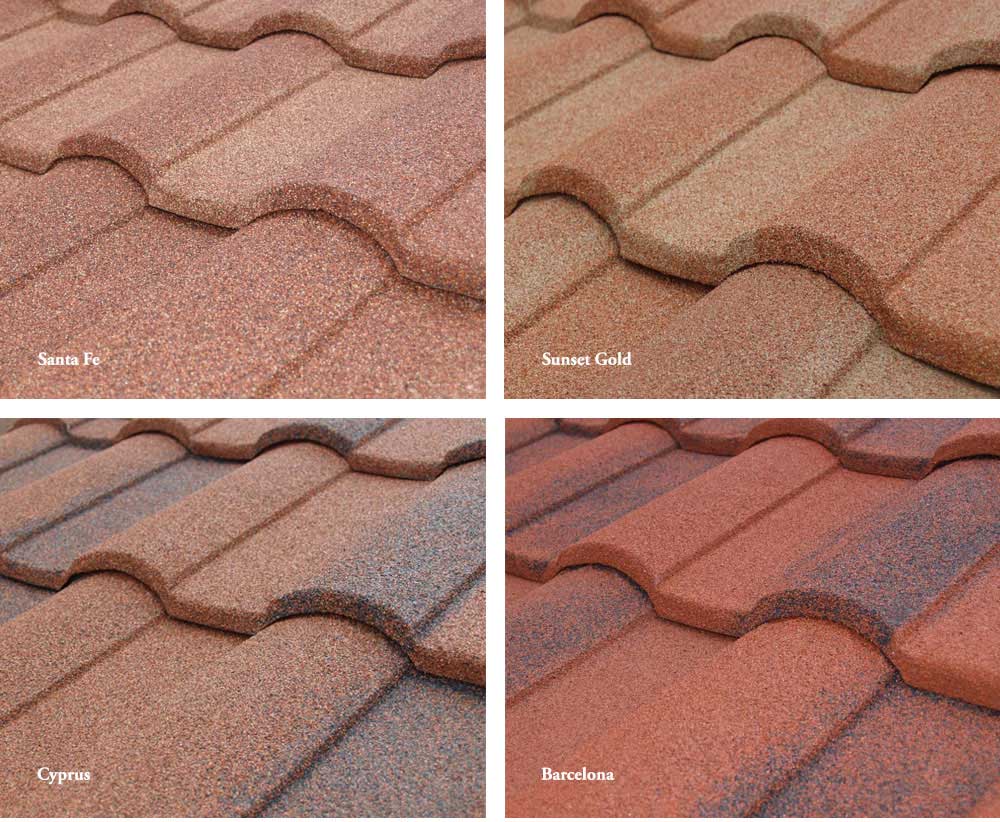 Then there is the shingle shape, which varies a bit by manufacturer, but for the most part is rectangular, or diamond shaped.
Get Free Quotes For roofing Pros Near You
How it's installed: Metal shingle installation typically relies on an interlocking system that makes for a quicker installation and ability to hide fasteners.
Some manufacturers still go the route of having panels of say 4 barrel vault style tiles (per panel) that are adhered to the roof deck (and sometimes rely on wooden battens, depending on the profile design).
Panels are usually 2 to 4 feet long and are often installed over existing roofing (i.e. metal shingles can be installed on top of old asphalt shingles).
Did you know? Interlocking tiles are now the second most popular type of metal roofing for residential homes after standing seam.
The other consideration for shingle options is the material, or type of metal itself, but we'll cover that in the next section.
Cost: Materials and Installation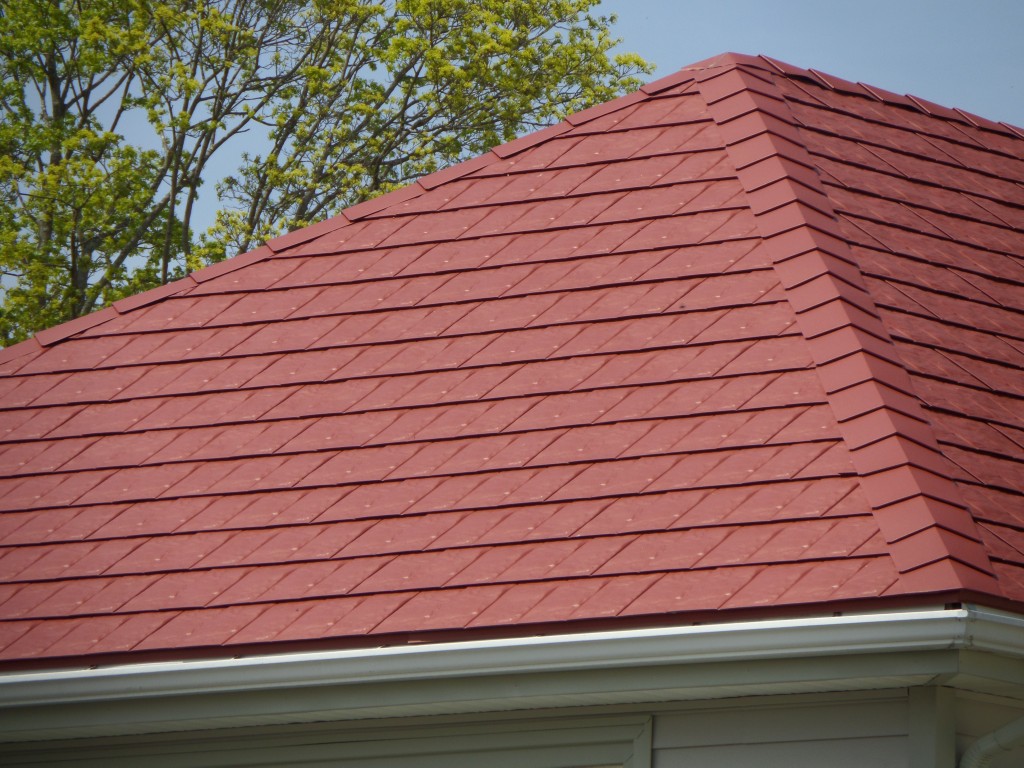 Materials: On average, metal shingles will cost between $4.00 and $7.00 per sq. ft. for materials including trim, depending on the profile and supplier. For comparison, that's about two to three times more expensive than asphalt.
Total Cost Installed: When the cost of professional installation is added, the total cost will normally fall in the range we noted at the beginning, or $11.50 to $19.50 per sq. ft. of metal shingles installed. That is roughly double or tipple the cost of installing regular composition shingles. Yet, the value of metal (durability, longevity, energy efficiency, and curb appeal) far exceeds that of asphalt. See our "Advantages" section below.
Asphalt Shingles

$8,500

Average Cost

Metal Roof

$15,500

Average Cost

Flat Roof Membrane

$11,500

Average Cost

See what local pros charge Enter your zip code
The caveat with the above price range is that it's for the two most popular materials used in metal shingles, aluminum, and steel.
If going with zinc or copper, the cost goes up significantly, but so does the value. For Copper, it is about $12.50 to $16.50 per sq. ft. just for the materials, and for Zinc, the material cost is around $6.50 to $9.00 per sq. ft.
For comparison, aluminum and steel shingles and tiles cost in the range of $5.00 to $7.00 per sq. ft. for materials and trim.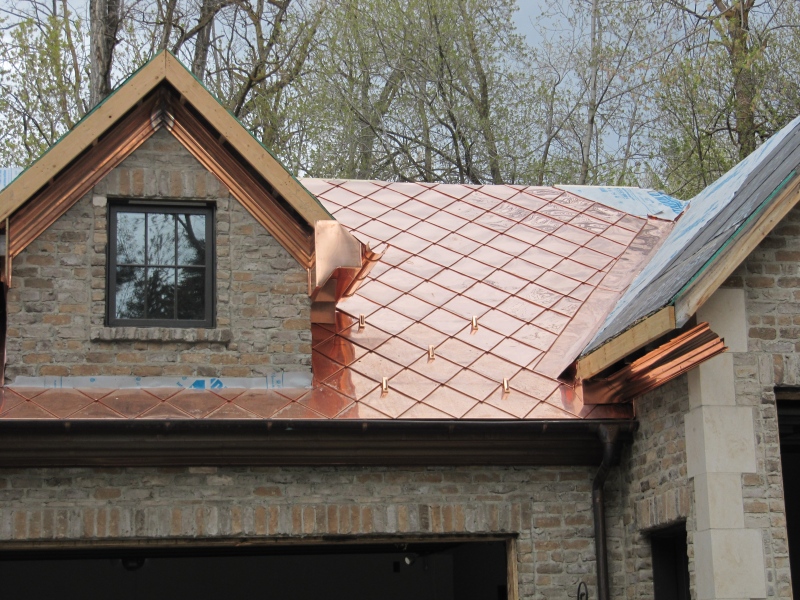 According to RoofingCalc.com, using their cost calculator, a steel shingle roof covering 1,700 sq. ft. will cost between $18,000 and $25,000, installed.
There are a few factors, even with just this specific material, that can impact the price range; These include location – as in plug in another zip code at the RoofingCalc.com calculator and watch the rates change.
Availability of professional contractors will affect the rates you will get, and whether the existing roof needs to be torn off and disposed of, which is generally not the case with metal shingles, but could be.
Usually, metal shingle roofs need what is called a "breathable layer" or underlayment that is just below the metal and helps act as a breathable (to prevent trapping moisture below the underlayment) moisture barrier, though this will only add around $25-$50 per square (equals to 100 sq. ft.) to the overall cost of materials.
Need a Pro?
Check out Prices from Local Roofers:
Important Considerations:
The greater the square footage of your roof, the less you can plan to pay for the materials and installation on a per square foot basis.
Technically, G-90 galvanized steel (24- 26-gauge coated steel), a common material option for metal shingles and tiles, is less expensive than aluminum, but by the time metal shingles are sold to the end consumer as part of a complete re-roofing job, G-90 steel shingles end up costing roughly the same as aluminum shingles.
Both aluminum and steel are likely to be coated or finished with paint. It's important that you go with Kynar 500 or Hylar 5000, factory applied paint finish, as these will offer the best protection and usually carry a minimum 30-year warranty.
Colors are in essence unlimited, but wholesalers tend to stock about a dozen popular options which is usually what most homeowners choose. Texture adds a whole other level to the available options.
Steel used for residential roofing applications normally gets an extra layer of protection from oxidation and corrosion through hot dip galvanization process before the final paint finish like Kynar 500 is applied.
The galvanic layer of protection is applied by dipping steel sheets into molten zinc. — Think of this as a metallic primer that greatly protects the steel base material. Without it, steel is prone to corrosion, commonly referenced as rust.
Did you know? Even aluminum can corrode, but tends to chalk up, or get a whitish film to it, when it's protective (painted) layer has faded.
The coating on galvanized steel is 100% zinc, which is one of the most durable metals around. Some metal panels may also come coated in a mixture of zinc and aluminum. The all-zinc coating is G-90 "galvanized steel" and the combination zinc and aluminum coating is referred to as "Galvalume" (better protection from corrosion for some applications).
Zinc and copper tiles don't need special coating, nor painting as they are non-corrosive metals. Really, these materials deserve their own article.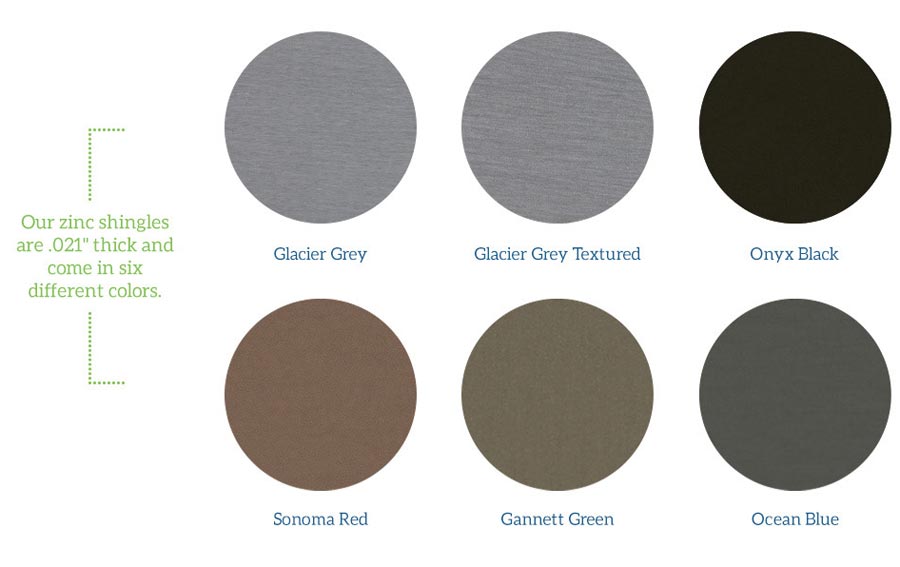 ROI and Value Recouped at Resale Considerations
As you can imagine, metal and stone roofs will last longer than all other roof types. This is huge advantage and is what makes them a great investment.
By the time a home has gone through 3 quality life cycles of asphalt shingles, a metal roof might need replacement for its first time.
While the initial costs are significantly higher for metal compared to asphalt shingles, the lasting value favors metal. Again, see the Advantages section below to help with the perspective.
The Return on Investment (or ROI in the form of cost-to-value return at resale) for metal roofs supersede all other roofing materials. Most metal roof manufacturers, especially for tile products, carry a 50 year, non-prorated and fully transferable warranty.
Asphalt shingles would be lucky to last half that long, and their warranty usually is around half that, plus their warranty is normally prorated.
Cedar shake roofs certainly have natural beauty, but metal shakes can come fairly close to matching their appearance and will easily outlast their wood counterpart.
Metal roofs continue to grow in popularity which only increases their resale value. The national average cost-to-value return range is between 70% and 86% in the total value recouped when the house is sold. This number varies by region; the east coast tends to see the highest ROI for residential metal roofing, followed by coastal cities and suburban areas on the west coast.
Estimated New Roof Costs (2,000 sq.ft.)
Asphalt
Metal
Flat

$8,500
$15,500
$11,500

See what local pros charge
Stylistic Fact A classic colonial or brick home will benefit perhaps the most from metal shingle roofing as far as preserving the traditional look, while obtaining all the advantages of a metal roof.
Advantages
Note: The asterisk after the items below are unique to metal shingles. Most of the advantages, and disadvantages, hold true for all types of metal roofs.
Can be applied over an existing roof*
Special coating of material resists dirt and environmental aging
Very wide range of variation in terms of shape, texture and color*
Durability factor 1 – will last a long time – 100 years on average
Durability factor 2 – will withstand 110 mph winds
Durability factor 3 – can withstand hail (check manufacturer information for exact impact resistance rating and warranty)
Excellent ROI
Made up usually of recycled material, thus green friendly, and is 100% recyclable
Will not burn, insects will not eat away at it, will not mildew
Disadvantages
adding solar paneling down the road can be expensive and expose weaknesses of metal shingles*
significantly higher installation cost than asphalt shingles
can dent from large hail or if walked on without care
the material will outlast the coated finishes, so re-coating is part of maintenance (though usually 30 years minimum after installation)
Repairing individual shingles can be challenging and/or costly*
Get Free Quotes For roofing Pros Near You