An exterior deck is an addition to your home. Most room additions are considered "building up" while a deck is "building out." Even with fine quality materials, decks are generally less than half the cost of an interior addition.
A deck often serves the purpose of providing an area to relax, cook, dine, and entertain guests. A deck is similar to a patio in several ways, but the main distinction is that a deck is usually elevated, and made of wood or composite materials, while patios are at a ground level and are often made of stone or cement.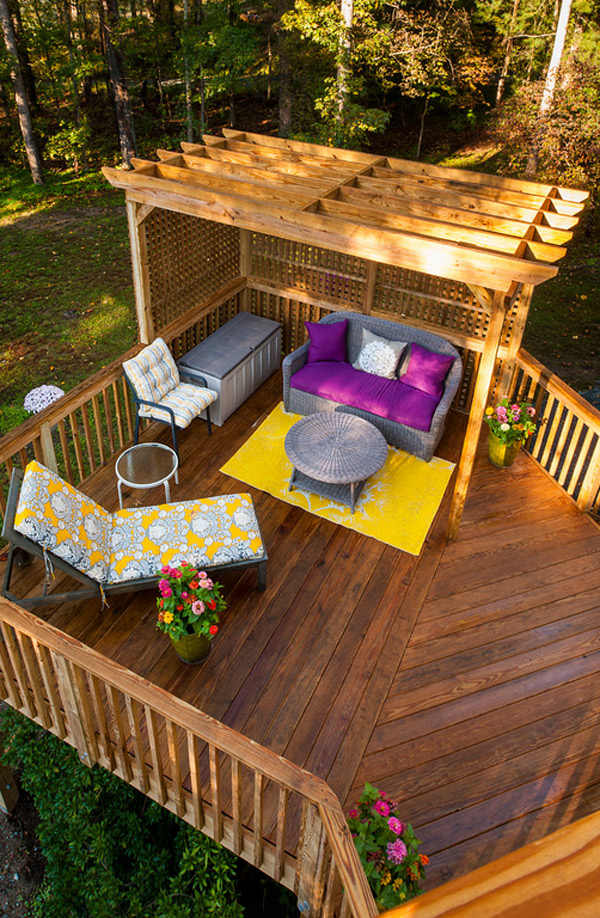 via CederbergKitchens.com
Decks can be attached to your home or detached. Either way, a building permit is generally required for this type of upgrade, which means a site plan would benefit the project and/or be required as part of the building permitting process.
Planning for a new deck construction helps ascertain costs, materials and layout that you'll go with. Let's overview the costs, the price breakdown and advantages along with disadvantages of an exterior deck.
Cost
While a professionally installed deck can cost as little as $10.10 per sq. ft. for materials and labor, the real world average cost is closer to $25.00 to $35,00 per sq. ft. installed, depending on the project scope, choice of materials, contractor doing the work, and local real estate values. If you are looking to save on costs, then the best advice is to lower the overall size of your deck.
On average, homeowners tend to spend between $8,500 and $12,500 for a new deck installation. But what is it that makes for an average deck? Deck sizes vary and depend significantly on elements unique to the property. Generally, though, homeowners want one of three type of decks:
small decks – under 200 sq. ft. – for relaxation mainly
medium size decks – 200 to 500 sq. ft. – for dining, relaxing, and entertaining a small group of friends
large decks – more than 500 sq. ft. – may be multi-level – for cooking, dining, relaxing and entertaining larger group of friends
Building a deck is labor intensive and takes experienced contractors between one and three weeks to complete the job. While a handy person might be tempted to go the DIY route, it is not recommended. Decks must be ultra-sturdy. All floor boards benefit from being exactly even. Modern decks make room for electricity and plumbing that are well-hidden.
Material pricing is done on a per square foot basis, with a typical range between $5.50 and $25.00 per sq. ft. for materials alone. A professional crew will typically charge between $5.50 and $15.00+ per sq. ft. for all the warrantied labor involved.